(CNN) -- Sen. Barack Obama on Wednesday lambasted his Republican rival's economic plan, arguing that Sen. John McCain would continue President Bush's policies and "we can't keep on going in the same direction."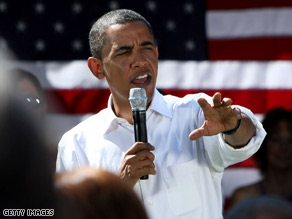 Sen. Barack Obama blasts Sen. John McCain's economic policies at a rally Wednesday in Martinsville, Virginia.
Not only are Americans experiencing high job insecurity and finding it harder to save for retirement, Obama said, "but, most importantly, people aren't sure whether that essential part of the American dream -- the idea of we work hard and we sacrifice, the next generation's going to be a little bit better off than we were -- people aren't sure whether that still holds true."
At a rally in Martinsville, Virginia, Obama said, "John McCain has provided honorable service to our country, but, when it comes to his economic policies, he is promising and proposing the same things we've been doing for the last eight years."
The presumptive Democratic nominee was joined by Virginia Gov. Tim Kaine, often mentioned as a potential vice presidential pick, and former Gov. Mark Warner, who is running for the U.S. Senate.
"We've got to partner with our governors to come up with these plans the way that Mark Warner did such a wonderful job when he was governor and the way that Tim Kaine is currently doing such a great job as governor of Virginia," Obama said.
The economy has been the focus of the latest battle between the presidential candidates over the airwaves.
Candidates 'Revealed'
See who the presidential candidates really are in two special back-to-back documentaries.
8 p.m. ET Wednesday
On Wednesday, the Obama campaign launched a television ad in at least eight battleground states. In the ad, the narrator asks, "Can we really afford more of the same?"
The ad also accuses McCain of plans to give major tax breaks to oil companies, big corporations and "companies shipping jobs overseas" while giving millions of Americans "no tax relief at all."

Watch as Obama says McCain will continue Bush's policies »
McCain 's campaign launched its own attack ad on the radio Wednesday. In the ad, the narrator says, "Obama's got plans -- big plans -- for your money" that would pile "more debt on the backs of your children and grandchildren."
Obama is on a 2½-day bus trip tour through North Carolina and Virginia, which has become a battleground state after years of being reliably Republican.
After completing his bus tour, the Democrat will hold a rally Saturday in Springfield, Illinois, just before the start of the Democratic National Convention next week in Denver, Colorado. The rally will kick off a tour of key battleground states that eventually will end up in Denver, his campaign said.
Don't Miss
The steps of the Old Capitol in Springfield are where Obama launched his bid for the White House in February 2007.
Speculation is swirling that Obama could name his running mate this week and the pick then would join the presidential candidate at the Springfield rally.
McCain on Wednesday continued to raise questions about Obama's judgment, this time at a town hall-style meeting in Las Cruses, New Mexico.
The Arizona Republican accused Obama of shifting his positions on Iraq for political expedience during an address Monday to the national convention of the Veterans of Foreign Wars in Orlando, Florida.

Watch McCain question Obama's judgment »
McCain's comments brought a sharp response from Obama when he addressed the same group Tuesday. "Let me be clear: I will let no one question my love of this country. I love America, so do you, and so does John McCain," Obama told the veterans convention.

Watch Obama say no one should question his patriotism »
But McCain said Wednesday he was not questioning Obama's patriotism but his judgment. McCain said Obama's support for removing U.S. combat troops from Iraq means he backs a troop withdrawal above victory.

Watch as McCain slams Obama on Iraq »
"He has made these decisions not because he doesn't love America, but because he doesn't seem to understand the consequences of an American defeat in Iraq, how it would risk a wider war and threaten the security of American families," McCain said. "I am going to end this war, but when I bring our troops home, they will come home with honor and victory, leaving Iraq secured as a democratic ally in the Arab heartland."
E-mail to a friend

CNN's Rebecca Sinderbrand contributed to this report.
All About John McCain • Barack Obama • Economic Issues