WASHINGTON (CNN) -- Speculation that Sen. John McCain is considering as a running mate two men who support abortion rights has sparked a backlash among social conservatives, including radio talk-show host Rush Limbaugh.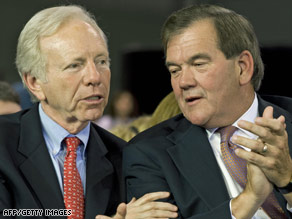 Sen. Joseph Lieberman, left, and Tom Ridge attend a McCain rally last week in York, Pennsylvania.
Limbaugh warned on his radio show Tuesday that McCain would ensure the GOP's defeat if he picked either Tom Ridge, a former Pennsylvania governor and homeland security secretary, or Sen. Joseph Lieberman, an Connecticut independent who was the 2000 Democratic vice presidential nominee. Both Ridge and Lieberman support abortion rights.
One Republican insider said McCain campaign manager Rick Davis has called several state party chairs and indicated that Ridge will be the Republican vice presidential pick this cycle.
"How about some discussion from the McCain campaign about a conservative who can be counted on across the board, who can help lead the country in the right direction?" Limbaugh said. "Who can help rebuild the Republican Party? Lieberman can't do that -- and rebuild the conservative movement? McCain nor Lieberman nor Ridge can do that."
When a voter in Las Cruces, New Mexico, asked whether he would pick a running mate "conservatives can actually rally around," McCain said, "I will nominate a person to be vice president, my running mate, who shares my principles, my values and my priorities, and that's the best that I can tell you."
Candidates 'Revealed'
See who the presidential candidates really are in two special back-to-back documentaries.
8 p.m. ET Wednesday
Both Ridge and Lieberman have strong national security credentials. Like McCain, Ridge is a decorated Vietnam War veteran; Lieberman has been one of the most vocal critics of the efforts by former Democratic colleagues to end the war in Iraq.
A McCain source confirmed Wednesday that Lieberman will speak at the Republican National Convention in Minneapolis-St. Paul, Minnesota.
But Limbaugh told his listeners that the drawbacks of choosing either man would far outweigh any potential benefits.
"McCain has already seen to it that he can walk across the aisle, that he's the top of the ticket," Limbaugh said. "If anybody is going to attract moderates, it's going to be the top of the ticket guy. He's not going to help himself any additional way; he's going to hurt himself by putting a liberal or a liberal Republican on this ticket, particularly pro-choice."
Michael Gerson, President Bush's former speechwriter, said McCain easily could lose any goodwill he has built up with social conservatives, who were not particularly comfortable with his nomination initially, if he picked Lieberman.
"I think McCain would like to pick him, but he voted against [Samuel] Alito and [is] pro-choice. It's hard to imagine the reaction at the convention and the conservatives to that circumstance," Gerson said, referring to the Supreme Court justice who enjoys widespread support among social conservatives.
Don't Miss
"John McCain has some political capital with conservatives right now, pro-life conservatives [but] not that much, and it would be very easy for him to squander with the wrong choice."
On Tuesday, Ridge downplayed the effect that his support for abortion rights would have if he were part of a McCain administration.
"Everybody wants to be the vice president," Ridge said. "At the end of the day, you're only giving your private counsel to the president. Publicly, you echo the president's position, and I think every vice president understands that and appreciates that's the rule.

Watch Ridge respond to Limbaugh »
"All I know is that my friend of 25 years, John McCain, is strongly and forever pro-life. He also believes that you shouldn't be judgmental on other people's point of view with regard to this and some other very difficult issues. And as I said before, I think he'll make the right choice for his vice presidential nominee," he added.
Ridge did little to knock down speculation that he is under consideration, telling CNN's Wolf Blitzer that "we'll just have to wait to see, won't we?"
Ridge and Lieberman are not the only prospects for the Republican No. 2 slot.
Former U.S. Rep. Rob Portman of Ohio, a former trade representative in the Bush administration, also reportedly is on McCain's shortlist. Portman will join the Arizona Republican when he campaigns Friday in Dayton, Ohio.
E-mail to a friend

CNN's Alexander Mooney and Katy Byron contributed to this report.
All About John McCain • Tom Ridge • Joseph Lieberman