Van strikes pedestrians in Toronto
By Veronica Rocha and Brian Ries, CNN
Updated
10:14 p.m. ET, April 23, 2018
10:12 p.m. ET, April 23, 2018
Our live coverage has ended. Go here or scroll down to read more about the van strike in Toronto.
10:14 p.m. ET, April 23, 2018
Canada prime minister offers condolences after "senseless attack"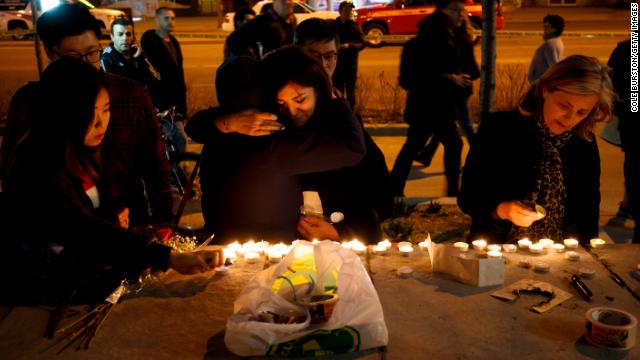 Canadian Prime Minister Justin Trudeau issued a statement tonight on the deadly van strike in Toronto.
Here's Trudeau's full statement:
It was with great sadness that I heard about the tragic and senseless attack that took place in Toronto this afternoon. On behalf of all Canadians, I offer my heartfelt condolences to the loved ones of those who were killed, and my thoughts for a fast and full recovery to those injured.I thank the first responders at the scene who managed this extremely difficult situation with courage and professionalism. They faced danger without hesitation, and their efforts no doubt saved lives and prevented further injuries.We should all feel safe walking in our cities and communities. We are monitoring this situation closely, and will continue working with our law enforcement partners around the country to ensure the safety and security of all Canadians.
10:02 p.m. ET, April 23, 2018
Toronto van strike appears to be a deliberate act, police chief says
From CNN's Eric Levenson, Julia Jones and Darran Simon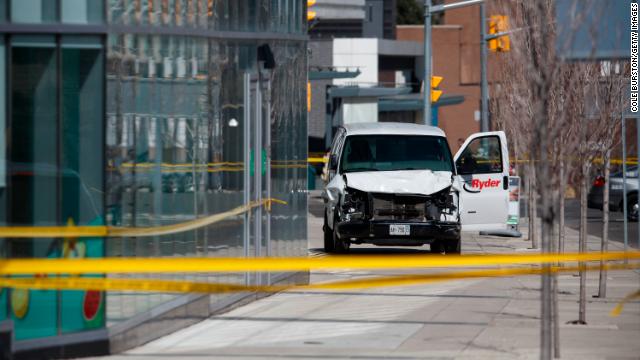 Toronto Police Chief Mark Saunders said the actions of a driver who plowed into pedestrians today "definitely look deliberate."
"Based on witness accounts, we have a vehicle that started north on Yonge Street from Finch and drove southbound at some point in times on sidewalks, at some point in times driving southbound in northbound lanes," Saunders said.
Saunders added: "So, it's very clear just from a general perspective to say that the actions definitely look deliberate."
The suspected driver, Alek Minassian, 25, of Richmond Hill, Ontario, was arrested in a white rental van less than 30 minutes after police received a 911 call, Saunders said.
At this point, "there would appear to be no national security connection" to the incident, said Ralph Goodale, Canada's minister of public safety and emergency preparedness.
9:41 p.m. ET, April 23, 2018
US Vice President Pence: "The American people stand shoulder-to-shoulder with our neighbors"
US Vice President Mike Pence tweeted tonight about the deadly van strike in Toronto.
The vice president said:
9:42 p.m. ET, April 23, 2018
10 dead in Toronto incident
Authorities now say 10 people were killed and 15 were injured in today's van incident in Toronto.
Sources have identified the driver of the van that plowed into multiple pedestrians as Alek Minassian, 25, of Richmond Hill.
Watch more:
8:11 p.m. ET, April 23, 2018
Eyewitness: "It was like a scene from a war zone"
Diego DeMatos was on his way to the gym this afternoon when he saw a van plow into pedestrians.
DeMatos told CNN's Erin Burnett that he pulled over to assist a man who had been hit. He tried to perform on the man.
"As I am doing it, the guy I was trying to help was dead, so he died in our arms," he said.
DeMatos said he and other bystanders covered the man with a woman's scarf, and waited for police.
"It was like a scene from a war zone," he said. "There was garbage cans everywhere, broken bus shelters and mailboxes on the ground. It was just a horrific scene. It was really, really horrible."
7:45 p.m. ET, April 23, 2018
Toronto Maple Leafs hold moment of silence at playoff game
The Toronto Maple Leafs held a moment of silence tonight before their NHL Stanley Cup Playoff series against the Boston Bruins.
After the moment of silence for today's victims, Martina Ortiz-Luis sung the Canadian national anthem and the crowd sang along. 
Watch the moment:
7:21 p.m. ET, April 23, 2018
The Toronto van driver has been identified
From CNN's Shimon Prokupecz
A US official confirmed and sources tell CNN partner CTV the driver who ran down pedestrians in Toronto today has been identified as Alek Minassian.
Minassian is in Canadian custody, sources said. 
The US official tells CNN the motive for the attack is still unknown.
6:59 p.m. ET, April 23, 2018
Toronto mayor: "Our city denounces this and all acts of violence"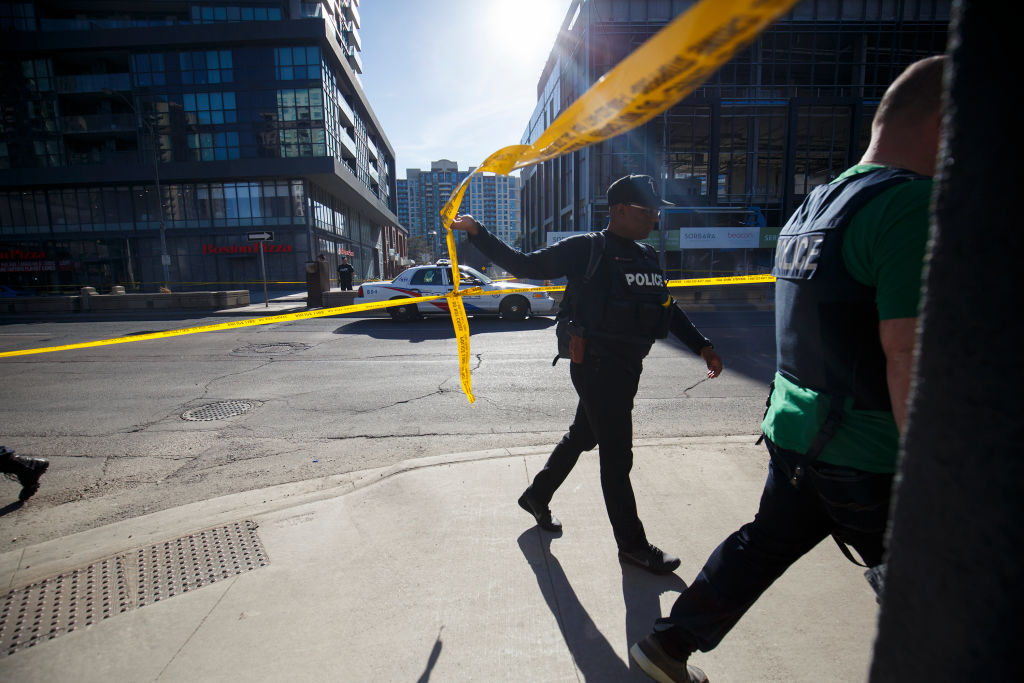 Toronto Mayor John Tory encouraged residents tonight to support those affected by today's van incident.
"My heart goes out to the families and loved ones of the nine people killed and 16 injured in today's cowardly and incomprehensible attack in Toronto," he said in a statement.
Tory said the city was working with government officials "to ensure the safety of all Toronto residents."
"Our city denounces this and all acts of violence and we are united in our grief over this devastating loss of life," he said. "I encourage the people of Toronto to come together in support of those affected by this tragedy and those working to keep us safe — in particular to help the police by providing information."
Tory urged people to "avoid speculation" about the police investigation.
"Instead, we should show the world that Toronto is a city that will not be cowed, will not be afraid, and will not waver in the values we hold dear," he said