Missing youth soccer team found alive in Thai cave
3:31 p.m. ET, July 2, 2018
First video shows the moment the boys were found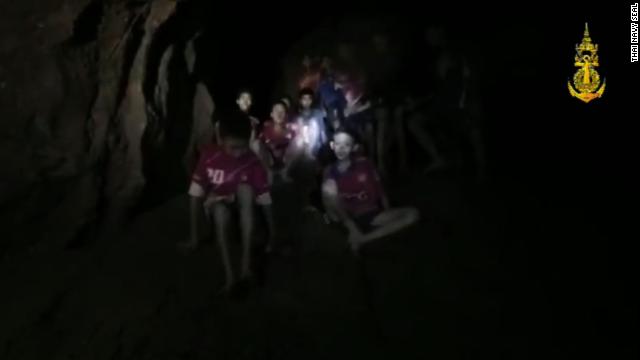 The Thai NAVY Seal released a video that appears to be the very first moment when the trapped boys were discovered.
One of the rescuers tells the boys in English with a British accent: "You are very strong."
Here's their conversation:
Rescuer: How many of you? 
Boys: 13 (inaudible)
Rescuer: 13, Brilliant! We are coming, many people are coming. Many people, we are the first.  
Boys: Asking what day it is.
Rescuer: Monday, you have been here 10 days, 10 days. You are very strong, very strong. We come, ok, we come.
Correction: This post originally stated the boys said "15." The number of trapped boys is 12, plus a coach. The total number of trapped people is 13.
2:19 p.m. ET, July 2, 2018
Scenes of jubilation outside the cave streamed live on Facebook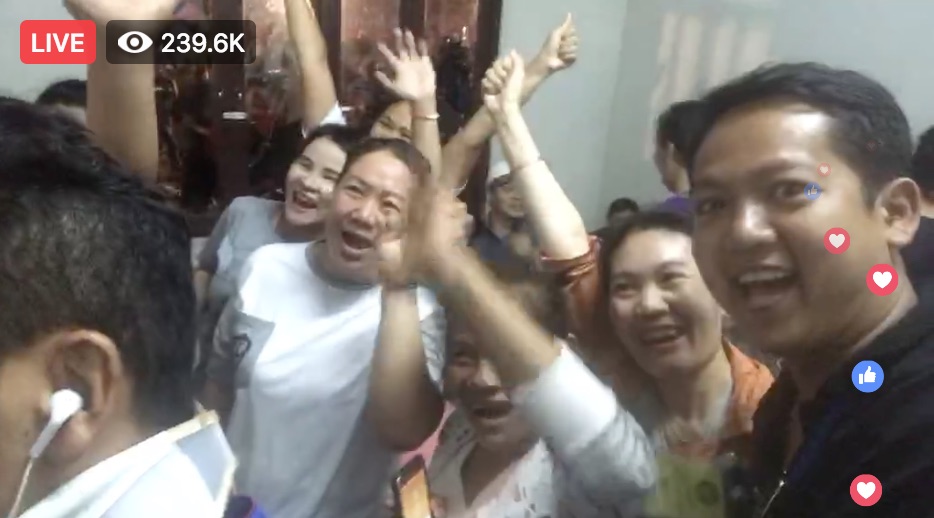 Outside the cave system, there were exhausted but jubilant scenes on Monday night. families -- many of whom have maintained a constant vigil since the team went missing -- could be seen cheering the good news on a live feed from the Facebook page of the Chiang Rai provincial Public Relations Department.
Tim Newton, a journalist based in Phuket, told CNN it will take time to get the boys out of the cave.
"Now they've got to try and figure out how to get these 13 very weak footballers out of the caves and that is going to be an enormous task," Newton said.
"They've got some medical doctors who are also divers, who are ready to get into the caves. They clearly want to stabilize the boys before they try and bring them out.
1:29 p.m. ET, July 2, 2018
Photo shows Thai Navy divers trying to reach trapped boys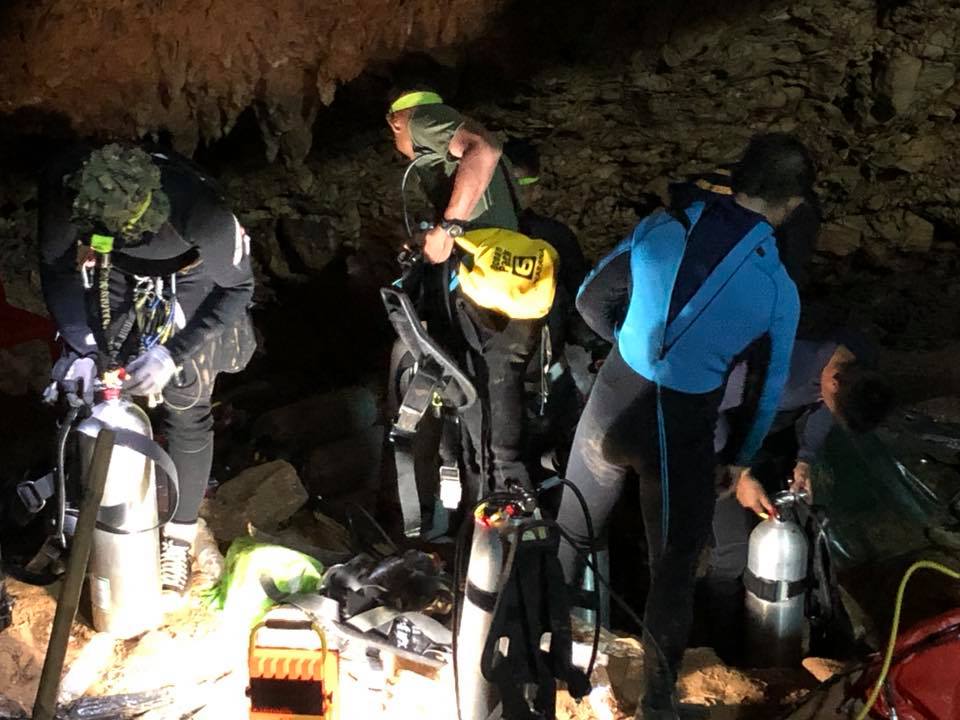 A Facebook page from the Thai Navy SEAL divers posted a picture of the rescuers, noting that they are still diving to reach the area with a doctor who will bring "power gels" and other life saving devices.
The SEALs are also planning to send people to accompany the boys while they await rescue, the Facebook post says.
2:56 p.m. ET, July 2, 2018
Why getting the kids out could be a "truly terrifying experience" for them
Rescue teams have found the 12 boys and their coach alive — but getting them out of the cave will be a challenge, Pat Moret, a rescue consultant, tells CNN.
The team will likely need a lot of medical treatment before they can be moved.
"They'll need fluids replacing possibly feeding. They're going to need reheating. They've possibly been lying still for days now. And sensory faculties won't be what they should be. So I would think that they're not really fit to move for maybe 12 hours or so really."
After that, the kids and their coach may need to dive to get out of the cave, Moret said.
"Worst case scenario is that they have to dive them out. So they're being fully immersed in water, wearing what we know is a full face mask or maybe even some sort of commercial dive helmet to make it a little less stressful for them. But it will be a truly terrifying experience," Moret said.
12:50 p.m. ET, July 2, 2018
The team had hiked through this cave before
Around 1 p.m. last Saturday, the weather was clear when Prajak Sutham, 14, Pipat Bhodi, 15, and some of their soccer teammates chained their bikes to a rail, hooked their backpacks over their shoulders, and hiked into Tham Luang Nang Non cave in the mountains of northern Thailand.
The 12 boys, members of the Wild Boars soccer team, and their 25-year-old coach, had explored the cave before.
Popular with tourists, it's a place locals know well. For the first kilometer (0.6 miles) or so inside the cavernous entrance, limestone rock formations hug high ceilings, creating an almost amphitheater-like atmosphere.
Deeper inside, the passages narrow into places the locals warn it's not safe to go.
For reasons unknown, the boys and their coach ventured on, deeper into the cave network, past signs that warn people not to enter during the rainy season, which usually begins in July.
12:46 p.m. ET, July 2, 2018
Governor: We're trying to send food and doctors into the cave
Chiang Rai Gov. Narongsak Osottanakorn said in a press conference that teams are still trying to get medical staff and food into the cave.
"We will send doctor or nurse who can dive. If we can send them, we will send them immediately. We also will send food but not sure that they can eat it or not because it is almost 10 days," Osottanakorn said.
Families could also be seen cheering about the good news on a live feed on the government's Facebook page.
12:37 p.m. ET, July 2, 2018
Thai government is live streaming the rescue on Facebook
Thailand's government went live on Facebook with footage from the rescue operation.
"Live!!" the government wrote. "Found them."
12:24 p.m. ET, July 2, 2018
How the rescue operation unfolded
A team of 12 soccer players and their coach disappeared nine days ago while hiking through a cave in Thailand. Here's how the search and rescue operation unfolded:
June 23: Twelve boys, members of the Wild Boars soccer team, and their 25-year-old coach hiked into Tham Luang Nang Non cave in the mountains of northern Thailand.
Hours later: A ranger from the national park alerted authorities when he noticed the bikes still chained up after the park had closed. Search and rescue efforts began.
Last Monday: An official with Thailand's national parks told CNN that rising waters blocked the path leaving the group stuck inside the cave network. Thai Royal Navy SEALs posted on Facebook "Handprints were found around cave's wall. But we still cannot locate the kids."
Tuesday: The search resumed following a rain delay. Electric cables and ventilation hoses were laid in the cave, the Bangkok Post reported.
Thursday: Search crews restarted their efforts after another agonizing five-hour pause due to heavy rain.
Friday: A team of six Chinese experts arrived at the site in Chiang Rai province, according to the Chinese Embassy in Thailand.
Also on Friday: Thai Prime Minister Prayut Chan-o-cha visited the rescue site.
Saturday: Australia deployed a team of six experts from its national police's Specialist Response Group, according to the country's Minister for Foreign Affairs Julie Bishop.
Today: Rescue teams found all 12 boys and their coaches alive.
12:16 p.m. ET, July 2, 2018
Chiang Rai governor: "They are all safe"
Governor of Chiang Rai, Narongsak Osottanakorn, confirmed during a press conference that the entire soccer team and coach were found safe in the cave. However, their job isn't done yet.
Here's what the governor said:
"We found the 13 people, and they are all safe. But our mission has not done yet. The first plan, we will drain all water out from the cave then we will take all 13 people out of the cave. We are now planning how to send nurse and doctor to inside the cave to check their health and movement. We will work all night."