Fire at Notre Dame Cathedral
2:32 p.m. ET, April 16, 2019
Macron says he wants the Notre Dame Cathedral rebuilt in 5 years
French President Emmanuel Macron, speaking in a televised address to the nation, said he wants the Notre Dame Cathedral to be rebuilt in five years.
"We will rebuild Notre Dame even more beautiful and I want that to be done in the next five years," he said.
He continued: "Throughout our history, we have built towns, ports, churches. Many have been burnt due to revolutions, wars, due to mankind's mistakes. Each time we have rebuilt them.
"The fire of Notre Dame reminds us that our story never ends. And that we will always have challenges to overcome. What we believe to be indestructible can also be touched," Macron said.
2:10 p.m. ET, April 16, 2019
NOW: French president addresses the nation after Notre Dame fire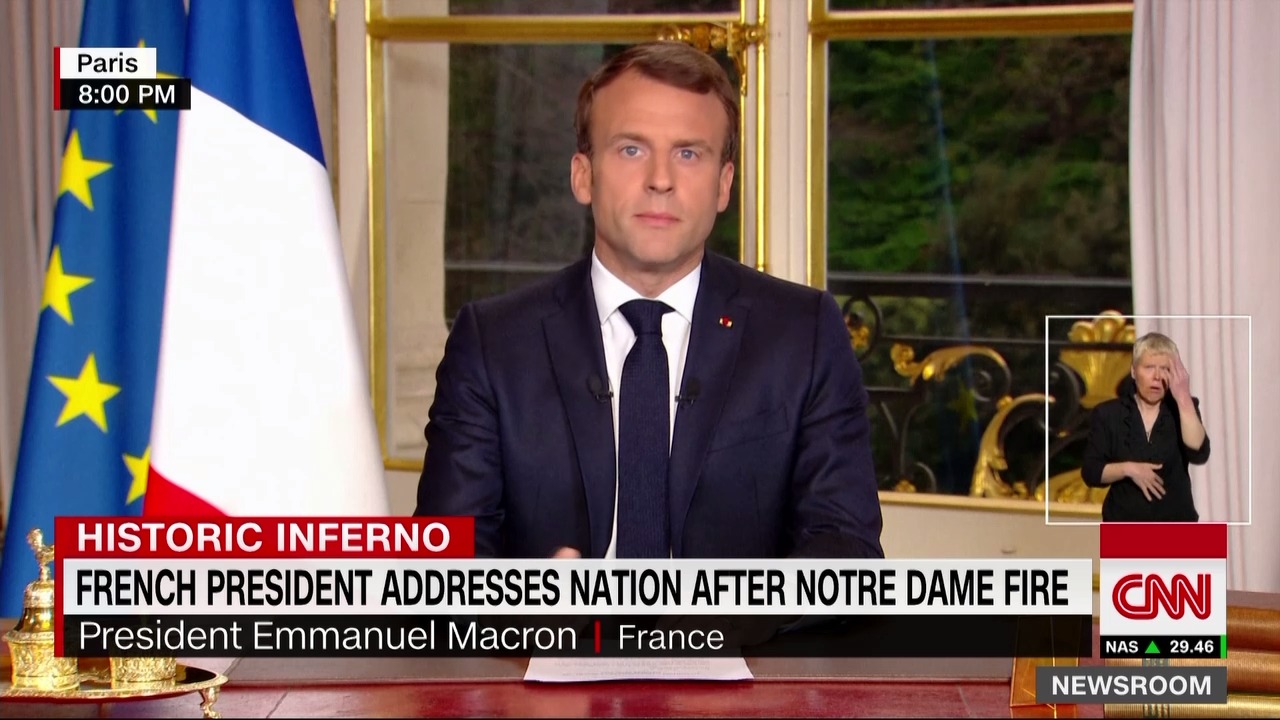 French President Emmanuel Macron has vowed to rebuild the cathedral of Notre Dame "even more beautiful."
In a televised address to the nation, Macron said he shared in the nation's sorrow and hope for the future.
"We will make the Cathedral of Notre Dame even more beautiful. We can do this," he said.
Macron said there will be time for reflection and then action.
1:56 p.m. ET, April 16, 2019
Paris terror attack hero helped save Notre Dame artifacts, mayor says
A Paris chaplain who tended to victims of the 2015 terror attack in the city has been hailed as a hero once more, after he reportedly entered the burning Notre Dame cathedral to rescue priceless relics from the blaze.
Jean-Marc Fournier, the chaplain of Paris fire service, entered the cathedral with firefighters to help salvage some of the priceless artifacts held in the building, the Paris 15th district mayor Philippe Goujon told reporters on Tuesday.
Fournier had previously held prayers and assisted victims after terrorists killed 130 people in attacks throughout the French capital in November 2015.
A number of relics were rescued during Monday's devastating fire, which tore through and destroyed parts of the 850-year-old church.
They include the Crown of Thorns, which some believe was placed on the head of Christ and which the cathedral calls its "most precious and most venerated relic."
He has been praised as a hero throughout social media for his bravery after Etienne Loraillère, the director of the French Catholic television network KTO, posted a picture of Fournier and commended the chaplain.
1:45 p.m. ET, April 16, 2019
Restoration expert says it will take 10 to 15 years to fully restore Notre Dame Cathedral
The full restoration of Notre Dame Cathedral will take between "10 to 15 years," according to Frédéric Létoffé, the head of the group of companies for the Restoration of Historic Monuments.
Létoffé, speaking at a news conference in Paris on Tuesday, said the site will need to be secured before any restoration work can take place.
"This will require a lot of work since, beyond shoring and reinforcement, it will be necessary to build a scaffolding with an umbrella to be able to cover the entire roof that went missing, to ensure protection against weathering" he said.
12:27 p.m. ET, April 16, 2019
How one artist responded to the cathedral fire
As Notre Dame Cathedral burned, Cristina Correa Freile channeled her own emotion by imagining how the church's most famous fictional denizen — its hunchbacked bell ringer — might have responded to the calamity.
She drew Quasimodo, the Disney cartoon version, embracing the iconic Paris landmark — complete with twin towers. She posted her drawing Monday on Instagram, where it quickly went viral and earned more than 160,000 social media supporters.
"I made (this) because of what's happening right now," said the architect and illustrator, who lives in Ecuador. "The world embraces Notre Dame right now."
The physically deformed Quasimodo is the central character of Victor Hugo's 1831 novel, "The Hunchback of Notre Dame," which tells the tale of his obsession with the beautiful Esmeralda. The story was told on the big screen in 1939, then Disney remade it in 1996 as a cartoon.
1:22 p.m. ET, April 16, 2019
Trump calls Macron after the fire
President Trump spoke to French President Emmanuel Macron in a phone call this morning to offer condolences for the fire at Notre Dame Cathedral, White House press secretary Sarah Sanders said in a statement.
"The United States stands with French citizens, the city of Paris, and the millions of visitors from around the world who have sought solace in that iconic structure," she said.
Sanders added:
"The Cathedral has served as a spiritual home for almost a millennium, and we are saddened to witness the damage to this architectural masterpiece. Notre Dame will continue to serve as a symbol of France, including its freedom of religion and democracy. France is the oldest ally of the United States, and we remember with grateful hearts the tolling of Notre Dame's bells on September 12, 2001, in solemn recognition of the tragic September 11th attacks on American soil. Those bells will sound again. We stand with France today and offer our assistance in the rehabilitation of this irreplaceable symbol of Western civilization. Vive la France!"
1:17 p.m. ET, April 16, 2019
There are no trees in France that are big enough to rebuild Notre Dame's roof
There are not any trees in France that are large enough to replace the ancient Beachwood beams that burned in the Notre Dame fire, Bertrand de Feydeau, vice president of the French Heritage Foundation (Fondation du Patrimoine), told CNN.
"The roof was made of beechwood beams over 800 years ago. There are no longer trees of that size in France," he said. 
Asked if any trees in Europe were big enough for the beams and could be imported to Paris, he said, "I don't know."