Fire at Notre Dame Cathedral
5:27 p.m. ET, April 15, 2019
"Paris without the cathedral is not Paris anymore," witness says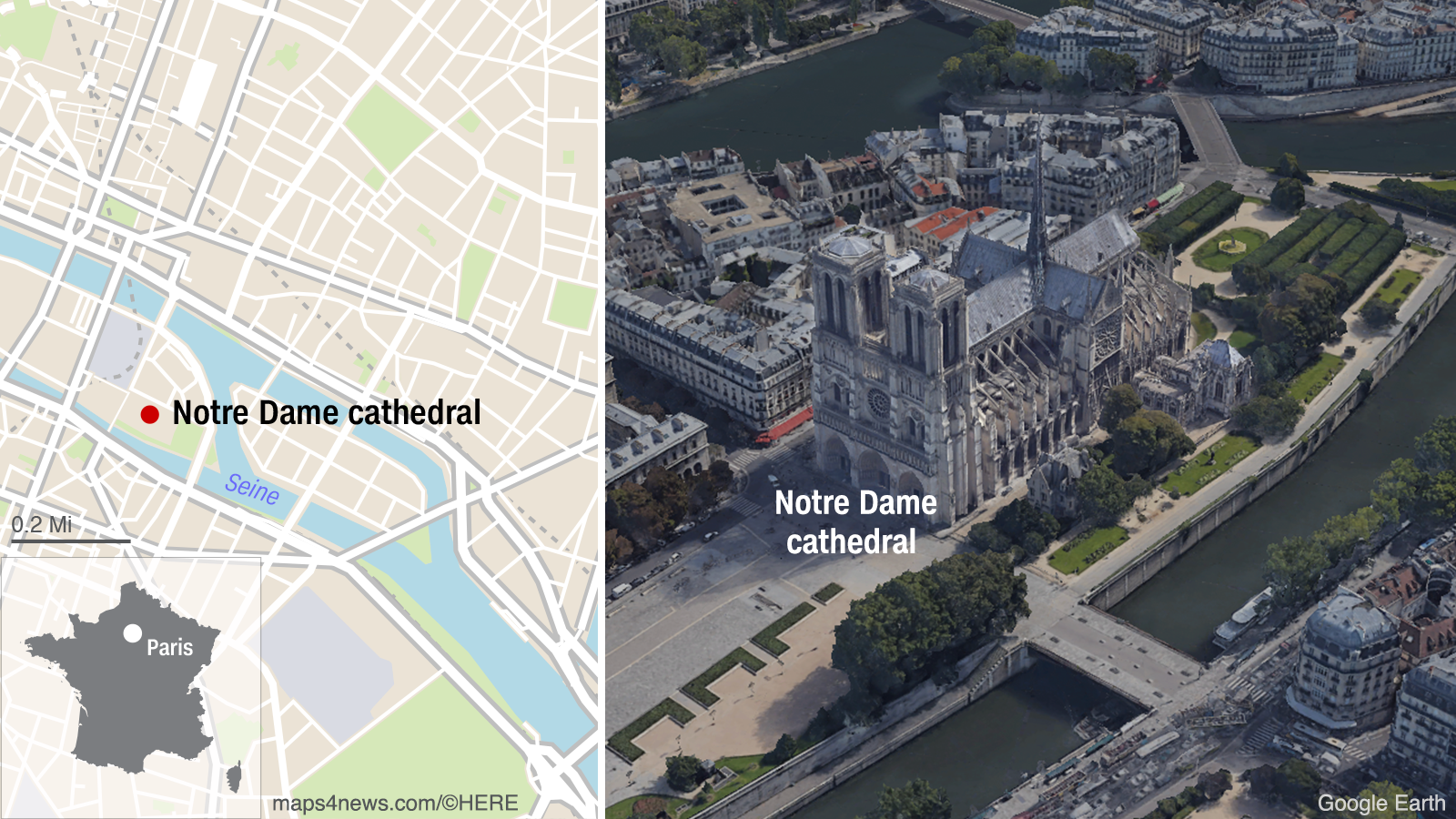 Patryk Bukalski was at a café near the Notre Dame Cathedral when he started smelling smoke.
"A bartender said the Notre Dame is on fire, so I left and saw this horrible picture," he told CNN over Instagram, where he posted a video of the burning cathedral.
He said people are standing outside, just watching and crying. "It's horrible. It's a symbol of Paris," Bukalski said. "It's just sad. I don't know what more to say."
At the scene: It is eerily quiet. Hundreds of people are lining the Seine watching the fire, but they are silent. Police have pushed people back, even telling residents they can't go to their homes.
"In Paris, it's a monumental symbol -- every person with different religions are really moved and saddened," said another witness named Anne Marie, speaking with tears in her eyes.
"Paris without the cathedral is not Paris anymore," she said.
See the crowds here:
5:27 p.m. ET, April 15, 2019
Macron has arrived at Notre Dame
French President Emmanuel Macron has arrived at the historic Notre Dame Cathedral, where a fire rages on.
He was accompanied by Mayor Anne Hidalgo, Prime Minister Edouard Philippe and first lady Brigitte Macron, as well as the Paris prosecutor.
5:28 p.m. ET, April 15, 2019
Embers and ash are falling from the Paris sky
Witness Elaine Leavenworth said ash and embers were falling from the sky as a fire tore through the iconic Notre Dame Cathedral in Paris.
Leavenworth said she felt droplets of water as firefighters worked to douse the flames.
She shared this photo of a tiny piece of debris in the palm of a hand:
2:42 p.m. ET, April 15, 2019
Paris prosecutor opens investigation into Notre Dame fire
The Paris prosecutor has opened an investigation into the Notre Dame fire, a spokesman tells CNN.
The fire broke out Monday evening at the iconic cathedral in the heart of Paris.
2:42 p.m. ET, April 15, 2019
London mayor: City "stands in sorrow" with Paris
London Mayor Sadiq Khan said the city "stands in sorrow" with Paris.
"Heartbreaking scenes of Notre Dame cathedral in flames. London stands in sorrow with Paris today, and in friendship always," Khan wrote on Twitter.
2:32 p.m. ET, April 15, 2019
As the spire fell, onlookers in the crowd let out gasps and groans
As the spire of the Notre Dame cathedral collapsed, there were horrified gasps from the watching crowd. Sirens blare in the background, as emergency personnel work to put out the flames.
Watch it here:
2:31 p.m. ET, April 15, 2019
Mike Pence on Notre Dame fire: "It is heartbreaking to see a house of God in flames"
US Vice President Mike Pence just tweeted about the ongoing Notre Dame fire.
"Notre Dame is an iconic symbol of faith to people all over the world – and it is heartbreaking to see a house of God in flames," he tweeted. "Our thoughts and prayers are with the firefighters on the scene and all the people of Paris."
See the tweet here: