Fire at Notre Dame Cathedral
3:52 p.m. ET, April 15, 2019
French government agency responds to Trump's suggestion of using "flying water tankers": That could collapse the "entire structure"
The French civil security agency, Sécurité Civile, has responded to US President Donald Trump's suggestion that "flying water tankers" should be used to fight the Notre Dame fire.
The agency tweeted, "The drop of water by air on this type of building could indeed result in the collapse of the entire structure."
"The weight of the water and the intensity of the drop at low altitude could indeed weaken the structure of Notre-Dame and result in collateral damage to the buildings in the vicinity," it said.
The civil security agency is part of the Interior Ministry.
Earlier today, Trump had said on Twitter, "Perhaps flying water tankers could be used to put it out. Must act quickly!"
3:36 p.m. ET, April 15, 2019
US bishops conference: Notre Dame is "a world treasure"
Cardinal Daniel DiNardo, the president of the US Conference of Catholic Bishops, shared his shock and sadness, calling the cathedral "a world treasure."
In a statement to the people of Paris, DiNardo said the cathedral has "long been a symbol of the transcendent human spirit as well as our longing for God."
Read his full statement:
"The horrific fire that is engulfing the Cathedral of Notre-Dame de Paris is shocking and saddens us all, for this particular cathedral is not only a majestic Church, it is also a world treasure. Noble in architecture and art, it has long been a symbol of the transcendent human spirit as well as our longing for God. Our hearts go out to the Archbishop and the people of Paris, and we pray for all the people of France, entrusting all to the prayers and intercession of the Mother of God, especially the firefighters battling the fire. We are a people of hope and of the resurrection, and as devastating as this fire is, I know that the faith and love embodied by this magnificent Cathedral will grow stronger in the hearts of all Christians."
3:51 p.m. ET, April 15, 2019
The crowd outside Notre Dame is singing hymns as the cathedral burns
As evening falls in Paris, crowds are still gathered near Notre Dame as the historic cathedral burns.
A witness earlier in the day had described an eerie silence; now, the crowd has begun to sing hymns together, many on their knees.
Watch it here:
3:21 p.m. ET, April 15, 2019
A Paris without its Notre Dame? "Madness," eyewitness says
Thibaud Binétruy, who lives in Paris, just told CNN of what it was like when the spire fell:
"I was walking home with a colleague. We were walking (on) Rue des Carmes. And we saw the smoke. I couldn't stop staring at it, so I took some pics. When the spire fell, the crowd reacted with 'ohhh' and 'ahh,' but I guess most of them were just shocked, silently. It's awful to see such a symbol disappearing in front of you. It's been there for so many years and in a few minutes half of it disappears... crazy. Paris without Notre Dame...madness."
3:38 p.m. ET, April 15, 2019
400 firefighters mobilized for Notre Dame blaze 
The French Interior Ministry said 400 firefighters have been mobilized to deal with the Notre Dame blaze. The cathedral's iconic spire collapsed earlier this evening. The central spire was built in the 19th century amid a broad restoration effort, partly buoyed by the success of Victor Hugo's novel "The Hunchback of Notre-Dame" in 1831.
3:18 p.m. ET, April 15, 2019
President Trump on the "terrible, terrible fire"
US President Donald Trump said Notre Dame's famous cathedral was struck by a "terrible, terrible fire."
"When we left the plane, it was burning at a level that you rarely see a fire burn," he said, referring to his trip from Washington to Minnesota for a tax-day roundtable with business leaders. 
The President lamented the damage to the historic cathedral.
"That's beyond countries, that's beyond anything," he said. "It's a part of our culture."
He said the fire would put "a damper" on the tax roundtable he was about to begin. 
Listen to President Trump here:
5:27 p.m. ET, April 15, 2019
"Paris without the cathedral is not Paris anymore," witness says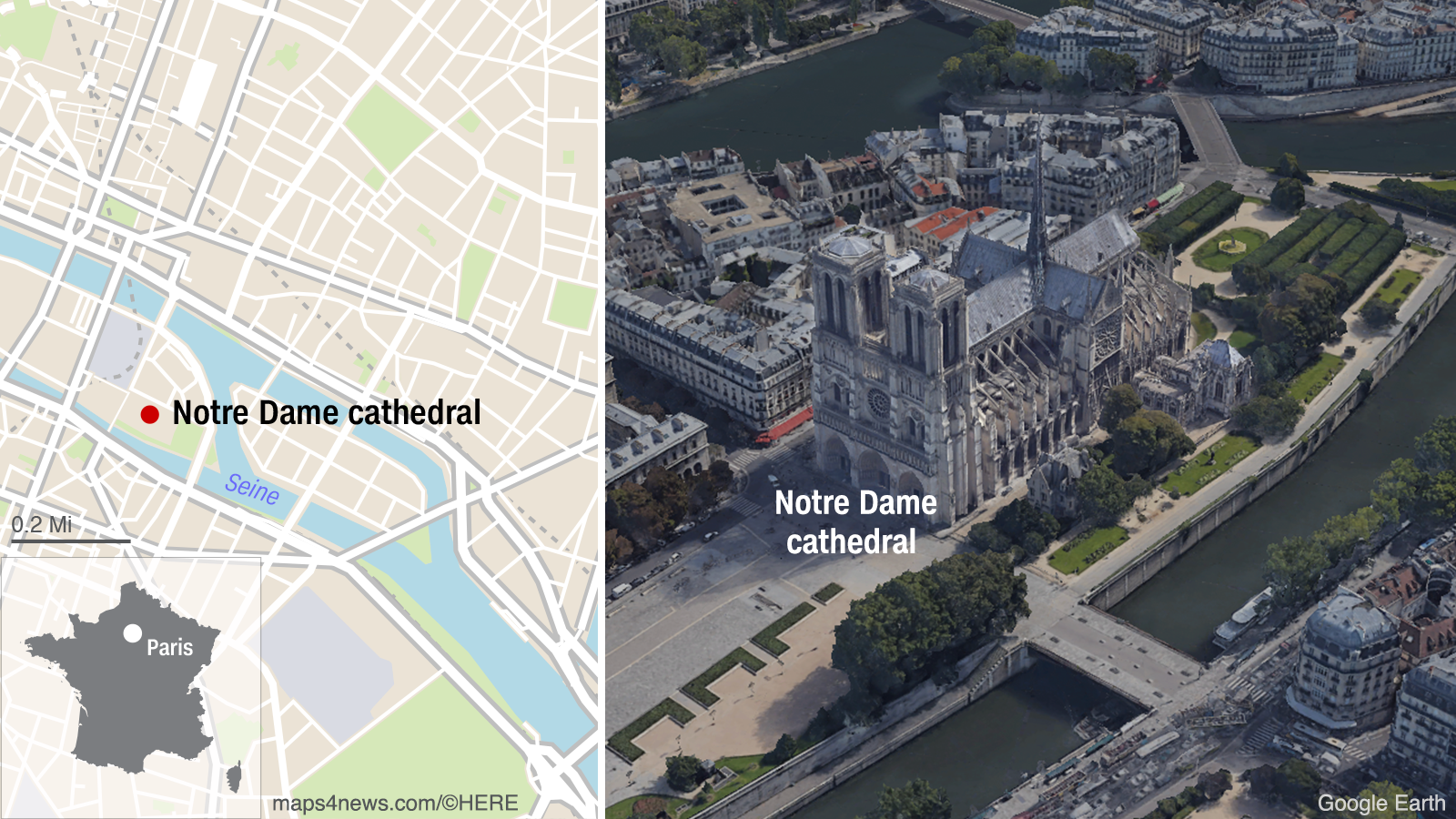 Patryk Bukalski was at a café near the Notre Dame Cathedral when he started smelling smoke.
"A bartender said the Notre Dame is on fire, so I left and saw this horrible picture," he told CNN over Instagram, where he posted a video of the burning cathedral.
He said people are standing outside, just watching and crying. "It's horrible. It's a symbol of Paris," Bukalski said. "It's just sad. I don't know what more to say."
At the scene: It is eerily quiet. Hundreds of people are lining the Seine watching the fire, but they are silent. Police have pushed people back, even telling residents they can't go to their homes.
"In Paris, it's a monumental symbol -- every person with different religions are really moved and saddened," said another witness named Anne Marie, speaking with tears in her eyes.
"Paris without the cathedral is not Paris anymore," she said.
See the crowds here:
5:27 p.m. ET, April 15, 2019
Macron has arrived at Notre Dame
French President Emmanuel Macron has arrived at the historic Notre Dame Cathedral, where a fire rages on.
He was accompanied by Mayor Anne Hidalgo, Prime Minister Edouard Philippe and first lady Brigitte Macron, as well as the Paris prosecutor.
5:28 p.m. ET, April 15, 2019
Embers and ash are falling from the Paris sky
Witness Elaine Leavenworth said ash and embers were falling from the sky as a fire tore through the iconic Notre Dame Cathedral in Paris.
Leavenworth said she felt droplets of water as firefighters worked to douse the flames.
She shared this photo of a tiny piece of debris in the palm of a hand: