Ethiopian Airlines plane crash
12:57 a.m. ET, March 12, 2019
Singapore suspends operation of all 737 MAX planes
Singapore's aviation authority has taken the strong move of suspending "all variants of the Boeing 737 MAX aircraft into and out of Singapore."
The suspension will start at 2 p.m., the Civil Aviation Authority of Singapore announced on Tuesday morning. The move will affect SilkAir, a regional carrier in the city-state, and the following airlines that fly into Singapore and have the 737 MAX in their fleets: China Southern Airlines, Garuda Indonesia, Shandong Airlines and Thai Lion Air.
Singapore Airlines does not have any 737 MAX 8 planes.
The decision comes as Aerolíneas Argentinas announced it was grounding its five Boeing 737 MAX 8 planes. Argentina's national carrier said the decision had been "taken after the technical reports" following the Ethiopian Airlines crash.
The following is a current list of airlines and jurisdictions that have suspended use of the 737 MAX 8:
Ethiopian Airlines
China
Indonesia
Aeromexico
Cayman Airways
Comair
Aerolíneas Argentinas
Singapore
A running list of airlines and countries that have suspended the use of 787 MAX 8s can be found here.
10:28 p.m. ET, March 11, 2019
Experts split on whether Boeing 737 MAX 8 should fly
The second fatal crash of a Boeing 737 MAX 8 in six months raises one huge question: Is the plane safe to fly?
Sunday's crash outside the Ethiopian capital of Addis Abba minutes after take-off came after a Lion Air jet went down last October, also minutes after leaving the tarmac. Both planes were brand new.
The similarities in the two crashes have left aviation safety experts and regulators around the world divided on whether the Boeing 737 MAX 8 is safe to fly.
"I've never said that it's unsafe to fly a particular model of aircraft, but in this case, I'm going to have to go there," said David Soucie, a former FAA safety inspector.
But Peter Goelz, a former managing director of the National Transportation Safety Board, said he believes it's too early for American authorities to ground the jets.
10:08 p.m. ET, March 11, 2019
Aeromexico is grounding its 737 MAX 8s
Aeromexico is grounding its Boeing 737 MAX 8 planes "until more thorough information on the investigation of the flight ET302 accident can be provided."
The Mexican airline said in a statement it is currently in communication with Boeing and the relevant authorities "and still has full confidence in the safety of the Boeing 737 MAX 8 fleet."
Aeromexico is one of a handful of airlines that have temporarily stopped using the 737 MAX 8. A running list can be found here.
8:32 p.m. ET, March 11, 2019
Here's what you need to know about the Ethiopian Airlines crash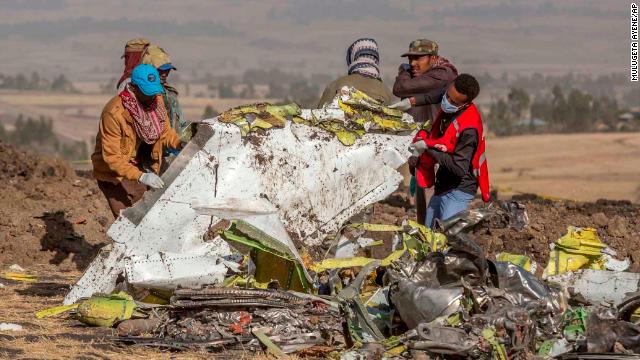 Investigators and experts worked Monday to piece together the last moments of Ethiopian Airlines Flight ET302, as airlines around the world began grounding Boeing 737 MAX 8s like the one which crashed Sunday, killing all 157 people on board.
3:58 p.m. ET, March 11, 2019
FAA to issue international notice to 737 MAX operators
The FAA says in a statement that it will issue an international notification regarding the Boeing 737 MAX in the wake of the crash in Ethiopia crash.
The agency says it will "take immediate and appropriate action" if it identifies a safety issue.
It is unclear from the FAA statement whether the notice will make any recommendations or simply reaffirm its confidence in the aircraft. The FAA tells CNN the notice isn't available yet, and the agency says it has a team on-sight "collecting data."
Read the FAA statement:
An FAA team is on-site with the NTSB in its investigation of Ethiopia Flight 302. We are collecting data and keeping in contact with international civil aviation authorities as information becomes available. Today, the FAA will issue a Continued Airworthiness Notification to the International Community (CANIC) for Boeing 737 MAX operators. The FAA continuously assesses and oversees the safety performance of U.S. commercial aircraft. If we identify an issue that affects safety, the FAA will take immediate and appropriate action.
What this means: One aviation analyst tells us this type of notification is relatively new and isn't sure what it will be. The FAA, as a US agency, obviously does not regulate aviation outside of the United States.
2:15 p.m. ET, March 11, 2019
World Bank employee identified as one of the victims
Max Thabiso Edkins, a World Bank employee, was one of the 157 victims of Sunday's crash. He was en route to the United Nations Environment Assembly and One Planet Summit in Nairobi, Kenya.
A 35-year old national of both Germany and South Africa, he joined the World Bank Group in January 2013. He served as a communications officer for Connect4Climate, a multi-partner communications platform that advocates for climate action.
Kristalina Georgieva, the interim president of the World Bank Group, released this statement:
"We were devastated to learn that we lost a cherished colleague in the plane crash in Ethiopia. Max was deeply committed to the fight against climate change and brought tremendous creativity, energy and passion to his work. Our deepest sympathies go to his family and loved ones, and to those of the other victims of this tragedy." 
1:19 p.m. ET, March 11, 2019
These airlines are still flying Boeing 737 MAX 8s
An investigation is underway after a Boeing 737 MAX 8 aircraft crashed Sunday in Ethiopia, killing all 157 people on board. It is the second time in less than six months that one of the planes has crashed within minutes of takeoff.
There are approximately 350 Boeing 737 Max 8 aircraft in operation worldwide, being flown by 54 operators, according to the US Federal Aviation Administration (FAA).
Travelers can check the full list of airlines that fly the plane on the Boeing website.
Here's a list of the airlines still flying the aircraft:
American Airlines
Southwest Airlines
Norwegian Airlines
TUI
Silk Air
Fiji Airways
Icelandair
Flydubai
WestJet
GOL Linhas Aéreas
1:10 p.m. ET, March 11, 2019
South African airline grounds the only Boeing 737 MAX 8 in its fleet
The South African-based airline Comair said Monday that it had grounded the single Boeing 737 MAX 8 in its fleet – only weeks after its delivery – in light of the Ethiopian Airlines crash.
In a statement, Comair said that it had decided "to remove its 737 MAX from its flight schedule," adding that it made the decision even though "neither regulatory authorities nor the manufacturer has required it to do so." 
The airline did not provide additional information on a second Boeing 737 MAX 8 that is scheduled for delivery this month.  
Comair has been a franchise partner with British Airways since 1996, and also flies as the low budget brand kulula.com.
12:47 p.m. ET, March 11, 2019
UN chief: "A global tragedy has hit close to home — and the UN is united in grief"
Twenty-one United Nation staffers were killed in the Ethiopian Airlines plane crash, UN officials said Monday, revising a death toll provided to CNN earlier in the day.
One of the fatalities was re-classified as non-UN staff, as he was an outside expert and not UN personnel, a UN spokesperson said.
UN Secretary-General António Guterres spoke about the victims this morning.
"A global tragedy has hit close to home — and the UN is united in grief," he said.