Rugby World Cup final: South Africa stuns England with superb 32-12 win
9:45 a.m. ET, November 2, 2019
Thank you and goodbye!
So, after 44 days of enthralling action, we say goodbye to the Rugby World Cup and Japan.
It has been a fantastic tournament and one that South Africa will never forget.
You can read James Masters' report on South Africa's stunning victory over England right here but perhaps we'll leave it up to Springboks captain Siya Kolisi to have the final word.
Thanks for joining us -- it has been an absolute blast.
We have so many problems in our country, but to have a team like this -- we come from different backgrounds, different races and we came together with one goal. I really hope we have done that for South Africa -- to show that we can pull together if we want to achieve something."
9:29 a.m. ET, November 2, 2019
Springboks signing off in style
It's been a remarkable six weeks for South Africa.
From losing to New Zealand in its opening game to winning the World Cup trophy for a third time.
We think they're pretty happy about it all...
9:18 a.m. ET, November 2, 2019
World Cup No. 3
How good does that look, South Africa fans?
9:17 a.m. ET, November 2, 2019
Royal tribute
Prince Harry congratulates the South African players in their locker-room following their World Cup victory.
8:58 a.m. ET, November 2, 2019
Furry friends foresaw future
Ever since Paul the Octopus shot to fame by correctly predicting all of Germany's results at the 2010 football World Cup, we've been waiting for the next crop of soothsaying animals to come along.
And it looks like we may have found them in the form of a piglet and some pooches.
Ahead of the World Cup final, when asked to pick a winner, both chose South Africa.
Following the Springboks' 32-12 victory over England, let's hope they're getting some extra treats as a result.
Maybe it's best we don't mention an owl picked England. And who says owls are meant to be wise?
Click here to read more about it.
8:54 a.m. ET, November 2, 2019
Rugby World Cup in pictures
Have a look back at our favorite photos from the Rugby World Cup:
8:51 a.m. ET, November 2, 2019
Captain Fantastic
South Africa captain Siya Kolisi is hoping the country's third World Cup victory can be a catalyst for change.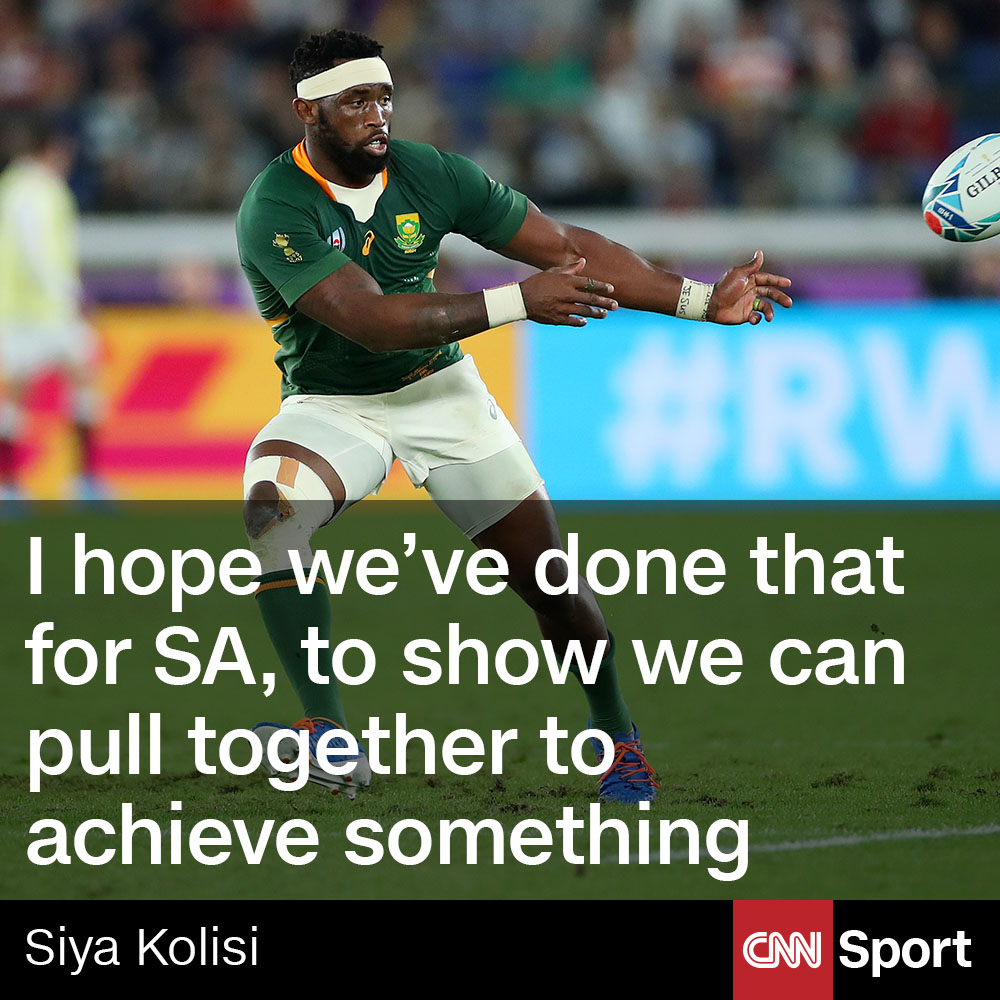 8:35 a.m. ET, November 2, 2019
England soccer legend applauds Kolisi
Former England and Arsenal striker Ian Wright hailed the performance of South Africa's captain Siya Kolisi:
8:22 a.m. ET, November 2, 2019
Nelson Mandela Foundation
The Nelson Mandela Foundation -- a non-profit organisation focused on memory, dialogue and legacy work, founded by Nelson Mandela in 1999 -- congratulated the Springboks on their victory: