6:43 p.m. ET, April 7, 2020
Trump and Fauci address coronavirus' disproportionate impact on African Americans
President Donald Trump and Dr. Anthony Fauci on Tuesday discussed the disproportionate impact the coronavirus is having on African Americans.
"We're actively engaging on the problem of increased impacts -- this is a real problem and it's showing up very strongly in our data -- on the African American community. And we're doing everything in our power to address this challenge. It's a tremendous challenge. It's terrible," Trump said during a White House press briefing from the coronavirus task force.
He continued, "It's been disproportional. They're getting hit very hard."
Fauci, the director of the National Institute for Allergy and Infectious Diseases, called the issue an "exacerbation of a health disparity."
"We've known, literally forever, that diseases like diabetes, hypertension, obesity and asthma are disproportionally afflicting the minority populations, particularly the African Americans," Fauci said. "Unfortunately, when you look at the predisposing conditions that lead to a bad outcome with coronavirus, the things that get people into ICUs, that require intubation and often lead to death, they're just those very comorbidities that are unfortunately disproportionately prevalent in the African American population."
He added, "It's very sad. There's nothing we can do about it now except try and give them the best possible care to avoid those complications."
6:47 p.m. ET, April 7, 2020
Trump: UK requested help getting 200 ventilators
US President Donald Trump said British officials contacted the White House on Tuesday to request ventilators and that American officials were working to supply those additional machines.
"We're going to work it out for them," Trump said at the White House coronavirus task force briefing.
Dealing with their own Covid-19 outbreak, the UK asked for the Trump administration to send over 200 ventilators, the President said.
"They needed them desperately," Trump said. "They've been great partners."
Trump said the US would soon have "110,000 ventilators coming over a short period of time."
"I don't think we'll need them," he said.
6:42 p.m. ET, April 7, 2020
Physician worries Covid-19-related deaths could be undercounted
Emergency physician Dr. Megan Ranney says she's worried a number of factors could be leading to an undercount in the death toll related to the coronavirus pandemic. 
Ranney, an emergency physician at Lifespan/Brown University, told CNN's Wolf Blitzer that people with acute conditions who usually fill her emergency department, like strokes or heart attacks, are not showing up.
"I'm worrying that they're dying at home or having severe illness that we would attribute to Covid-19," Ranney said.
In other cases, she said, people are dying at home from the coronavirus. And in still others, people coming to emergency rooms have trouble getting tested.
Ranney said she also wonders whether fatalities were attributed to other health issues -- not accounting for the role coronavirus played.
"We wonder how much of that preceded the reports of this past week. How many deaths were attributed to heart attacks, hypertension, diabetes, that were actually exacerbated by Covid-19," she said.
6:37 p.m. ET, April 7, 2020
World's busiest airport faces increasing number of homeless people seeking overnight refuge
The world's busiest airport, Atlanta Hartsfield-Jackson International Airport, is facing an increasing homelessness problem as hundreds seek overnight refuge in the wake of the coronavirus pandemic.
Jeff Smythe, CEO of Hope Atlanta, an organization striving to curb homelessness, said his team screened more than 250 homeless people at the airport for Covid-19 symptoms each night this past weekend.
Smythe told CNN that at least one homeless person was sent to the hospital by Atlanta Police after being screened for Covid-19.
"We are very concerned about these vulnerable populations. I had a couple of veterans last night that were in either the high risk category because of age or chronic condition or both," Smythe said.
Atlanta Mayor Keisha Lance Bottom's spokesperson told CNN in a statement that the city is working toward alternative solutions for the homeless community.
"The Mayor has worked closely with her team to ensure immediate compliance, and as needed, additional measures to further reduce the risk of exposure to people experiencing homelessness and airport staff," the spokesperson said.
The spokesperson added: "The City and its partners are working to finalize funding and action plans for additional solutions, such as emergency lodging with the opportunity for placement into permanent housing."
Atlanta Hartsfield-Jackson International Airport and Atlanta Police declined to comment referring CNN to statement released by City Hall.
5:33 p.m. ET, April 7, 2020
North Carolina governor says state faces "overwhelming crush" of unemployment claims, topping 400K
North Carolina is currently dealing with an "overwhelming crush" of unemployment claims, which are topping 400,000, due to the economic fallout tied to the coronavirus pandemic, the governor said Tuesday. 
"Right now about 110,000 people have received checks, and I believe the figure is over 26 million dollars that has gone out to people. We have over 400,000 people who have applied," Democratic Gov. Roy Cooper told reporters in Charlotte.
Cooper pledged that the state's Employment Security Commission will keep on "working hard until these claims get paid and everybody gets in the system" but he also acknowledged the difficulty in processing all the claims.
"This is a frustration that's being faced in every single state in the country because for example in North Carolina, this is a system that was used to about 3,000 claims a week and now they're dealing with over 400,000," he said.
Cooper stressed that "every single family that applies for unemployment benefits is important."
"Every single family who applies is probably hanging by a thread right now and the people over at the Employment Security Commission know this," he said.
5:22 p.m. ET, April 7, 2020
ICE releasing detainees on a case-by-case basis
US Immigration and Customs Enforcement told congressional staff Tuesday that it's reviewing cases of individuals in detention who may be vulnerable to the coronavirus, following repeated calls from lawmakers to release detainees.
The agency, in an email obtained by CNN, told the congressional staff that it has instructed its field offices to "further assess and consider for release certain individuals deemed to be at greater risk of exposure, consistent with CDC guidelines, reviewing cases of individuals 60 years old and older, as well as those who are pregnant."
"Additionally, efforts to identify other individuals who may be more vulnerable to COVID-19, based on risk factors identified by the CDC, other than age and pregnancy, are ongoing, based on the recommendations of CDC," ICE said.
Nineteen detainees in ICE custody have tested positive for coronavirus, according to the agency.
5:35 p.m. ET, April 7, 2020
Chef serves thousands of meals to people in need from Nationals Park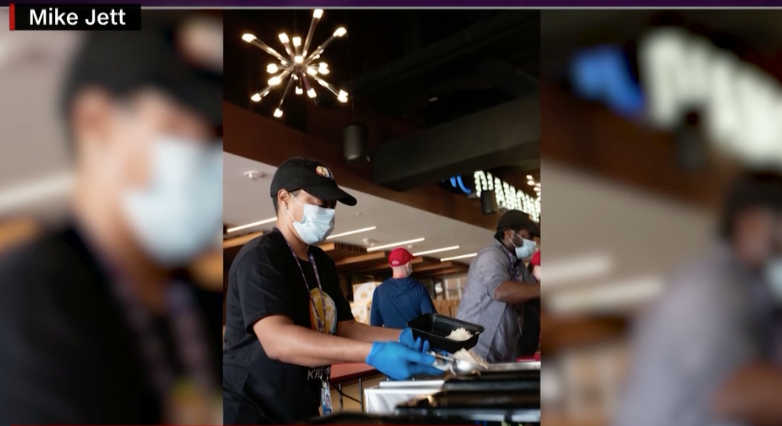 Famous chef José Andrés has teamed up with Nationals Park in Washington, DC, to distribute thousands of meals to people in need during the coronavirus pandemic.
Andrés is the founder of World Central Kitchen, a charity that has been serving low income communities battling the virus in more than 25 cities across the country.
He said it is important to help people during this pandemic because there are less volunteers and less resources for those experiencing homelessness. Andrés said his charity is not only providing meals, but also giving people hand sanitizer and educating them about social distancing.
"If we are not careful, we may have a humanitarian crisis as many people are losing their jobs and as many NGOs are not able to be providing services that normally they provide," Andrés said.
The charity delivers some food, but has also partnered with elderly homes and is in the process of partnering with delivery companies.
Having a kitchen at the National's stadium allows Andrés to bring food to not just people in Washington, DC, but also in Virginia and Maryland.
Andrés said keeping everyone safe and healthy is a priority.
"We've been getting experience in how to do it right, protecting our teams, and also protecting the people receiving our meals," he said.
Watch:
5:25 p.m. ET, April 7, 2020
California governor ships hundreds of surplus ventilators to New York, New Jersey and Illinois
California Gov. Gavin Newsom announced that shipments of ventilators will arrive in hotspots in New York, New Jersey and Illinois as early as Tuesday night, as his state began flying a surplus of 500 ventilators to states in need.
"One hundred going to New York, 100 going to New Jersey, 100 going to Illinois," Newsom, a Democrat, told reporters Tuesday.
He continued: "The Vice President was correct ventilators are going to DC, Delaware, ventilators are going to Maryland, and likely Nevada. So that was the determination; it was done through the collective wisdom of our partners at FEMA ... it was done in collaboration with their expectation and needs of what is required of the moment on the ground, based upon that data, and that collaborative engagement, we made this determinations working together, including with the vice president and his (White House coronavirus) task force."
Newsom said the 500 ventilators are being loaned after the state was able to refurbish and purchase sufficient equipment for the states own needs.
"Because we feel we're adequately resourced for the moment — again, in a dynamic world, where things can change, and we're confident that the number of ventilators that we currently have in possession are adequate to the task in the very short term," he said.
The ventilators being shipped are part of California's own supply, and are being distributed as a loan.
5:33 p.m. ET, April 7, 2020
Trump says there were initial issues with small business loan program during call with US banks, but that glitches were "very few"
President Donald Trump met by telephone with leaders from the banking industry Tuesday about Paycheck Protection Program loans for small businesses after the program had rocky rollout.
The program was initially met with confusion and a bit of pushback from some banks who claimed they didn't have enough information about the program, or guarantees that they would ultimately be paid back by the government.
JP Morgan Chase told its customers last week it would not be able to start accepting applications for the loan when the program rolled out Friday, because it was "still awaiting guidance from the SBA and the US Treasury."
But that confusion seemed to be cleared up by Tuesday, when the bank's Chief Operating Officer Gordon Smith thanked the SBA and Treasury Department for working with the bank "seven days a week late, late into the night in very close partnership to make sure that we could deliver the program." 
Treasury Secretary Steven Mnuchin told reporters the issues were due to "a lot of new users coming onto the system."
"They're all getting authenticated. We'll get them all approved," he said.
During the meeting, Trump acknowledged that there had been a few issues, but wrote them off as normal.
"There are a few glitches, very few," the President said. "Any little glitch we had worked out within minutes. Within hours. There were a couple, a little on applications. They wanted to work it a little bit differently, banks had some suggestions and it was all done probably I would say 100% of it in the first day."
Work on a new round of payouts for small businesses is already in the works, Trump and Mnuchin said.