Boeing 737 Max 8 planes grounded after Ethiopian crash
3:33 p.m. ET, March 13, 2019
Here's where Boeing 737 Max 8 planes have been grounded
The US is the latest country to ground all Boeing 737 Max 8 jets, joining a list of more than 40 countries that have done so.
Here's a look at where the jets are grounded:
3:10 p.m. ET, March 13, 2019
This map shows all the 737 Max flights currently over US airspace
Approximately 30 Boeing 737 Max airplanes were traveling in US airspace at the moment President Trump announced that they would, upon reaching their destinations, be grounded.
The above map, tweeted by Flightradar24, shows where they are located.
3:03 p.m. ET, March 13, 2019
Boeing says it will tell the FAA to ground its 737 Max planes "out of an abundance of caution"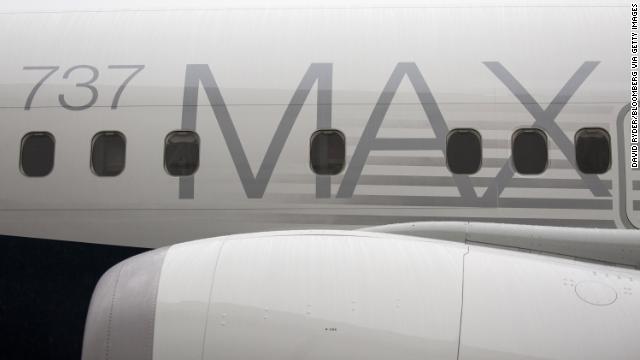 After nearly every country in the world determined that Boeing's 737 Max airplane should be kept on the ground, Boeing finally relented on Wednesday afternoon and said, in a statement, that it would tell the FAA to ground its entire fleet.
It cited no additional findings or data, rather said the plane should be suspended "out of an abundance of caution and in order to reassure the flying public of the aircraft's safety."
"We are supporting this proactive step out of an abundance of caution. Safety is a core value at Boeing for as long as we have been building airplanes; and it always will be," Dennis Muilenburg, president of Boeing, said.
Boeing, the company said, makes this recommendation and supports the decision by the FAA.
2:57 p.m. ET, March 13, 2019
Trump says he worked with Canada and other countries in grounding 737 Max planes
President Trump said he spoke with a number of airlines as well, including American Airlines, before grounding the Boeing 737 Max aircraft.
He said he also worked closely with Canada and other countries. Trump said this was the best decision, "psychologically and in other ways."
He said the FAA will be making an announcement within half an hour.
2:36 p.m. ET, March 13, 2019
NOW: Trump announces US will order Boeing 737 Max 8s and 9s grounded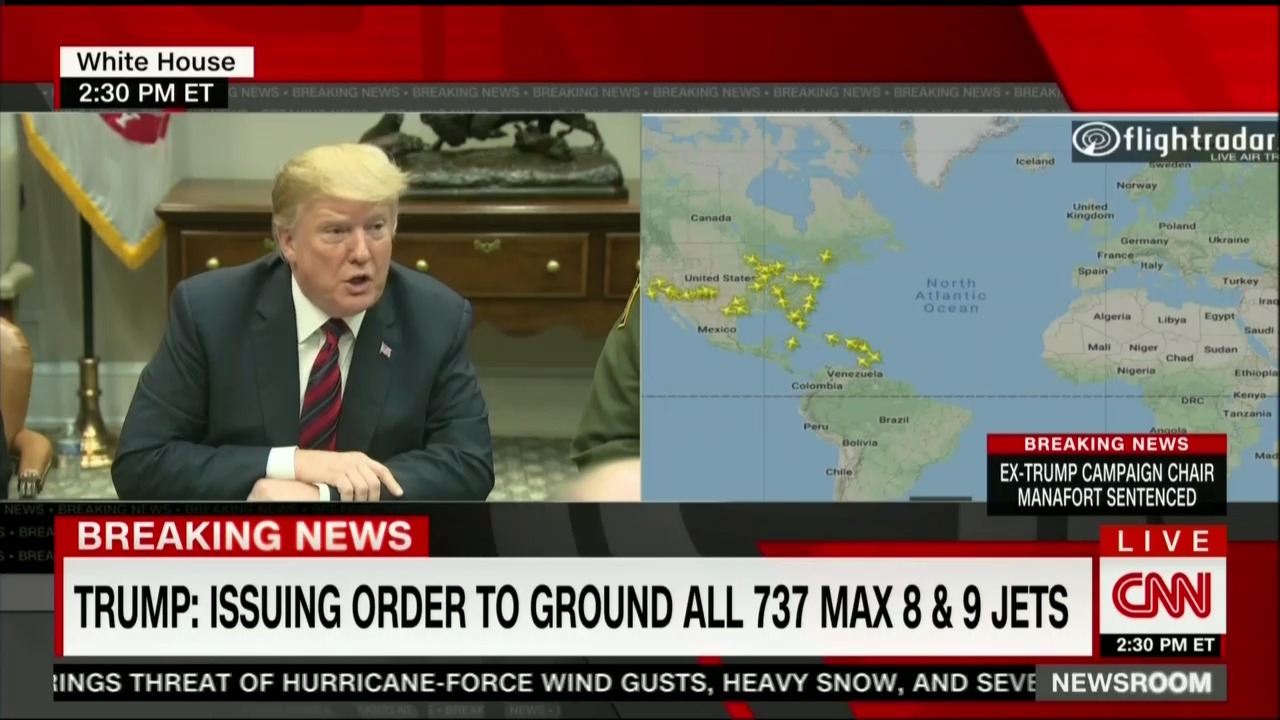 President Trump, speaking Wednesday afternoon at the White House, announced that the US would be issuing an "emergency order to ground all 737 Max 8 and the 737 Max 9, and planes associated with that line."
He added that both the FAA and Boeing were "in agreement with the action," and any planes currently in the air would continue to their destination where they will be grounded.
"Pilots have been notified, airlines have been all notified. Airlines are agreeing with this. The safety of the American people and all people is our paramount concern," the President said.
Watch Trump's announcement:
2:30 p.m. ET, March 13, 2019
Air Canada warns of delays as it scrambles to rebook customers after 737 Max is grounded
Air Canada, until this afternoon was one of a few carriers still flying the Boeing 737 Max, said it would follow Transport Canada's safety notice that bans the plane from Canadian airspace and work to rebook its passengers on other available aircraft.
However, due to the size of its operation, customers should expect delays.
"Air Canada's cancellation and rebooking policies are in place with full fee waiver for affected customers. We are working to rebook impacted customers as soon as possible but given the magnitude of our 737 MAX operations which on average carry nine to twelve thousand customers per day, customers can expect delays in rebooking and in reaching Air Canada call centres and we appreciate our customers' patience."
On Twitter, the airline added that anyone currently onboard a 737 Max can expect to continue to their destination.
2:01 p.m. ET, March 13, 2019
FAA still believes the 737 Max is working like it should
Despite the actions of other aviation regulators worldwide, the Federal Aviation Administration sees no need to ground the Boeing 737 Max 8 fleet at this point because it believes the aircraft is operating as intended, according to a person familiar with the FAA deliberations. 
"All of the data available tells us this airplane is performing to its certifications," said the person, who spoke on the condition of anonymity to discuss the non-public deliberations. 
The source continued:
"We know that the airplane was designed to meet the strongest certification standards in the world, and we know that we have several hundred thousand successful and safe flights in the US ... And we also know what happened in the Lion Air accident, and we know how to avoid that happening again. The big question becomes what happened this time — was it the same thing or was it something different." 
One note: The person spoke before Canadian authorities announced they had reviewed new tracking data and would ground the Max series.  
The person's comments clarified and echoed the statement from FAA Acting Administrator Daniel Elwell Tuesday evening. He said the FAA's "review shows no systemic performance issues and provides no basis to order grounding the aircraft." 
Elsell also said the agency would take "immediate and appropriate action" if it learns new information.