Dress Up Your Garden or Outdoor Space With Plants for Full sun
Full sun flowers are some of the most beautiful, colorful plants you can grow. Many need six or more hours of sun each day, although some appreciate a little afternoon shade or filtered light in very hot climates. Be sure to check your plants for full sun often to see if they need water.
For added color and interest, mix your full sun plants in a flower container. (They should be able to tolerate full sun.) Flowering shrubs for sun, such as small hydrangeas, annuals that can take the heat, like zinnias and marigolds, and perennials that need sun, like coneflowers, are just a few possibilities. Read on for more sunny suggestions.
African Daisies, Pansies and Alyssum For Full Sun
When you're looking for full sun flowers for pots, consider summer snapdragons, lantana, mandevilla vines and portulaca. This planter of full sun flowers includes 'Akila Lavender Shades' osteospermums (also known as African or Cape Daisies), 'Cool Wave Frost' spreading pansies and 'Clear Crystal' white alyssum. All of them thrive in sun and this combination will give you blooms from spring into fall.
Zahara Zinnia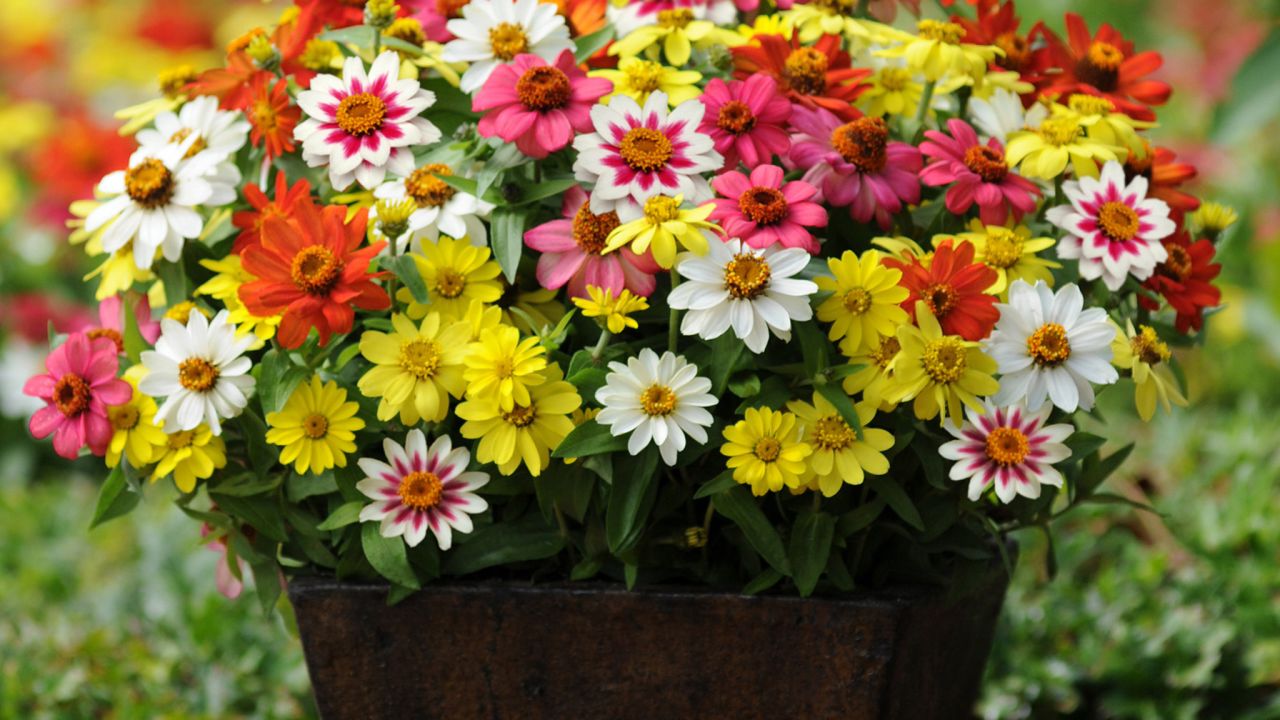 An old-fashioned favorite, zinnias had a makeover in 2018 when Ball Horticultural Company introduced this hot weather-happy zinnia. Zahara zinnia (Zinnia marylandica) unfurls non-stop flowers (no more deadheading) and leaves packed with disease resistance (no more powdery mildew). Drought-tolerant Zahara forms a mound 12 to 18 inches tall and wide, so they look tidy in a container. Look for varieties that open blossoms in a rainbow of hues.
LEARN MORE: Planting and Growing Zinnia Flowers
Diamond Frost Euphorbia
When you plant Diamond Frost euphorbia, you're planting one of the most award-winning plants ever developed. More than 400 universities and botanical gardens have named it one of their top plants. This easy-care gem forms a blizzard in a pot, opening white flowers all season long. It grows best in sun, but flowers well in part shade, too.
Mandevilla Vine
Grow a touch of the tropics with bright mandevilla vine. Give it a drink of plant food weekly and you'll be rewarded with a strong flower show. Showcase it alone in a pot, or pair it with other tropicals, like this majesty palm and pink Tropic Escape hibiscus, for a sizzling south-of-the-border container garden.
LEARN MORE: Mandevilla Plant Care
Supertunia Petunia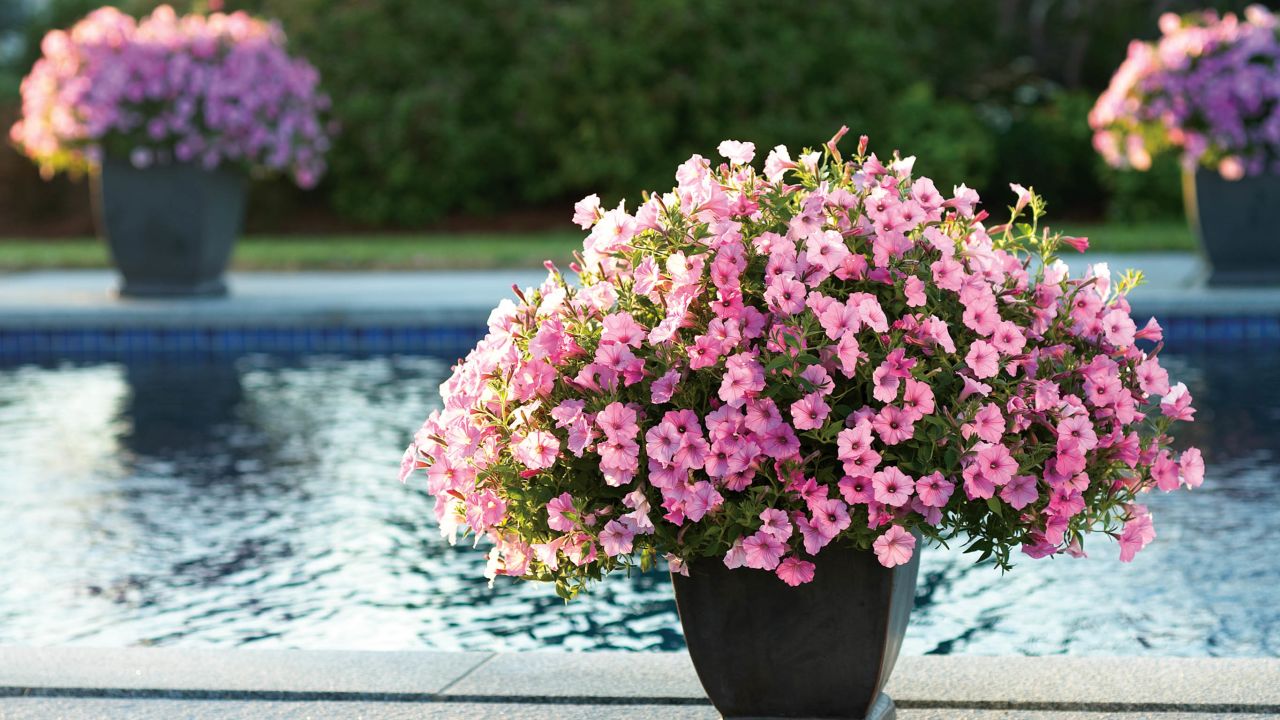 This charmer is Supertunia Vista Bubblegum, a type of nonstop flowering, easy-growing petunia. It never needs to be deadheaded and still keeps blooming — and growing. Plants form a pretty mound 12 to 24 inches high with stems trailing up to 3 feet. It's gorgeous in a pot, delivering punches of color until hard fall frost.
LEARN MORE: Petunia Flowers: Planting and Caring for Petunias
Bolivian Begonia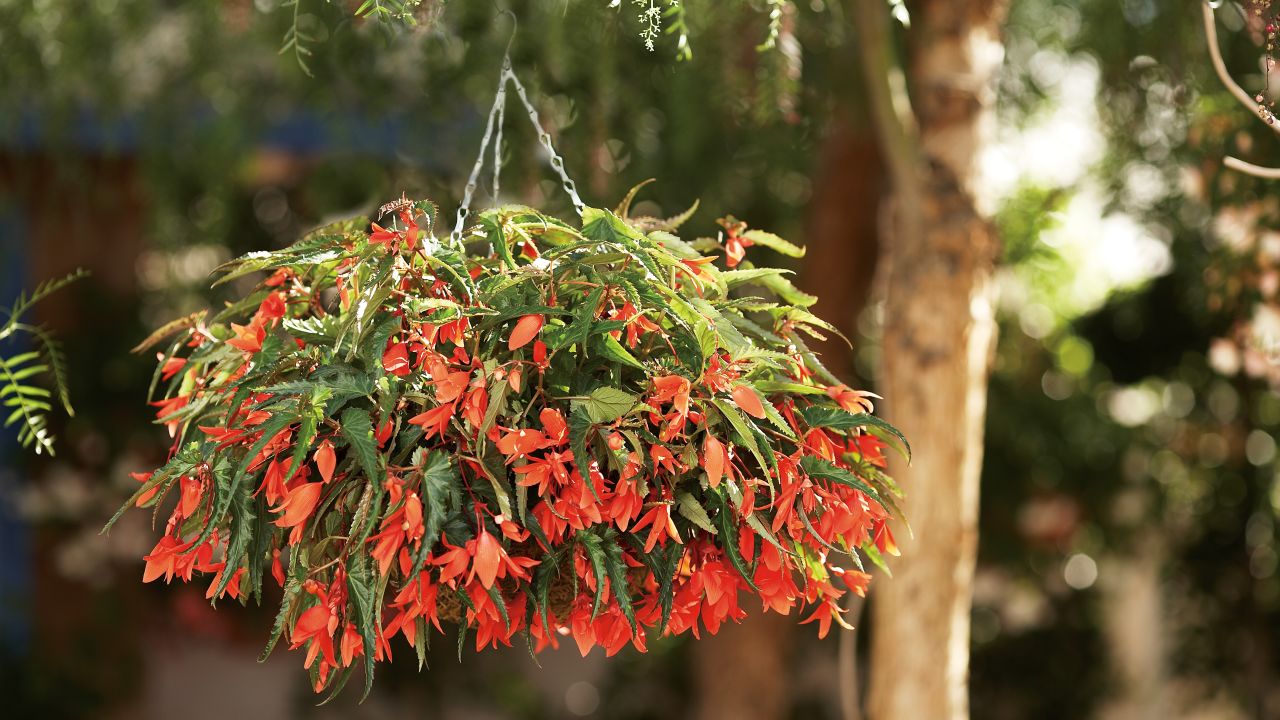 Hailing from the Andes Mountains, this pretty tuberous begonia (B. boliviensis) explodes with flower power. Long, arching branches burst with colorful bell-like blooms. Fiery petal hues beckon hummingbirds like crazy, but you can also find flowers in pastel shades. Best of all, plants form tubers you can overwinter in a dormant state (keep soil on the dry side in a dark place). The tuber will resprout in spring.
LEARN MORE: Begonias: How to Plant, Grow and Care for Begonias
Summer Snapdragon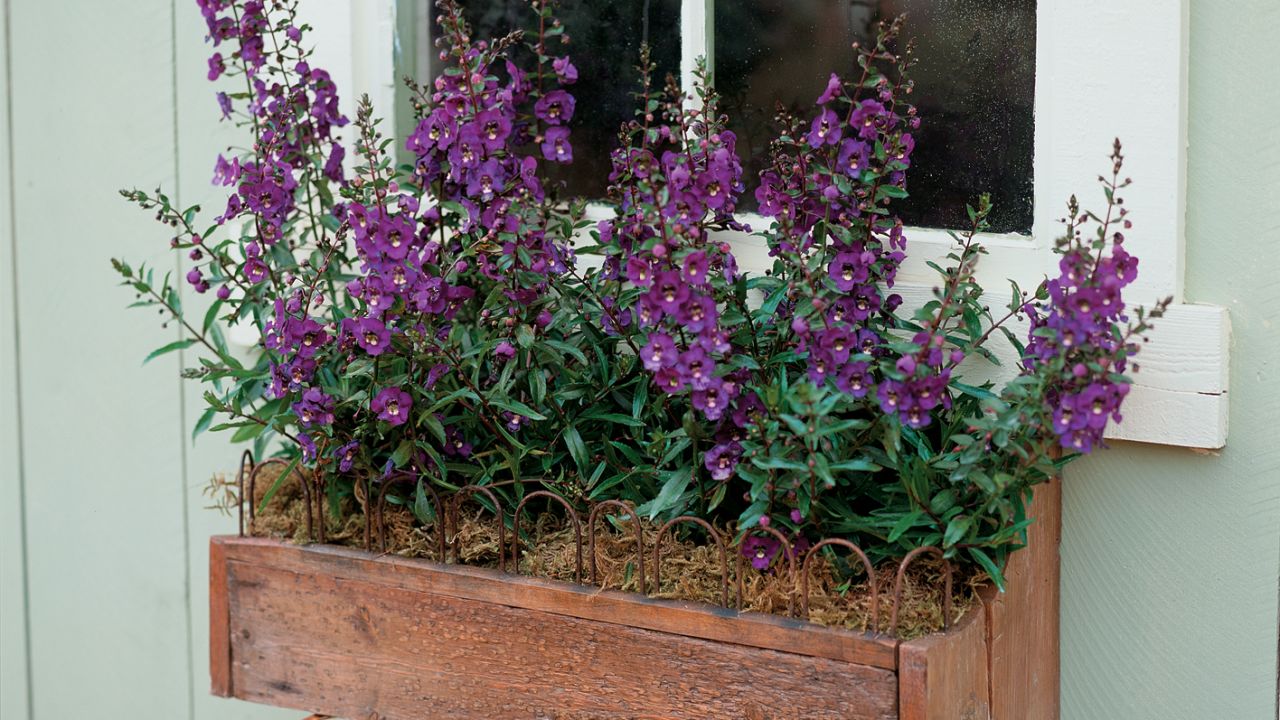 For sunny spots and high heat, it's tough to beat the flower show that summer snapdragon stages. Also known as Angelonia, this annual unfurls flower spikes in shades of purple, pink, white and bicolor blends. Blooms beckon butterflies all summer long and make perfect additions to garden-fresh bouquets (the flowers last and last).
LEARN MORE: How to Grow and Care for Snapdragon Flowers
Scaevola
Also known as fan flower, this low-maintenance annual tumbles out of containers — a perfect spiller plant. There's no need to deadhead scaevola, either. It just keeps blooming. This is the go-to plant if you're craving blue tones for your pots in full sun, although blossoms also open in pink and white. This hanging basket features three Surdiva scaevola varieties and is sold, as is, at garden centers as "Disco Diva." Ask for it by name.
Lantana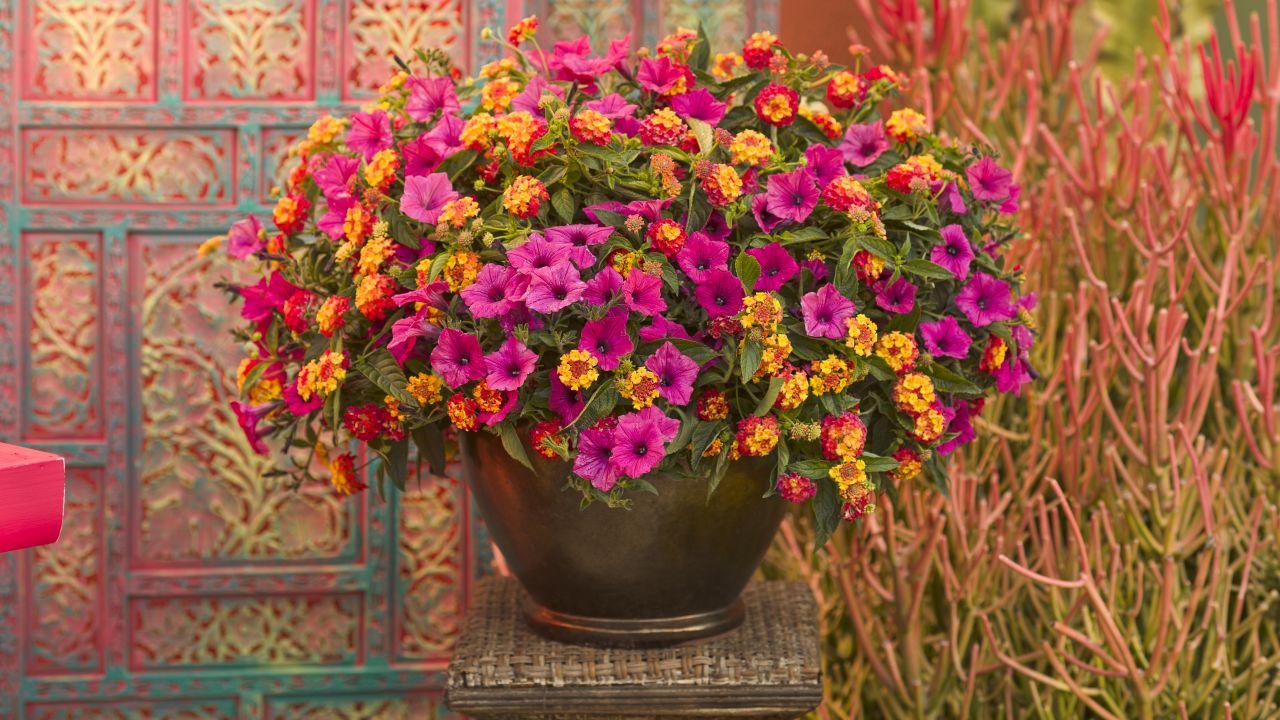 Lantana is a true showstopper in container gardens, opening flowers that fade from hue to hue as blossoms age. Colors tend to be rich tones of pink, orange, gold and purple. Flowers beckon butterflies and hummingbirds. Lantana loves heat, and once temperatures start to sizzle, the flower fest really starts — and never stops until fall frost. In this pot, Luscious Berry Blend lantana sparkles in shades of pink, peach and gold, forming a neon contrast with Supertunia Vista Fuchsia petunia.
LEARN MORE: Lantana Care: Growing and Pruning Lantana
Calibrachoa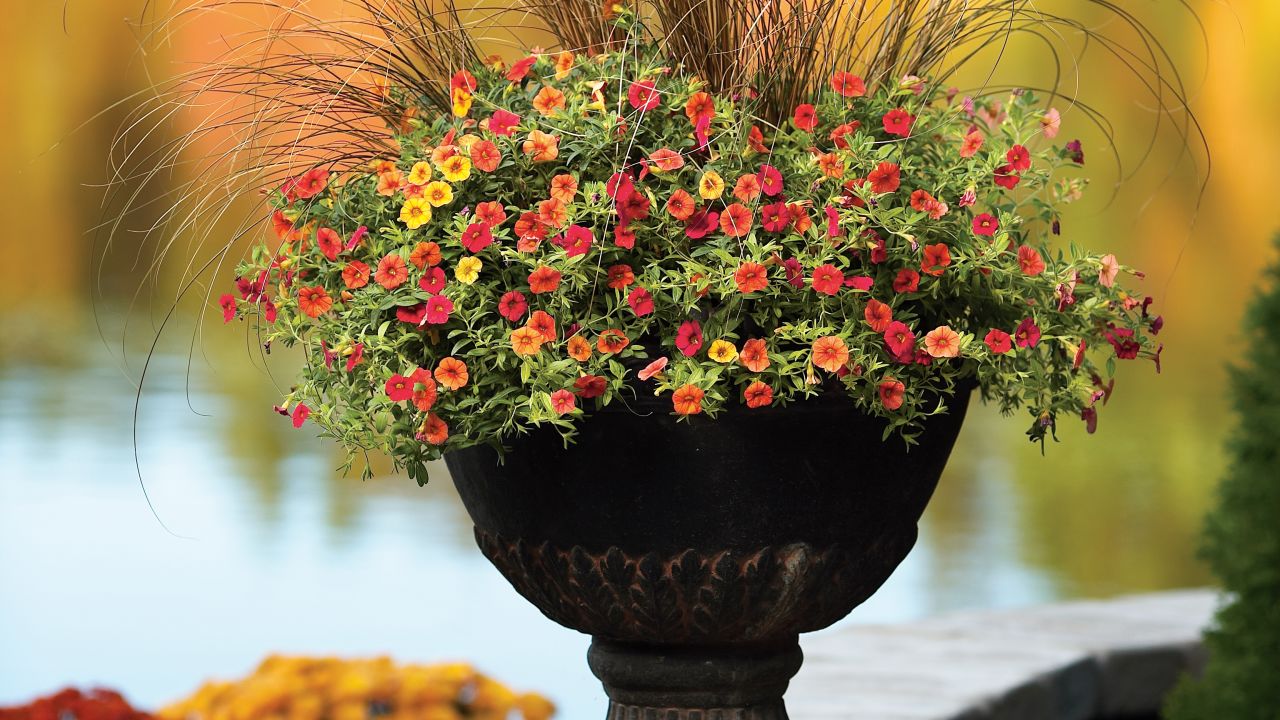 It's tough to beat the delightful hues of calibrachoa. This cutie resembles a mini-petunia, with varieties offering all kinds of color combinations and patterns, including gold and hot pink, flaming orange and deep red, and red with near-black throats. There's definitely a calibrachoa to suit your taste and color palette. The secret behind all that flower power is a big appetite. Keep the blossoms coming by giving plants liquid plant food every two weeks through the growing season. In this urn, calibrachoa forms a flowery skirt for a tuft of grass-like Toffe Twist sedge.
LEARN MORE: How to Grow and Care for Calibrachoas
Bidens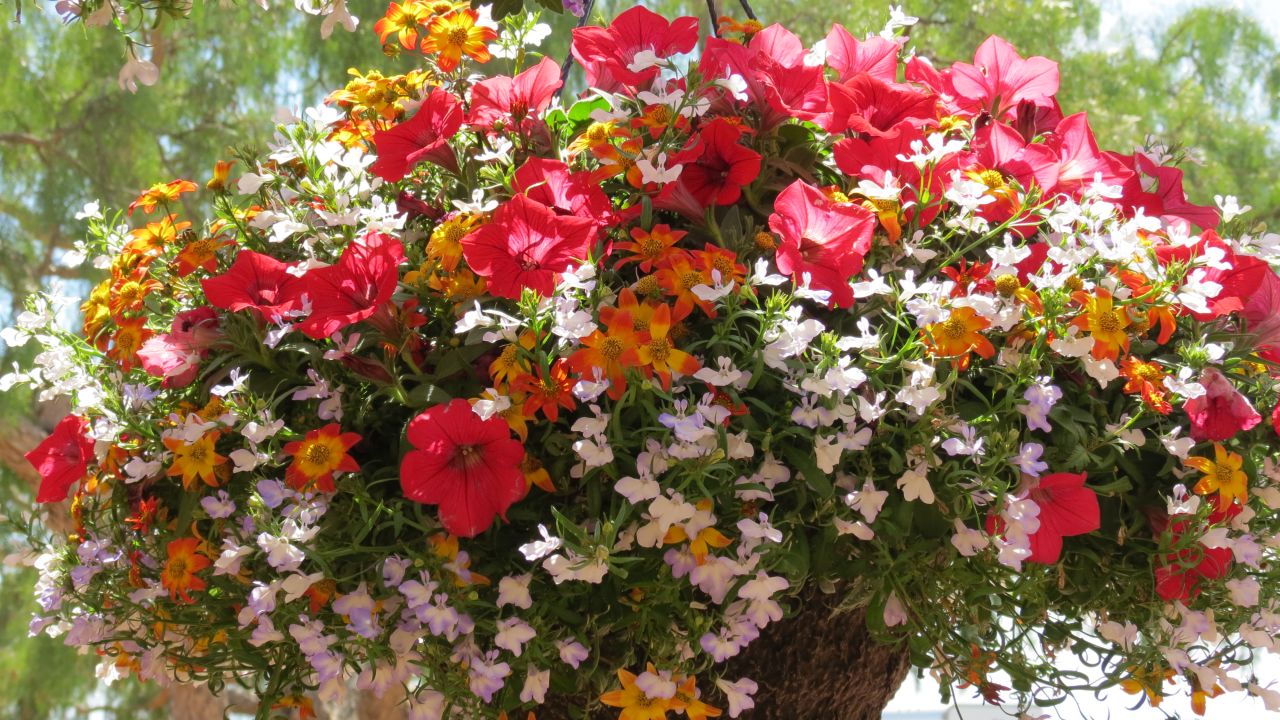 Grab a hanging basket guaranteed to beckon bees and other pollinators to your outdoor living spaces with the striking red and gold blossoms of 'Beedance Painted Red' bidens. Other bloomers in this bee-utiful combination include 'Surfinia Deep Red' petunia and 'Suntory Lobelia Trailing White.' This trio of annuals is hand-picked by the breeder because the plants grow at a similar pace and toss open flowers all summer long. Look for it at garden centers sold as "Bee Fabulous."
Succulents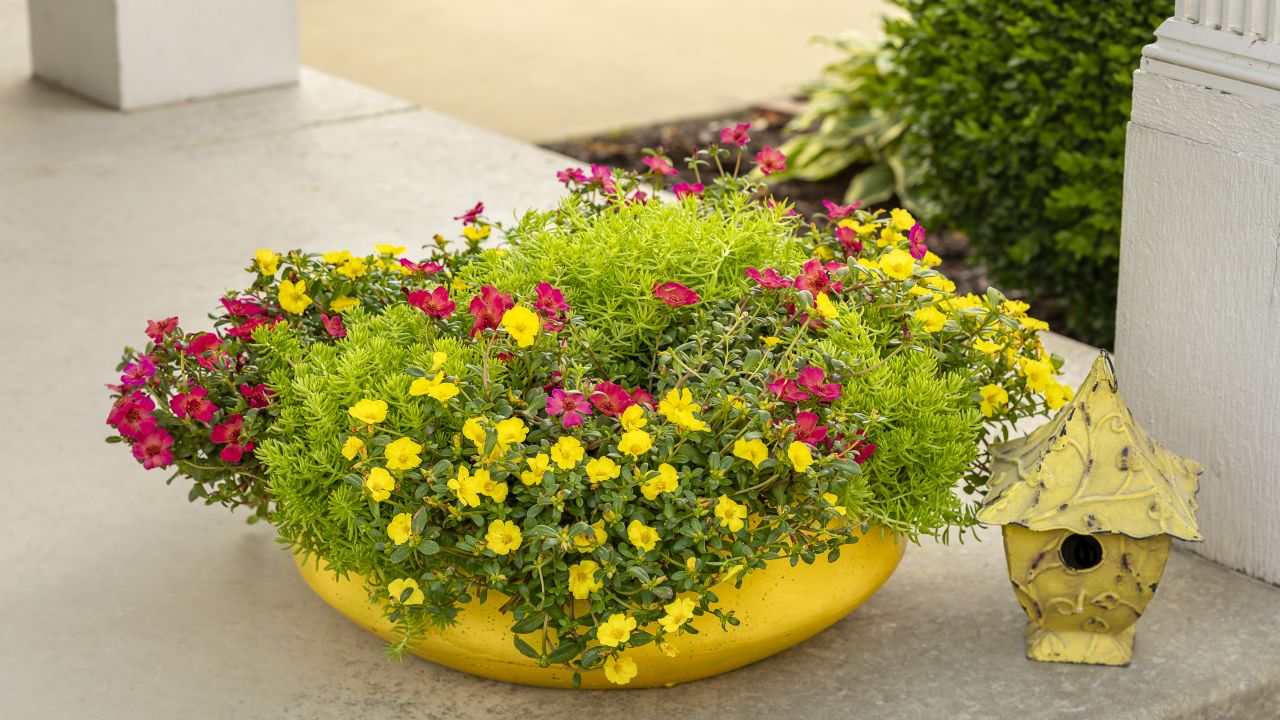 When it comes to full sun finery, look no further than succulents. These sun-lovers boast thick fleshy leaves that hoard a built-in water supply. They tend to be shallow rooted, making them a perfect fit for a wide, shallow container. This combination includes flowering Mojave Yellow and Mojave Red portulaca (moss rose) and Lemon Coral sedum.
LEARN MORE: How to Care for Succulents
SunPatiens
Grow some living sunshine with the bright orange blooms of Vigorous Clear Orange SunPatiens, a type of impatiens that thrives in full sun. Purple verbena (V. peruviana EnduraScape Blue) and Cabaret Deep Yellow callibrachoa bring sizzling contrast to this sunny combination. The plant breeding company developed this trio to keep your pots brimming with blooms all season long — look for it sold as "Peach of My Heart."
Sweet Alyssum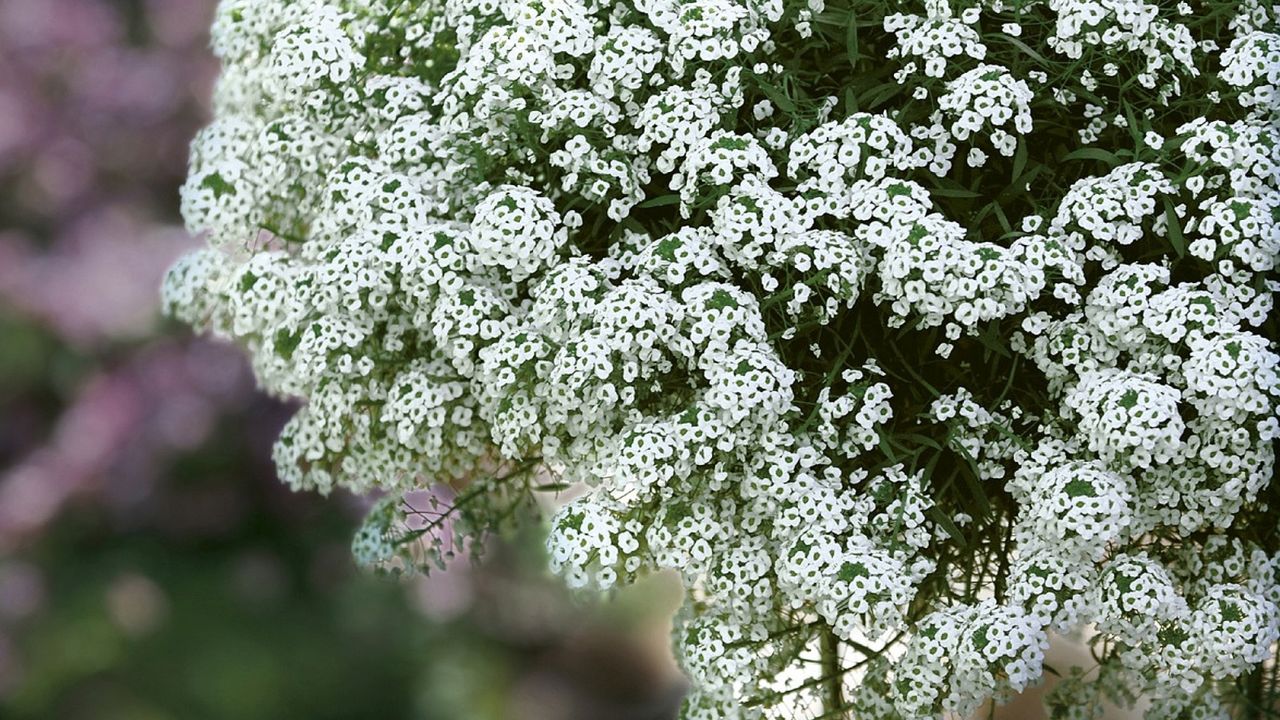 If you love sweet alyssum for its stunning spring and fall flower displays, you're going to love Snow Princess, a sweet alyssum that's heat and sun tolerant. This beauty is known for its non-stop summer flower show. Use it as a spiller plant in containers where it forms a cascade of cool white. The tiny blossoms lure pollinators to the garden, including butterflies and beneficial syrphid flies (aka flower flies), which devour aphids when they are young.
Sunflower
Everyone loves the cheerful blooms of sunflowers, and now you can capture that magic in a version suited for container growing. 'Solsation Flame' sunflower is a compact variety that branches to form a bush-type plant loaded with blooms all summer long. Flowers feature chocolate brown centers surrounded by bronze and gold petals. Pinch plants when young to promote branching — and even more blooms.
LEARN MORE: Growing Sunflowers: When to Plant and How to Grow Sunflowers
Gomphrena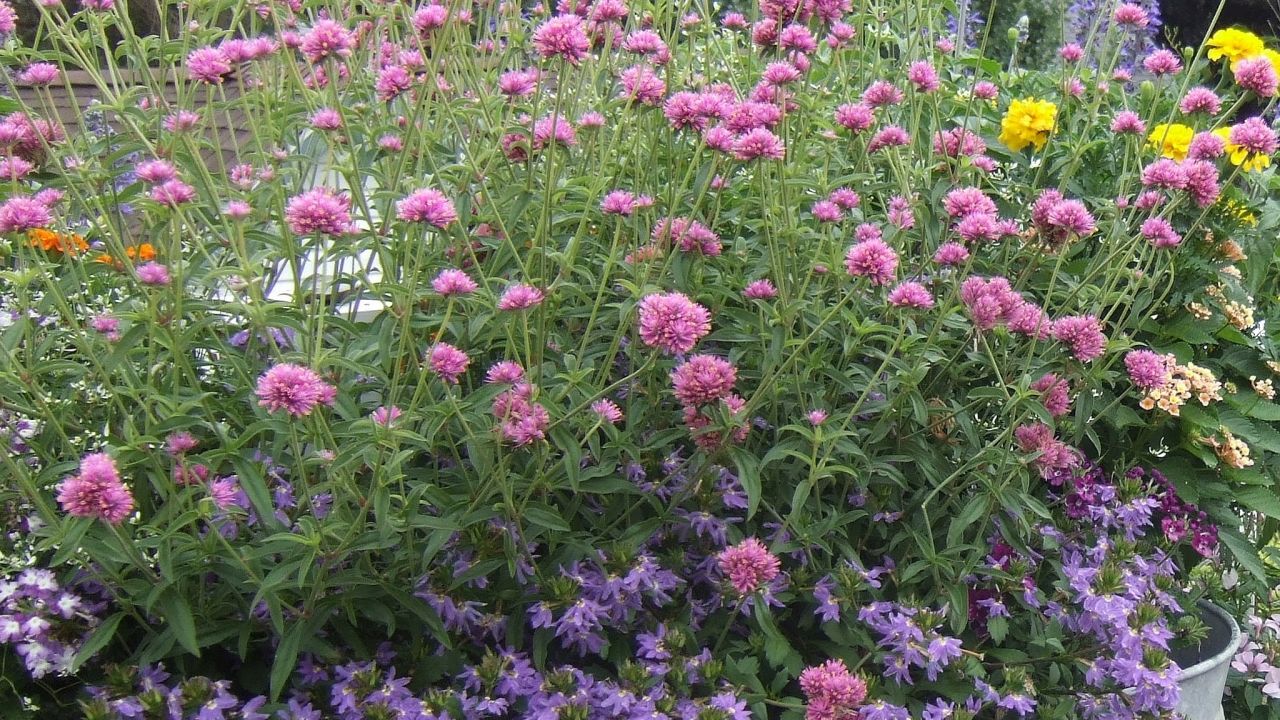 Also known as globe amaranth, gomphrena is beloved for its round flower heads. These lollipop blooms are a butterfly favorite and, thanks to the papery petals, make a terrific dried flower. 'Fireworks' takes gomphrena to a whole new level with 1- to 2-inch-wide, hot pink flowerheads with yellow tips. The color explosion continues until fall frosts. Plant extra of this bloomer because you'll want to pick stems for bouquets and drying.
Geranium
A classic for container gardens, geranium delivers strong color all season long. To keep the flowers coming, remove spent blossom heads by snapping the stem as close to the base as possible. Look for geraniums in a rainbow of hues, including red, white, pink, purple, coral and two-tone blends. This red geranium is paired with red-leaf coleus and gold Superbells Dreamsicle calibrachoa.
LEARN MORE: Geranium Care: Your Guide to Growing Geraniums
Pentas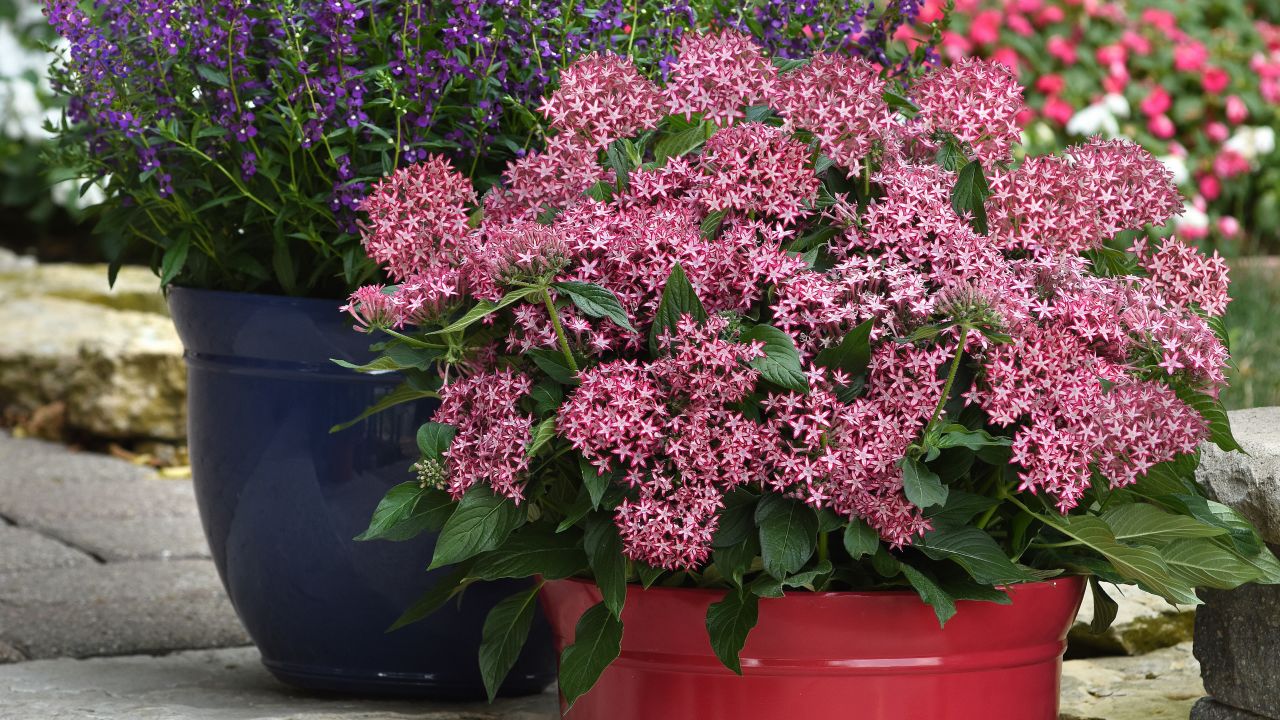 If you want butterflies fluttering around your full sun pots, include pentas in the mix. This tropical annual opens star-shape blooms in a rainbow of hues, including red, purple, white, pink and lavender. This beauty is sold as Glitterati 'Red Star.' Remove spent blossoms to keep the flower show going strong. Pentas is a hot weather plant, which means you won't usually see it for sale in garden centers until mid- to late spring. The second pot contains another full-sun favorite: summer snapdragon (Angelonia).