4:41 p.m. ET, January 19, 2019
4:18 p.m. ET, January 19, 2019
This is what the women's marches looked like across the US
Women and their allies turned out in cities across the country and marked the third consecutive year of women's marches. 
Not all of them operated under the flag of the main Women's March in Washington D.C., thanks in part to accusations of bigotry in the organization's leadership — accusations that were strongly denied. 
But many demonstrators said they recognized that the movement was bigger than a few individual leaders, and focused their attention towards championing progressive policies and making certain their work was inclusive and represented all people. 
Here's what the marches looked like in different US cities.
Washington, D.C.
New York City:
Boston:
Chicago:
Denver:
Seattle:
Los Angeles:
3:07 p.m. ET, January 19, 2019
Get a bird's-eye view of the New York City march
Activists in New York City gathered around Central Park and Columbus Circle today for one of two marches in Manhattan.
Shari Cohen shot video of the march from a 7th floor window overlooking Columbus Circle. In the video, drummers lead the way as protesters carrying signs follow.
Check out her footage:
2:32 p.m. ET, January 19, 2019
Gillibrand: "Our movement is empowered when all of us lift each other up"
Democratic Sen. Kirsten Gillibrand condemned anti-Semitism at a women's march in Des Moines, Iowa, where she was campaigning for president.
"We know there is no room for anti-Semitism in our movement. We know this," she told the crowd, huddled inside the Iowa State Capitol to escape the cold. "We know that our movement is empowered when all of us lift each other up."
Gillibrand also said her vision for the country was anchored by confronting President Donald Trump and ensuring gender equality.
"The truth is, if we change who is at the decision-making table, you change everything," Gillibrand said. "President Trump has chosen to divide this country, to spew hate, to divide us across every line, every racial line, every religious line, every cultural line he can find." 
The junior senator from New York jumped into the 2020 presidential race earlier this week, telling Stephen Colbert she was forming an exploratory committee.
1:58 p.m. ET, January 19, 2019
The Women's March leadership just addressed the accusations of anti-Semitism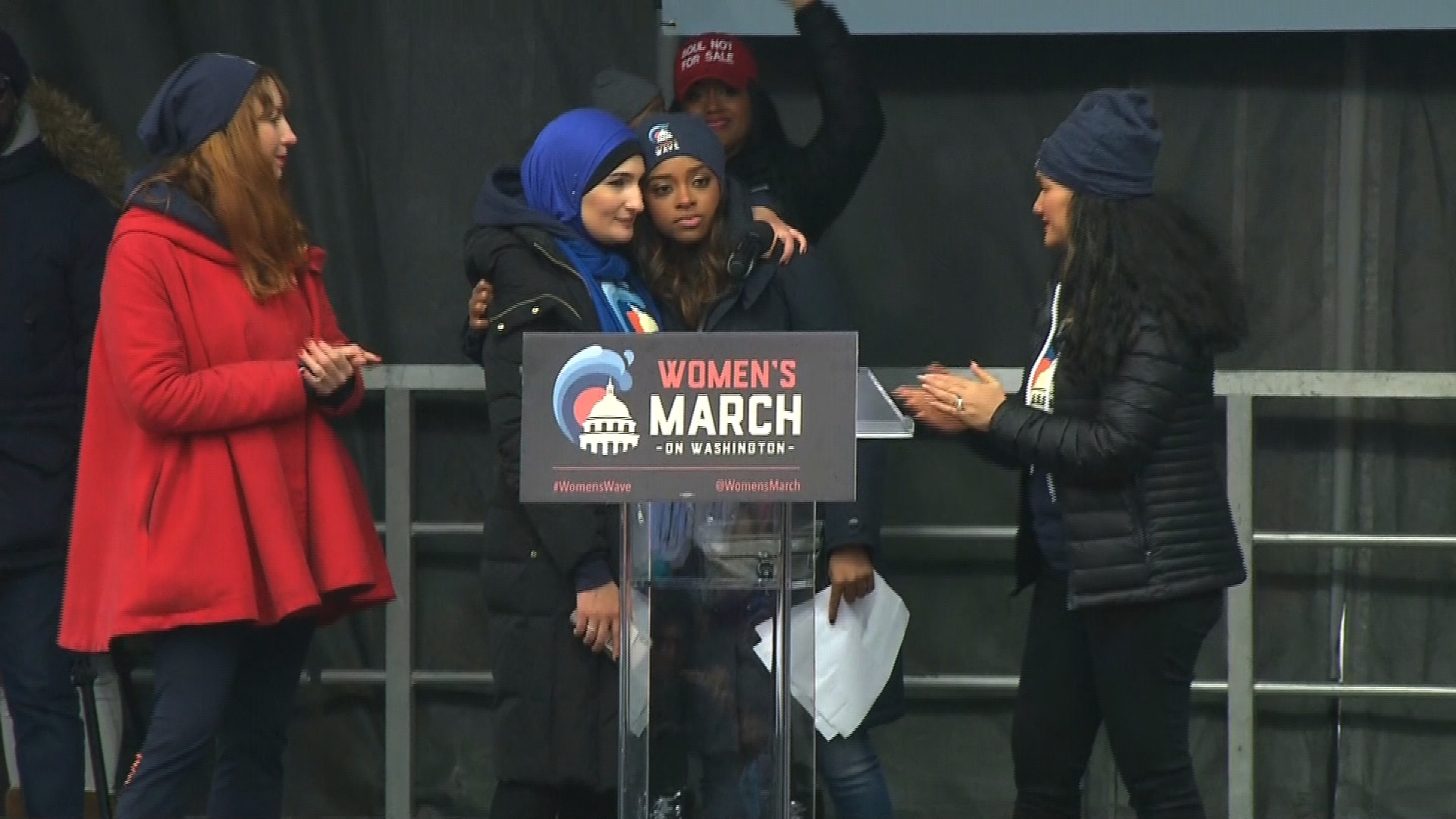 The Women's March leadership took the stage in Washington and tackled the elephant in the room: accusations of anti-Semitism in the movement.
"Over the last year, my sisters in Women's March and I have faced accusations that have hurt my soul," said board member Carmen Perez-Jordan. "Charges of anti-Semitism and neglecting our LGBTQIA family. And I want to be unequivocal in affirming that Women's March and I and my sisters condemn anti-Semitism and homophobia and transphobia in all forms."
Tamika Mallory, one of the movement's co-presidents, echoed those sentiments, saying, "To all my sisters, I see you."
"To my Muslim sisters, I see you," Mallory said. "To my Latina sisters, I see you. To my Asian sisters, I see you. To my disabled sisters, I see you. And to my Jewish sisters: Do not let anyone tell you who I am. I see all of you."
About the controversy: Today's marches come as allegations of anti-Semitism against the leaders of the national Women's March Inc. and the main Washington march pushed some rally organizers in other cities to disassociate themselves from that group.
Days after the 2018 midterm elections, the original founder of the Women's March called for four leaders to step down for allegedly allowing bigotry into their mission.
The group has released numerous statements condemning anti-Semitism and vowing to learn from its missteps through trainings and discussions — pledges that people associated with the group say are underway.
1:47 p.m. ET, January 19, 2019
These are the signs people are carrying in Seattle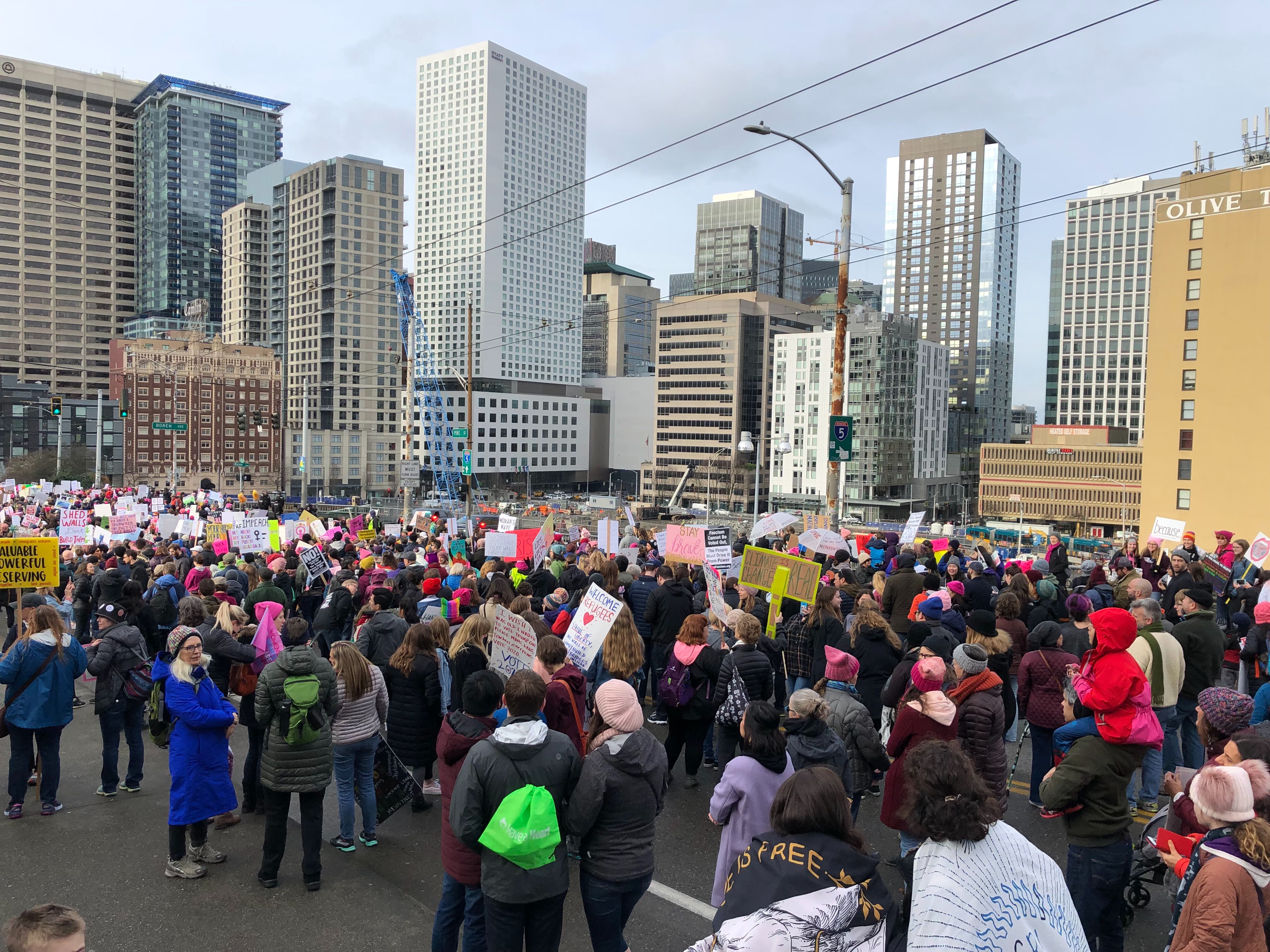 A women's march is underway in Seattle. Many of the protesters are carrying signs — here's a look at some of the ones CNN spotted.
"Ugh, where do I even start"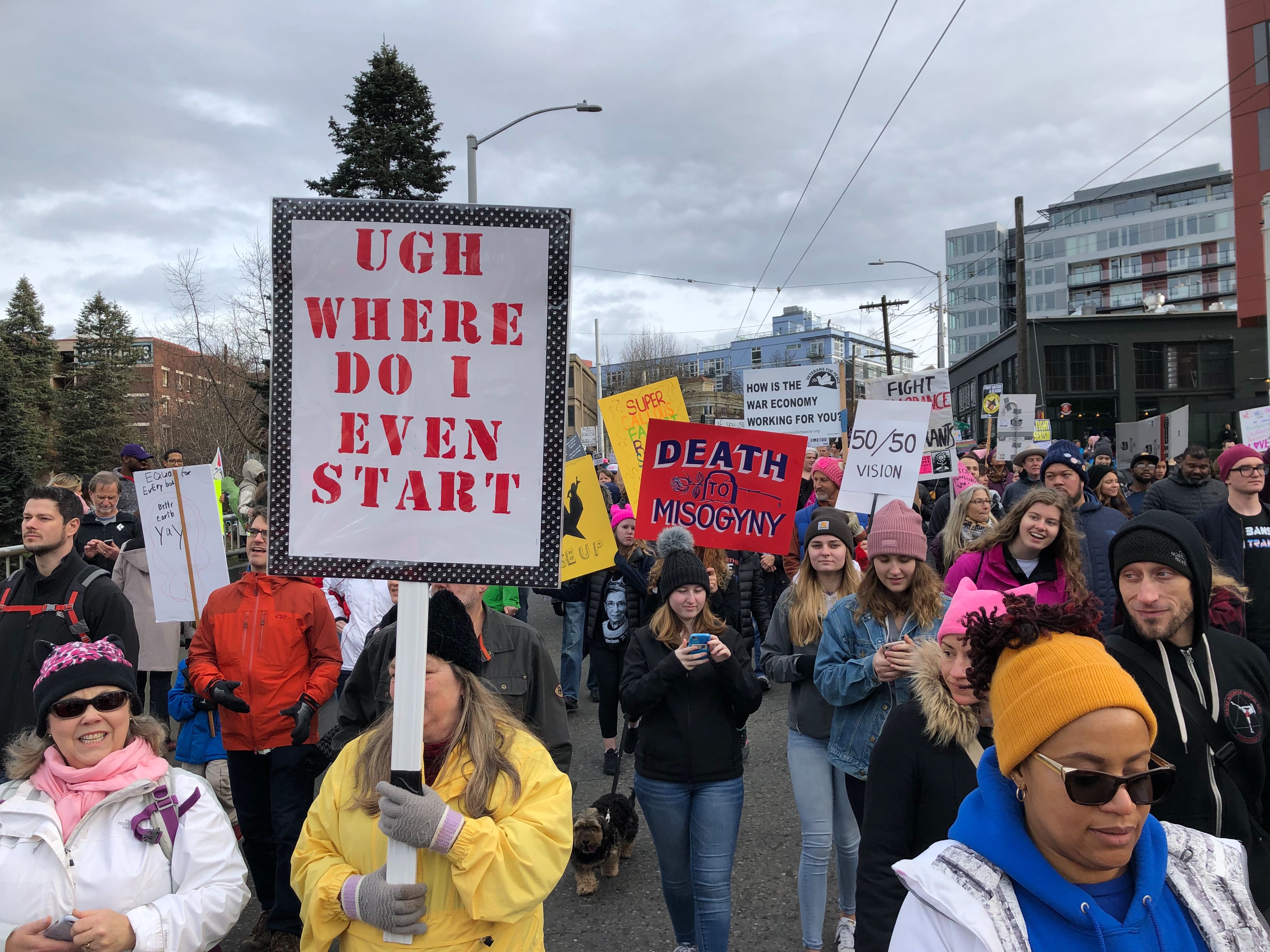 "If you don't fight for all — you fight for none."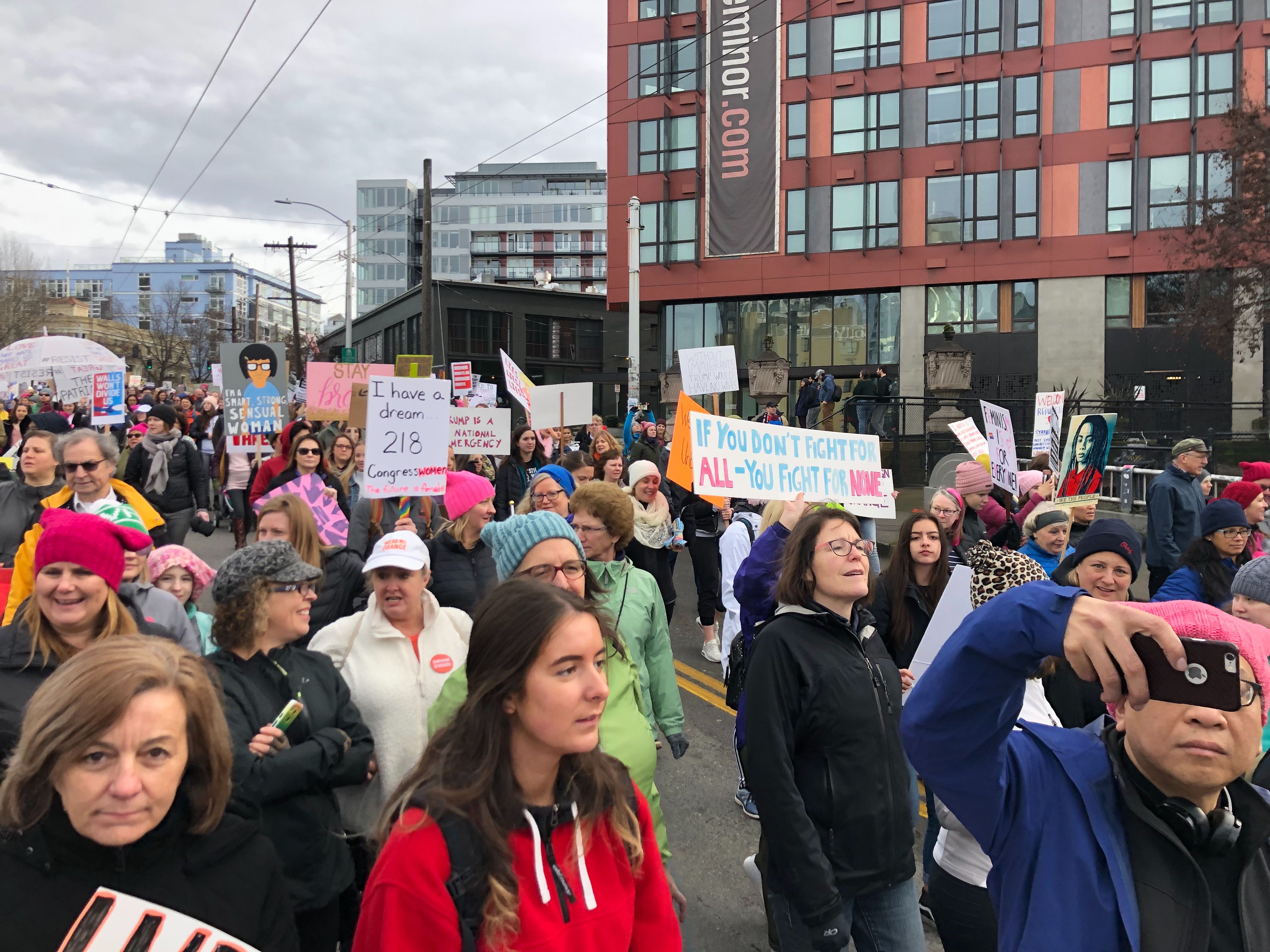 "Real men are feminists"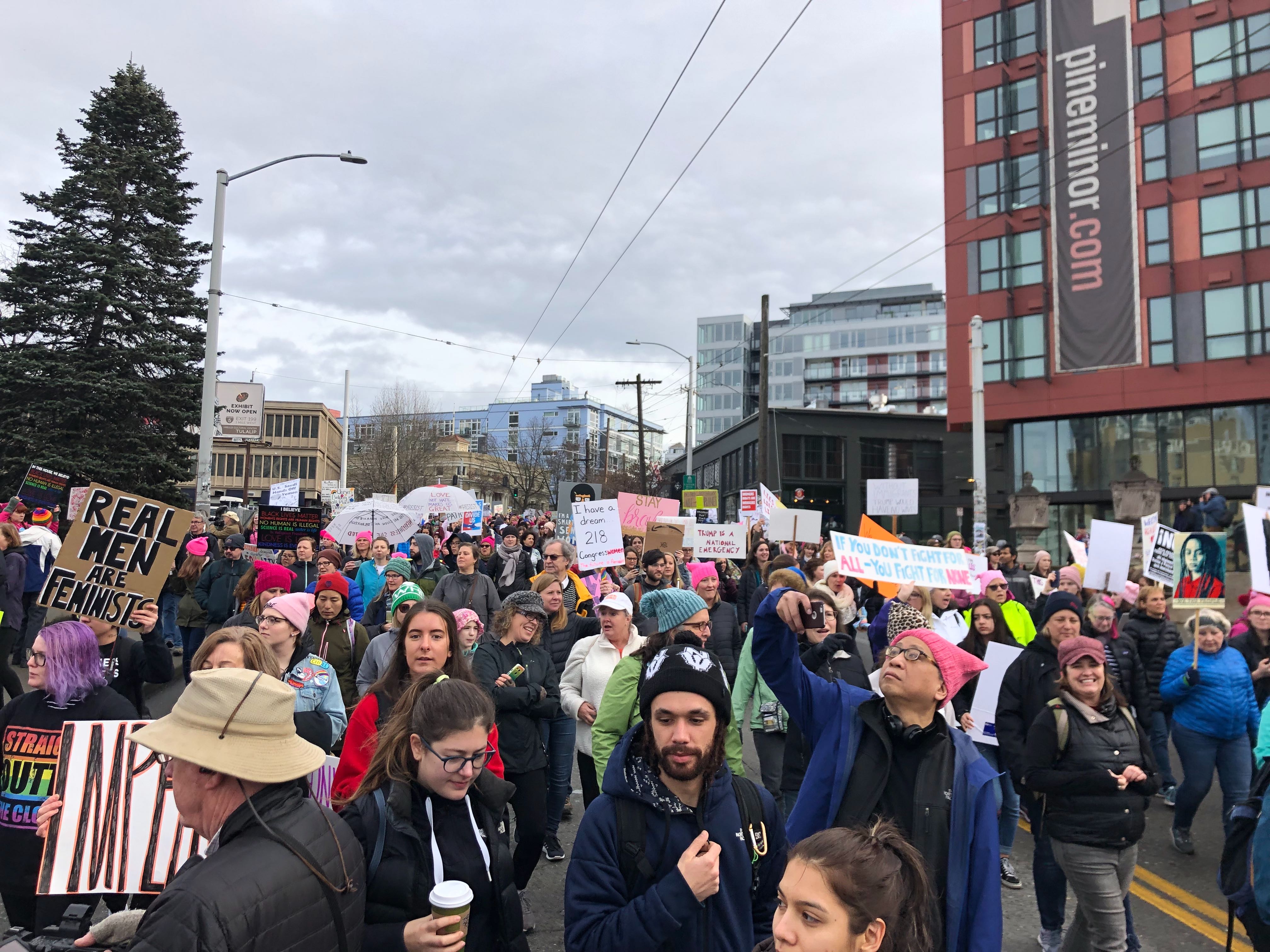 1:19 p.m. ET, January 19, 2019
This mom and daughter from Texas bought their tickets to DC after the Kavanaugh hearing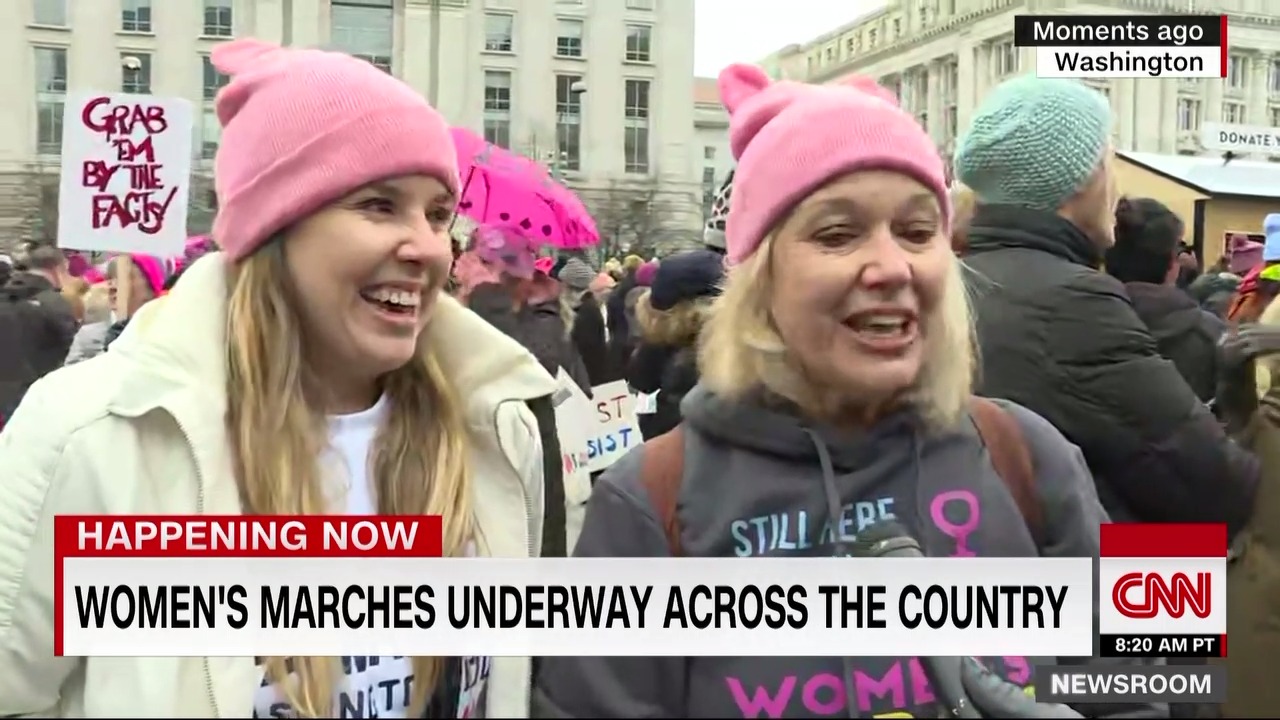 Gina Lopez and her daughter Leah Lopez traveled from Houston, Texas, to be at today's Women's March in Washington, DC.
They said they planned the trip after the September confirmation hearing for Supreme Court Justice Brett Kavanaugh, who was accused of sexual assault.
"We just had enough, we've absolutely had enough — the wall, Kavanaugh, the whole thing. We just finally decided it's time, it's time to come here and march," Gina Lopez said.
Watch more: