1:57 p.m. ET, January 19, 2019
Alexandria Ocasio-Cortez says NYC rallies have the same message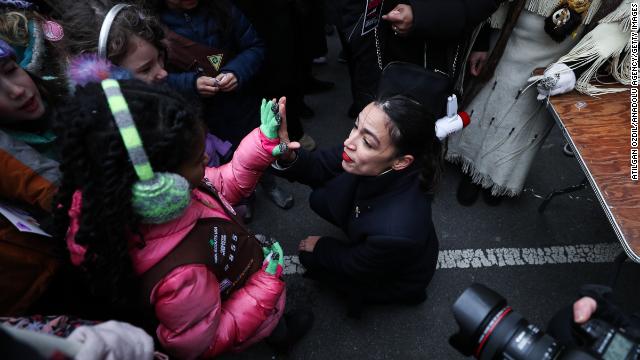 Rep. Alexandria Ocasio-Cortez said the two women's marches in New York City today share the same message. 
"All of these women are coming together in solidarity with each other, to support each other, and to make sure that every single voice is amplified, protected and advanced in the United States of America," she told CNN.
CNN caught up with Ocasio-Cortez while she attended the Women's March Alliance near Central Park. She's scheduled to speak at the "Women's Unity Rally" at Foley Square in lower Manhattan later today.
Ocasio-Cortez speaks with CNN's Jason Carroll:
12:30 p.m. ET, January 19, 2019
This marcher says she's tired of the "racism that comes out of the President's mouth"
Sandra McCluskey, of Palm Springs, California, said she was one of 20 people who took a bus to the march in Los Angeles. It's the retired nutritionist's third year at a women's march.
"I'm tired of the bigotry, racism that comes out of the President's mouth," McCluskey said.
McCluskey wore a green jacket, the back of which read, "I care do you," a reference to the infamous jacket First Lady Melania Trump wore on the way to the US-Mexico border last summer to visit a shelter for immigrant children.
12:16 p.m. ET, January 19, 2019
There are 2 marches in New York City, just 4 miles apart
Two women's marches are underway in New York City today.
The Women's March Alliance is holding its third annual march in Manhattan. That march runs along the west side of Central Park and through Columbus Circle. Rep. Alexandria Ocasio-Cortez was spotted among the marchers this morning.
Then there's the "Women's Unity Rally" at Foley Square in lower Manhattan. Demonstrators packed the square Saturday for the protest.
Scheduled speakers there include New York City first lady Chirlane McCray and women's rights activist Gloria Steinem. Ocasio-Cortez is also expected to make an appearance at that rally.
Columbus Circle and Foley Square are about four miles apart.
12:42 p.m. ET, January 19, 2019
There's a counterprotest of women who say they don't feel welcome at the Women's March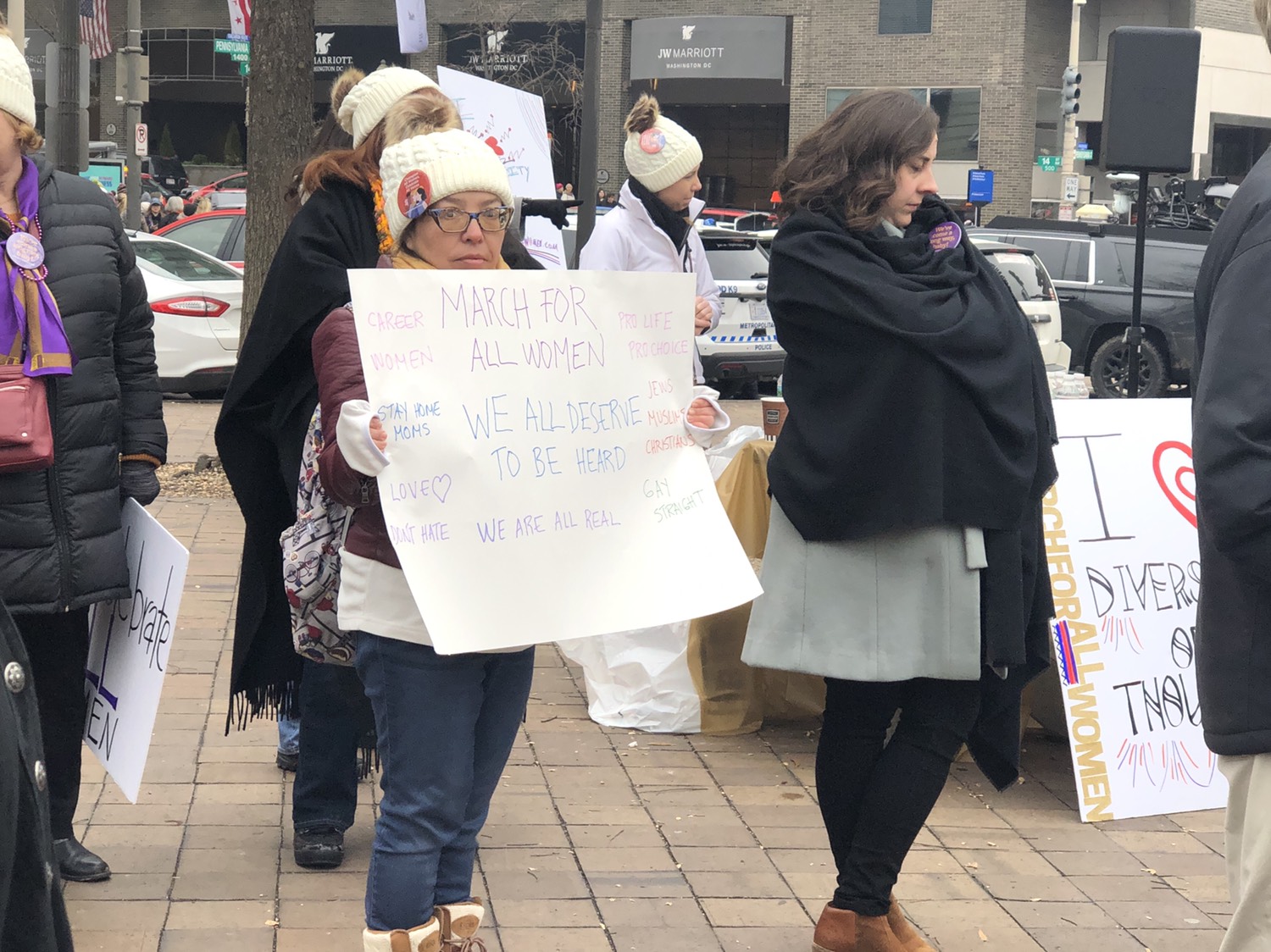 A smaller group of women gathered in Washington Saturday for a counterprotest called the March For ALL Women.
The group's website says the event is for women who might not agree with the politics of the main Women's March.
One woman there told CNN she came to the counter protest because she felt like Trump supporters weren't welcome at the Women's March. She also went to yesterday's March for Life, she said.
One woman held a sign that said "The Women's March doesn't define me." Another woman's said "We all deserve to to be head."
Watch More: Women's Marches underway across the country
11:40 a.m. ET, January 19, 2019
Alexandria Ocasio-Cortez is with the marchers in New York City
Rep. Alexandria Ocasio-Cortez was spotted at the New York City women's march at Columbus Circle.
At 29, Ocasio-Cortez is the youngest woman ever elected to Congress. Her surprise primary victory against 10-term incumbent Rep. Joe Crowley shook the political establishment last summer.
There's another New York City rally today: Demonstrators packed part of Foley Square in lower Manhattan for a "Women's Unity Rally" on Saturday. Organizers said they aim "to demand equal justice for black women, immigrant women, women of color, and gender nonconforming people."
Ocasio-Cortez is scheduled to speak at that rally as well.
11:16 a.m. ET, January 19, 2019
Los Angeles marcher: "Our voices need to be heard"
March attendees have started gathering in Los Angeles.
Among them were Gyasmine George-Williams and Christine Guzmán, who said they were marching because "our voices need to be heard."
Here's a look at the signs they are carrying today:
Meanwhile, Yanti Palleschi, of Sherman Oaks, sat at a table covered in paper and markers, working on a sign. The single mom and non-profit board member pointed to the history made by women in the midterm elections last year, but said she hopes to see more progress made in the future.
"I'm proud of the work women have done in the last election," Palleschi said, "but we need more."
11:02 a.m. ET, January 19, 2019
Some cities canceled marches this year because of controversy
Today marks the third year of women's marches, and thousands are expected to march in cities across the US — but during the past few weeks, there's also been controversy over leadership, an evolving agenda and inclusion.
And that controversy is impacting some marches.
The National Organization for Women- Baton Rouge Chapter canceled the New Orleans march, citing the controversy over the leadership of Women's March, Inc.
"The controversy is dampening efforts of sister marches to fundraise, enlist involvement, find sponsors and attendee numbers have drastically declined this year," the Facebook statement read. "New Orleans is no exception."
Women's March on Washington-Ohio Chapter announced on Facebook that it has canceled the Cincinnati Women's March, citing an inability to confirm a location or secure event insurance.
The group also acknowledged obstacles to making the event feel inclusive, both in the event's history and due to recent controversy.
"With issues of exclusion of women of color in the past two Cincinnati marches to the concerns about antisemitism on the national level, many women and femmes are experiencing hurt, anger and distrust of one another," the statement on Facebook said. "Over the course of the next year we hope to provide opportunities to explore those sentiments, to learn from each other and to hopefully bridge the divide."
11:04 a.m. ET, January 19, 2019
This is what the Berlin's women's march looked like today
Women's marches isn't limited to the US.
Activists rallied in Berlin this morning for the Women's March 2019, too. That march was organized by Democrats Abroad and was scheduled to coincide with the women's marches taking place today across the US.
Here's what the march looked like in Germany today:
10:06 a.m. ET, January 19, 2019
There was another march in DC yesterday
Today's Women's March isn't the only rally in Washington, DC, this week.
Anti-abortion protesters gathered yesterday for the annual March for Life, which has taken place every year since 1974. Since the Supreme Court ruled abortion legal in 1973, marchers have descended upon Washington to protest the decision.
The event included a video message from President Donald Trump and an address by Vice President Mike Pence.