1:58 p.m. ET, January 19, 2019
The Women's March leadership just addressed the accusations of anti-Semitism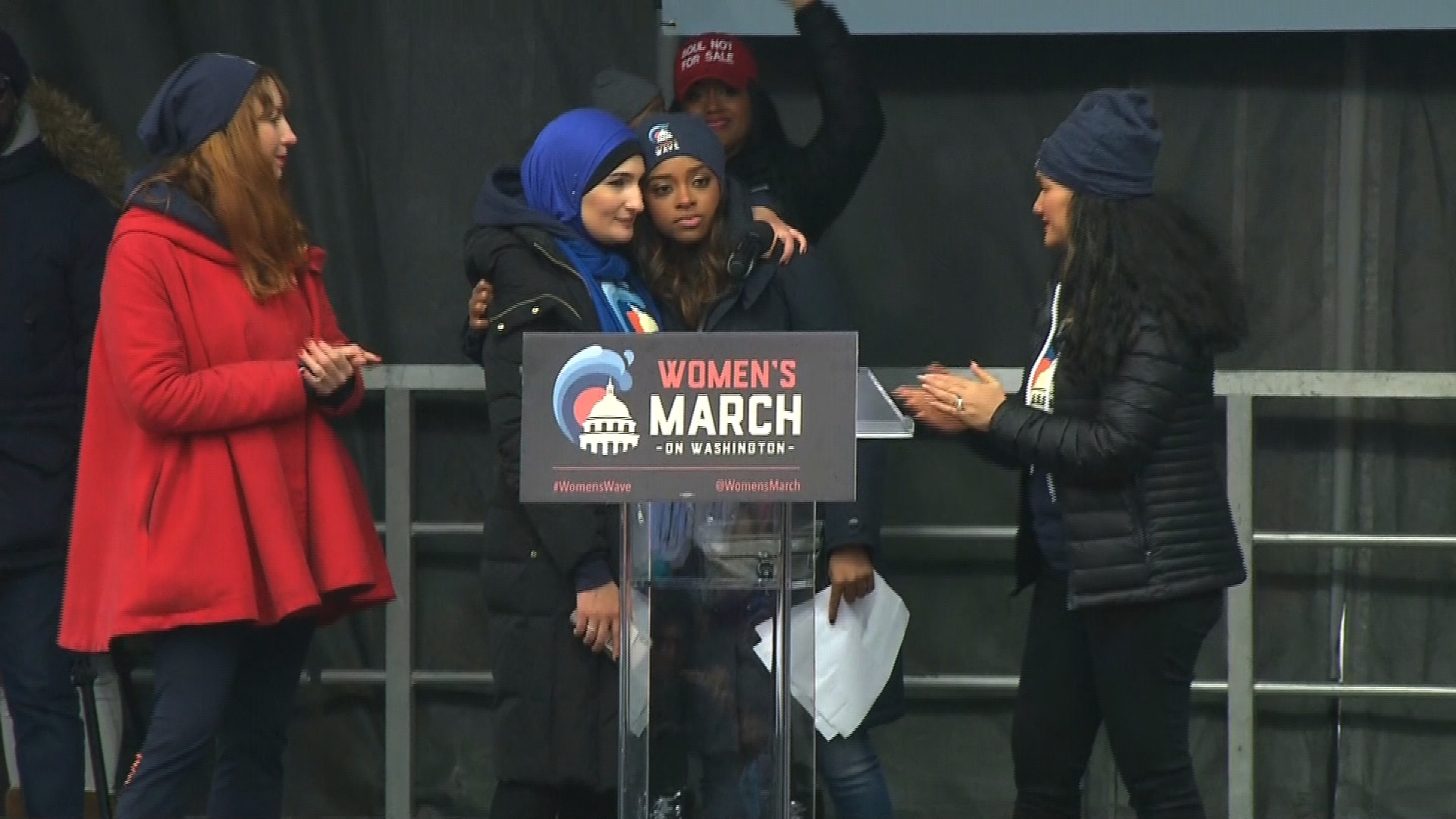 The Women's March leadership took the stage in Washington and tackled the elephant in the room: accusations of anti-Semitism in the movement.
"Over the last year, my sisters in Women's March and I have faced accusations that have hurt my soul," said board member Carmen Perez-Jordan. "Charges of anti-Semitism and neglecting our LGBTQIA family. And I want to be unequivocal in affirming that Women's March and I and my sisters condemn anti-Semitism and homophobia and transphobia in all forms."
Tamika Mallory, one of the movement's co-presidents, echoed those sentiments, saying, "To all my sisters, I see you."
"To my Muslim sisters, I see you," Mallory said. "To my Latina sisters, I see you. To my Asian sisters, I see you. To my disabled sisters, I see you. And to my Jewish sisters: Do not let anyone tell you who I am. I see all of you."
About the controversy: Today's marches come as allegations of anti-Semitism against the leaders of the national Women's March Inc. and the main Washington march pushed some rally organizers in other cities to disassociate themselves from that group.
Days after the 2018 midterm elections, the original founder of the Women's March called for four leaders to step down for allegedly allowing bigotry into their mission.
The group has released numerous statements condemning anti-Semitism and vowing to learn from its missteps through trainings and discussions — pledges that people associated with the group say are underway.
1:47 p.m. ET, January 19, 2019
These are the signs people are carrying in Seattle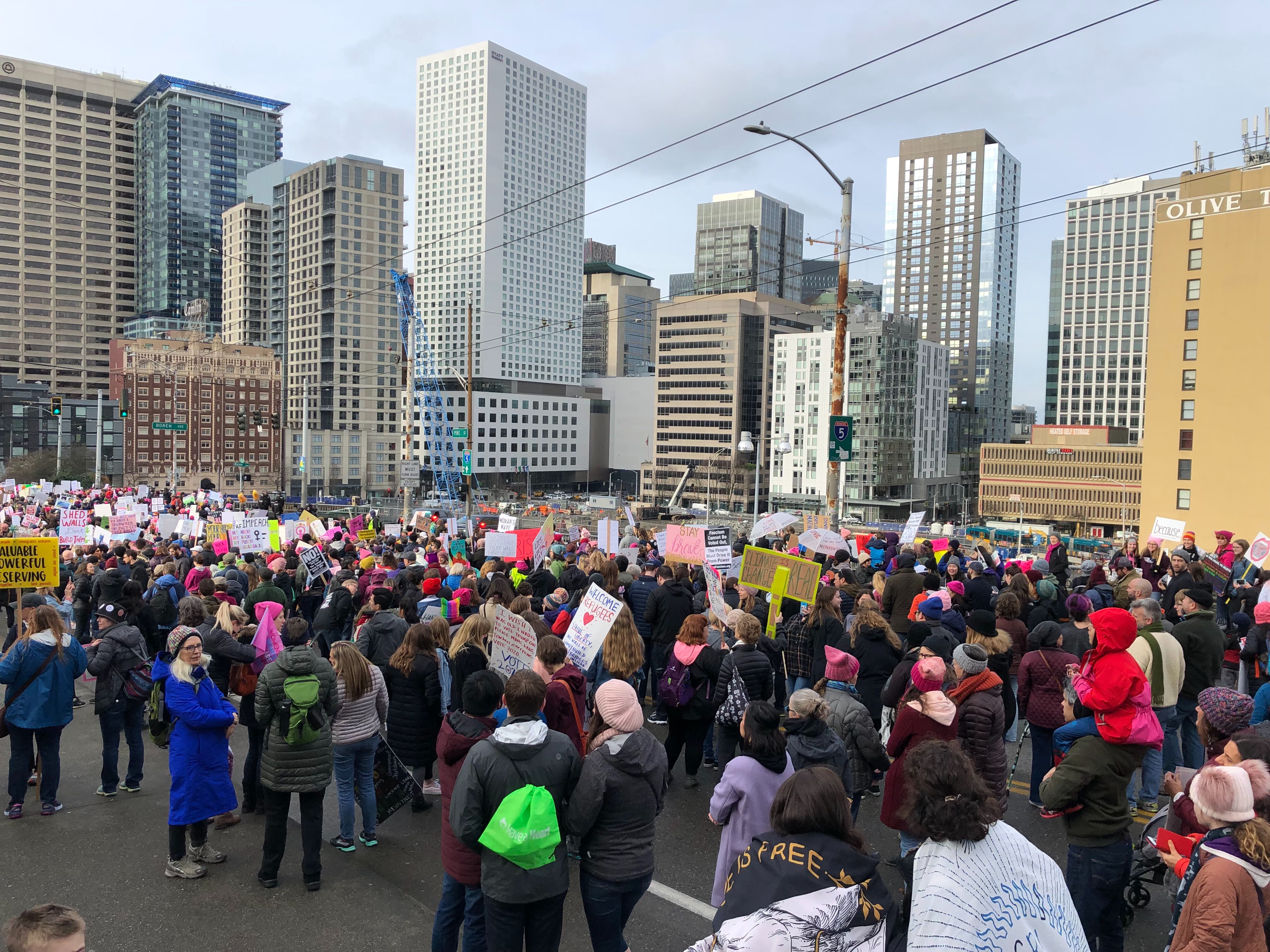 A women's march is underway in Seattle. Many of the protesters are carrying signs — here's a look at some of the ones CNN spotted.
"Ugh, where do I even start"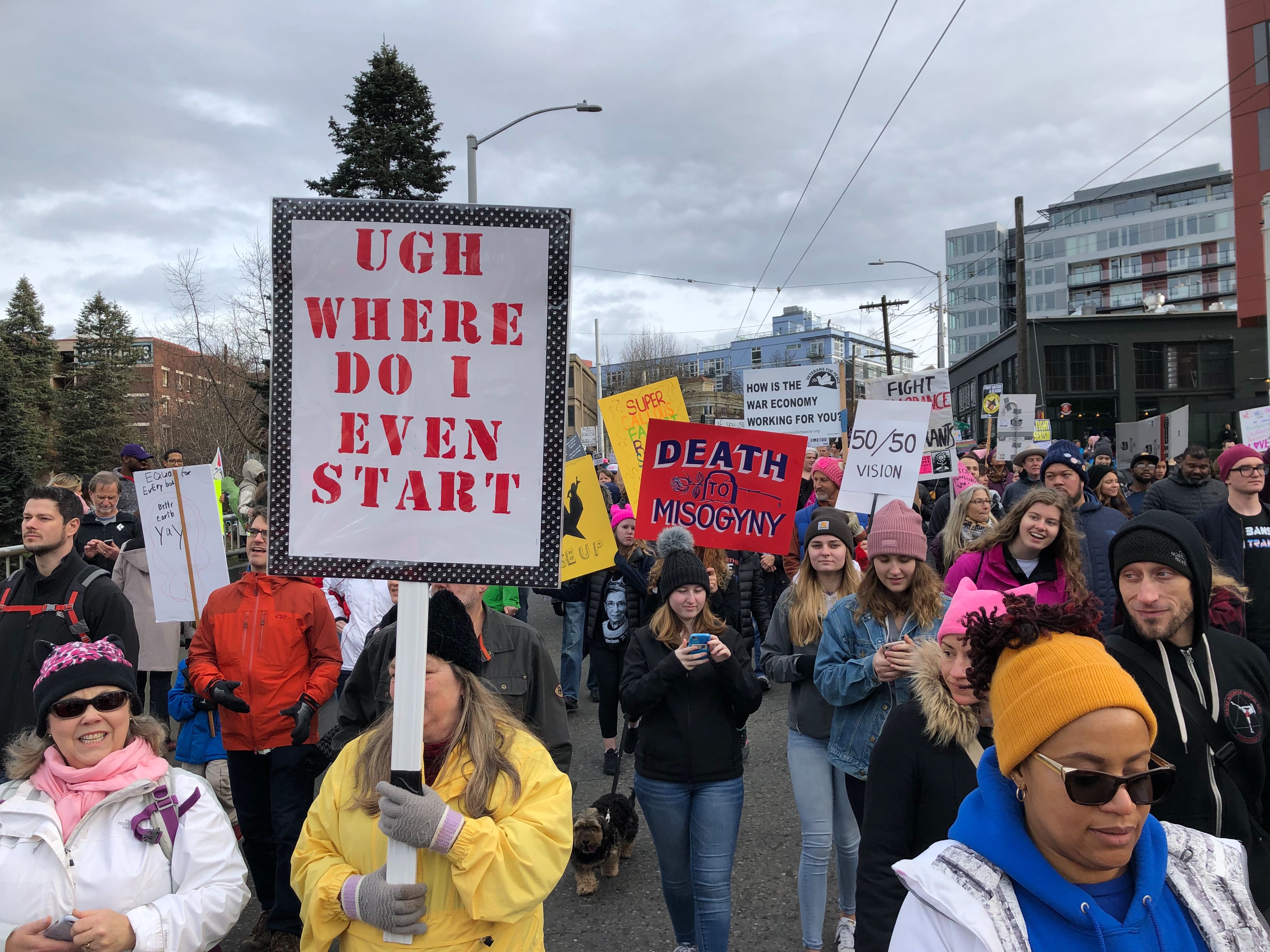 "If you don't fight for all — you fight for none."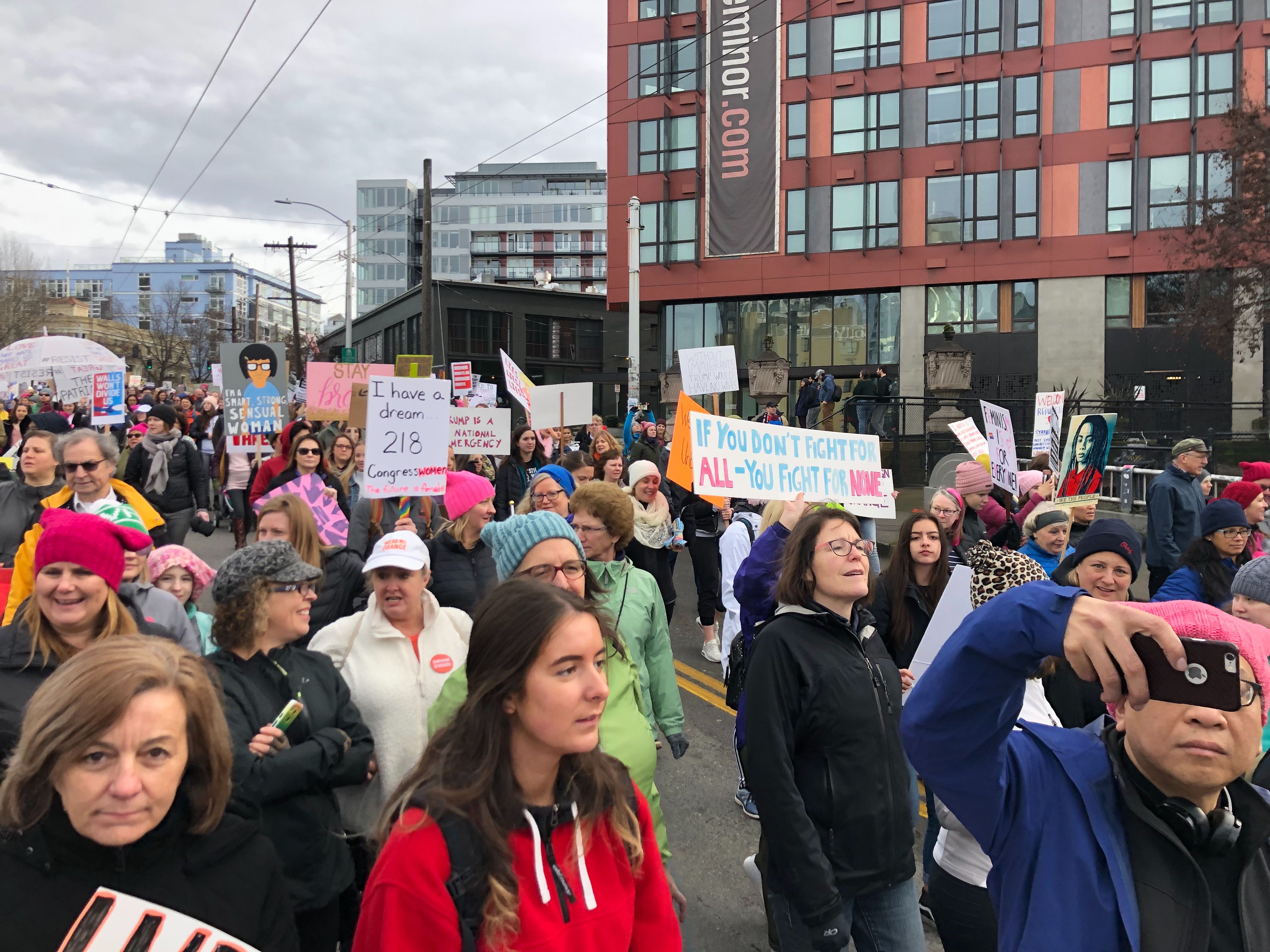 "Real men are feminists"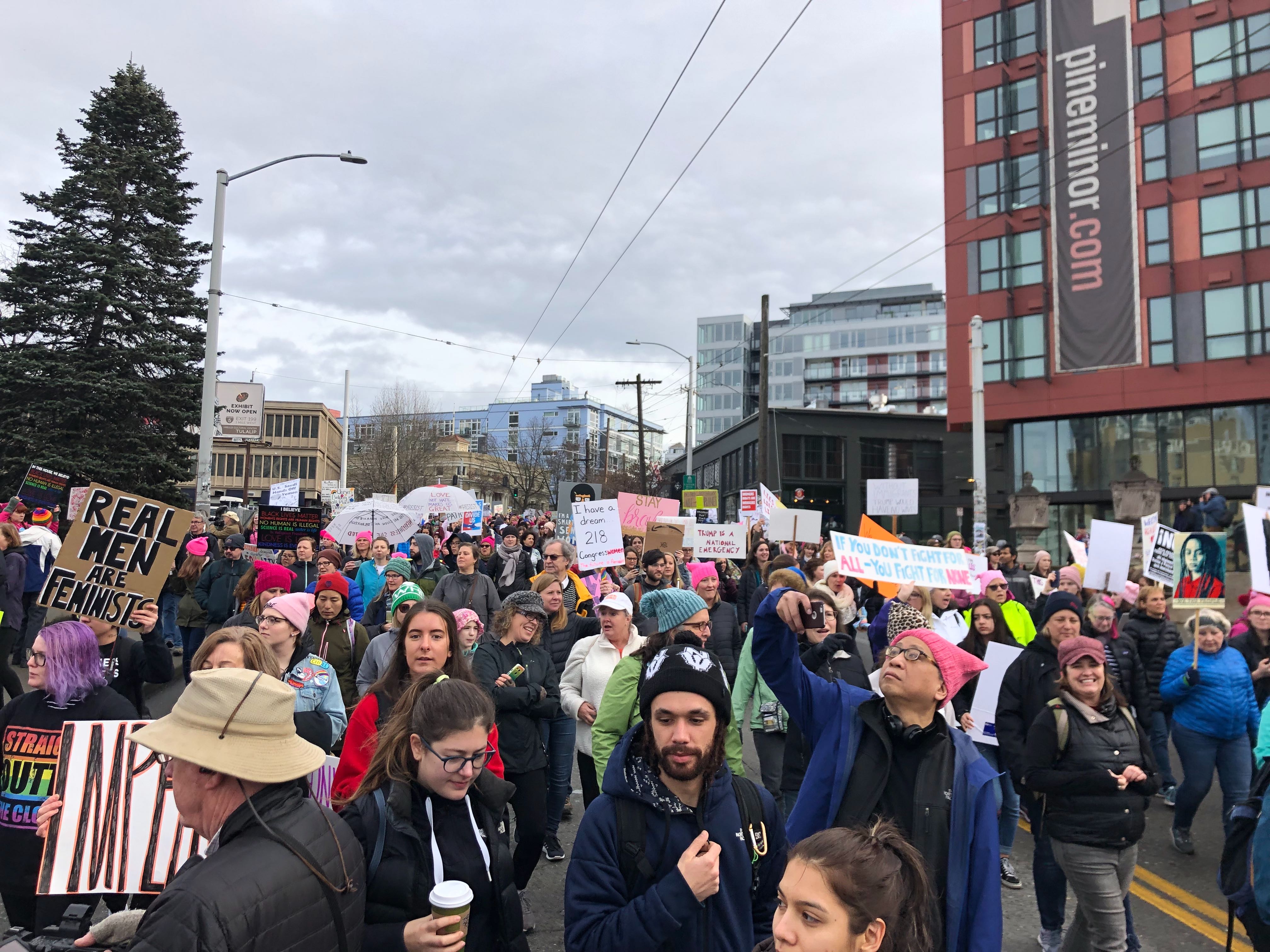 1:19 p.m. ET, January 19, 2019
This mom and daughter from Texas bought their tickets to DC after the Kavanaugh hearing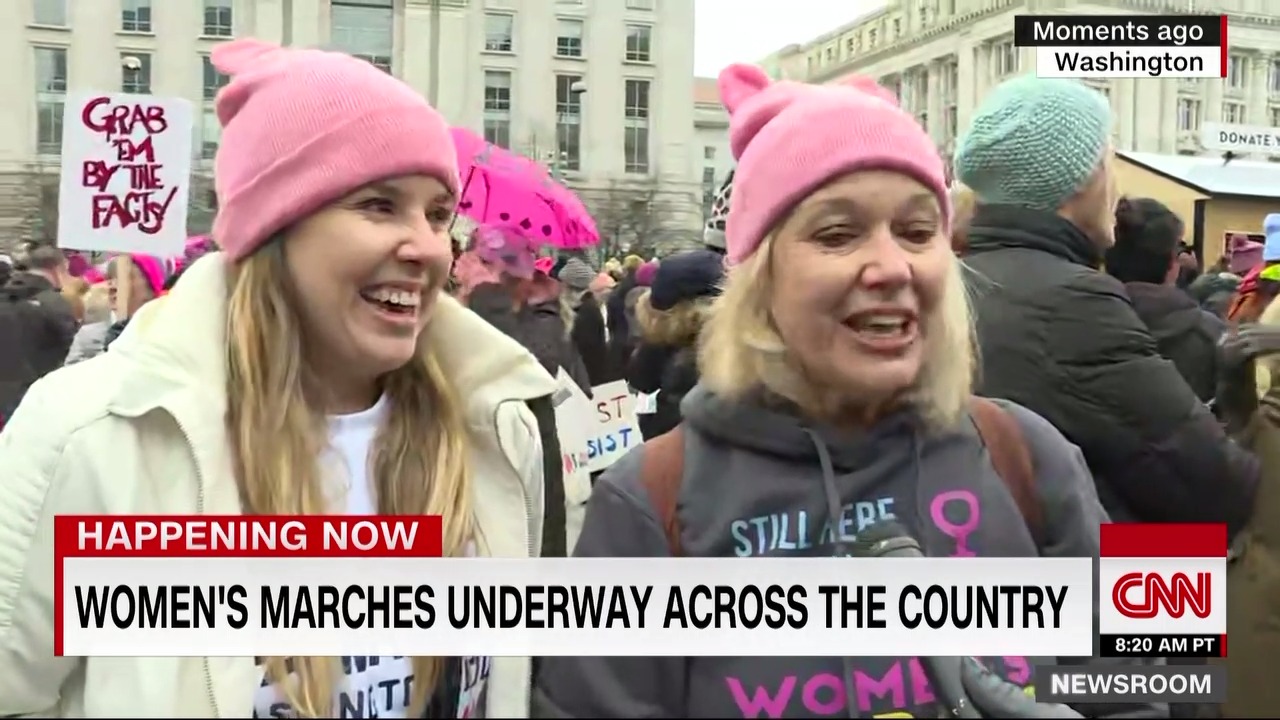 Gina Lopez and her daughter Leah Lopez traveled from Houston, Texas, to be at today's Women's March in Washington, DC.
They said they planned the trip after the September confirmation hearing for Supreme Court Justice Brett Kavanaugh, who was accused of sexual assault.
"We just had enough, we've absolutely had enough — the wall, Kavanaugh, the whole thing. We just finally decided it's time, it's time to come here and march," Gina Lopez said.
Watch more:
1:17 p.m. ET, January 19, 2019
The Women's March has been surrounded by controversy. This marcher isn't bothered by it.
Jessica Childs, who's marching in Washington today, told CNN she was not bothered by the controversy that has plagued the Women's March leadership in recent months.
"Never," said the Alexandria, Virginia, resident. "This is something where I was going to be here no matter what. This is my life, we're talking about. This is all of our lives and we're going to be here fighting for that, regardless of whatever is happening at a higher level. This is for us."
Childs attended the inaugural Women's March on Washington in 2017, and said it was "nothing like I've ever experienced before."
Another marcher, Carmella Ormando, said she had no reservations about attending today's march, despite concerns about anti-Semitism.
"Because nothing is perfect," Ormando said. "Because they have worked to solve some of their problems and us it as an opportunity to make some changes. And because we need to support each other, because the cause is much bigger."
1:57 p.m. ET, January 19, 2019
Alexandria Ocasio-Cortez says NYC rallies have the same message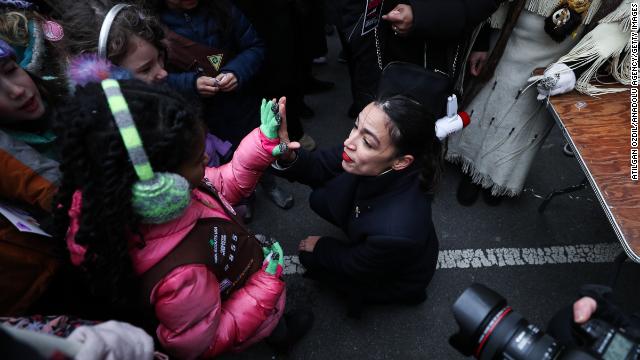 Rep. Alexandria Ocasio-Cortez said the two women's marches in New York City today share the same message. 
"All of these women are coming together in solidarity with each other, to support each other, and to make sure that every single voice is amplified, protected and advanced in the United States of America," she told CNN.
CNN caught up with Ocasio-Cortez while she attended the Women's March Alliance near Central Park. She's scheduled to speak at the "Women's Unity Rally" at Foley Square in lower Manhattan later today.
Ocasio-Cortez speaks with CNN's Jason Carroll:
12:30 p.m. ET, January 19, 2019
This marcher says she's tired of the "racism that comes out of the President's mouth"
Sandra McCluskey, of Palm Springs, California, said she was one of 20 people who took a bus to the march in Los Angeles. It's the retired nutritionist's third year at a women's march.
"I'm tired of the bigotry, racism that comes out of the President's mouth," McCluskey said.
McCluskey wore a green jacket, the back of which read, "I care do you," a reference to the infamous jacket First Lady Melania Trump wore on the way to the US-Mexico border last summer to visit a shelter for immigrant children.
12:16 p.m. ET, January 19, 2019
There are 2 marches in New York City, just 4 miles apart
Two women's marches are underway in New York City today.
The Women's March Alliance is holding its third annual march in Manhattan. That march runs along the west side of Central Park and through Columbus Circle. Rep. Alexandria Ocasio-Cortez was spotted among the marchers this morning.
Then there's the "Women's Unity Rally" at Foley Square in lower Manhattan. Demonstrators packed the square Saturday for the protest.
Scheduled speakers there include New York City first lady Chirlane McCray and women's rights activist Gloria Steinem. Ocasio-Cortez is also expected to make an appearance at that rally.
Columbus Circle and Foley Square are about four miles apart.
12:42 p.m. ET, January 19, 2019
There's a counterprotest of women who say they don't feel welcome at the Women's March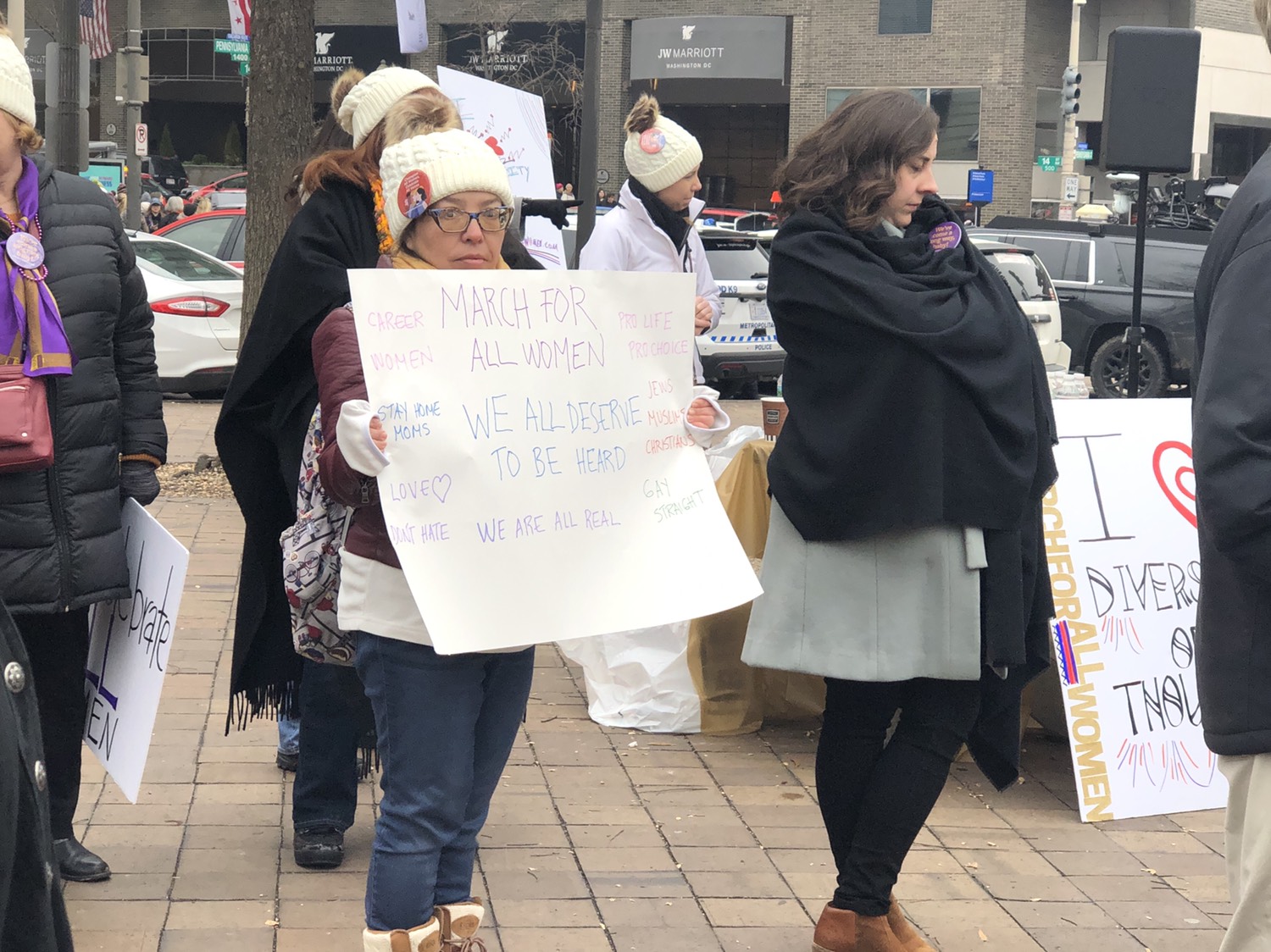 A smaller group of women gathered in Washington Saturday for a counterprotest called the March For ALL Women.
The group's website says the event is for women who might not agree with the politics of the main Women's March.
One woman there told CNN she came to the counter protest because she felt like Trump supporters weren't welcome at the Women's March. She also went to yesterday's March for Life, she said.
One woman held a sign that said "The Women's March doesn't define me." Another woman's said "We all deserve to to be head."
Watch More: Women's Marches underway across the country
11:40 a.m. ET, January 19, 2019
Alexandria Ocasio-Cortez is with the marchers in New York City
Rep. Alexandria Ocasio-Cortez was spotted at the New York City women's march at Columbus Circle.
At 29, Ocasio-Cortez is the youngest woman ever elected to Congress. Her surprise primary victory against 10-term incumbent Rep. Joe Crowley shook the political establishment last summer.
There's another New York City rally today: Demonstrators packed part of Foley Square in lower Manhattan for a "Women's Unity Rally" on Saturday. Organizers said they aim "to demand equal justice for black women, immigrant women, women of color, and gender nonconforming people."
Ocasio-Cortez is scheduled to speak at that rally as well.