Winter weather grips the US
3:59 p.m. ET, February 20, 2019
3:52 p.m. ET, February 20, 2019
What New York City looks like in the snow
A winter storm traveling across the East Coast brought snow to New York City, where a winter weather advisory is in effect until 1 a.m. Thursday.
Here's a look at what Manhattan looks like today:
3:26 p.m. ET, February 20, 2019
Some roads and driveways are flooding in Tennessee
From CNN's Lauren Johnson
Major flooding was captured on video in Giles County, Tennessee. The clip shows one woman's driveway, yard, and road covered in standing water.
The region has seen extreme rain and flood watches due to a moist, warmer air mass that's extended from the Ohio Valley into the Southeast.
See it:
3:08 p.m. ET, February 20, 2019
New snowfall record set in Minnesota
A new snowfall record for February was set today in the Twin Cities.
Snowfall levels reached at least 30.4 inches this month and tied a previous record for the 10th snowiest month set in November 1983, according to the National Weather Service.
"This is also the first time we've topped 30" since Dec of 2010 (Domebuster!)," the weather service tweeted.
2:42 p.m. ET, February 20, 2019
The Grand Canyon could get a foot of snow
From CNN's Dave Hennen
Much of the West is also under some sort of winter watch, warning or advisory from Southern Arizona along the Mexican border north to Montana along the Canadian border.
The heaviest snow is expected in northern Arizona and southern Utah. The Grand Canyon could see a foot of snow over the next few days.
Las Vegas is under a winter weather advisory, with the potential for an inch or two of snow tomorrow.
Rare heavy snow is forecast in the mountains in Southern California. Up to two feet of snow is possible in the mountains outside of San Diego.
1:38 p.m. ET, February 20, 2019
How the winter weather is affecting US airports
From CNN's Dave Hennen
Snow and rain are bringing travel delays to much of the East Coast and Midwest, and a second storm is also moving across western states.
Here's where things stand this afternoon:
The winter weather brought nearly 2,000 flight cancellations today in the US overall.
There have been more than 800 flight cancelations alone at the three DC-area airports.
Delays of two to four hours were reported in New York City-area airports.
Chicago is seeing delays of nearly three hours, and more than 400 flights have been canceled.
12:34 p.m. ET, February 20, 2019
What Minneapolis-St.Paul airport looks like right now
Good luck flying in, out or through the Twin Cities today. FlightAware's Misery Map shows a lot of cancellations and delays at the Minneapolis-St.Paul International Airport.
Earlier in the day, poor weather conditions forced all of the airport's runways to close. Since then, they've been able to reopen one runway — despite the still-snowy conditions.
Jim Tomlinson took video of conditions at the airport.
WATCH:
12:09 p.m. ET, February 20, 2019
FlightAware's "Misery Map" shows nearly 2,000 canceled flights, another 2,500 delayed
So far today, 1,872 flights into, out of or within the US have been canceled, according to data from FlightAware.
Another 2,496 flights have been delayed.
Chicago's O'Hare International Airport, Minneapolis-St. Paul International Airport and Atlanta's Hartsfield-Jackson Atlanta International Airport are the most affected, according to FlightAware's Misery Map.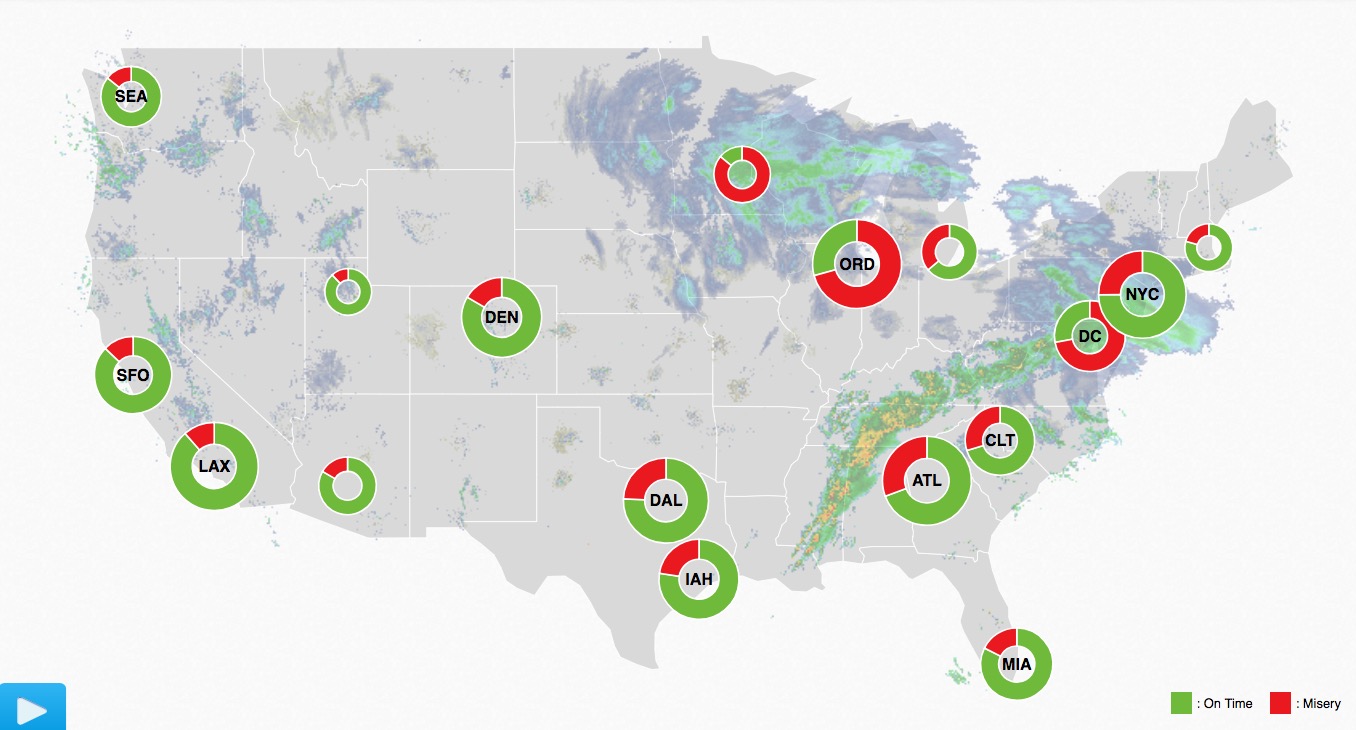 11:55 a.m. ET, February 20, 2019
Many roads in Minnesota are completely covered in snow, officials say
Wednesday is cancelled in Minnesota — at least according to the road conditions.
A map from the National Weather Service shows how many roadways are "completely covered" in snow. It's a lot.
Take a look for yourself: