4:56 p.m. ET, December 2, 2019
4:23 p.m. ET, December 2, 2019
It'll be a snowy commute for New Yorkers
A band of heavy snow has been moving across the New York City area, dumping between 1 and 2 inches of snow per hour, according to the National Weather Service.
That means New Yorkers could have a snowy commute this evening. There's a travel advisory in effect until tomorrow, according to the New York City Mayor's Office.
"Please stay off the roads if possible and use mass transit instead," the office tweeted.
Here's a look at the snowy conditions in New York City:
2:52 p.m. ET, December 2, 2019
Police in Albany cleared a 99-year-old woman's driveway
Police officers in Albany, New York, helped clear a 99-year-old woman's driveway during today's snowstorm.
The Albany Police Department said it got a call today "from a 99-year-old resident who lives alone and asked for our assistance with clearing snow from her driveway."
"Without hesitation, Police Officers William Pierce, Christopher Stiles and John Schueler all drove to the woman's home to assist her and worked together to clear more than a foot of snow from her sidewalk and driveway," the department wrote on Facebook.
So far, Albany has received 13.8 inches of snow, according to the National Weather Service.
1:36 p.m. ET, December 2, 2019
FAA halts flights at Philadelphia International Airport
A ground stoppage on flights is in effect at Philadelphia International Airport, according to the Federal Aviation Administration.
Five other airports are experiencing ground delays due to weather:
Boston Logan International Airport
Newark Liberty International Airport
LaGuardia Airport
San Francisco International Airport
Teterboro Airport
1:06 p.m. ET, December 2, 2019
Parts of New York City could get up to 8 inches of snow
Most of New York City will get between 2 and 4 inches of snow today — and certain northern areas of the city could see as much as 8 inches Mayor Bill de Blasio said.
A winter weather advisory is in effect until 7 a.m. ET tomorrow.
The city has already deployed 705 salt spreaders, and 1,500 snow plows are ready if needed. The city's Department of Sanitation has already spread liquid brine on the city's highways. 
School is in session in New York City today and classes are still scheduled for tomorrow — but a decision will be made tonight on whether to close.
11:34 a.m. ET, December 2, 2019
7 New York counties are under a winter weather state of emergency
From CNN's Taylor Romine
New York Governor Andrew Cuomo has declared a winter weather state of emergency for seven counties in New York state: 
Albany
Columbia
Greene
Rensselaer
Schenectady
Saratoga
Ulster
Cuomo said he has deployed 300 national guard soldiers to assist with snow removal and clean-up operations in these seven counties. The snow should be trailing off overnight, Cuomo said.
How much snow is the state getting? Areas around Albany have already seen more than one foot of snow, and may receive another eight inches by tomorrow morning. Areas in Central New York, Mohawk Valley, North Country and Mid-Hudson Regions are seeing up to eight inches in some areas, according to a news release from Cuomo's office.
Reduced speed limits remain in effect on state-owned highways. New York State Troopers have already responded to more than 740 storm-related crashes statewide and assisted 558 disabled vehicles. No deaths have been reported at this time, according to the news release. 
11:29 a.m. ET, December 2, 2019
These airports are experiencing delays because of the storm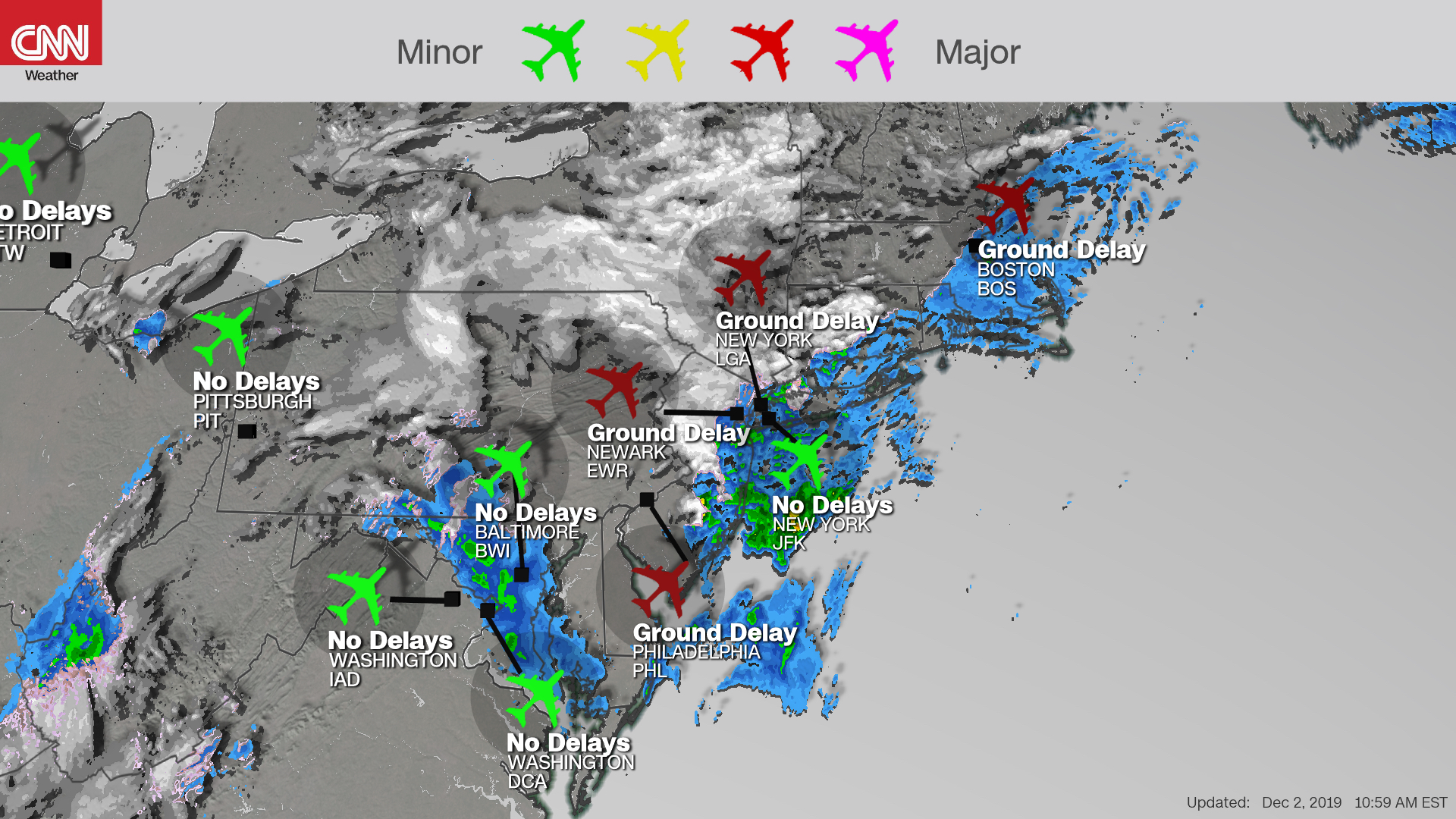 Flight delays are ticking up as the waiter storm hits the northeast US.
Here's the latest on delays at the major airports in the region:
Boston: Some arriving flights are delayed an average of 1 hour and 59 minutes.
New Jersey: Flights destined for Newark International Airport are currently delays averaging 3 hours and 7 minutes.
New York: Planes headed to LaGuardia Airport are experiencing delays averaging 1 hour and 56 minutes.
Philadelphia: Flights destined to Philadelphia International Airport are currently experiencing delays averaging 55 minutes.
Meanwhile in California, flights headed to San Francisco International Airport are currently delayed an average of 2 hours and 42 minutes due to high winds in the area.
10:40 a.m. ET, December 2, 2019
Here's what to expect in New York City
Snowfall estimates for New York City have increased slightly, according to the National Weather Service. The metro area, as well as Long Island, southern Connecticut, and southern Westchester County will get between 1 and 5 inches.
"Rain this morning mixes with snow this afternoon and early evening, changes to snow by midnight. Snow continues through tonight," the service said.
Here's a look at the conditions on a map: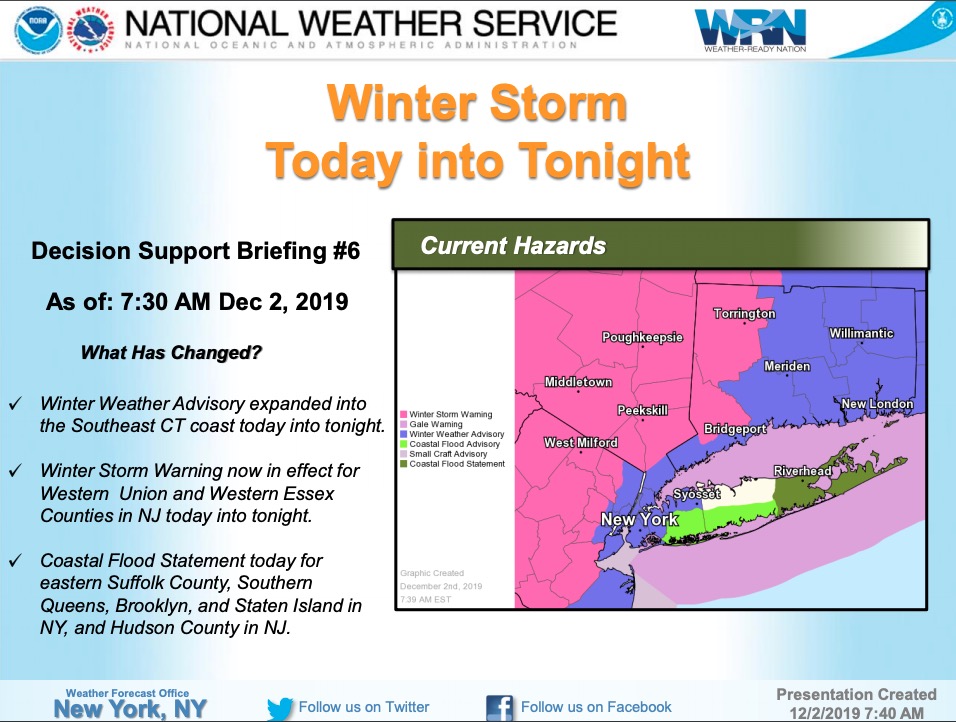 9:20 a.m. ET, December 2, 2019
More than 7,500 flights were delayed within the last day
From CNN's Christina Maxouris
Heavy snowfall hammering parts of New England and a lingering storm on the West Coast have left thousands of travelers in limbo.
About 50 million remained on winter weather alerts, CNN meteorologist Rob Shackelford said.
As of this morning, more than 7,500 flights have been delayed into or out of the US within the past day — and more than 900 flights have been canceled.
Airlines like Delta and American offered waivers for passengers who wanted to change or cancel their flights.