Virginia Beach mass shooting
8:23 p.m. ET, May 31, 2019
Police find pistol and rifle at scene, official says
A semi-automatic pistol and a rifle were found at the scene and investigators believe they were used in the shooting, according to a law enforcement official. 
The suspect is believed to have purchased the firearms legally, according to the investigators' preliminary information. 
8:18 p.m. ET, May 31, 2019
Virginia governor: "This is unspeakable, senseless violence"
Virginia Gov. Ralph Northam issued a statement regarding today's deadly shooting at the Virginia Beach Municipal Center.
Read his remarks:
"This is a horrific day for the Commonwealth of Virginia. We are devastated by the tragic shooting in Virginia Beach. I am in Virginia Beach with law enforcement authorities and Mayor Dyer, where I am monitoring the situation and offer the state's full support.
My deepest condolences and prayers go to the families of those who left home this morning, and will not return tonight, as well as those who have been injured in this tragedy.
This is unspeakable, senseless violence. I commend local and state law enforcement, first responders, medical teams, and all others who acted swiftly to respond to this situation. My thoughts continue to be with the victims and their families."  
8:04 p.m. ET, May 31, 2019
Mayor Bobby Dyer: "This is the most devastating day in the history of Virginia Beach"
Virginia Beach Mayor Bobby Dyer got emotional when speaking about the shooting, calling it the "most devastating day" in the city's history.
"The people involved are our friends, coworkers, neighbors, colleagues," he said.
Watch below:
7:53 p.m. ET, May 31, 2019
President Trump has been briefed on the Virginia Beach shooting
President Trump has been briefed on the shooting in Virginia Beach, the White House said.
"The President has been briefed on the shooting in Virginia Beach, VA and continues to monitor the situation," spokesperson Hogan Gidley said.
At least 11 were killed after a shooter opened fire at a municipal building, police Chief James Cervera told reporters Friday night.
7:52 p.m. ET, May 31, 2019
Shooter was a disgruntled employee, source says
The shooter who killed 11 people at the Virginia Beach municipal complex was a "disgruntled employee," a Virginia government source briefed on the investigation tells CNN.
Virginia Beach Police Chief Jim Cervera previously described the gunman as a current, longtime public utilities worker with the city.
7:50 p.m. ET, May 31, 2019
People hid under the desks during the shooting, reporter says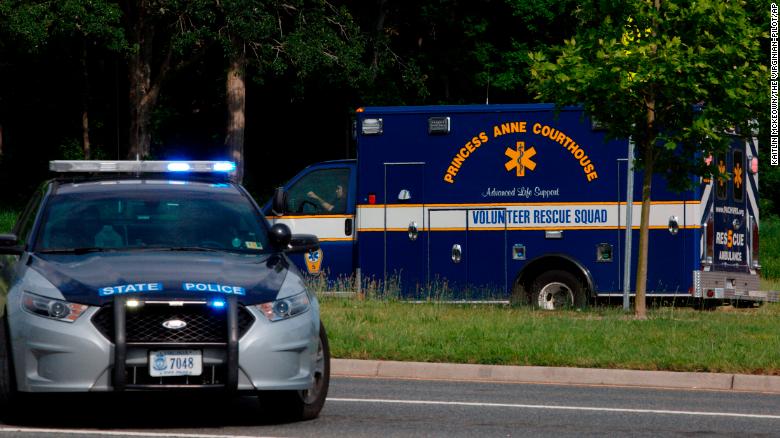 Gordon Rago, a reporter at The Virginian-Pilot, said witnesses described the scene as "frantic."
He said the shooting occurred around 4:30 p.m. ET when people were still visiting the municipal center to conduct business.
Witnesses told him that SWAT officers were running down the street, directing them to get inside.
"I've talked to people who said that they were hiding under their desks," Rago told CNN.
Many employees have gone home after the shooting, he said. Some employees left their cars behind, Rago added.
Watch:
7:34 p.m. ET, May 31, 2019
Witness says people were screaming to "get down" while she called 911
A witness described the scene in Virginia Beach, Virginia, where a shooting left at least 11 people dead, according to police.
"We just heard people yelling and screaming to get down. And I was on the phone with 911. So I was trying to concentrate on — on getting — talking to them, she said.
Watch:
7:30 p.m. ET, May 31, 2019
Virginia lawmakers say they are "praying for all involved"
Members of Virginia's congressional delegation took to Twitter to respond to today's deadly shooting in Virginia Beach.
Here's what they said:
Sen. Tim Kaine
Sen. Mark Warner
Rep. Elaine Luria
7:40 p.m. ET, May 31, 2019
Gov. Ralph Northam will be briefed by police
Virginia Gov. Ralph Northam has arrived in Virginia Beach after the deadly shooting this afternoon. 
He will now be briefed by law enforcement and said he would offer further comments later.
"This is just a horrific day. And a lot of people are on the scene here. Just our thoughts are for the victims and families. We're working with our law enforcement, first responders, our folks at the hospital and just making sure we take care of everybody right now," Northam told reporters.
Watch more: