President Biden on Tuesday laid out his most comprehensive plan yet for shrinking the nation's longstanding racial wealth gap, the latest step in his promise to infuse more equity in government policies and in the rebuilding of the economy after the coronavirus pandemic.
Some measures — including changes to deal with housing discrimination and directing federal support to small businesses — he can take on his own, but many of his proposals require congressional approval that could be very tough to secure.
That includes pouring tens of billions of dollars into communities of color to improve transportation infrastructure, develop more neighborhood amenities, build and rehabilitate affordable housing and support small businesses. All of these proposals are contained in Biden's massive infrastructure package, called the American Jobs Act.
That package has run into trouble in Congress, with members of both parties concerned about its roughly $2 trillion size — as well as about the corporate tax increases that would be used to pay for it. The White House is currently negotiating with a group of Republicans in hopes of finding agreement on a smaller package — with the latest GOP proposal coming in at $928 billion.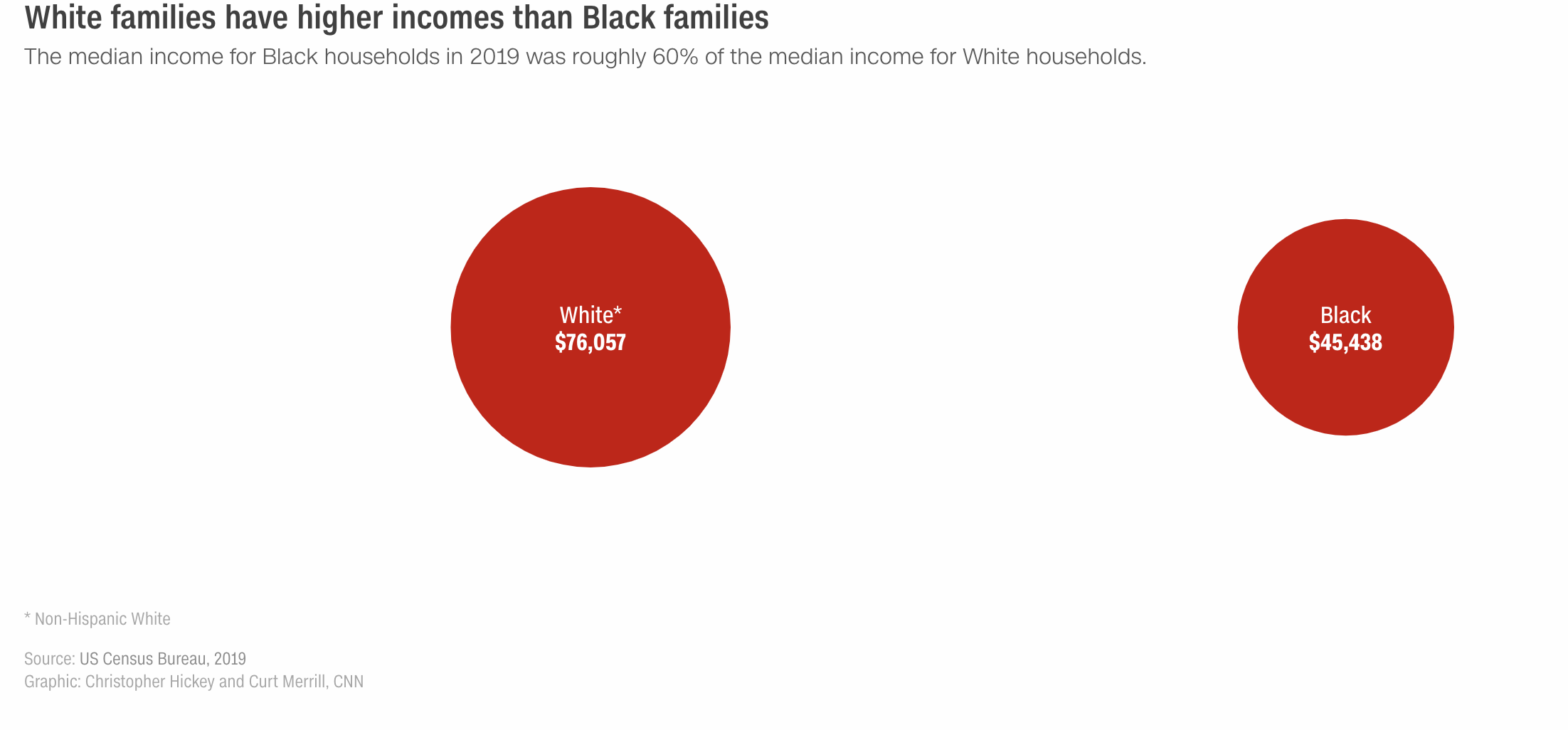 The massive wealth divide between Black and White families is currently in the spotlight because of the 100th anniversary of the Tulsa Race Massacre, one of the worst acts of racial violence in US cities. The typical non-Hispanic White family had a net worth of $188,200 in 2019, while the typical non-Hispanic Black family's wealth was $24,100, according to the most recent Federal Reserve Bank data.
There are many reasons for the gap, including a big difference in home ownership -- a key vehicle to building wealth. About 74% of Whites owned homes in the first quarter of 2021 versus 45% of Blacks, according to the US Census Bureau.
Create a $10 billion Community Revitalization Fund: The fund would target economically under-served areas and support community-led civic infrastructure projects that develop neighborhood amenities, revitalize vacant land and buildings, spark new local economic activity, provide services, promote civic engagement and build community wealth.
Invest in transportation infrastructure: The President wants to establish grants totaling $15 billion that would target neighborhoods where people have been cut off from jobs, schools and businesses because of previous transportation investments. The funding would support planning, removing or retrofitting infrastructure that creates barriers to communities.
Increase affordable housing: Biden is calling for the creation of a Neighborhood Homes Tax Credit to attract private investment in the development and rehabilitation of affordable housing for low- and moderate-income buyers and owners.
Expand housing choices: The President is asking lawmakers to establish a $5 billion grant program for jurisdictions that take concrete steps to eliminate land-use and zoning barriers to producing affordable housing and that expand housing choices for people with low or moderate incomes.
Invest $31 billion to support minority-owned small businesses: Biden wants to provide $30 billion to the Small Business Administration to increase access to capital for the smallest companies, develop new loan products to support small manufacturers and businesses that invest in clean energy and launch a Small Business Investment Corporation to make early stage equity investments, placing a priority on small firms owned by socially and economically disadvantaged individuals. It would also establish a $1 billion grant program through the Minority Business Development Agency aimed at helping minority-owned manufacturers access private capital.