Hurricane Michael's aftermath
5:02 p.m. ET, October 12, 2018
Our live coverage of the aftermath of Hurricane Michael has ended. Go here or scroll through the posts below to read more about the storm.
5:00 p.m. ET, October 12, 2018
A look at the damage from Hurricane Michael
A US Customs and Border Protection helicopter crew took these photographs of the devastation left behind by Hurricane Michael while conducting search and rescue operations near Panama City, Florida, on Thursday.
Here's what they saw:
4:54 p.m. ET, October 12, 2018
Mexico Beach mayor: "I have never seen anything like this"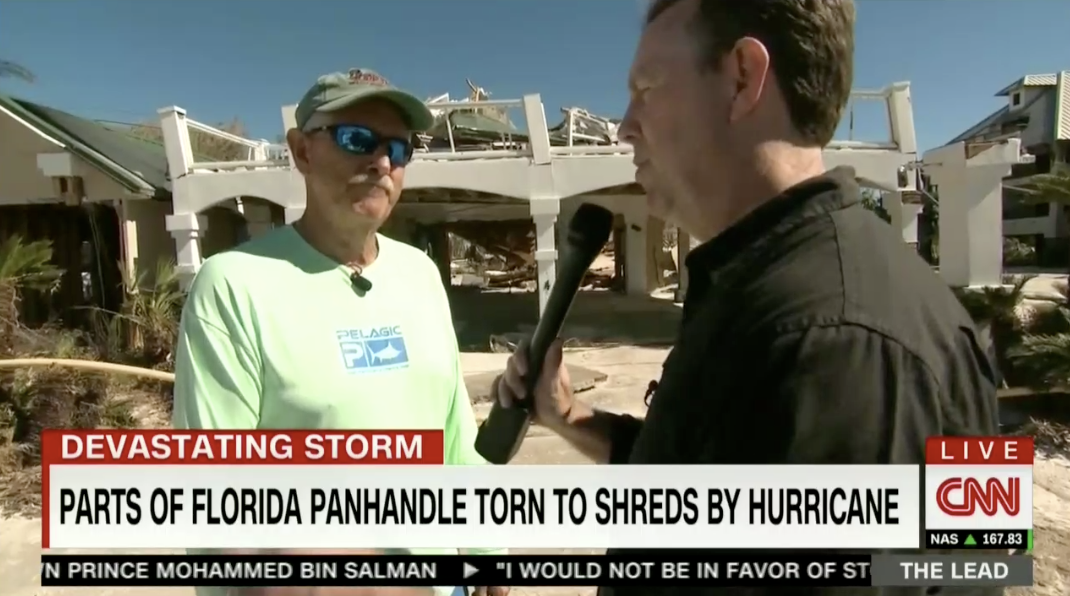 Mexico Beach Mayor Al Cathey said the damage from Hurricane Michael has devastated his town.  
"Other than devastation, I've never seen anything like this," he told CNN.
Cathey said he doesn't believe anyone is still trapped or needs to be rescued.
The town's main concern now is clean up, he added.
"I'm worried about people trying to come back and getting in our way with this debris removal and clogging … our main street," Cathey said. "We've got to clear the roads and people are going to have to just stop coming to take pictures."
4:40 p.m. ET, October 12, 2018
Florida inmates volunteer to clear debris from roads
Inmates from Florida's Walton County Jail worked to clear debris along the roads following Hurricane Michael, according to the sheriff's office.
Five inmates had recently graduated from a heavy equipment operations class at the jail on Sept. 13, the Walton County Sheriff's Office tweeted.  
As Michael rolled through, the inmates who recently graduated "volunteered to help their community following the storm because they've participated in programs to learn to use heavy equipment while incarcerated at the jail," the sheriff's office tweeted.
4:09 p.m. ET, October 12, 2018
Businesses in Tallahassee are reopening and electricity is being restored
Tallahassee announced Friday afternoon that 90% of the traffic lights in the city are back online and power has been been restored to 38,000 customers.
Businesses are beginning to reopen, including Walmart, Target, Whole Foods, and various gas stations. Several restaurants, including Whataburger and McDonald's, are open, and cinemas have reopened with a full schedule of movies.
The storm did leave its mark on the city. Here's what happening:
130 crews are still clearing debris.
Residents continue to use "comfort stations" and shower facilities set up around the city.
Five pump stations have also reported overflows of up to 6,800 gallons.
Crews are working to resolve only 28 remaining customers without gas service. 
However, recovery and cleanup seem to be going smoothly. City crews are restoring park facilities, 288 road closures have been resolved, and students may return to school as soon as Monday.
"We are working really hard as a team to return to normal operations for everyone!" the city government said in a statement.
3:46 p.m. ET, October 12, 2018
HUD announces disaster assistance for Florida hurricane victims
The Department of Housing and Urban Development (HUD) announced Friday that they would speed up federal disaster assistance to Florida and provide support to displaced homeowners and low-income renters.
On Thursday, President Trump issued a major disaster declaration for five Floridian counties, allowing HUD to offer federal funding and assistance to those affected.
In a statement, HUD announced a series of relief measures including immediate foreclosure relief, as well as making mortgage and home rehabilitation insurance available to residents.
3:27 p.m. ET, October 12, 2018
Rescue team uses dog to search for survivors under rubble
The South Florida Urban Search and Rescue team is using specialized equipment and a dog to look for survivors under the rubble left by Hurricane Michael in the beach city of Mexico Beach, Florida, a team spokesperson told CNN.
The team had to use equipment to extricate someone from a home.
They also helped rescue 15 other people from homes in the area.
2:45 p.m. ET, October 12, 2018
A marine lab director rushed to Florida during the storm to save the sea life
The Gulf Specimen Marine Lab in Panacea, Florida, took a beating when Hurricane Michael hit. At least four feet of storm surge swept into the lab, employees told CNN affiliate WTXL.
The lab lost power, causing the oxygen pumps to fail and spelling potential disaster for more than 200 species of sea life that live inside.
Executive Director Cypress Rudloe had been sheltering in Tallahassee, but rushed back to Panacea on Wednesday night to save the animals.
"And I've been running around, frantically trying to put oxygen on my big cobia and all these bigger fish and my sharks and stuff like that and trying to get life support back up for these guys," Rudloe told WTXL. "I'm very lucky and I'm just glad that I'm still here." 
His efforts paid off -- the aquarium is still standing, and he managed to save all the sea life.
2:28 p.m. ET, October 12, 2018
One person missing in Virginia following Michael
A search is underway for a motorist who went missing during the storm Thursday, according to Jeffrey Stern, the director of the Virginia Department of Emergency Management Agency.
State police and local authorities are searching in Nottoway County, Virginia State Police Superintendent Colonel Gary Settle said.
"With regards to the missing motorist, we are still searching for that person. We realized at the time that there was someone in the vehicle that got swept away and we've now recovered the vehicle but we've not recovered the person that we know was in the vehicle," Settle said.
Some of the most severe impacts were felt in Virginia, where authorities said five people had died — four of whom drowned.