Hurricane Michael's aftermath
1:13 p.m. ET, October 10, 2018
Trump's message to those in path of storm: "God bless you all"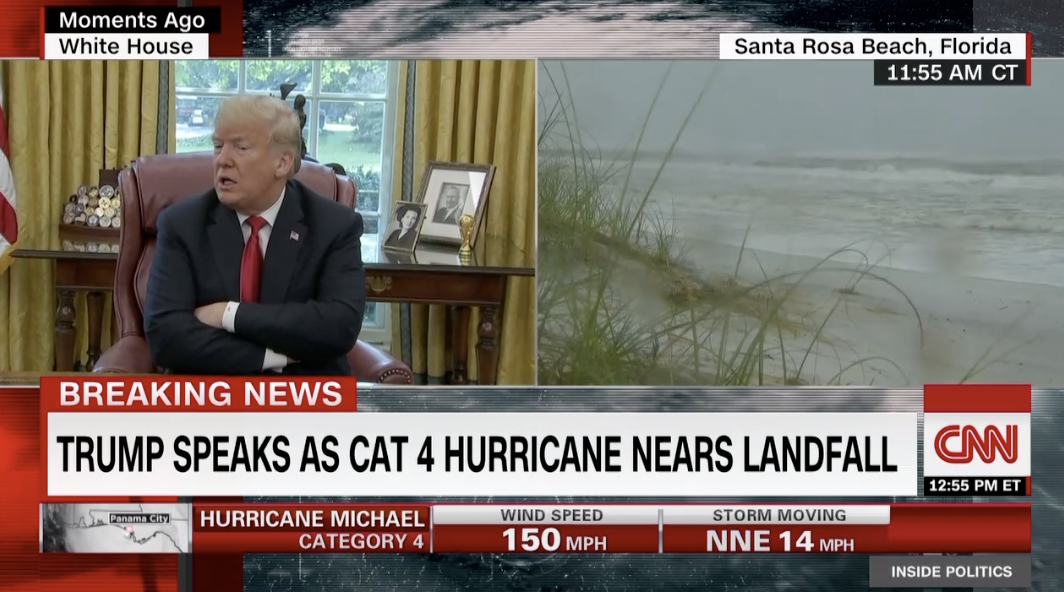 With Hurricane Michael quickly approaching the Florida Panhandle, President Donald Trump was asked what his message is to the people in the storm's path.
"I say God bless you all," Trump said. "That's my message because that's what it is. The storm is there. It's sort of too late to do that now from the standpoint of moving."
FEMA Director Block Long amplified Trump's message, saying the "window to evacuate has ... come to a close."
The President said it was "very sad" that some of the areas in the storm's path are poverty-stricken, adding again that many people are "unable" to evacuate.
"More than we would like," Trump said. "You have people that are stuck, they're just stuck there."
The President said the government has been helping some people evacuate, but he said others "don't want to go out."
"They will be ok," Trump said. "They are strong, smart, wonderful people."
1:09 p.m. ET, October 10, 2018
Hurricane Michael landfall is "imminent," NHC says
The strongest winds of Hurricane Michael are coming ashore along the coast of the Florida Panhandle between St. Vincent Island and Panama City.
In the latest forecast, the National Hurricane Center said landfall is imminent.
"Landfall of Michael's eye imminent, everyone in the landfall area is reminded not to venture out into the relative calm of the eye, as hazardous winds will increase very quickly as the eye passes!" the NHC said.
1:01 p.m. ET, October 10, 2018
CNN reporter: Rain feels "like little needles" in Panama City Beach
The sheets of rain feel like needles falling from the sky.
"We're getting some very strong bands of wind and rain that are coming through right now here in Panama City Beach," CNN correspondent Dianne Gallagher reports. "This is definitely the strongest that I've felt all day long … The rain drops almost feel like little needles on my exposed hands right now. It's so intense."
Trees and palms swayed in the heavy wind behind her.
12:51 p.m. ET, October 10, 2018
Michael's winds topple new construction in Panama City Beach
Marc Weinberg, a reporter with CNN affiliate WDRB, just tweeted this video showing a new home that was under construction toppling in Hurricane Michael's powerful winds.
See it:
12:40 p.m. ET, October 10, 2018
State of emergency declared in 108 Georgia counties
A state of emergency has been declared in 108 counties throughout Georgia.
That's up from the 92 counties previously reported, Georgia Gov. Nathan Deal said during a news conference Wednesday.
Deal warned that Hurricane Michael was a dangerous storm.
12:29 p.m. ET, October 10, 2018
Thousands lose power during storm
At least 51,000 customers are without power along the Florida panhandle.
Here's a breakdown of the power outages:
Gulf Power: 33,200 customers
Duke Energy: 18,707 customers
One thing to note: These are utility customers, which likely means many more people are impacted by these outages.
12:23 p.m. ET, October 10, 2018
Waterfront mayor: "We're just hoping for the best"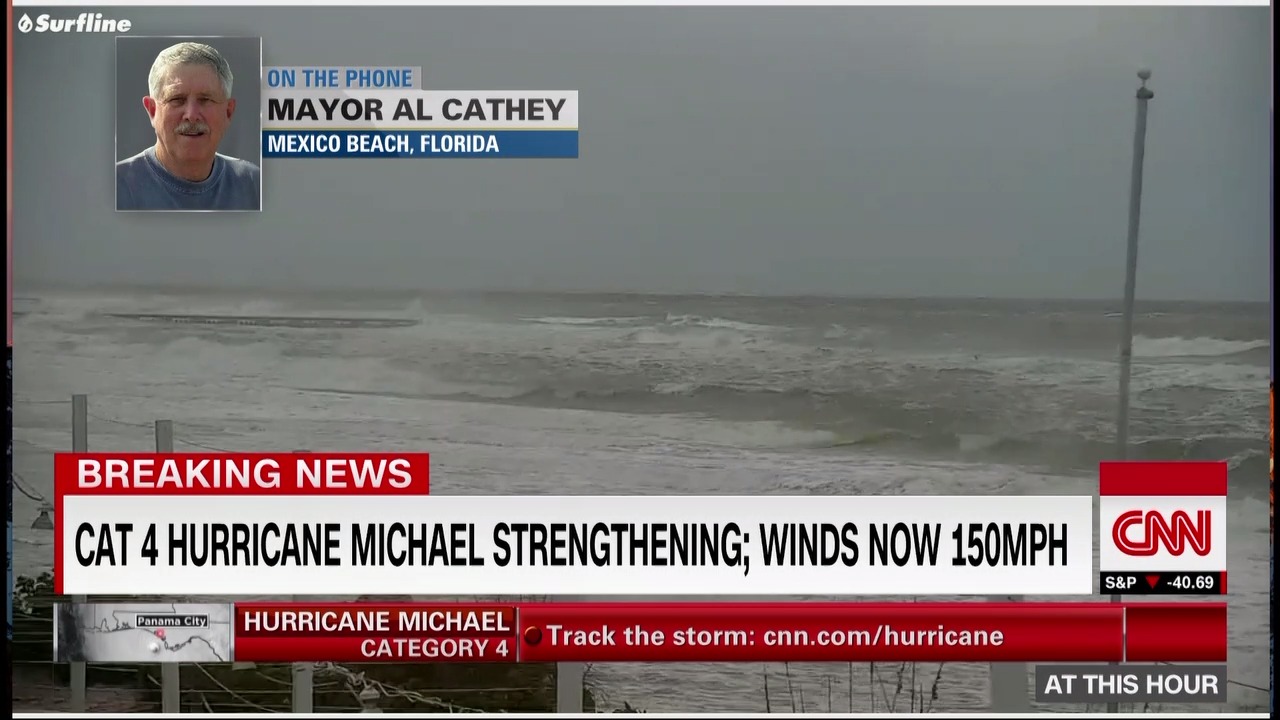 The waterfront city of Mexico Beach, Florida, lost power late Wednesday morning, according to Mayor Al Cathey.
Sustained winds were reaching 50 mph, with gusts in the 60 mph range. There were heavy rains.
"It certainly is deteriorating rapidly here," he told CNN.
Of the city's 1,200 residents, all but about 280 people have evacuated, Cathey said.
"Not everyone left and we're just hoping for the best here."
12:19 p.m. ET, October 10, 2018
Trump tweets: "We are with you Florida!"
President Trump tweeted support for Florida as Hurricane Michael strengthens and prepares to make landfall this afternoon.
"We are with you Florida!" he tweeted.
The storm's center had maximum sustained winds of 150 mph this morning. About 3.8 million people were under hurricane warnings in Florida's Panhandle and Big Bend regions, along with parts of southeastern Alabama and southern Georgia. Tropical storm warnings cover 15.9 million people in several states.
Read his tweet:
12:17 p.m. ET, October 10, 2018
Don't let those calm winds trick you, Bay County official warns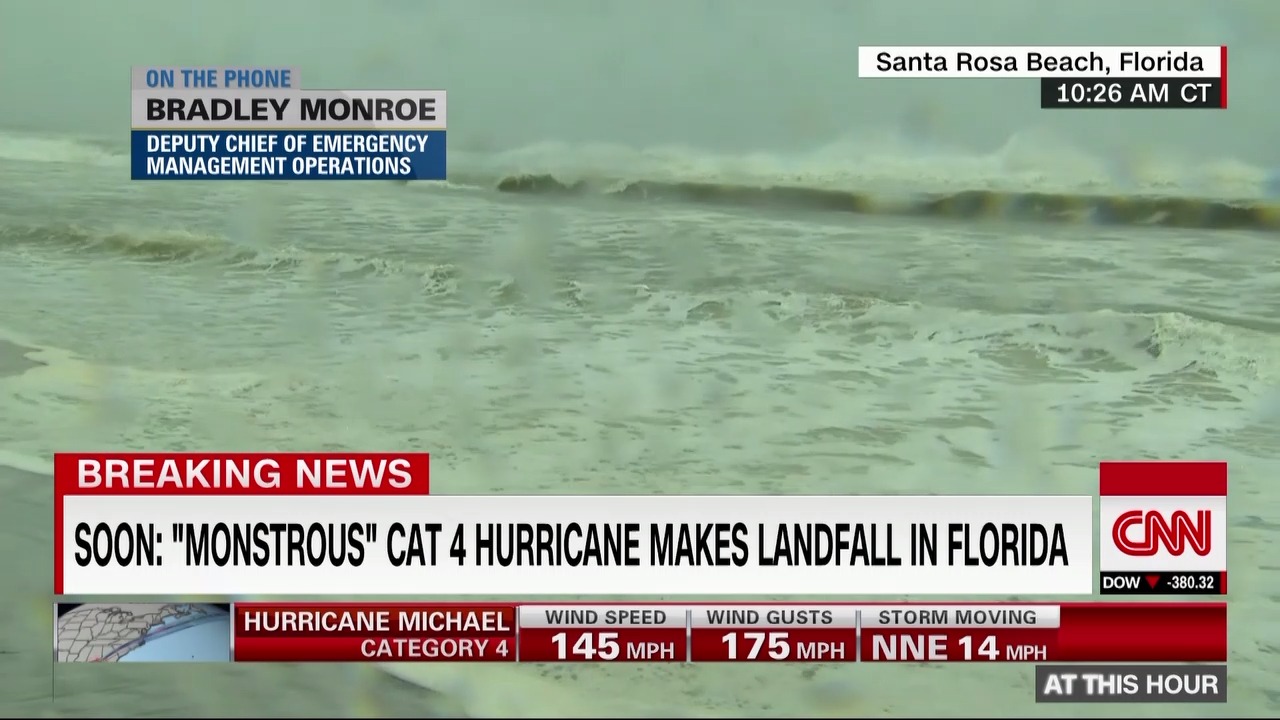 Don't be lulled by the relatively calm winds.
That's the message for Bay County, Florida, residents from Bradley Monroe, deputy chief of emergency management operations.
"Our focus is communicating to the citizens that did stay to continue to shelter in place, don't wander out or be lulled out by the calm winds now. We're looking at intense winds in the next hour or two as the storm comes on shore."
Still, winds and debris were already preventing first responders from going out on emergency calls, he said.
"This is awfully tough for our first responders," Monroe told CNN Wednesday. "But it's just too dangerous to put them out there."