Hurricane Michael's aftermath
3:18 p.m. ET, October 10, 2018
Michael is strongest storm since Hurricane Andrew in 1992
Hurricane Michael, with 155 mph winds at landfall, is the strongest storm to make landfall in the continental U.S. since Hurricane Andrew in 1992.
However, Michael's pressure (919 millibars) was lower than Hurricane Andrew. 
This pressure makes Michael the third lowest pressure ever measured in a US landfalling hurricane behind only the Labor Day Hurricane of 1935 and Hurricane Camille in 1969.
A wind gust of 130 mph was reported near Tyndall AFB close to Panama City before the instrument failed.
Hurricane Michael rapidly intensified 45 mph in the 24 hours leading up to landfall.
4:00 a.m. ET, October 11, 2018
First images out of Mexico Beach, Florida, show widespread flooding and devastation
The scene in Mexico Beach, Florida, is a dire one -- houses are almost completely underwater, debris is floating in the streets, wind is whipping and Hurricane Matthew, which made landfall here earlier this afternoon, is still wreaking havoc.
2:59 p.m. ET, October 10, 2018
Trump: "We're really well prepared" for Hurricane Michael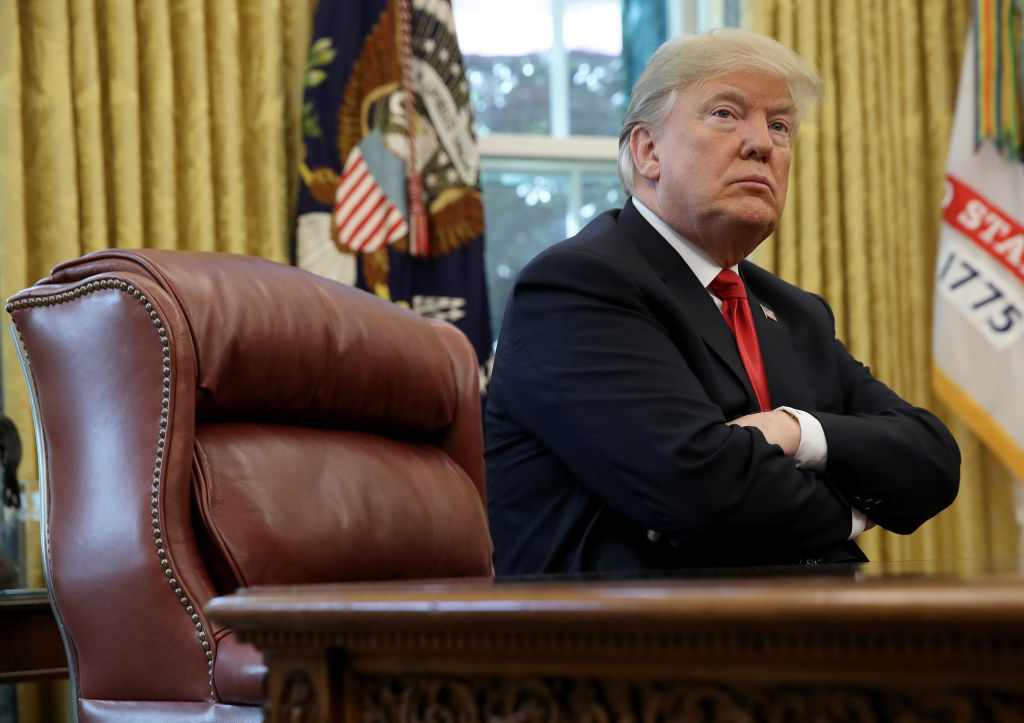 President Trump just spoke about Hurricane Michael ahead of a signing ceremony at the White House.
He called the hurricane a "really devastating storm" and said that it was "one of the biggest storms ever to hit our country."
Trump later noted that it's the "most powerful recorded storms to strike the Florida Panhandle ever." 
Trump warned about "tremendous winds," storm surges, and flash flooding, saying that his administration is in constant communication with Florida Gov. Rick Scott and various authorities.
"We're very well prepared for it," he said, touting "massive amounts of food" and first responders "all over," as well as "over a thousand trucks" staging for electrical repairs.
"Federal resources are on the ground at every level and so we are absolutely ready," he said.
He cautioned that additional rainfall is expected in Florida, as well as Georgia, Alabama, and North and South Carolina, which are both recovering from last month's storms and flooding.
 "I just say, 'God bless everyone,' cause it's going to be a very rough one," he said.
3:00 p.m. ET, October 10, 2018
Florida governor: "I am scared to death" for people who didn't evacuate
Florida Gov. Rick Scott said he is "scared to death" for residents who didn't evacuate.
"Our biggest concern is … the people that chose not to evacuate," he told CNN Wednesday.
"I spent time the last few days going up and down the coast getting people to evacuate but this is a horrible, horrible storm – 150-plus mph (winds), at least 12 inches of rain. But the thing I think people don't realize is the storm surge. Whether it's six feet or 14 feet, it's all deadly. And I'm very concerned that people are not taking that into consideration," Scott added.
Rescue teams manned by more than 1,000 people were prepared to help once the storm passes, along with members of the National Guard and US Coast Guard, he said.
"But I am scared to death for people that chose not to evacuate," the governor said, mentioning 50 residents who refused to evacuate one of the barrier islands in Franklin County.
"I worry about them every second and I hope there're no children there who didn't have the choice on their own to make these decisions," Scott said. "I'm just praying for them and, as soon as this passes, we will be out there doing everything we can to rescue everybody … We will take care of each other."
2:20 p.m. ET, October 10, 2018
This is what Hurricane Michael looked like from space this afternoon
Cameras outside the International Space Station took these images of Hurricane Michael as it moved toward the Florida Panhandle.
The videos were shot at 12:58 p.m. ET from an altitude of 255 miles:
2:11 p.m. ET, October 10, 2018
Where the rain felt like "razor blades" and a rake flew by at 100 mph
CNN's John Berman is in Panama City Beach, Florida, right now as Hurricane Michael pummels the Florida coast.
He said the rain felt "like powerful razor blades" on his face.
Berman also saw powerful winds sweep up a rake.
"We saw a rake out here a moment ago flying along at 100 miles per hour or so… and this is just the beginning," he said.
Berman also directed viewers to a piece of metal railing crumbing under the pressure of intense winds.
"This wind is pushing that metal railing over, and I don't think it's going to be able to stand up much more," he said.
2:03 p.m. ET, October 10, 2018
Florida man shoots Facebook Live video from inside the eye of the hurricane
Teddy Jaison Rawlings stepped outside his house in Callaway, Florida, as Hurricane Michael's eye passed overhead.
He took out his phone and recorded a 15-minute Facebook Live video showing what it's like during that strange, uncomfortably calming moment bookended by extreme weather.
Trees appear to be leaning off kilter, a few roofs appear to be damaged and the neighborhood is flooded. Everyone, for the most part, appears to be in good spirits.
Watch (note: there is some adult language):
1:51 p.m. ET, October 10, 2018
This Florida sheriff has had it with people going on the beaches
Walton County Sheriff Michael Adkinson Jr. has encountered a few people on the beaches as Hurricane Michael unleashes its fury. Obviously, that's not a safe place to be -- for them, or the first responders they would call if they find themselves in trouble.
"We have people who cannot exercise good sense. While it might be their constitutional right to be an idiot, it's not their right to endanger everyone else!," he tweeted.
Here's video from one of the beaches. As the office's Twitter account puts it, "Get. 👏🏼 To. 👏🏼 Shelter. 👏🏼"
1:55 p.m. ET, October 10, 2018
BREAKING: Michael makes landfall as a powerful Category 4 hurricane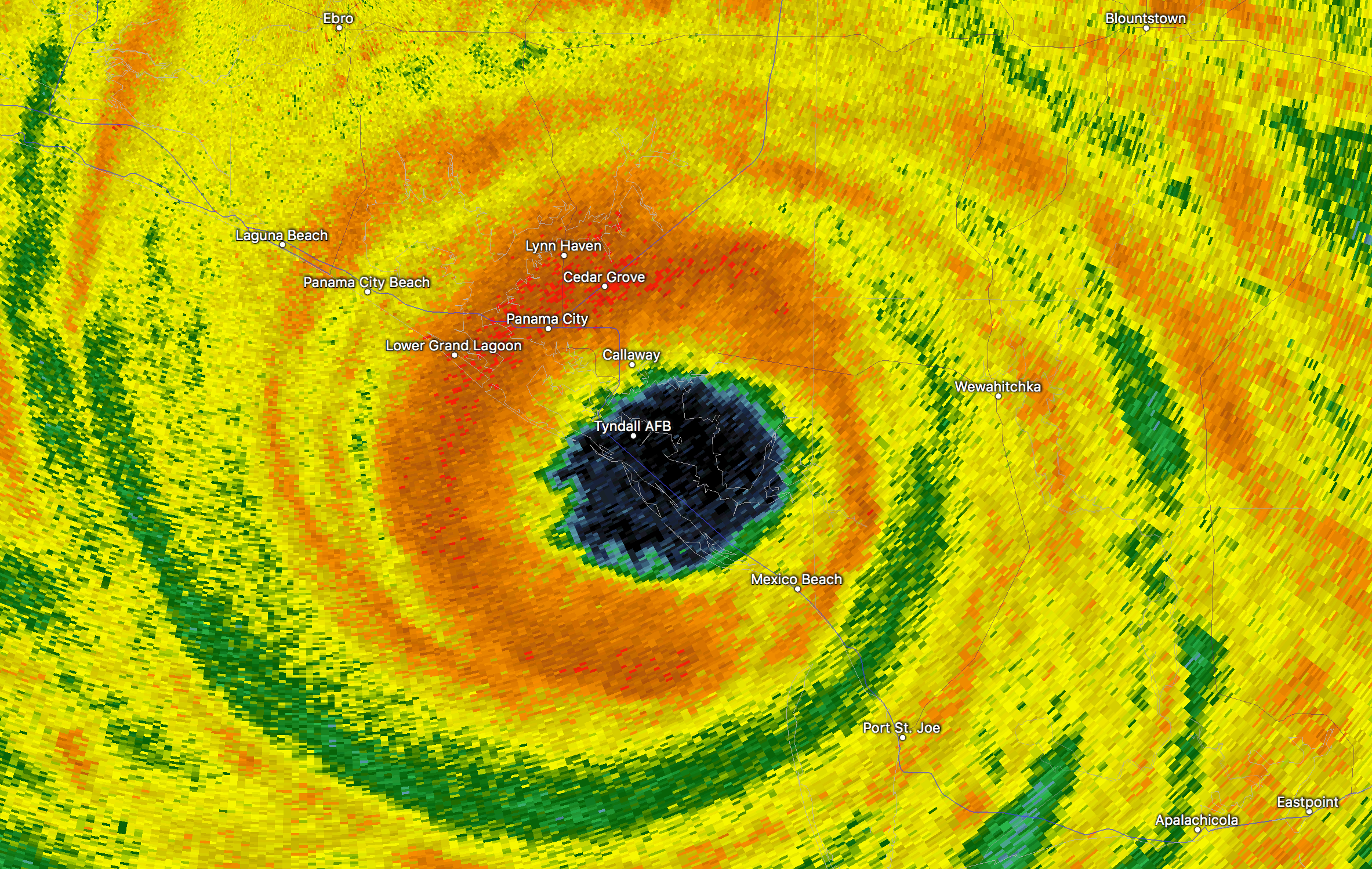 Hurricane Michael has officially made landfall near Mexico Beach, Florida, as a powerful, high-end Category 4 storm, the National Hurricane Center just announced.
It brings with it a life-threatening storm surge, hurricane-force winds, and heavy rainfall all throughout the Florida Panhandle.
How meteorologists define landfall: The "landfall" designation is not made until one half of the eye is over land.
See the moment: