Hurricane Michael's aftermath
11:15 a.m. ET, October 9, 2018
Michael isn't the only named storm in the Atlantic
Tropical Storm Nadine was given a name at 11 a.m. ET this morning by the National Hurricane Center. It is located just off the West Coast of Africa.
Tropical Storm Leslie has been around for more than two weeks and has only moved about 200 miles from where it originally formed.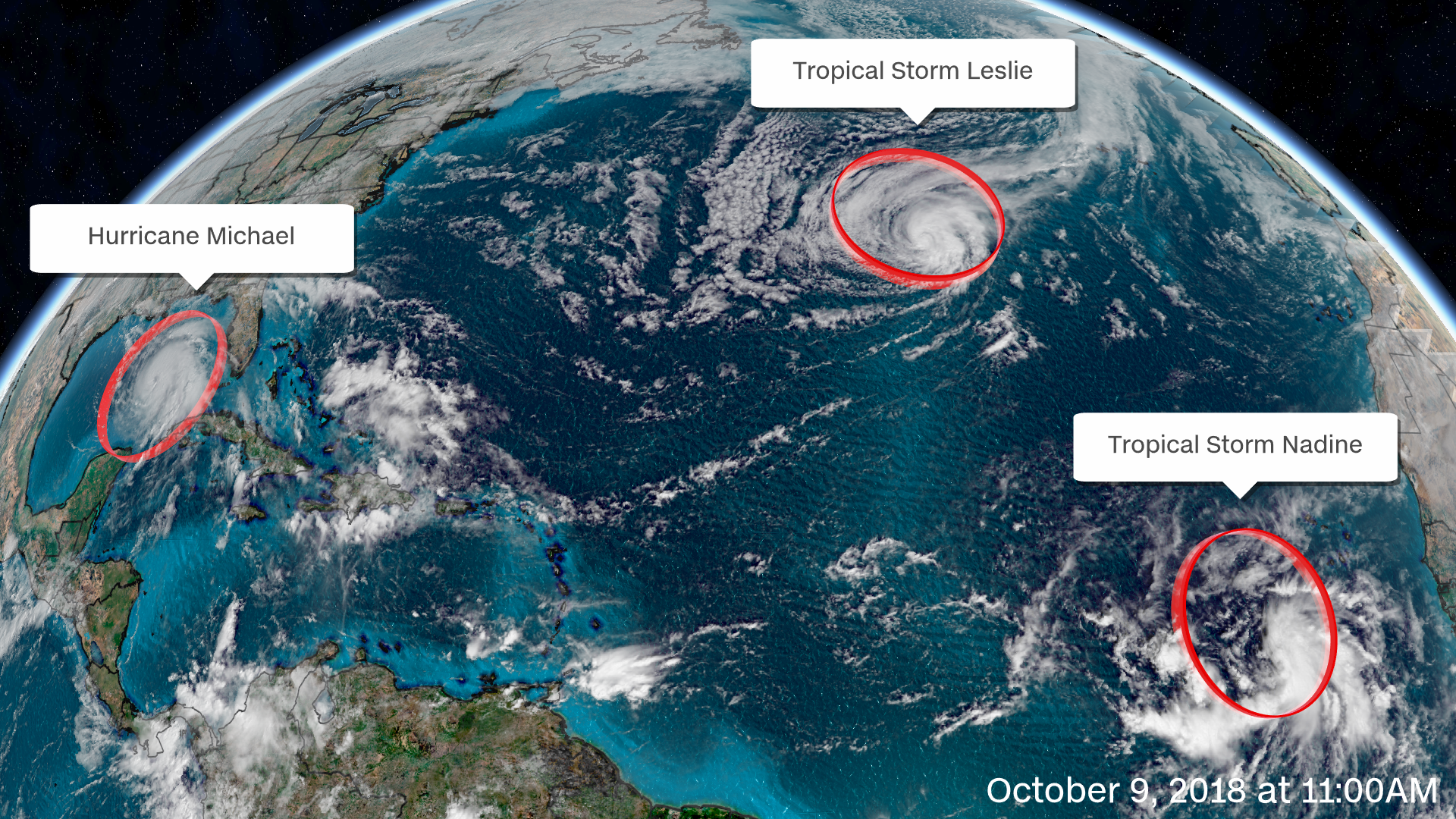 11:14 a.m. ET, October 9, 2018
Satellite shows sun rising over Hurricane Michael
Sunlight is showing Hurricane Michael's storm clouds continuing their spiraled growth.
Overnight, the storm strengthened to a Category 2. The storm is forecasted to make landfall tomorrow as a major hurricane.
10:58 a.m. ET, October 9, 2018
Pensacola International Airport to close at midnight
Ahead of Hurricane Michael, Pensacola International Airport will close at midnight tonight.
Pensacola, Florida, is under a hurricane warning.
10:54 a.m. ET, October 9, 2018
Michael is getting stronger
Hurricane Michael now has wind speeds of 110 mph according to the 11 a.m. ET advisory from the National Hurricane Center.
The storm is becoming better organized and is forecast to intensify this afternoon.
"Michael is expected to become a major hurricane later today and remain a dangerous major hurricane through landfall," the NHC stated.
There wasn't much shift with the track -- still a possible landfall near Panama City Beach, Florida.
10:31 a.m. ET, October 9, 2018
How renowned chef José Andrés' team is preparing for Hurricane Michael
10:19 a.m. ET, October 9, 2018
What the models are saying about Hurricane Michael's forecast track
"Every single model is in agreement and I don't say that very often," says CNN meteorologist Chad Myers.
Both the American and European models have the storm making landfall just east of Panama City and only miles apart from each other.
The models also indicate a major hurricane at landfall. 
Mexico Beach is currently forecast to be on the east side of the storm and both models are predicting sustained winds over 120 mph. 
The timing of the current models also aligns on a landfall Wednesday evening. A little bit later than the current National Hurricane Center forecast. 
However, this is just one model run. It is always important to look at all of them. The next model runs will happen about midday today. 
The American model (GFS):
The European model (ECMWF):
Model plots:
10:28 a.m. ET, October 9, 2018
US military prepares its infrastructure, moves aircraft ahead of hurricane
The US military Coast Guard Station Yankeetown, Florida, is making preparations ahead of Hurricane Michael. Storm shutters are being lowered and sandbags placed in front of doors.
At Tyndall Air Force Base, aircraft were moved to Wright-Patterson Air Force Base, Ohio, and other locations around the country.