Hurricane Michael's aftermath
8:05 a.m. ET, October 12, 2018
Michael death toll now 11 after storm tears through Virginia
Five Michael-related deaths are being reported in Virginia by the state's verified Department of Emergency Management Twitter account.  
This brings the death toll from the storm to 11:
5 in Virginia
1 in Georgia  
1 in North Carolina
4 in Florida  
The VA Department of Emergency says they had 5 suspected tornados and are reporting 520,000 without power, and 1,200 roads are closed.
8:04 a.m. ET, October 12, 2018
Where things stand 2 days after Michael's landfall
As Michael moves into the Atlantic, the days of misery are far from over in the coastal cities left devastated beyond recognition. There's no water, no power and emergency officials have no access to many towns from the Florida Panhandle to Virginia.
Michael, one of the most powerful hurricanes to hit the United States, left the East Coast early Friday morning. Yet, parts of Virginia are still seeing dangerous wind gusts, the National Hurricane Center said.
Aerial footage shows coastal cities in Florida completely wiped out. Residents are walking through piles of debris, some assessing the damage and others trying to get out and find food.
"This is not stuff that you just put back together overnight," Federal Emergency Management Agency Administrator Brock Long said Thursday. "It's unrealistic for people to think it's going to happen in the next day or two."
By the numbers: 11 people are dead across 4 states as a result of Hurricane Michael. Nearly 1.4 million customers are without power in 7 states due to outages. Recovery efforts continue in Florida, Georgia, Virginia, North Carolina, South Carolina and Maryland.
Read our latest report: Michael is leaving behind millions of people facing a daunting recovery in the days ahead
8:00 p.m. ET, October 11, 2018
Florida couple spent 32nd anniversary riding out storm, watching "things fly by us in the air"
Tangie Horton and her husband should have been celebrating their 32nd anniversary on Wednesday. Instead, they watched Hurricane Michael descend upon the Florida Panhandle, leaving destruction in its wake.
The couple lives in Mexico Beach, but they rode out the storm in nearby Callaway.
"Me and my husband and my dog Babygirl watched as carports, roofs, and other things flew by us in the air," Horton said.
On Thursday, they did not attempt to go to Mexico Beach, as search and rescue teams had sealed off the area to the public. Instead, they drove to a friend's home along State Road 22 through Callaway, Parker and Panama City. Horton said she cried as they drove through the wreckage, "knowing everyone lost everything."
Horton captured the drive on video. At one point, she said, "There are a lot of people out trying to dig through what's left of what they've got."
Watch:
7:59 p.m. ET, October 11, 2018
"We barely managed to stay safe:" Man says his townhome was torn apart by the storm
Panama City resident David Sebastian stayed in his damaged townhome Wednesday night with his roommate and five dogs because he said they didn't have cell service or electricity to figure out where to go.
The roof of his townhome was ripped apart as Hurricane Michael slammed into Panama City.
"We had lost service and data during the storm. We lost the roof to the house. The townhouse next to us fell in. The glass blew out the windows. Water was pouring in from everywhere. We barely managed to stay safe," Sebastian said.
He continued: "We couldn't get out last night because of the downed trees and power lines plus we had no data so no news about anything whatsoever. We had to stay in the house in two inches of water."
Sebastian, his roommate and the dogs eventually made it out and headed to Panama City Beach.
7:47 p.m. ET, October 11, 2018
Student who rode out the storm: I watched transformers explode and "trees snap before my eyes"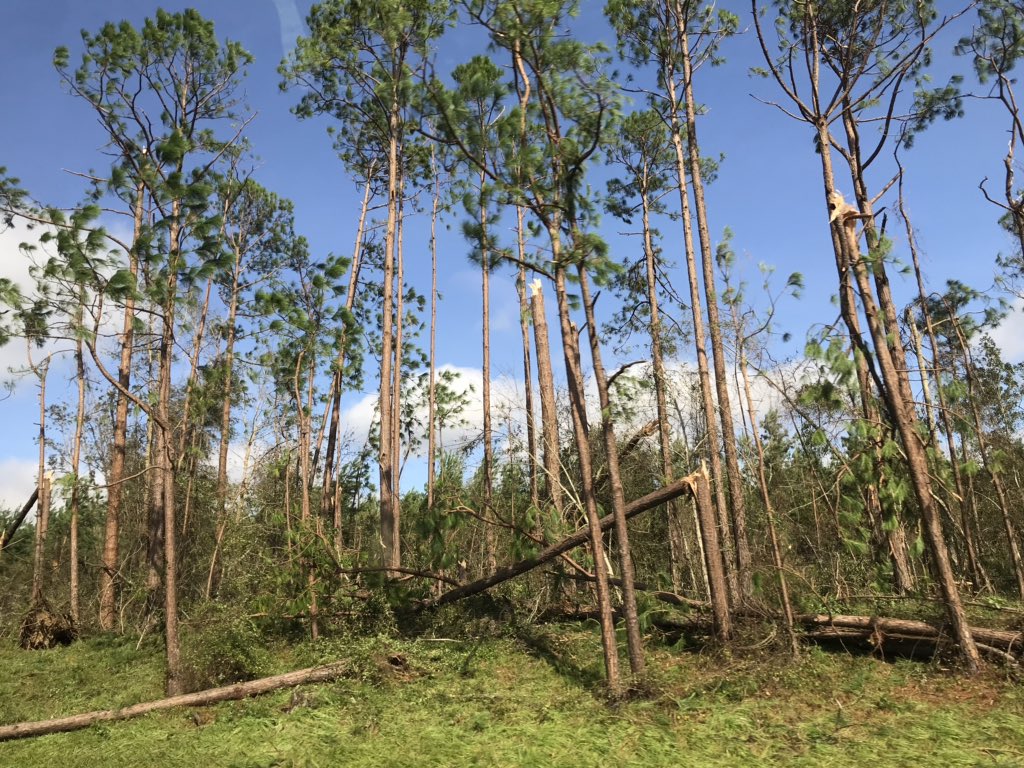 Mississippi State University meteorology student Christopher Pipkin watched the hurricane pass through Marianna, Florida, before he made it out of the city Thursday morning.
"I've never seen anything like it before in my life. The feeling was overwhelming and terrifying," Pipkin said. "I remember standing on the sidewalk watching transformers blow and trees snap before my eyes. Seeing the devastation happen before my eyes was absolutely horrifying."
As he and his friends left Marianna Thursday morning, they captured the damage along Interstate 10. They eventually headed west when they realized the I-10 was impassable to the east.
"Cell towers went down around 12 a.m. last night, and all of the interstate was covered in trees," he wrote on Facebook, posting images of power poles snapped in half and forests demolished.
7:34 p.m. ET, October 11, 2018
US Coast Guard rescues woman from flooded neighborhood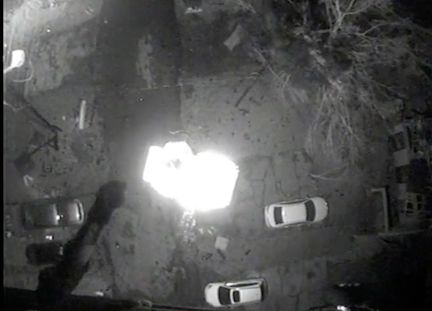 A US Coast Guard aircrew rescued a Florida woman whose Panama City neighborhood was inundated by flood waters from Hurricane Michael Wednesday evening.
The aircrew was conducting search and rescue operations, when they were "signaled by flashlight from good Samaritans who were concerned for their neighbor in distress," the Coast Guard said in a statement.
The woman was hoisted to safety and taken to Bay Medical Sacred Heart hospital, the Coast Guard said.
7:24 p.m. ET, October 11, 2018
Flooding hits farms and homes in southern Virginia
Southern Virginia is beginning to flood as Hurricane Michael, now a tropical storm, moves across Georgia and South Carolina.
The storm has brought heavy rain, high winds and flash flooding to parts of North Carolina and Virginia, particularly in the states' mountainous regions.
Emily Waddell of Simpsons, Virginia, has gotten the brunt end of it. Her property, Rainbow Rock Farmstead, has been hit by the flash flooding. Waddell lost a chicken coop and four of their six gardens.
"We didn't expect it to get this bad, this creek flooded with Florence but only about a quarter of this amount," she told CNN via Instagram. 
Michael is expected to dump four to seven inches of rain from South Carolina to Virginia. Strong winds are expected to move across North Carolina and Virginia Thursday night.