Hurricane Dorian nears Puerto Rico
3:45 p.m. ET, August 28, 2019
80-year-old Puerto Rican man died while preparing for Hurricane Dorian
An 80-year-old man from Bayamon, Puerto Rico, died after falling from the roof of his home, Public Safety Secretary Elmer Roman confirmed during a briefing Wednesday afternoon.
The man climbed up a ladder and onto his roof to clean a drain while preparing for Hurricane Dorian.
"It's very sad" Roman said, adding officials don't have details or confirmation that he lived alone. 
There are state and municipal resources, "but we must be sure to do wellness checks on residents who live alone and get them to shelter," Roman said.
3:26 p.m. ET, August 28, 2019
FEMA stock on island is greater than what it had in 2017 for Maria
FEMA's Elizabeth Litzow tells CNN that FEMA has more supplies on the island than the agency had for Hurricane Maria in 2017.
"FEMA's stock on the island compared to 2017 levels includes three times as many generators, nine times as many meals, five times as many liters of water and 16 times as many blue tarps," she said. 
3:16 p.m. ET, August 28, 2019
Parts of Puerto Rico are under a flash flood warning
Portions of southwest Puerto Rico are now under flash flood warnings as the outer bands continue to stream across the Island.
Flash flood warnings continue on St. John and St. Thomas as the most vigorous part of the storm continues to lash the islands.
The red on the radar image below is where the most torrential rain is falling across the islands: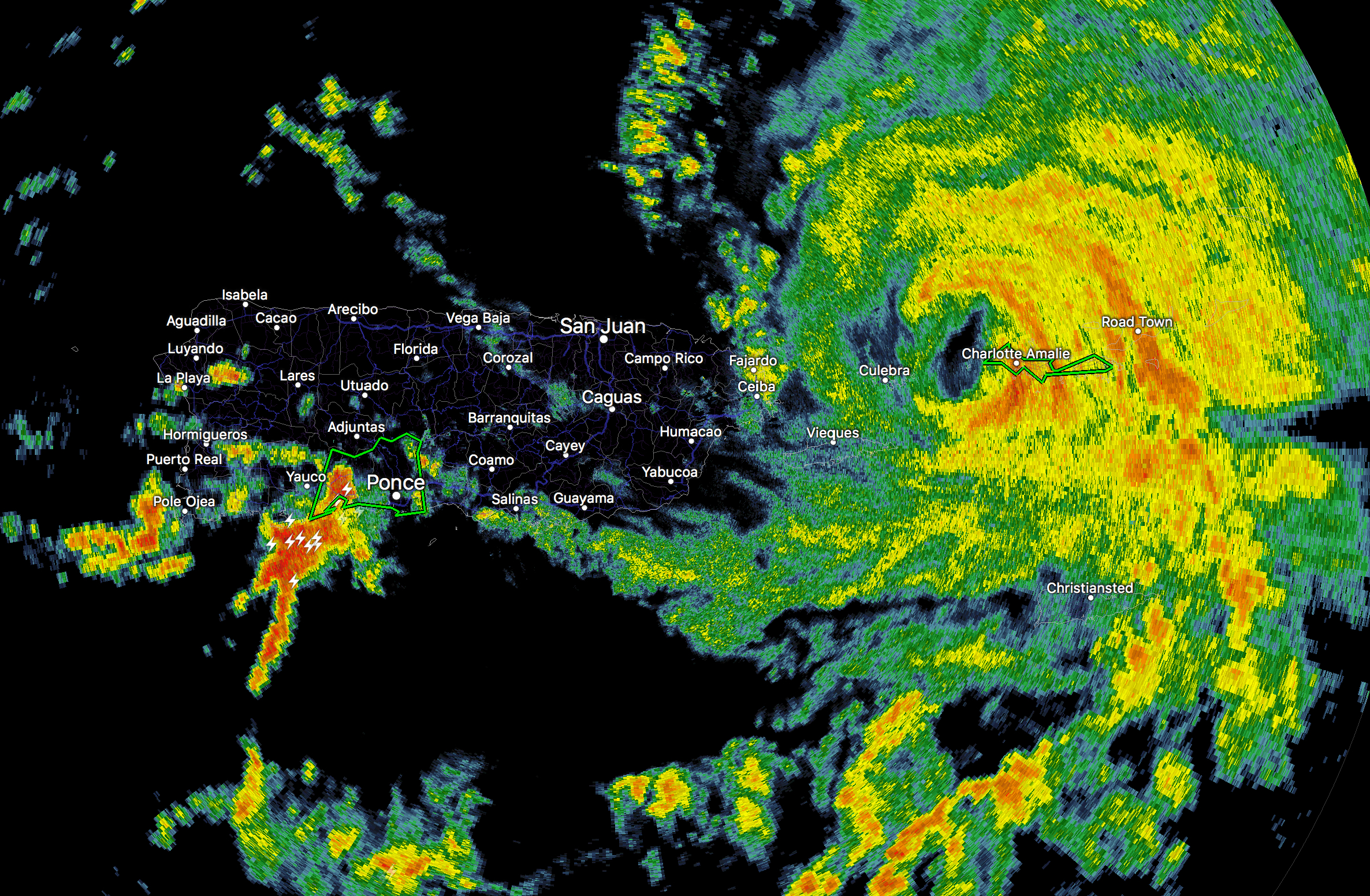 2:38 p.m. ET, August 28, 2019
Puerto Rico enacts "dry law" prohibiting the sale of alcohol on the island
A dry law order has been instated for all of Puerto Rico, Governor Wanda Vazquez Garced announced during a briefing Wednesday afternoon.
The sale of alcohol is prohibited "from this moment on," and the dry law will remain in place for up to 24 hours or until authorities recommended otherwise, according to Vazquez.
"Everyone should be home, in a safe space with family," Vazquez said. "Classes are cancelled for tomorrow and work is suspended for public employees" Vazquez said.
Vazquez said she has been in constant contact with mayors from across the island.
2:10 p.m. ET, August 28, 2019
Wind gusts near St. Thomas have reached 111 mph
An elevated weather station on Buck Island just south of St. Thomas reported sustained winds of 82 mph and a gust of 111 mph, according to the National Weather Service.
Maximum sustained winds have increased to near 75 mph (120 km/h) with higher gusts.  
Dorian is forecast to continue strengthening during the next few days over the Atlantic waters.
2:09 p.m. ET, August 28, 2019
Puerto Rican congresswoman to Trump: "We don't choose our hurricanes"
Puerto Rican Congresswoman Jenniffer Gonzalez responded to President Trump's tweet about "yet another big storm" heading to the island, saying "We don't choose our hurricanes," during an interview with WAPA TV.
Gonzalez was asked about this tweet:
Here's how she responded:
"We don't choose our hurricanes. We don't call ourselves, we don't wake up and say, 'come over here.' God decides that, nature decides that. We are in the Caribbean, this is a route for hurricanes and storms."
Gonzalez insisted that, to date, the island has received less than that amount.
"The President identified $92 billion over the course of a 10-year period. What has been identified, voted on by the house and senate is $42.5 billion of which only 13 has been awarded to Puerto Rico. What was voted on and agreed upon, was $42.5 billion," according to Gonzalez.
1:48 p.m. ET, August 28, 2019
Dorian has strengthened into a hurricane
Dorian has strengthened into a hurricane, according to the National Hurricane Center's 2 p.m. forecast update. Hurricane Dorian has sustained winds of 75 mph.
Hurricane Dorian is currently located directly over St. Thomas, USVI.
There have been multiple observations of hurricane-force winds in St. Thomas, according to the update.
1:34 p.m. ET, August 28, 2019
Electricity flash from Tropical Storm Dorian caught on video
The wind and rain is picking up on the US Virgin Island of St. Croix. Stacy Mooney was shooting video through a crack in her hurricane shutters when all of a sudden there was a buzz followed by a green flash.
"Overall, things are fine," she tells CNN. "The winds have been fierce."
WATCH:
12:55 p.m. ET, August 28, 2019
Here's how people in Puerto Rico are preparing for Dorian
Puerto Ricans are bracing for Tropical Storm Dorian, which is expected to hit the eastern part of the island later today.
Dorian arrives just two years after the island was ravaged by Hurricane Maria. Here's how the people of Puerto Rico are preparing for the storm.
Workers are preparing stores for the arrival of Dorian:
People have gathered at the coast in the hours before the Tropical Storm Dorian enters in Patillas, Puerto Rico: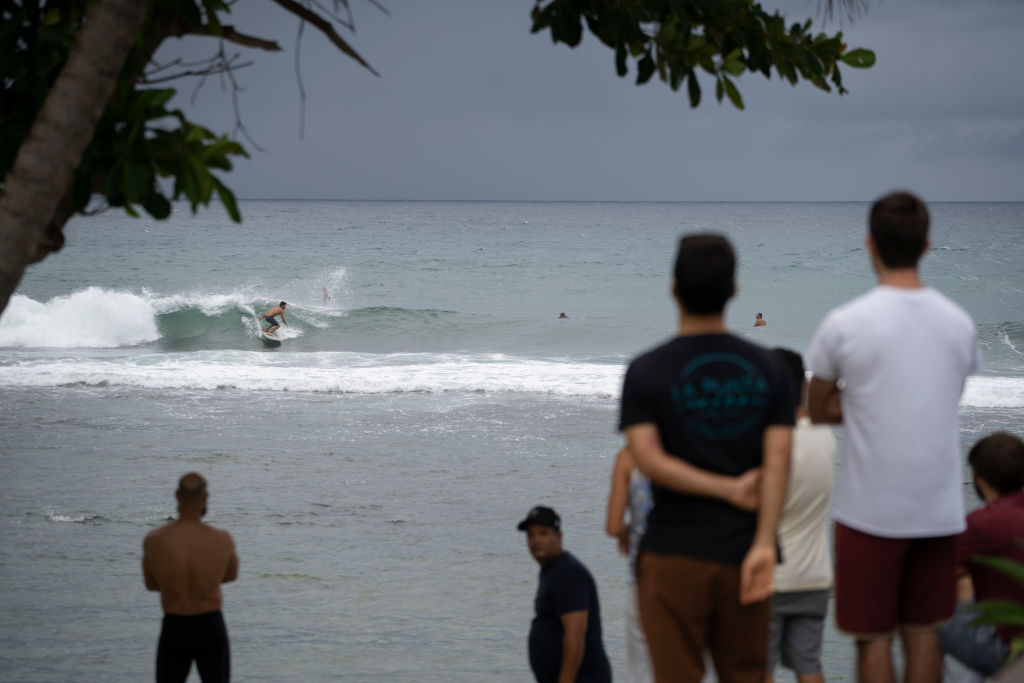 Residents are putting up shutters and plywood over the windows of homes in Yabucoa, Puerto Rico: