Barry makes landfall in Louisiana
12:35 p.m. ET, July 13, 2019
One of two levees not reinforced after Katrina is now overtopping in 15 spots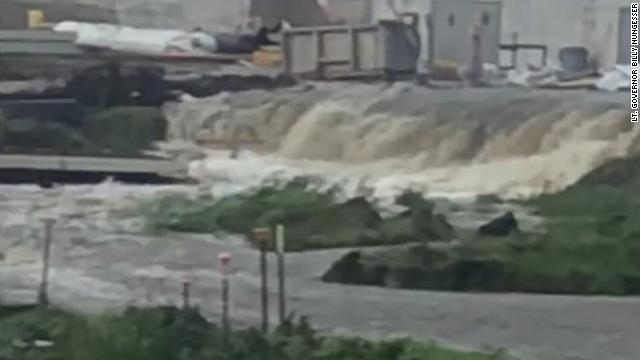 One of two levees in Plaquemines Parish is now overtopping after not being reinforced after Hurricane Katrina.
Fifteen spots along the levee at Myrtle Grove have overtopped and "the water is coming over the levee pretty good," Louisiana Lt. Gov. Billy Nungesser tells CNN.
He said the levee can withstand a few hours of overtopping before they breach, but if the levee fails, waters could flood a good portion of Plaquemines Parish, including Ironton.
This levee is one of two levees that haven't been updated with the money they got from Katrina, Nungesser said.
The parish is currently working on rounding up about 300 to 500 cattle in airboats before overtopped water makes it impossible to get them to safety.
An emergency contractor has been notified to mobilize equipment and materials to assist in flood fighting and repair any damages that result from the overtopping in the Myrtle Grove and Pointe Celeste areas, according to the city's official website.
Watch for more:
11:37 a.m. ET, July 13, 2019
Here's a checklist of what to do when Hurricane Barry arrives
Hurricane Barry is expected to make landfall Saturday. If you are in the storm's path, don't panic.
Here's a checklist to help you get started, with tips from the American Red Cross, Federal Emergency Management Agency, the Department of Homeland Security and the National Hurricane Center.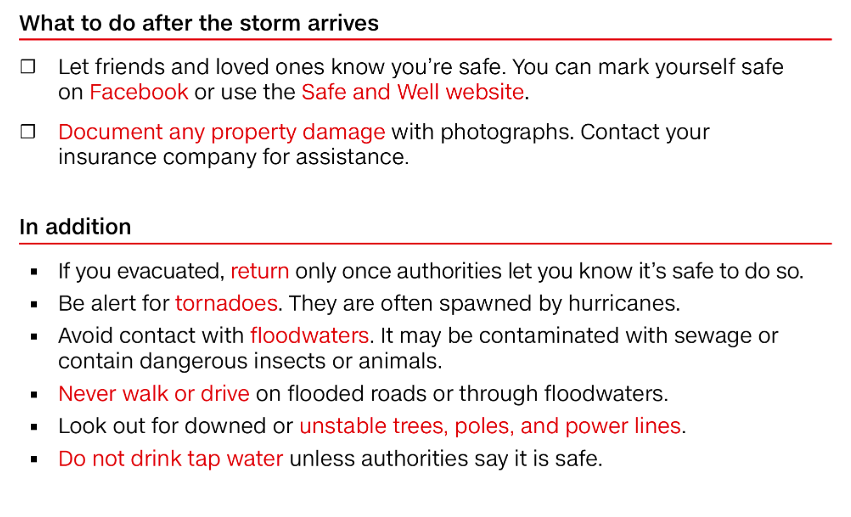 For more tips, keep reading here.
11:16 a.m. ET, July 13, 2019
Are you affected by Hurricane Barry? CNN wants to hear from you.
How is Hurricane Barry impacting your neighborhood? When it's safe, text, iMessage or WhatsApp your videos, photos and stories to CNN: +1 347-322-0415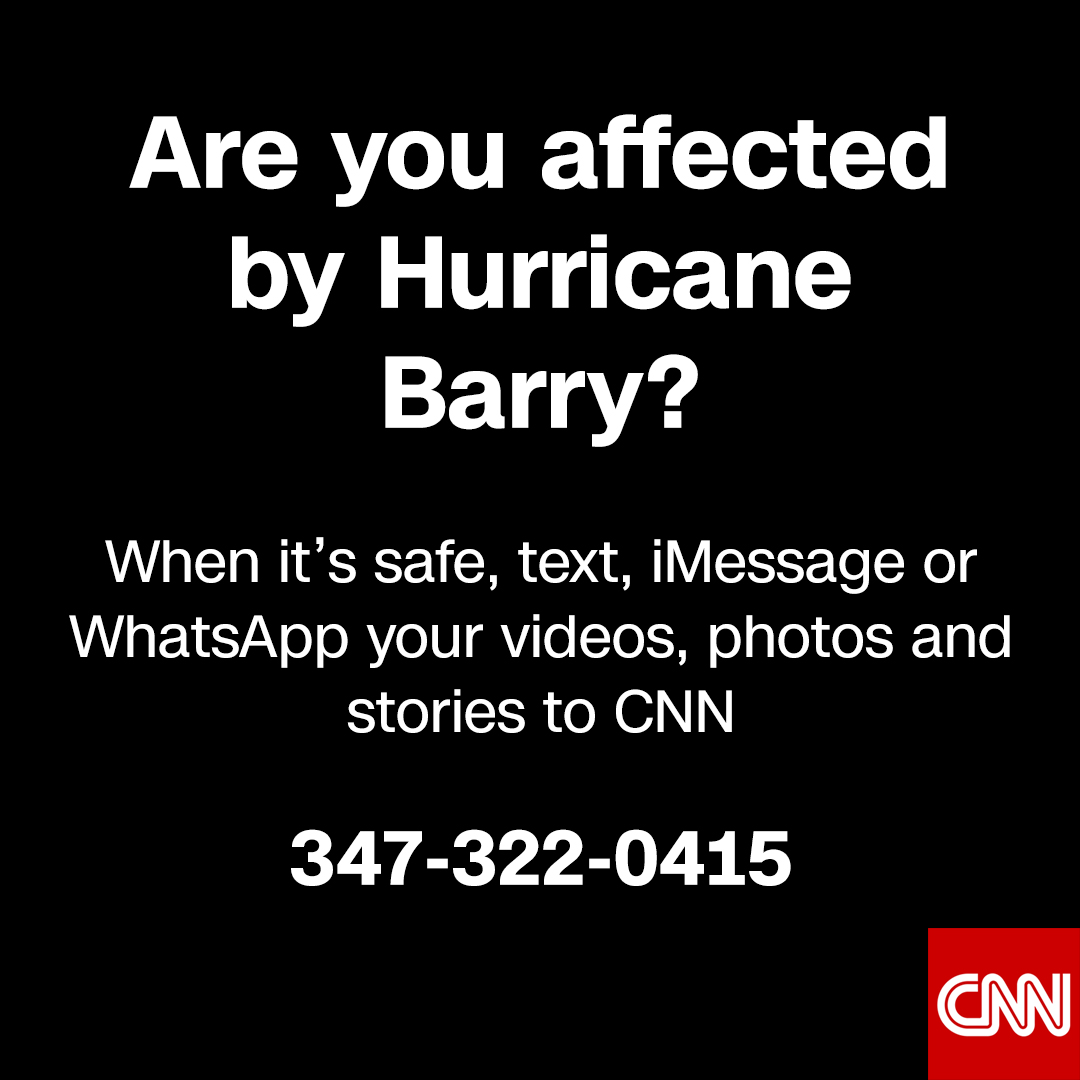 1:19 p.m. ET, July 13, 2019
JUST IN: Barry is now a hurricane
Barry has strengthened into a Category 1 hurricane, according the latest advisory from the National Hurricane Center. 
The maximum sustained winds have increased to 75 mph, with the center of the storm located 40 mph south of Lafayette, Louisiana. Landfall is expected within the next few hours along the Louisiana coast.
10:44 a.m. ET, July 13, 2019
Levees and floodgates hold up against rising waters in Golden Meadow
The levees and floodgates in Golden Meadow, Louisiana, are holding so far as Tropical Storm Barry gets closer to making landfall.
This video, taken by Donnie Callais of the Louisiana State Police, shows just how high the waters are getting.
10:34 a.m. ET, July 13, 2019
Here's what we know about Tropical Storm Barry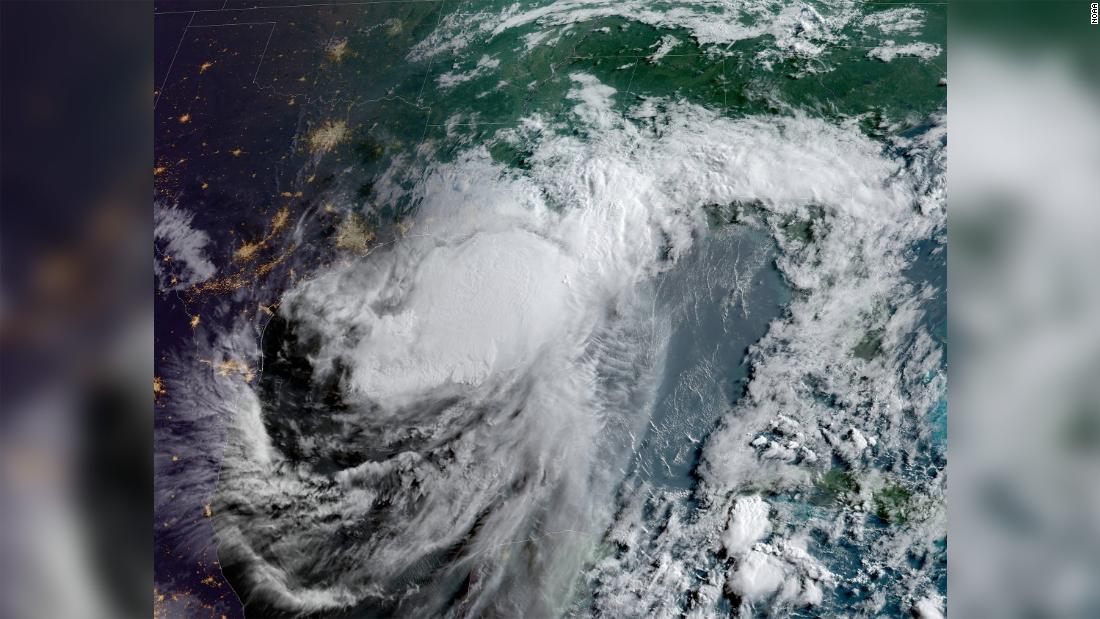 Tropical Storm Barry is approaching hurricane strength and is expected to be a hurricane at landfall.
The center of Barry is just under 50 miles from the coast, with landfall expected late this morning or early this afternoon in Vermillion Bay.
Hurricane force winds, deadly storm surge, and flooding rains are expected with conditions deteriorating over the next several hours in Louisiana.
Since most of the rain is south of the center, the heavy flooding has been delayed, but will spread over much of Louisiana and Mississippi today.
There is a high risk flood threat for much of southeast Louisiana, including New Orleans, Baton Rouge, and Lafayette.
Once inland the flood threat will continue into early next week for the Mississippi Valley.
10:23 a.m. ET, July 13, 2019
Lake Pontchartrain is flooding in Mandeville, Louisiana
Ludovico Torri woke up this morning to find his neighborhood in Mandeville, Louisiana, flooded, as well as the area under his home.
"The waves from the lake are crashing onto the land as if it is all one big lake," he said. "The water is rising too. In the last hour and a half, the water is up a foot. We're stuck in the house with four kids and the car is almost flooding."
Torri said the wind is getting stronger and "the water is rising and rising."
10:28 a.m. ET, July 13, 2019
Here are all the flight cancellations in New Orleans
Airlines are canceling flights to and from New Orleans today as Tropical Storm Barry creeps closer to Louisiana.
Here's a list of flight cancellations at Louis Armstrong New Orleans International Airport:
Some airlines are currently offering options to change flights to and from New Orleans International Airport.
Passengers are advised to check with their airlines for flight updates before heading to the airport.
9:59 a.m. ET, July 13, 2019
Coast Guard rescues 12 people and a cat from rising waters
Twelve people and a cat were evacuated this morning as rising waters overcame some residents who tried to hunker down during Tropical Storm Barry.
Mart Black, a spokesperson with Terrebonne Parish's Office of Emergency Management, told CNN that 12 people on Island Road in Cocodrie, Louisiana, were rescued this morning and flown to Houma, Louisiana. 
The group is now at a shelter in Houma. 
An initial call came in at 4:30 a.m. local time, saying there were 12 people who needed to be rescued from Island Road, according to Petty Officer Lexie Preston.
The Coast Guard said they've received additional calls from people seeking assistance, in addition to the initial call from 12 people.