Barry makes landfall in Louisiana
5:21 p.m. ET, July 13, 2019
95% of Tropical Storm Barry is still over the Gulf of Mexico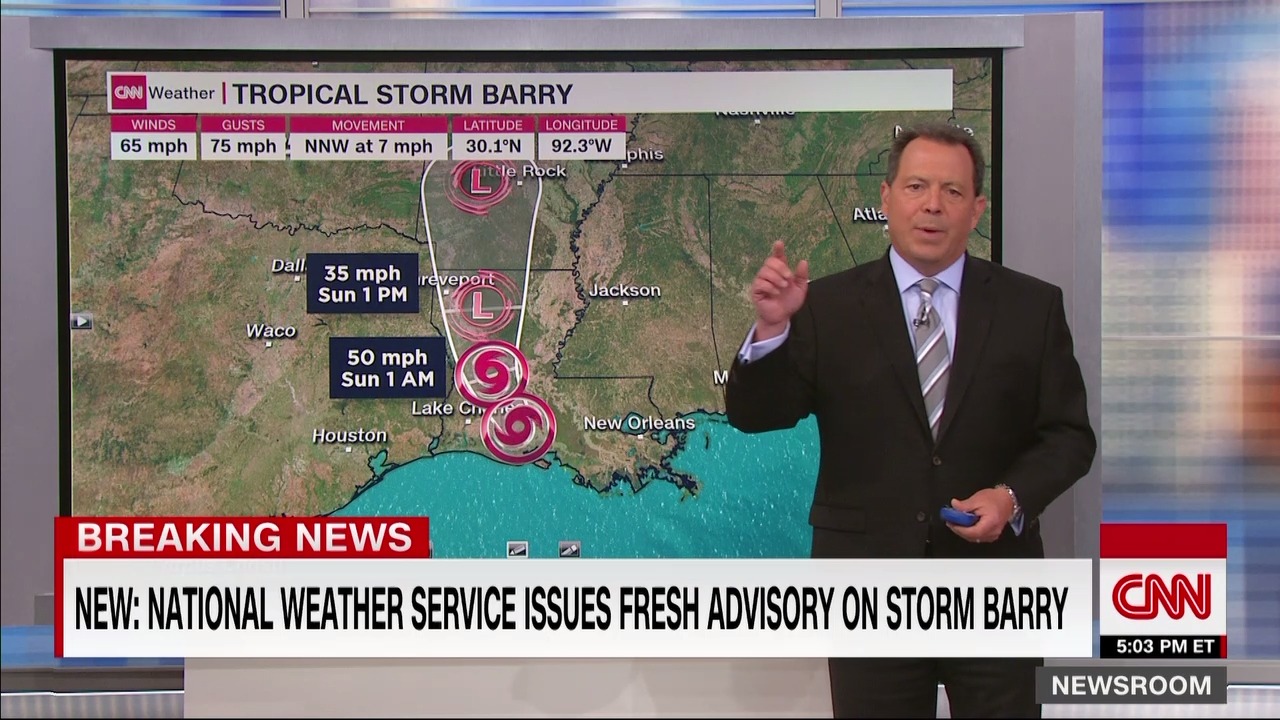 While the center of Barry made landfall this afternoon, much of the storm has yet to come on shore.
That means Louisiana and other Gulf Coast states should still brace for rain and possible flooding, CNN Meteorologist Chad Myers said.
Here's how he put it:
"95% of this storm is still in the Gulf of Mexico, even though the center of the storm is on land. The northern half of this storm has never had a lot of activity with it, but now as the storm moves to the north, guess where the southern half is going to be? Right over parts of Texas, Louisiana, Mississippi and Alabama."
Parts of Louisiana and Mississippi could see more than 20 inches of rain through Thursday, according to the latest forecast.
Watch more from Myers:
5:02 p.m. ET, July 13, 2019
Here's the 5 p.m. ET update from the National Hurricane Center
The National Hurricane Center just released its latest forecast for Tropical Storm Barry.
The storm — which has maximum sustained winds of 65 mph — is about 20 miles Southwest of Lafayette, Louisiana. Much of costal Louisiana is still under a tropical storm warning (Parts of the coast had been under a hurricane warning earlier today).
Here's a look at Barry's predicted path: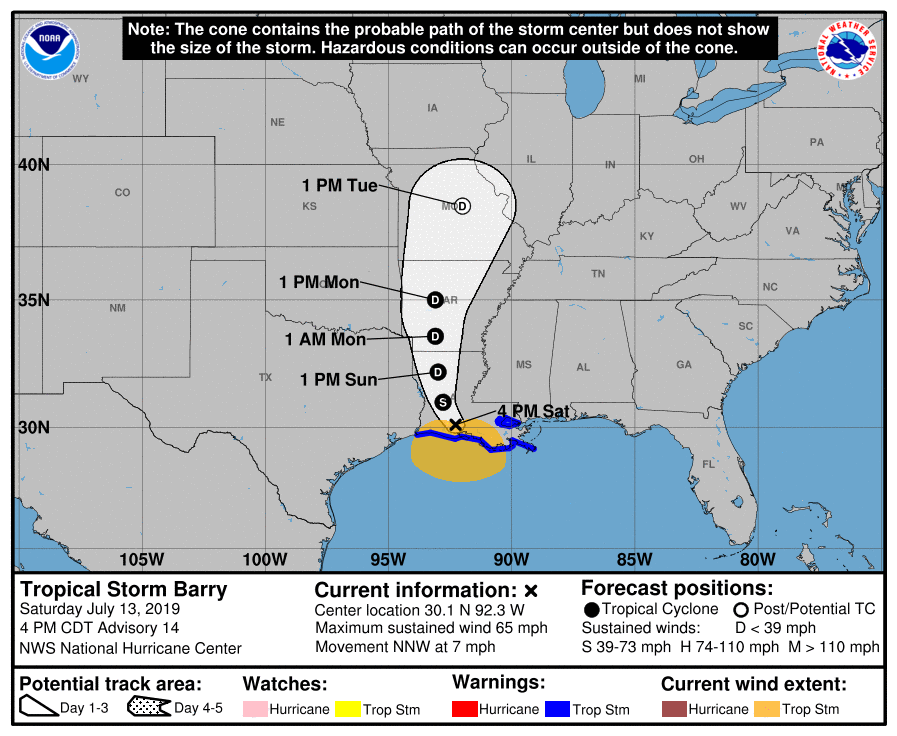 5:00 p.m. ET, July 13, 2019
More than 118,000 customers without power across Louisiana
At least 118,876 customers are without power across the state of Louisiana as of 5 p.m. ET.
Entergy Louisiana is reporting 74,229 customers without power and Cleco is reporting 44,647. 
Iberia Parish has over 21,200 customers without power, while St. Mary Parish has 17,481 outages, according to the Cleco outage map.
East Baton Rouge Parish has 14,845 customers without power while Terrebonne Parish has 14,650 without, according to Entergy Louisiana's outage map.
4:39 p.m. ET, July 13, 2019
At least 330 households in Terrebonne Parish have been told to evacuate
At least 330 households are in the mandatory evacuation zone in Terrebonne Parish, according to Terrebonne Parish public information officer Mart Black.
Black said it is unclear how many residents are in that zone or if any have evacuated at this time.
The parish is expecting a storm surge of 4 to 6 feet in certain areas, Black said. 
4:27 p.m. ET, July 13, 2019
Barry is moving northward at 6 mph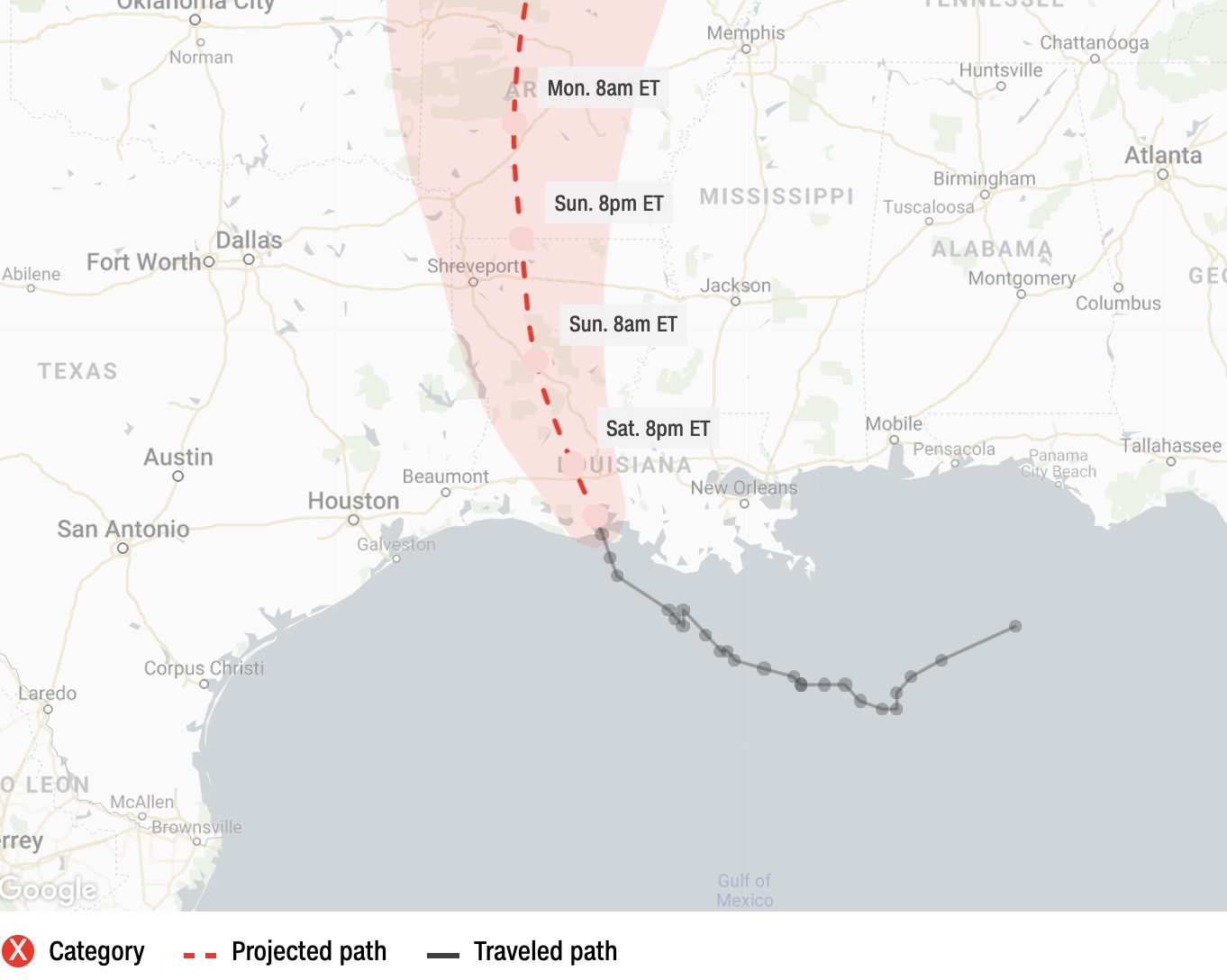 Barry made landfall in Louisiana earlier this afternoon. It's currently moving northwest at 6 mph.
According to the latest forecasts, the storm is expected to reach the Shreveport area by Sunday afternoon or evening.
3:54 p.m. ET, July 13, 2019
The Coast Guard is concerned about how much rain Barry could bring
The United States Coast Guard remains "quite concerned" about Tropical Storm Barry despite the fact that the weather event was downgraded from a hurricane.
"It remains a very dangerous storm, particularly with regards to the amount of water that could be dropped in those areas with full river basins," Rear Admiral Paul Thomas Commander Eighth Coast Guard District said.
The Coast Guard has been preparing for Barry and has plenty of resources and staffing ready to go as the storm passes through the Gulf Coast states.   
Thomas said the Coast Guard learned and implemented lessons from Hurricane Harvey, where they were not prepared nor planned for dealing with 60 inches of rain in Houston. The federal agency updated operational methods to better "track who's calling for help, where they're calling for help from, which units are closest, how we can dispatch them so we have a better common operational picture," Thomas said. 
3:47 p.m. ET, July 13, 2019
This is what the damage in Morgan City, Louisiana, looks like
Alexander Garcia took video of damage to his neighbor's house in Morgan City, Louisiana. His footage showed debris from their house blowing thrown through the air, and the inside of the home after its roof had been blown off.
He told CNN that his neighbors were not home at the time.
Watch the footage:
3:25 p.m. ET, July 13, 2019
Parts of Terrebonne Parish are under mandatory evacuation orders
A mandatory evacuation notice for parts of Terrebonne Parish has been issued effective immediately by Parish President Gordon Drove.
The order is for all areas along Highway 315 and Brady Road south of Falgout Canal. The evacuation notice is in response to the overtopping of the Lower Dularge East Levee.
3:48 p.m. ET, July 13, 2019
More than 100,000 customers without power in Louisiana
At least 101,777 customers are without power in the state of Louisiana as of 3 p.m. ET Saturday.
Entergy Louisiana is reporting 76,550 customers without power while Cleco Power reports 25,227.
Terrabonne, Assumption, East Baton Rouge, Jefferson, and Lafourche Parishes appear to be heavily impacted on the Entergy Louisiana outage map, with over 5000 customers out in each Parish.