Unprecedented stretch of tornadoes and floods hit the US
8:00 p.m. ET, May 29, 2019
Our live coverage has ended. Scroll through the posts below to read more or follow CNN.com.
7:14 p.m. ET, May 29, 2019
Tornado moves through Canton, Texas
From CNN's Christina Zdanowicz
A tornado swept through Canton, Texas, Wednesday afternoon.
Jayne Carr took a video of the tornado as it moved through Canton at 5:02 p.m. local time. CNN Weather confirmed a tornado was in this area.
Watch her video below:
Carlos Moreno recorded this video of the tornado:
6:39 p.m. ET, May 29, 2019
A tornado just hit Mabank, Texas
From CNN's Christina Zdanowicz
Brent Kay Maynard just shot video of a massive tornado as it hit Mabank, Texas, on Wednesday.
He had just walked out of a building when he saw the tornado from the parking lot of Mabank High School. CNN Weather confirmed a tornado was in this area.
He told his wife he loved her and he was coming home to the family as quick as he can.
Watch Maynard's video:
5:05 p.m. ET, May 29, 2019
Raw sewage enters Lake Erie after last night's storm
From CNN's Rebekah Riess and Andrea Diaz
A public advisory was issued this morning after approximately 142,600 gallons of combined sewage was discharged into Lake Erie during last night's heavy rain event, according to the Northeast Ohio Regional Sewer District. 
The Sewer District's Water Quality and Industrial Surveillance Department has posted signs at Edgewater Beach in Cleveland, advising beachgoers to avoid contact with the water. 
Jenn Elting, a sewer district spokesperson, said water quality will be tested daily.
"We will continue to test water quality at the beach twice daily (normally it's each morning during beach season) until E. coli is at a safe level," Elting said in a statement. "Combined sewage isn't the only cause of high bacteria at the beaches; rains will bring you non-point source pollution from stormwater runoff, wildlife at the beaches and wind/waves can kick up settled bacteria as well."
4:46 p.m. ET, May 29, 2019
A tornado that tore through parts of Kansas lasted 55 minutes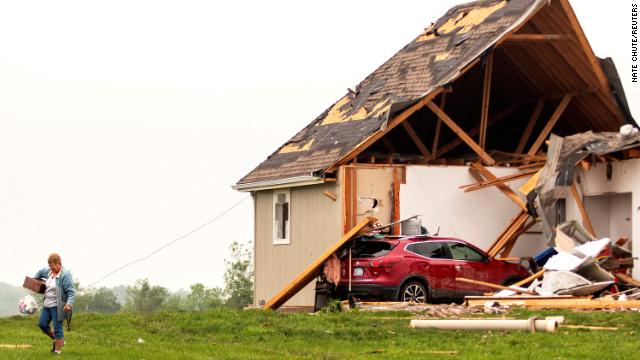 A tornado that hit Linwood, Kansas, on Tuesday was rated an EF-4 by the National Weather Service. 
The tornado was on the ground for nearly 32 miles and lasted 55 minutes. Peak winds were estimated at 170 mph.
Mayor Brian Christenson told CNN that dozens of homes on Linwood's outskirts are "all gone."
Tornadoes are measured on the Enhanced Fujita scale from 0 to 5 based on intensity and damage caused.
3:01 p.m. ET, May 29, 2019
Dallas Fort Worth International Airport closes its ramps due to the weather
Dallas Fort Worth International (DFW) Airport announced on Twitter that its ramps — another term for passenger boarding area — were closed due to the extreme weather moving through the area.
Skylink, the airport's tram, is currently suspended as well.
The area is under a tornado watch through 8 p.m. local time tonight.
1:52 p.m. ET, May 29, 2019
Hail may reach the size of apples in these states
The number of people in a tornado watch area just doubled, with the National Weather Service alerting parts of Arkansas, Oklahoma and Texas with a watch that's valid through 8 p.m. ET tonight.
It includes nearly 12 million people, more than 3,000 schools and more than 200 hospitals.
A few tornadoes are likely, hail may reach the size of apples and people may see wind gusts up to 70 mph.
1:35 p.m. ET, May 29, 2019
12 million people under tornado watch in Pennsylvania, New Jersey, Maryland and Delaware
The National Weather Service has issued a tornado watch for more than 12 million people, 3,000 schools and nearly 250 hospitals in the Northeast.
A wide swath of Pennsylvania, half of New Jersey, northern Delaware and northeast Maryland could possibly see tornadoes, scattered hail up to the size of limes and wind gusts up to 70 mph.
The watch expires at 8 p.m. ET tonight.
12:58 p.m. ET, May 29, 2019
There have been at least 8 tornado reports every day for the past 12 days. That's a record.
Today was the 12th consecutive day with at least eight tornado reports in the US — a new record. The last day without a tornado was May 15.
This is the longest such stretch on record for at least eight reports per day.
In those 12 days, there have been:
More than 365 tornado reports
At least 22 states have reported a tornado
The month of May averages 276 tornadoes across the country — but this May has has had more than 460 reports (so far — there's still two days left in the month).
Most of those reports have come from Texas, Oklahoma and Kansas.
Tomorrow is forecast to be the first day without at least a slight risk (level 2 of 5) of severe weather somewhere in the country since May 15.