Historic storm could affect Thanksgiving travel
7:21 p.m. ET, November 27, 2019
Here's a look ahead at post-Thanksgiving travel weather
A second storm moving toward the East Coast could bring significant snow and snarl travel this weekend.
Rain from New York City to Boston could change to snow and blanket the region.
About the current weather conditions: A storm continues to move east through the Ohio River valley. Strong winds have led to power outages, affecting hundreds of thousands of residents in California, Ohio, Illinois, Indiana, Michigan, Pennsylvania, West Virginia and Wisconsin.
In the Western states, more than 20 million people are under a winter weather threat.
These are the temperatures for tomorrow: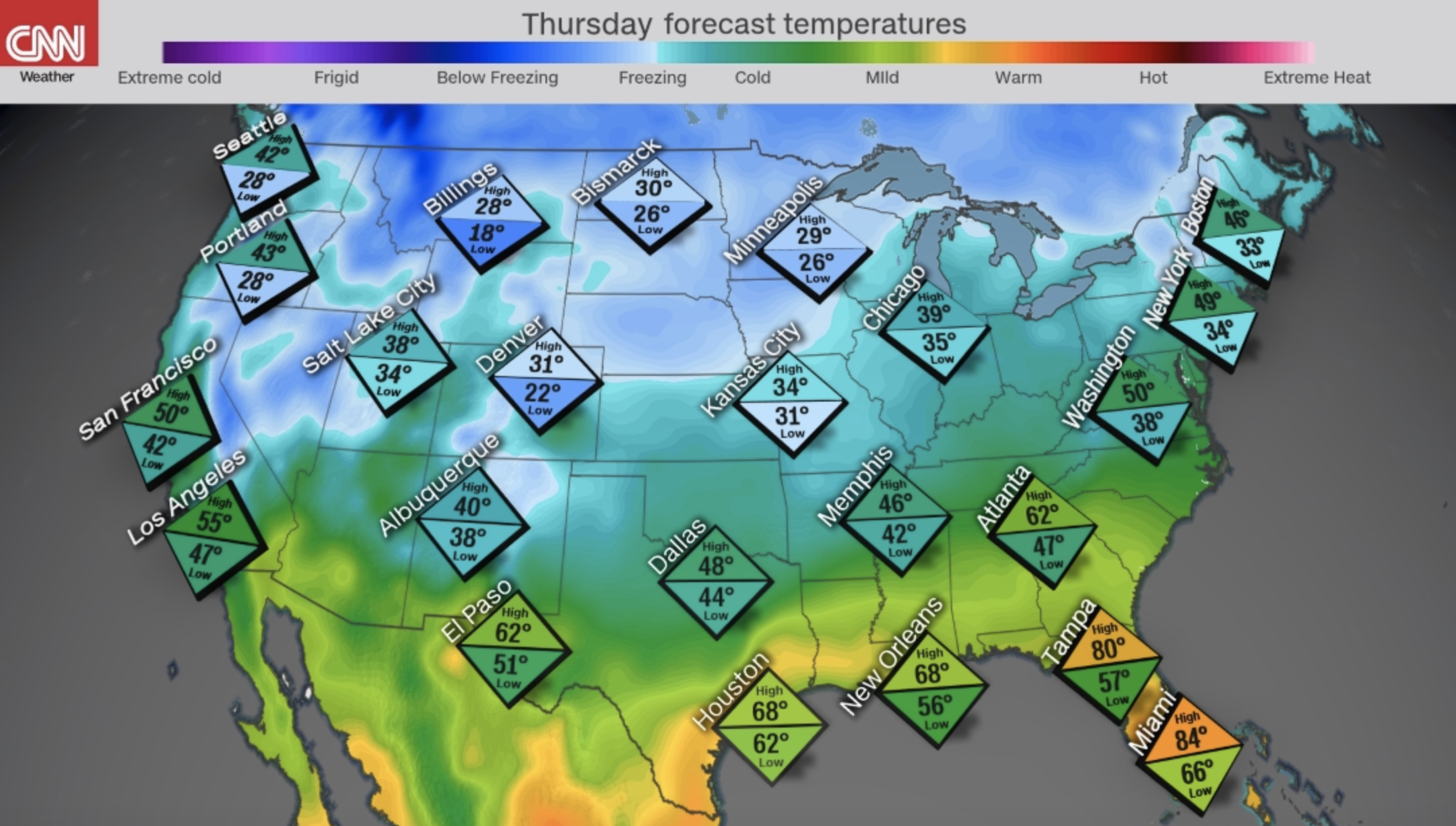 6:46 p.m. ET, November 27, 2019
More than 4,000 flights have been delayed today
As of 6:40 p.m. ET, 4,083 flights were delayed and 150 others were canceled in the US today, according to FlightAware.
Here's a look at current conditions at airports across the US: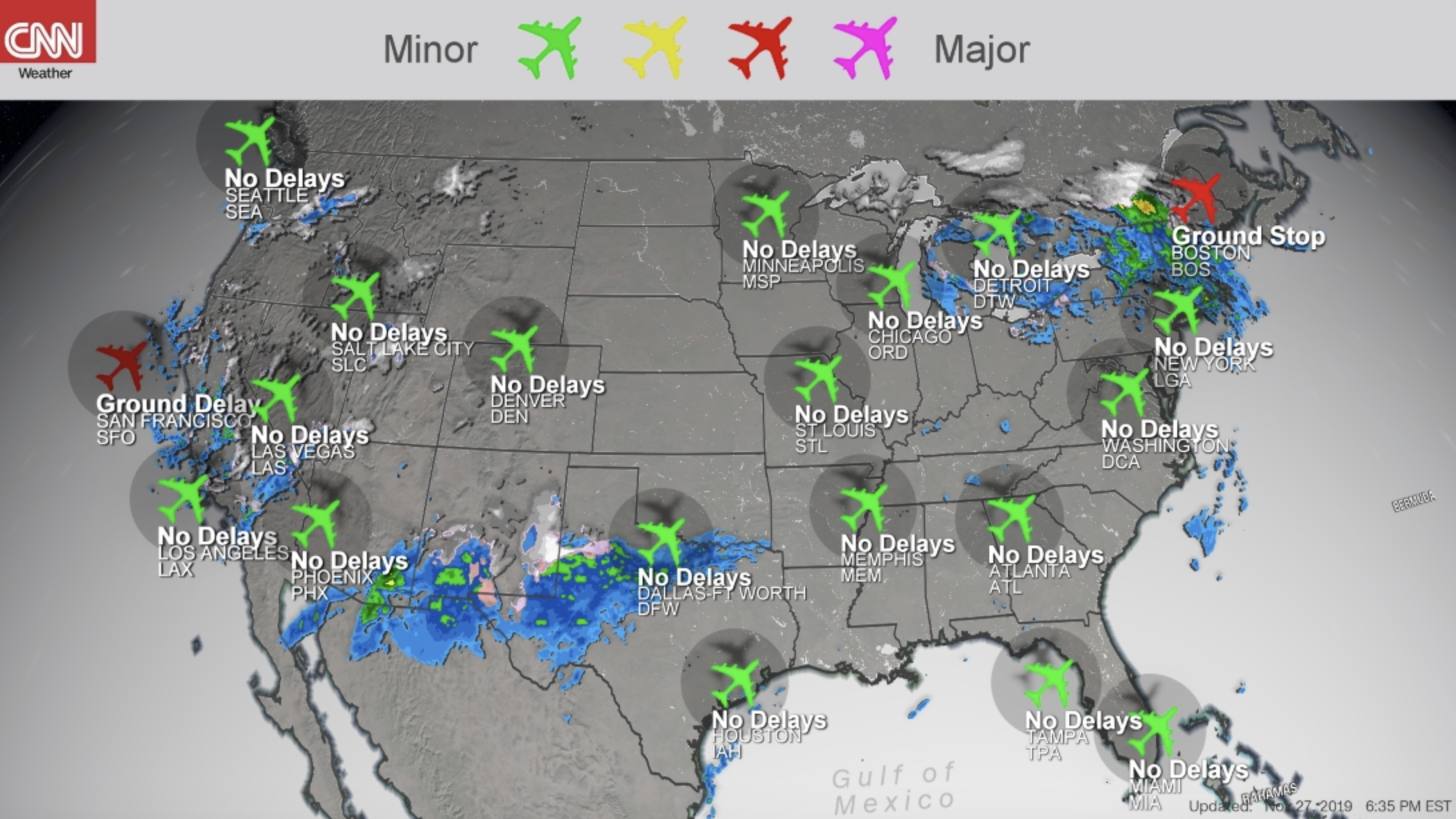 5:03 p.m. ET, November 27, 2019
Catch up: What you need to know about the storms affecting Thanksgiving travel
Two massive storm systems are bringing a combination of snow, rain and high winds as millions of people travel the day before Thanksgiving.
What we know about the storms:
The West: One system is hammering Western states with rain along the coast and valleys and heavy snow in the mountains.
The Central US and East Coast: Another system has already dumped snow and rain over the Rockies and central US and is bringing snow or high winds to the Midwest while pushing colder weather to the Northeast.
Here are some of the impacts:
Strong winds cause outages: High winds — with gusts above 35 mph in several places, including San Francisco, the Sierra Nevada range, Chicago and Cleveland — are causing widespread power outages. Wind advisories across the country cover nearly 90 million people. In New York, the fierce winds could ground the balloons in Macy's Thanksgiving Day Parade on Thursday. The balloons can't be flown when sustained winds exceed 23 mph and gusts exceed 34 mph, per New York City regulations.
Snow is affecting travel: Snow is making highway travel difficult in the central US and Midwest. Officials in several states have reported slick conditions including South Dakota, where roads along and south of Interstate 90 were paved with ice or snow. Up to 9 inches of snow already fell in Minneapolis this morning. In Oregon, Department of Transportation officials reported whiteout and blizzard conditions, urging drivers in affected roadways to pull over. In Arizona, the weather service warned of "impossible travel conditions" Thursday and early Friday with heavy and drifting snow.
2:49 p.m. ET, November 27, 2019
Here's how cold (or warm) it'll be on Thanksgiving across the US
If you still haven't packed for your Thanksgiving travel, or if you're just planning what to wear to dinner, here's a look at the highs and lows across the US tomorrow: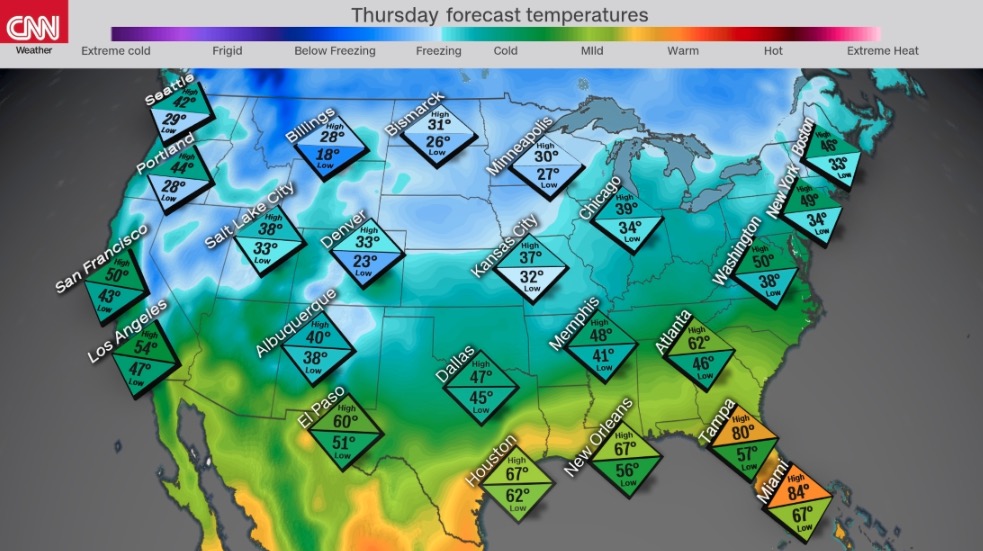 Miami is among the warmer locations, with a high of 84 and a low of 67. And Billings, Montana, is on the colder end of the spectrum with a high of 28 and a low of 18.
You can track weather in your area here.
2:08 p.m. ET, November 27, 2019
Only 7 flight cancellations reported at Denver airport today
Only seven flights were canceled this afternoon at Denver International Airport, according to airport spokeswoman Alex Renteria.
Not all of the flights canceled were weather-related and runways were wet but clear of snow, Renteria tells CNN.
Delays were also down to 164 from 491 the day before, Renteria said.
More than 1,100 passengers were forced to spend Monday night at the airport after a major snowstorm hit the Denver metro area. And hundreds of flights were canceled on Tuesday. 
 "We are getting back to normal operations just in time for the holiday," Renteria said. 
1:36 p.m. ET, November 27, 2019
Two new storms could affect your travel plans this weekend
Are you traveling today and returning this weekend? Expect to feel some déjà vu. 
A very similar weather pattern is taking shape for this weekend with a storm moving from the Midwest Saturday into the Northeast Sunday and a new storm moving into the West on Saturday and Sunday.
Expect more snow in the Sierra, Rockies and across the northern Plains into the Midwest.
The difference is that the East Coast storm on Sunday could have even more significant weather impacts on travel than today's storm. 
Temperatures are likely to be cold enough for snow in the major Northeast metro area on Sunday morning. By the afternoon, the precipitation will become rain. 
On the West Coast, rain may have some impacts in Los Angeles on Saturday. San Francisco should expect more delays with showers starting Saturday and lasting through Sunday.
2:02 p.m. ET, November 27, 2019
Almost 2,000 flights in the US have been delayed
As of 1 p.m. ET, 1,806 flights within, into or out of the United States have been delayed, according to FlightAware, an aviation company that tracks flight changes.
Strong winds and heavy snow are causing trouble for millions of Americans traveling for Thanksgiving. Chicago's O'Hare International Airport and Minneapolis's Saint Paul International Airport currently have the highest numbers of delays and cancellations, according to FlightAware.
Additionally, 111 flights in the United States have been cancelled entirely today.
Here's FlightAware's map of the latest flight data:
11:54 a.m. ET, November 27, 2019
How to check on road conditions across the country
Whether its blizzard or thunderstorms, road conditions could become treacherous today across the country.
The National Weather Service has compiled a list of every single state's Department of Transportation phone numbers and websites.
From there, you'll be able to get the most up-to-date information on road conditions on wherever you're traveling to or from.
Click here to see that list.
11:31 a.m. ET, November 27, 2019
There have been 180 crashes due to weather in Minnesota
Statewide, the Minnesota State Patrol has reported 180 crashes, 279 vehicle spin-outs and 15 jackknifed semi-trailer trucks due to winter weather.
The accidents all happened between 10:45 p.m ET yesterday and 8:30 a.m. today.