America travels for Thanksgiving
4:12 p.m. ET, November 21, 2018
Our live coverage has ended: As we head home for the holiday, we wish you a happy Thanksgiving. Scroll through the posts below to see what traffic, airports and the weather looked like today.
3:55 p.m. ET, November 21, 2018
A look at all the planes flying over the US right now
It's a busy day at America's airports — and in its skies. FlightAware has a live look at air traffic above the US.
Not every flight has gone as scheduled: According to data from FlightAware, so far today, at least 81 flights into, out of or within the US have been cancelled. Another 1,912 flights have been delayed.
Check out more information on delays and cancellations on FlightAware.
3:42 p.m. ET, November 21, 2018
It'll be windy in New York City tomorrow. Will the Macy's parade balloons fly?
New York is going to be downright blustery tomorrow morning.
These strong winds could ground the lovable Macy's Thanksgiving Day Parade balloons: Right now the forecast has the winds getting close to limit. According to Macy's, if the sustained winds get to 23 mph or the wind gust get to 34 mph they will not fly.
But it looks like the worst of the winds will be tonight. Although the balloons may fly low, they will likely fly.
But note: There are some forecasts that have the winds reaching into the upper teens and the gust reaching into the upper 20's and lower 30's.
The bottom line: Here is hoping they fly — but don't be outrageously surprised if they don't.
3:25 p.m. ET, November 21, 2018
Here's what people are Googling during Thanksgiving
Google's annual Thanksgiving report lays out national and state search trends in the days surrounding the holiday.
Some "uniquely popular stops" that see a spike in searches during Thanksgiving season include outlet malls, tree farms, and scenic outlooks.
The most searched-for locations nationally during Thanksgiving are department stores -- but this isn't a Thanksgiving phenomenon, as department stores are popular year-round.
There are also popular searches that are unique to each state. New York, for instance, searches for music venues and car race tracks; Ohio searches for historical landmarks and hiking areas; Kentucky searches for stadiums and golf courses; and California searches for soccer stores, city courthouses, and outlet stores.
Here's the full breakdown:
2:57 p.m. ET, November 21, 2018
At least 77 flights have been canceled so far today
According to data from FlightAware, so far today, at least 77 flights into, out of or within the US have been cancelled.
Another 1,569 flights have been delayed.
Right now, San Francisco International Airport, Chicago's O'Hare International Airport and Dallas/Fort Worth International Airport are the most impacted.
Check out more information on delays and cancellations on FlightAware.
2:36 p.m. ET, November 21, 2018
Delta is also taking romaine off its flights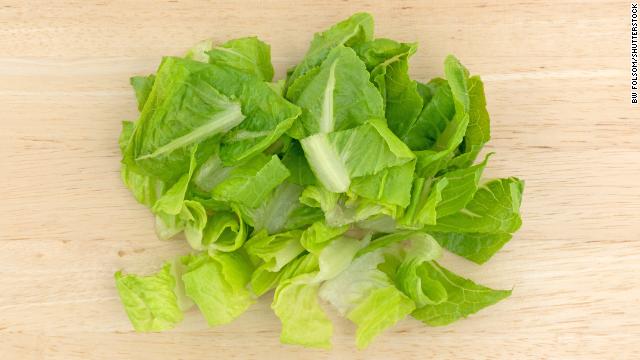 Delta airlines tells CNN it is also is removing romaine lettuce from its flights and Sky Clubs.
Here's the airline's statement:
The safety of customers and employees is always Delta's top priority. Following the warning issued by the CDC on Nov. 20, Delta immediately engaged its catering partners to halt the use of romaine lettuce in any form on all domestic and outbound international flights in addition to Delta Sky Clubs across North America.
Earlier today, American Airlines told CNN it scrambled to remove the compromised leafy green from aircraft, lounges/clubs and any other catering services following a warning from the CDC.
Southwest Airlines told CNN it does not use romaine lettuce.
2:20 p.m. ET, November 21, 2018
Out West? Brine the turkey, bake the pies, and wax off the skis and snowboards
The first in a series of West Coast storms are beginning to impact California, and this system is not only bringing large amounts of rain but will also dump some Thanksgiving snow in the Sierras and into the Rockies this weekend.
The first storm begins this afternoon into late tonight and could bring anywhere from 4 - 8 inches, even locally up over a foot, of snow through Thursday morning. After a brief lull, it picks up again Thursday Afternoon with another round of 5-10 inches. Some areas could pick up a total of 30" before the end of the weekend. 
By Thanksgiving, the storm will be into Utah, with the heaviest during the day and then decreasing at night. 
In Colorado, eat your turkey for breakfast, because the snow starts falling late morning and last through leftovers on Saturday.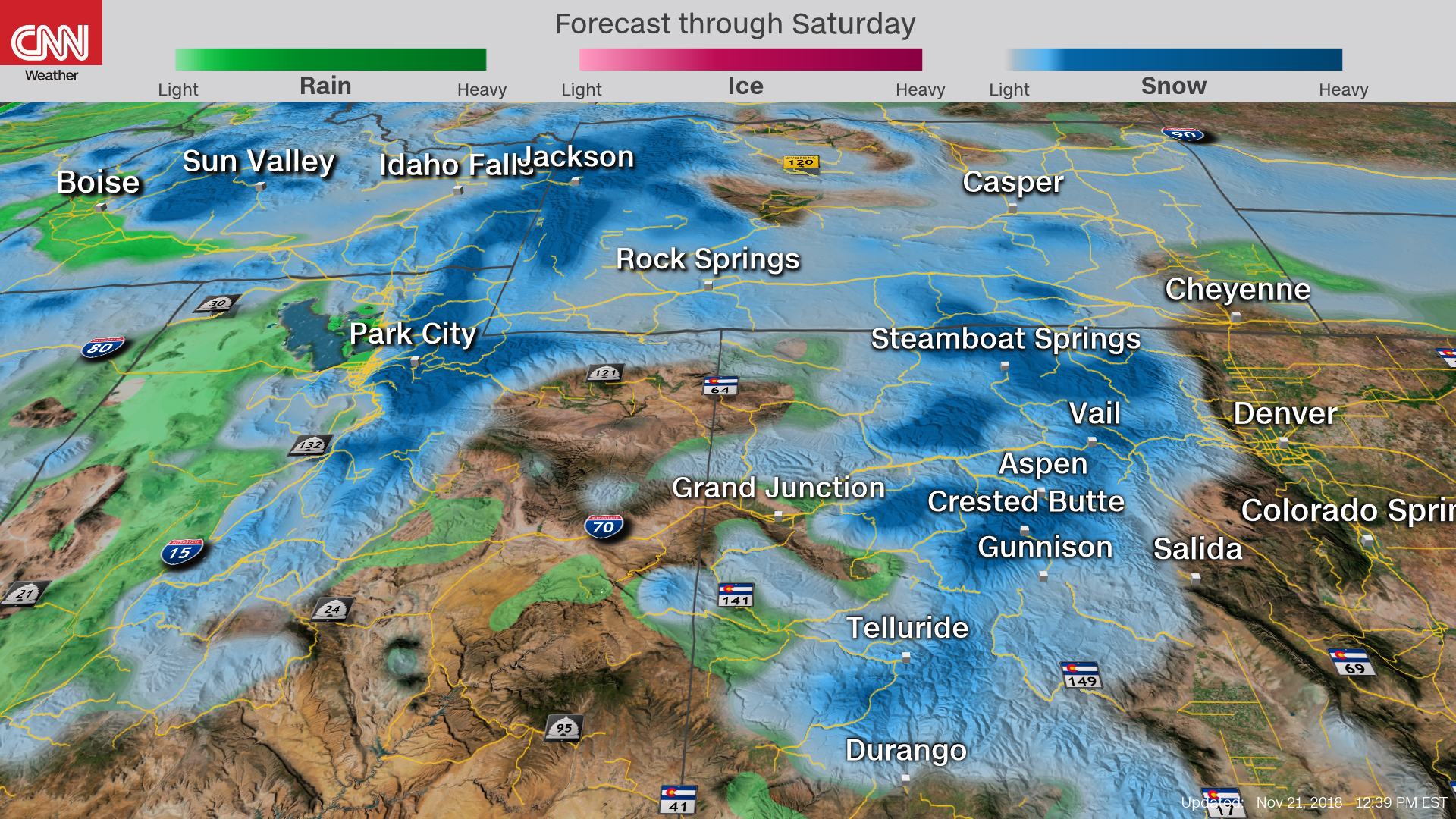 You may consider ditching dinner at hitting the slopes. Numerous resorts are already open and many are opening this weekend. 
1:57 p.m. ET, November 21, 2018
Wind (on both coasts) is impacting flights
The Federal Aviation Administration is reporting delays at airports on both of the US's coasts due to winds and weather.
On the East Coast: Newark International Airport in New Jersey is currently experiencing delays averaging 49 minutes.
On the West Coast: San Francisco International Airport in California is currently experiencing delays averaging 1 hour and 53 minutes.
1:32 p.m. ET, November 21, 2018
Stuck in traffic? Kill time with trivia about the Macy's Thanksgiving parade
It's a Thanksgiving Day tradition, not only for New York but for a TV-watching nation as well: the Macy's Thanksgiving Day Parade.
In 2018, it will start at 9 a.m. ET, Thursday, November 22, and Macy's says there's two and half miles of public viewing along the route.
Here are six fun historical facts about the parade:
It was originally a Christmas parade. Macy's employees organized a Christmas parade in 1924 featuring "floats, bands, animals from the zoo and 10,000 onlookers," according to a Macy's history page. Three years later, the Christmas Parade was renamed the Thanksgiving Day Parade.
The balloons have been around almost since the beginning. Well-known characters have been part of the parade since that 1927 outing. The balloons were originally allowed to float away, and those who found them got a gift certificate from Macy's.
The parade was first broadcast on the radio. You had to use your imagination when the first broadcasts of the parade took place in 1932; they were on the radio. The parade was first televised in 1946 in New York and then nationally on NBC the next year.
Fans can watch the balloons get inflated. They're inflated at a staging area at 77th Street and Central Park West, near the American Museum of Natural History. The balloons are constructed at Macy's Parade Studio in Moonachie, New Jersey.
The route has changed over time. For years, the parade's Midtown route went right down Broadway, Manhattan's spine. For 2018, the route will start at 77th Street and Central Park West, where it takes a left turn at 59th Street. It will continue to ride past Central Park until reaches Sixth Avenue. From there, it will head down straight down to 34th Street, where it will hang right and end at the flagship store.
It hasn't always gone well. The worst was probably 1997, a blustery day in the Big Apple. During that parade, winds reached more than 40 miles per hour, and the balloons were difficult to control. One balloon struck a lamppost and injured four people; one woman was in a coma for a month. The Pink Panther threatened a woman holding its ropes.