Teachers walk out in Oklahoma and Kentucky
7:00 p.m. ET, April 2, 2018
Our live coverage has ended. Read more about the walkouts here, or scroll down to see how the day unfolded.
6:59 p.m. ET, April 2, 2018
This is what it looked like in Kentucky and Oklahoma today
From CNN's Holly Yan, Nick Valencia and Madison Park
Tens of thousands of teachers in Kentucky and Oklahoma marched to their state capitols today to demand more funding for their students and better wages.
In Kentucky, teachers decried changes to their pensions, after state lawmakers tucked those reforms into another bill about sewage and passed that bill last week.
This was the scene at the state capitol in Frankfort, Kentucky: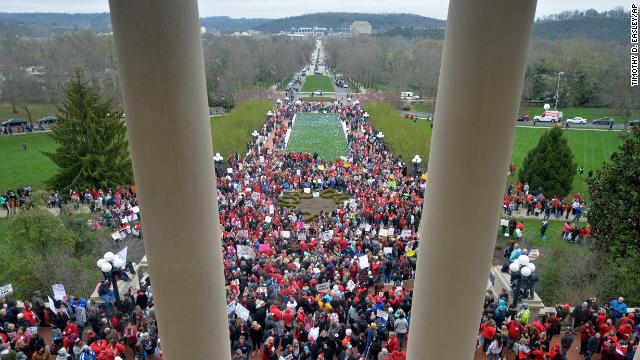 And in Oklahoma, protesters rallied for higher teacher and support staff raises, as well as increased funding for education -- which has plummeted by 28% over the past decade, the state teachers' union said.
Here's what it looked like at the state capitol in Oklahoma City: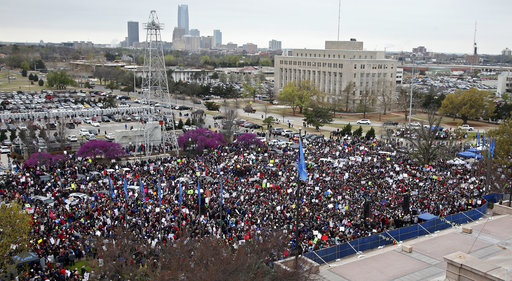 5:58 p.m. ET, April 2, 2018
The signs they carried in Oklahoma and Kentucky
Oklahoma
Jenna Geresi, a first-grade teacher at Jarman Elementary School in Tulsa, Oklahoma, carried this sign that read "iF u keep hurtin EdukAshun mor sines will Lok like dis."
Melissa Knight, who teaches art at Ardmore Middle School in Oklahoma, demonstrated outside the state capitol with a sign that read, "My 2nd job paid for my sign!"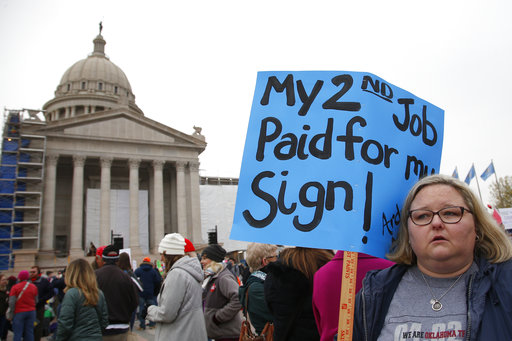 Kentucky
Teachers protested at the state capitol, called for higher wages and demanded "respect."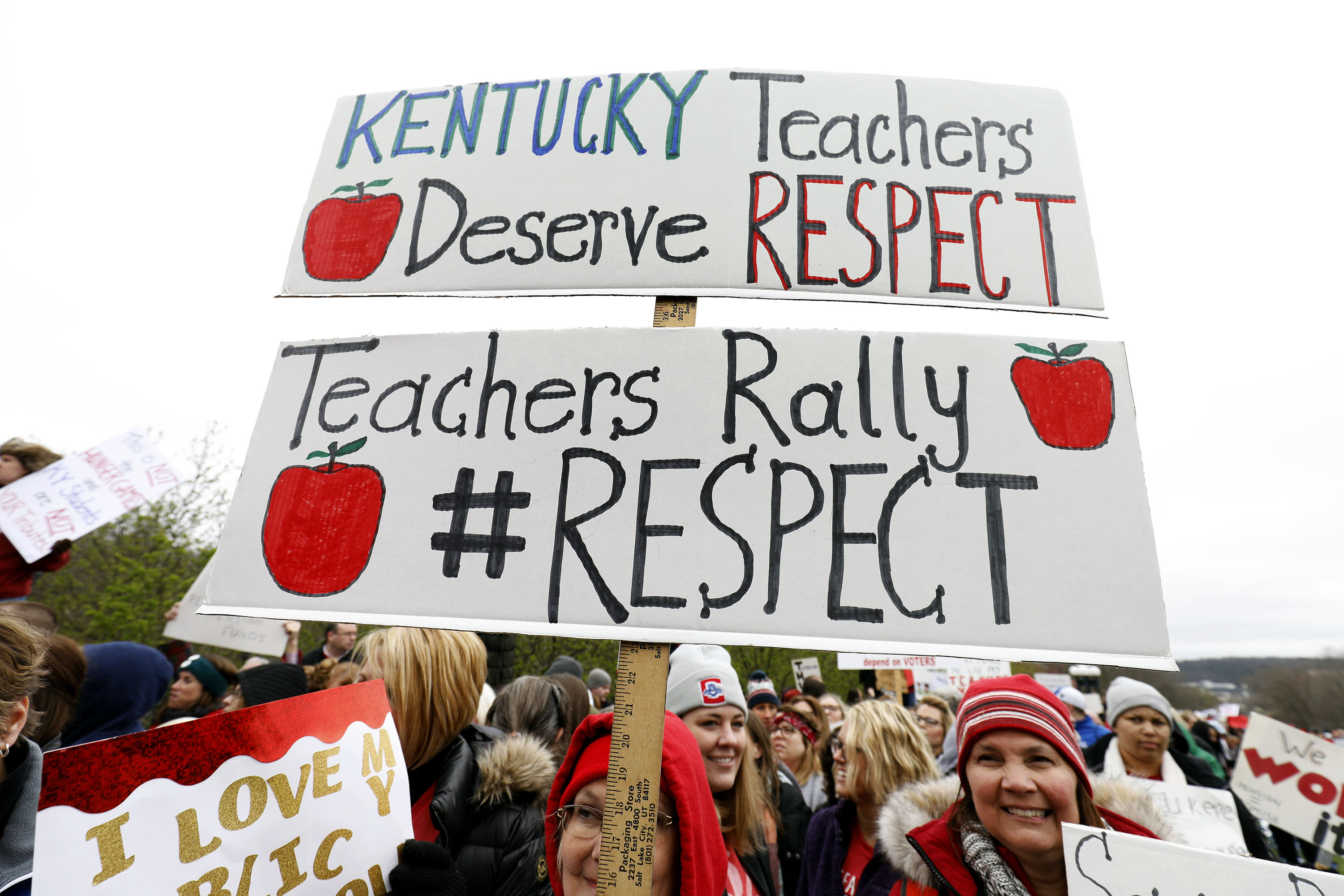 Teachers reminded lawmakers that they also vote.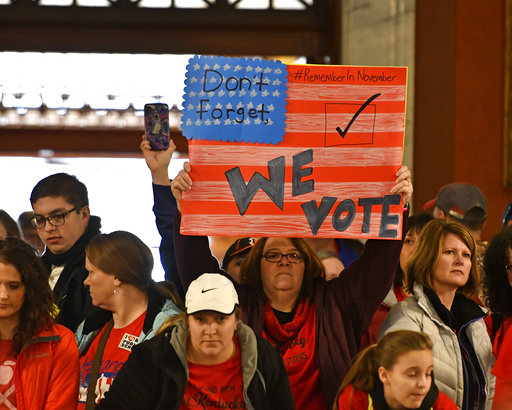 5:58 p.m. ET, April 2, 2018
Oklahoma teacher: We're protesting for "the very future of our state"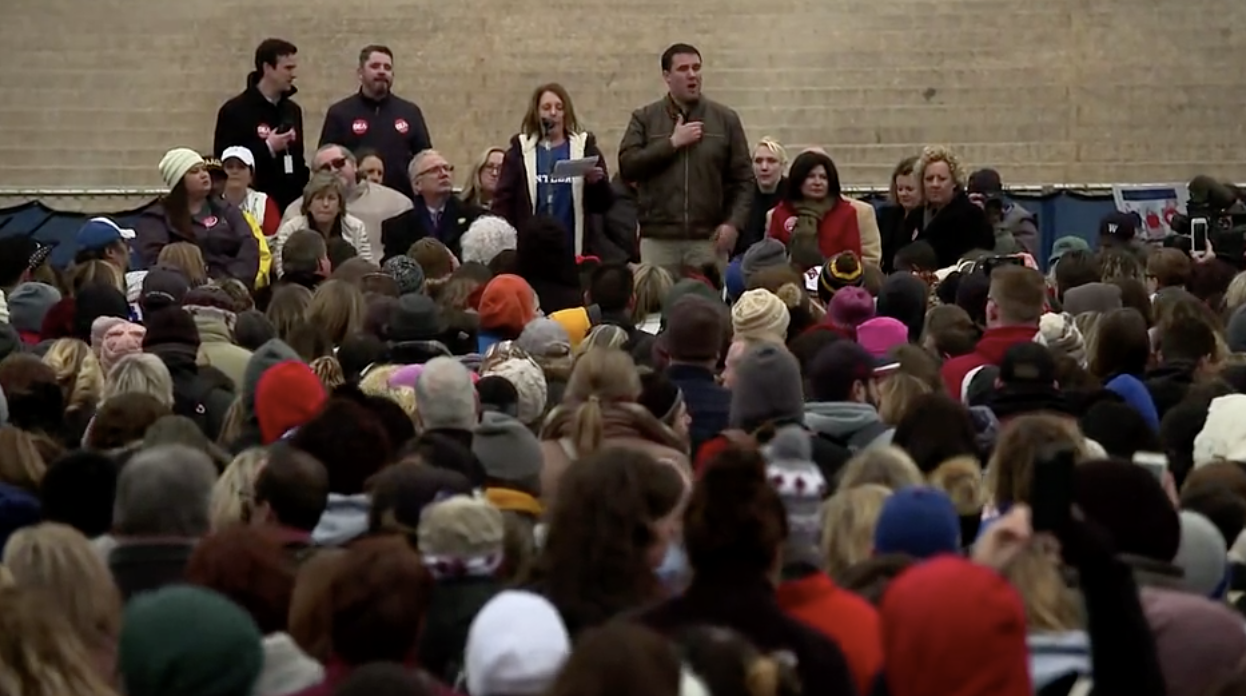 Oklahoma teacher Dionne Liebl, speaking to a crowd gathered at the state Capitol, said educators were protesting today for additional funding and resources for their students.
"Why are we here today?" she asked. "We are here today because our schools, our children need us."
Liebl, an English teacher at Deer Creek High School in Edmond, Oklahoma, was one of 12 finalists for teacher of the year.
She urged Oklahoma teachers to remain united.
"This isn't about one organization or another," Liebl said. "This is about students, our kids, the very future of our state. That is why we are here."
3:28 p.m. ET, April 2, 2018
The West Virginia teachers' strike inspired this Oklahoma teacher to start a movement
From CNN's Bill Weir
Oklahoma teacher Alberto Morejon said he saw teachers in West Virginia get higher wages after they protested for nine consecutive days.
So, the Stillwater Junior High history teacher got on Facebook and typed in "Oklahoma walk out" to see if there were any similar movements planned in his state.
"Nothing popped up and I thought 'Why not be the guy to make the group?' When I woke up the next morning, there were 21,000 members," said Morejon, 25, who's also a baseball coach at Stillwater Junior High.
Three weeks later there are 72,000. You don't get 70,000 new members in three weeks if there's not a problem," he said.
2:47 p.m. ET, April 2, 2018
Oklahoma lawmakers passed an education bill last week. Teachers say it's not enough.
From CNN's Holly Yan, Nick Valencia and Madison Park
Teachers across the state have flocked to Oklahoma City today, saying concessions made by lawmakers last week aren't nearly good enough to support the future of education.
Oklahoma is among the bottom three states in teachers' salaries, and until Thursday, had not received a state raise in a decade.
Last week, legislators approved a measure that includes a $6,100 pay raise for teachers, $1,250 for support staff, and $50 million in education funding.
OEA president Alicia Priest called it a "good starting point," but not enough.
Here's a side-by-side comparison of what the teachers got — and what they want: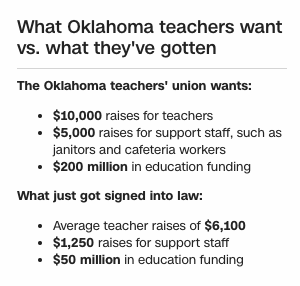 2:27 p.m. ET, April 2, 2018
An Oklahoma teacher held his English class at today's protest
Brandon King and Zach Verdea, student journalists from the University of Oklahoma, shot this video of Monday's protests at the state capitol in Oklahoma City.
King said Regan Killackey, a teacher at Edmond Memorial High School in Edmond, Oklahoma, held his English literature class at the protest.
Watch Killackey in action:
2:11 p.m. ET, April 2, 2018
This Oklahoma teacher is also a surrogate mother
Allyson Kubat, an Oklahoma teacher who is protesting today for higher wages and school funding, also works as an event planner, Postmates driver, and sells health care and beauty products.
She is also a surrogate mother.
Being a surrogate, she said, "definitely helps lift a burden" for her family.
"It's not all about the money, obviously. But I do need the extra income, yes, too help pay some of the most basic bills," Kubat said.
1:51 p.m. ET, April 2, 2018
These students have joined their teachers in protest
Tens of thousands of Kentucky and Oklahoma teachers ditched classrooms Monday to rally at their state capitals, demanding more education funding for students.
But they're not the only people rallying at the the two capitol buildings. Some of their students are there, too.