Follow the SpaceX rocket launch
9:31 a.m. ET, July 25, 2018
Our live coverage has ended. Thanks for following.
8:53 a.m. ET, July 25, 2018
SpaceX fails to capture payload fairing, but the mission is still a success
Mr. Steven, the recovery ship, encountered some bad weather in the Pacific, a SpaceX spokesperson confirmed. The crew on board Mr. Steven saw the payload fairing come down, but were not able to steer the ship close enough to capture it.
But SpaceX did confirm all ten Iridium satellites are now orbiting the Earth, marking an official mission success.
8:12 a.m. ET, July 25, 2018
What now? The fairing is slowly falling back to earth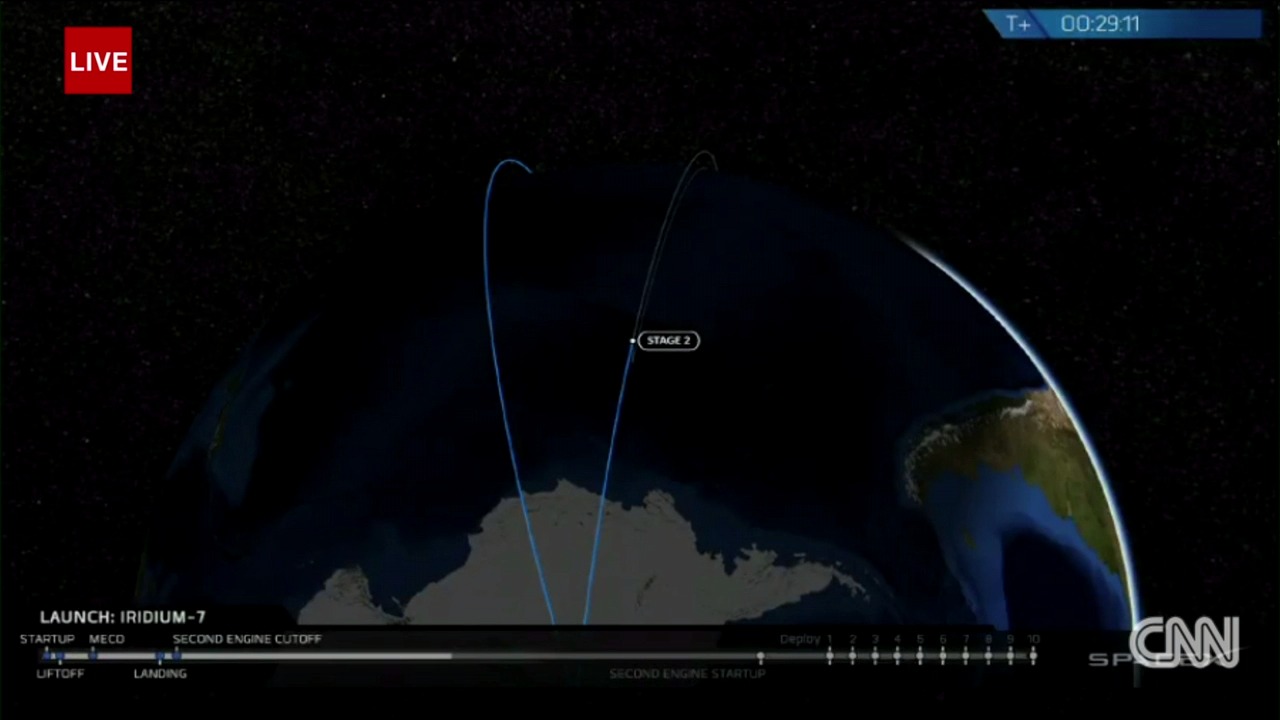 The second-stage of the Falcon 9 rocket is coasting through orbit and getting ready to deploy a group of satellites for Iridium, a firm building a next-generation network of communications satellites.
They've made a Spotify playlist that syncs up with parts of the launch sequence.
Meanwhile, the fairing is making its slow decent back toward Earth where the ship, Mr. Steven, is waiting to catch it in its giant net.
8:25 a.m. ET, July 25, 2018
Despite "challenging weather," SpaceX sticks Falcon 9's landing back on launch pad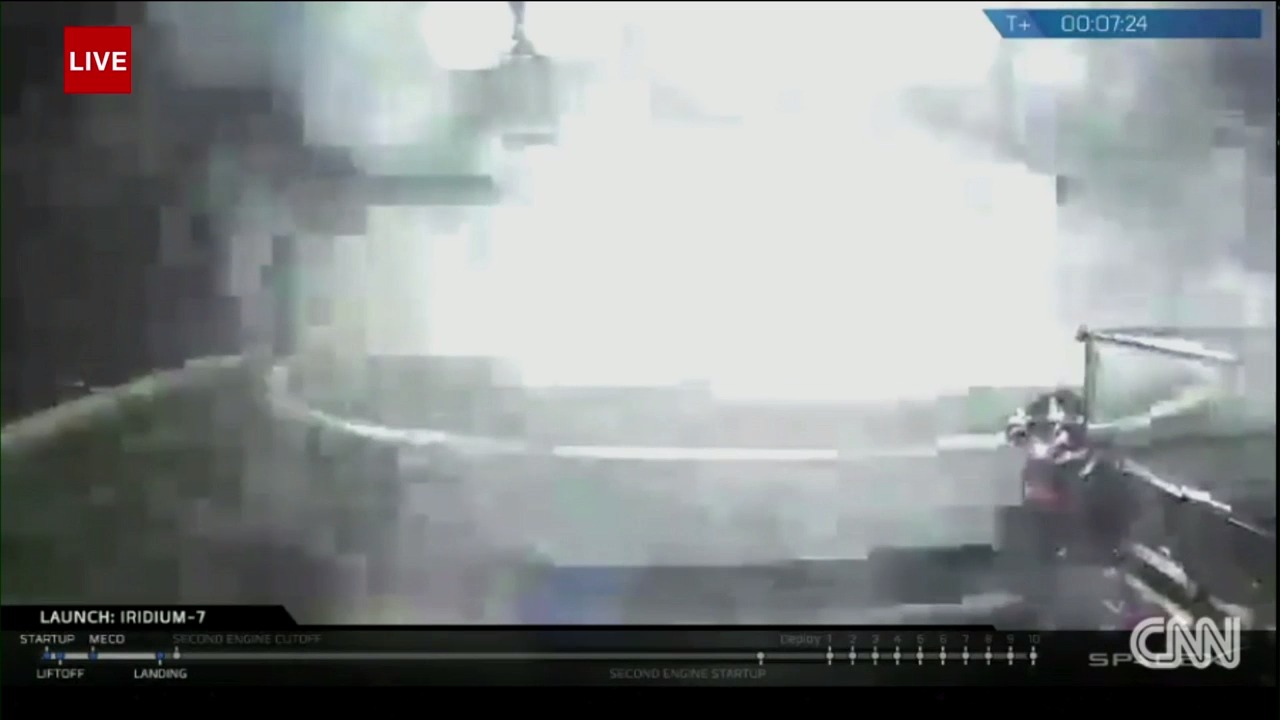 The first-stage rocket booster returned safely to a pinpoint landing on a platform in the Pacific Ocean, though SpaceX's livestream cut out just before the booster touched down. SpaceX confirmed that it was a success on Twitter.
This is a routine maneuver for the company, which frequently refurbishes and reflies rocket boosters.
It's likely saved the company a significant amount of cash over the past couple of years, and the latest version of the Falcon 9, dubbed Block 5, aims to go even further.
Musk said in May when the Block 5 debuted that the upgraded rocket's first-stage boosters will one day have the ability to be reused up to 10 times with very little refurbishment. So far, SpaceX has never flown the same booster more than twice.
Watch the moment:
7:49 a.m. ET, July 25, 2018
How SpaceX plans to recapture the cone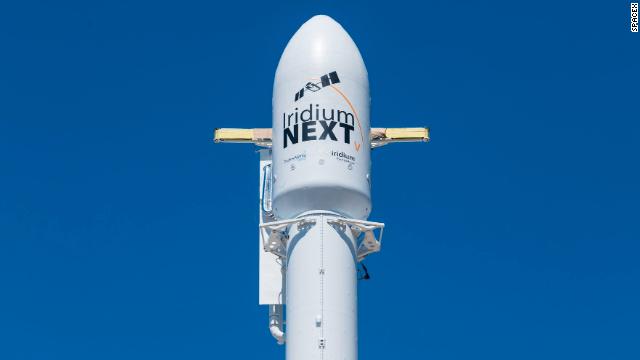 SpaceX has always said it wants to reuse as much of its rockets as possible, but recovering and reusing a fairing has never been done before. And it's taking some trial and error.
If the whole thing goes down as desired, it would look like this:
The fairing halves would guide themselves back into the Earth's atmosphere then deploy parafoils, which are a type of parachute, to slow down the descent.
Using on-board navigation systems, the fairing would then steer itself into a net held up by a boat, called Mr. Steven.
So what's Mr. Steven? It's a crew boat that belongs to a family-owned business in Louisiana. Mr. Steven, built in 2015, was originally intended to work as a supply ship for the oil and gas industry. (Its name is a nod to the ship's owner, Steven Miguez.)
But SpaceX landed a secretive deal to use the ship for its fairing recovery efforts, and the vessel has been retrofitted with long metal arms that hoist up the net to form a giant catcher's mitt.
You can track it on a map right here.
7:48 a.m. ET, July 25, 2018
Liftoff! SpaceX successfully launches its Falcon9 rocket
SpaceX successfully launched its rocket just before 7:40 a.m. ET amid heavy fog and darkness -- it's still early on the West Coast.
Watch the launch:
7:31 a.m. ET, July 25, 2018
SpaceX tries again to recapture multi-million nose cone after launch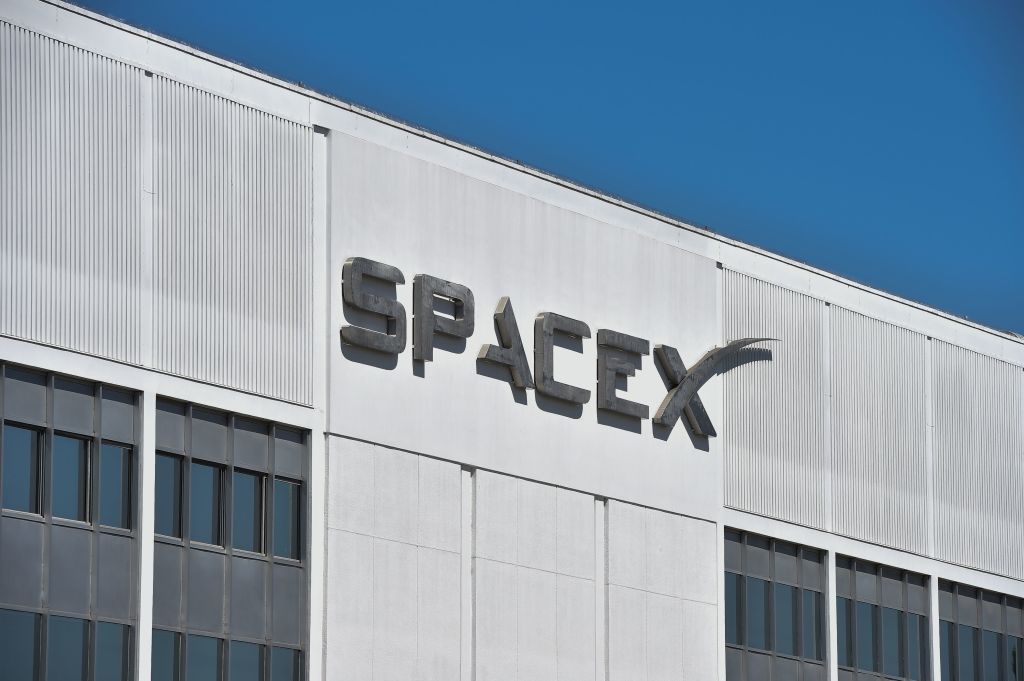 SpaceX will once again attempt to recover the multi-million dollar nose cone of its Falcon 9 rocket, showcasing its latest experimental effort to bring down the cost of its launches.
The recovery attempt will take place after a routine mission on Wednesday from Vandenberg Air Force Base in California.
The primary goal will be to deliver a group of satellites into orbit for its customer Iridium, a satellite operator that's building a next-generation communications network.
But the most eye-catching show will go down after the satellites are deployed.
After the Falcon 9 ejects the payload and the fairing detaches from the rest of the rocket, it will deploy parafoils, which are a type of parachute, to slow its decent. An on-board navigation system will then attempt to steer the fairing into a giant net hoisted up by a crew boat, named Mr. Steven.