Texas high school shooting
3:46 p.m. ET, May 18, 2018
Texas shooting suspect held on capital murder charges without bond
The suspect from the Santa Fe High School shooting has been booked into the Galveston County Jail. Dimitrios Pagourtzis, 17, is being held on capital murder without bond and additional charges may follow, the Galveston County Sheriff's Office says.
Here's his mugshot: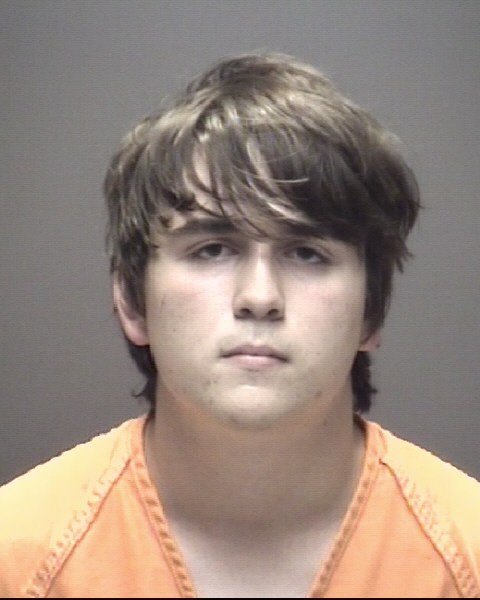 3:41 p.m. ET, May 18, 2018
Shooting suspect was hiding a shotgun under his long coat, official says
The Texas shooting suspect was wearing a long coat and hiding a shotgun underneath when he walked on to Santa Fe High School and opened fire, Lt. Gov. Dan Patrick said at news conference this afternoon.
He noted the temperature outside was approximately 90 degrees.
The police chief was on his way to the school when the first shots were reported, he said. The chief then managed to pull an injured officer to safety and return fire.
Patrick said two officers and a roving officer were assigned to the high school.
3:44 p.m. ET, May 18, 2018
A retired cop was shot and taken to the hospital with gunshot wound to his arm
Retired Houston Police officer John Barnes was one of the people shot at Santa Fe High School, according to Raul Reyes, University of Texas Medical Board director of media relations.
Barnes is still in the operating room being treated for a gunshot wound to the arm.
Barnes was in critical condition earlier but his condition is not clear at this time, Reyes said.
Joe Gamaldi, president of the Houston Police Officers Union, tweeted earlier today about the officer:
3:18 p.m. ET, May 18, 2018
Suspect used a shotgun and .38 revolver in school shooting, governor says
The Texas high school shooting suspect used both a shotgun and a .38 revolver to kill 10 people in Santa Fe this morning, Texas Gov. Greg Abbott said at a press conference.
"Neither of these weapons were owned or legally possessed by the shooter," Abbott said, noting instead they were legally owned by his father.
"I have no information if the father was aware the son had taken these weapons," Abbott said.
3:19 p.m. ET, May 18, 2018
Suspect wanted to take his own life after shooting, Texas governor says
Authorities found writings in the Texas shooting suspect's journals that indicated he wanted to take his own life, Texas Gov. Greg Abbott said.
"We also know information already that the shooter has information contained in journals on his computer and his cell phone that he said that not only did he want to commit the shooting, but he wanted to commit suicide after the shooting," he said.
"As you probably know, he gave himself up and admitted at the time he didn't have the courage to commit the suicide, that he wanted to take his own life earlier," Abbott added.
3:12 p.m. ET, May 18, 2018
Texas shooting suspect posted a photo of a shirt with words "BORN TO KILL" in April
The Texas shooting suspect, who sources identified as Dimitrios Pagourtzis, had recently posted online a photo of a "custom T-shirt" emblazoned with the words, "BORN TO KILL."
The photo was posted to Facebook on April 30, along with several images of a black duster jacket with Nazi, communist, fascist and religious symbols in a separate post.
The second post contained the words, "Hammer and Sickle = Rebellion, Rising Sun = Kamikaze Tactics, Iron Cross = Bravery, Baphomet = Evil, Cthulu=Power."
The background image of his Facebook profile page is the album cover of "Dangerous Days" by French electronic music artist "Perturbator." A song on that album is called "Humans Are Such Easy Prey."
3:01 p.m. ET, May 18, 2018
Texas shooting suspect identified as Dimitrios  Pagourtzis, sources say
Dimitrios Pagourtzis is suspected of conducting the shooting today at a Texas high school, Federal law enforcement officials tell CNN and confirmed to the Houston Chronicle by the Galveston County Sheriff's Office.
2:36 p.m. ET, May 18, 2018
March for Our Lives organizers: "We are with you"
March for Our Lives, a massive demonstration created by the students from the Feb. 14 shooting in Parkland, Florida, shared their support on Twitter for the victims of today's shooting at Santa Fe High School.
"Santa Fe, we are with you, and we will do whatever we can to support you as the days go on," the group tweeted.
Read the group's full statement:
2:20 p.m. ET, May 18, 2018
The shooting suspect was injured, official says
Authorities are talking to the shooting suspect, who was also injured, according to a law enforcement official.
Investigators have not found the suspect in a system that tracks hand guns purchases.