The latest on the Texas school shooting
2:06 p.m. ET, May 21, 2018
Here are the charges the shooting suspect faces
New court documents revealed the series of charges that Texas school shooter Dimitrios Pagourtzis is facing.
He is charged with:
Capital murder of multiple persons
Aggravated assault against public servant
Dimitrios, 17, is being held without bail.
The court documents also indicated that he lived with his parents and never worked.
1:40 p.m. ET, May 21, 2018
School cameras will help investigators piece together the shooting timeline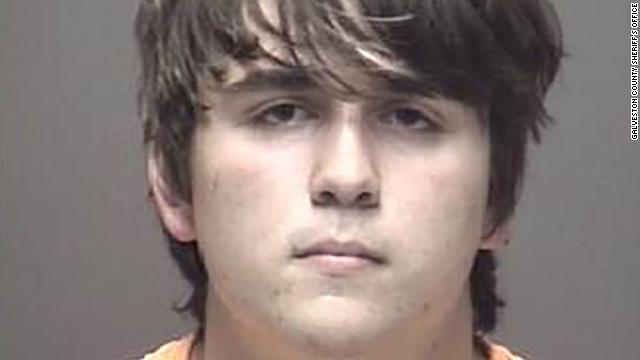 Deputies were in a 25-minute shootout with Texas school gunman on Friday in Santa Fe, authorities said.
By the end of the melee, eight students and two teachers were killed. The suspect was taken into custody.
Officers arrived at the school's art lab section about four minutes into the shooting and engaged the shooter right away, Galveston County Sheriff Henry Trochesset told CNN.
It's unclear whether all the victims were shot by the suspect, or whether some were shot by deputies during the crossfire. Trochesset said authorities are waiting for the medical examiner's autopsies to make that determination.
A "decent amount of cameras in the school" will help investigators piece together a timeline, Trochesset said.
1:09 p.m. ET, May 21, 2018
Mourners hold moment of silence outside Santa Fe High School
A moment of silence was held this morning outside Santa Fe High School to honor the victims of Friday's shooting.
In a somber moment captured by reporters for CNN affiliates KHOU and KPRC, mourners placed their hands on a series of memorial crosses outside the high school and looked down as they quietly remembered the victims.
12:08 p.m. ET, May 21, 2018
Students stage die-in outside Texas governor's mansion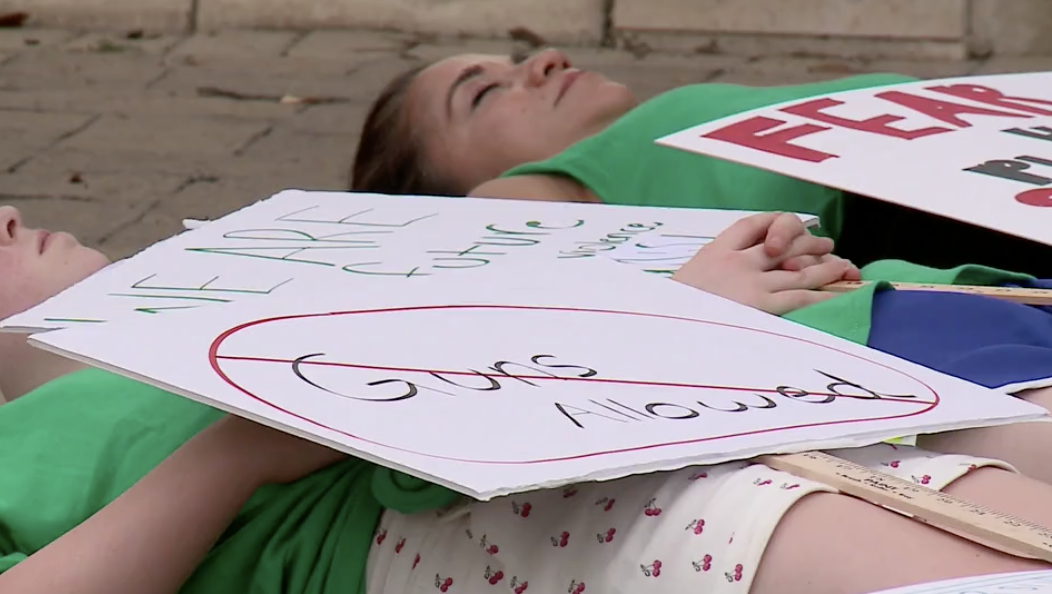 Local students staged a die-in Sunday night outside the Texas governor's mansion in downtown Austin.
They are seeking common-sense gun laws following Friday's shooting at Santa Fe High School, CNN affiliate KXAN reported. The "die-in" went on for 23 minutes — a minute for every school shooting since the school year started.
"Ted Cruz, Greg Abbott, Texas legislators — for as long as this is happening, we will stand to make sure that common-sense gun laws are enacted," one organizer said.
11:58 a.m. ET, May 21, 2018
Hospital gives update on two victims
University of Texas Medical Branch tweeted on Monday morning that two of the shooting victims are still in the hospital. One of them is in critical condition.
11:50 a.m. ET, May 21, 2018
The shooter's guns are still being processed
A law enforcement official tells CNN that authorities are still trying to determine whether the shooter got the two guns used in the incident from his father. 
Texas Gov. Greg Abbott said Friday, "It's my information that both of the guns used in the Santa Fe, Texas high school shooting were obtained from his father."
However, the law enforcement official says it has not been determined if the shooter got guns from his father.
The weapons used in the shooting were a sawed-off shot gun (which is illegal without a permit from the Bureau of Alcohol, Tobacco, Firearms and Explosives) and a .38 caliber handgun purchased in the early 1990s, the official said.
Investigators have identified the original buyers, but how the weapons went from original buyer(s) ultimately to the shooter is still being determined, the official said.
CNN has reached out to the governor's office for comment.
11:47 a.m. ET, May 21, 2018
The shooting suspect cannot get the death penalty or life without parole
Texas Gov. Greg Abbott said his hope was that the 17-year-old accused of killing 10 people there gets "swift Texas justice."
But no matter the legal case ahead, that Texas justice will not include the death penalty. In fact, the harshest punishment the suspect can receive is life with the possibility of parole.
That's due to his age and two Supreme Court cases. Read more here.