Deadly school shooting in Santa Clarita
12:06 p.m. ET, November 14, 2019
These are the text messages the school sent to parents about the shooting
Parents received these text messages this morning after a shooting occurred at Saugus High School, about 30 miles north of Los Angeles.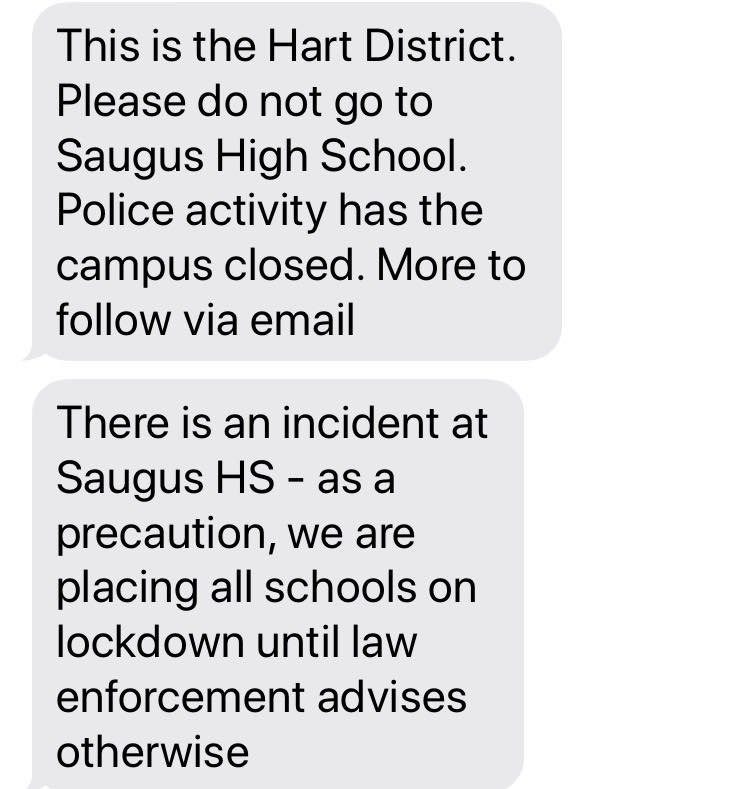 12:03 p.m. ET, November 14, 2019
This mom is taking in students who are fleeing the shooting
Hannah de Caussin told CNN she and her daughter were heading out to Saugus High School when her daughter got a call from her friends at school.
"Her friends heard five shots, they were in the gym when they heard the shots. It was in the main quad on campus. Her friends called her right away and said not to go to school and we went to get all of her friends. We were just about to leave to go to school," de Caussin said.
The shooting occurred about 20 minutes before school started.
"We are all really upset. This is a peaceful neighborhood and this is shocking. The kids are texting all of their friends and trying to figure out who the victims are," de Caussin said.
De Caussin said she and her 14-year-old daughter, Mya Griffin, went to get her four friends and they're currently staying at their home.
She added that her home is open and has become a safe place for students running away from the shooting.
"This is a safe area and we are all shocked. I have a handful of kids here, safe, waiting for more info. The school sent a text not to go to school today," de Caussin said.
12:12 p.m. ET, November 14, 2019
Police: Three elementary schools in the area are on lockdown
Los Angeles County Sheriffs Department Sergeant Bob Bease just spoke to CNN about the active investigation into a shooting at Saugus High School in Santa Clarita, California.." 
Bease said police are "conducting a systematic search of the high school to ensure that it is safe at the moment."
The following schools in the area are currently on lockdown:
Highland elementary
Rosa elementary
Santa Clarita elementary
"We don't believe they are in danger. However, out of an abundance of caution, we are locking those down and we have deputies at those schools to ensure that they are safe," Bease said.
He said police helicopters and k-9 teams are searching the surrounding areas to "ensure that the general area is safe as well."
Hear the latest:
11:56 a.m. ET, November 14, 2019
President Trump is monitoring the shooting
President Trump is monitoring reports of the Santa Clarita high school shooting, deputy press secretary Judd Deere said in a statement: 
"The President is monitoring the ongoing reports of a school shooting in Santa Clarita, CA. The White House encourages all those in the area to follow the advice of local law enforcement and first responders."
11:53 a.m. ET, November 14, 2019
L.A. Sheriff: Suspect believed to be a student at the school
Los Angeles County Sheriff Alex Villanueva says it is his understanding that the suspect in the incident at Saugus High School is a member of the student body.
12:06 p.m. ET, November 14, 2019
Former congresswoman who attended school: "It's your worst nightmare"
Former California Rep. Katie Hill expressed her concerns over the shooting at Saugus High School.
Hill, who resigned less than two weeks ago, told CNN she attended the high school years ago and still lives in the community.
"It's your worst nightmare. Every single member of Congress is constantly in the back of their head as to whether something like that is going to happen in your home district because it's the worst thing that can happen," she said.
Watch more:
11:48 a.m. ET, November 14, 2019
Police: "This is still a very active situation"
The L.A. County Sheriffs department just tweeted that "this is still a very active situation."
The police have asked residents around the high school to lock their doors and stay inside. The shooter is believed to still be at large.
A local hospital said they've received two victims who are in critical condition and are expecting three more.
11:45 a.m. ET, November 14, 2019
Here's a description of the shooting suspect
The L.A. County Sheriff's Department just tweeted that residents in the neighborhood around Saugus High School should stay inside their homes and lock their doors.
The shooting suspect is still believed to be at large. The police said, "If you see suspect, male dark clothing," call 911.
11:39 a.m. ET, November 14, 2019
Hospital says two patients are in critical condition
Henry Mayo Newhall Hospital says it has received two patients in critical condition, and three other patients are en route to the hospital now.
Henry Mayor Newhall Hospital is in Valencia, California.