Wildfires threaten California
9:51 a.m. ET, October 25, 2019
5:52 a.m. ET, October 25, 2019
The Tick fire exploded to over 3,000 acres in just a few hours
From CNN's Nicole Chavez and Sarah Moon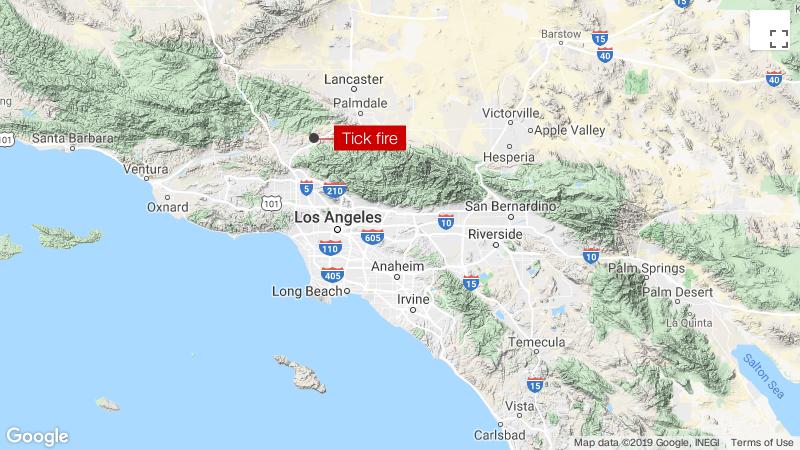 The Tick fire is burning out of control north of Los Angeles and has forced thousands of residents to evacuate their homes, fire officials said.
The blaze near Santa Clarita broke out Thursday and in just a few hours has burned about 3,950 acres, the Los Angeles County Fire Department said. It was 5% contained by late Thursday.
The wind-driven blaze had only scorched a couple hundred acres when it quickly exploded to more than 3,000 acres and destroyed several structures, the fire department said.
The cause is so far unknown.
3:34 a.m. ET, October 25, 2019
More than 18 million people in southern California are under red flag warnings
From CNN's Haley Brink
Extremely critical fire conditions will exist throughout southern California throughout Friday, and may threaten northern California into the weekend, according to CNN meteorologists.
In southern California, strong winds at 30 miles per hour are expected, as well as gusts that reach up to 70 miles per hour. The strongest winds will be felt in the morning hours throughout before calming down later on Friday.
These winds, along with relative humidity values in the single digits and high temperatures in the upper 80s and 90s, will lead to dangerous conditions that could spark further fires. Red flag warnings are posted for over 18 million people across the region, including the Los Angeles and San Diego metro areas. 
The fire threat is not over in northern California either -- strong winds and critically low relative humidity values will be present throughout the Sacramento Valley beginning Saturday night into Sunday.
A fire weather watch has been issued for over 7 million people in the region, from Redding down to Sacramento.
2:47 a.m. ET, October 25, 2019
Nine active fires in California have charred nearly 30,000 acres
As of early Friday morning, there are nine active major fires burning across California, CalFire told CNN.
The Kincade Fire, Cabrillo Fire, Nelson Fire and Muir Fire are still burning in Northern California.
The Saddle Ridge Fire, Tick Fire, Old Water Fire, Oak Fire and Palisades Fire are still burning in Southern California. 
Combined, nine fires have charred nearly 30,000 acres. 
2:09 a.m. ET, October 25, 2019
Here's what you need to know about the California wildfires
Night has fallen in California, but the wildfires are still raging. Here's what you need to know:
The Kincade Fire ignited Wednesday night in Sonoma County, and burned 16,000 acres by Thursday night. It is at 5% containment. 49 structures have been destroyed. It's unclear how many of those lost were homes.
It was fueled in part by high winds that had already prompted California electric utilities to intentionally cut power to thousands of residents. 
The Tick Fire, in Los Angeles County, has burned about 3,950 acres, and is also at 5% containment. 40,000 residents are under evacuation orders, and there are 10,000 structures under threat. At least six structures have been burned, but final figures are not yet known.
The Old Water Fire, in San Bernadino County, had burned 75 acres with 30% containment as of earlier this afternoon. There were several more flare ups during the day, but the county fire department said the threat to the national forest has been "mitigated." All evacuation areas have reopened to residents with proper identification.
The Cabrillo Fire, south of Pescadero in San Mateo County, broke out earlier this evening. It has burned 95 acres and is 25% contained.
1:35 a.m. ET, October 25, 2019
PG&E restores power to 93% of impacted customers
From CNN's Sarah Moon
Pacific Gas and Electric (PG&E) has restored power to approximately 93% of customers impacted by the Public Safety Power Shutoff that started Wednesday. PG&E announced this evening.
Approximately 178,000 customers across 18 counties were affected by PG&E's shutoff. The company has restored nearly 165,000 customers, according to a company press release.
Less than 40 customers in Kern County are still out of power. The all-clear for Kern County is expected midday tomorrow.
"PG&E expects all customers to be restored Friday pending any damage to equipment that must first be repaired before safely restoring power," the press release said.
PG&E said it had deployed more than 6,000 personnel on the ground to conduct safety patrols, inspections, and power restoration operations.
1:08 a.m. ET, October 25, 2019
All schools in the LAUSD district will close on Friday
All schools that are part of the Los Angeles Unified School District (LAUSD) in the San Fernando Valley will be closed on Friday due to the air quality and safety concerns from the fires, LAUSD announced Thursday night.
The Community, Roscomare, Topanga, Valley View, Wonderland and Elementary ES schools will also be closed, LAUSD said.
12:51 a.m. ET, October 25, 2019
A satellite image shows plumes of smoke above the Kincade Fire
A satellite image of Geyserville, California, shows the Kincade Fire burning in Sonoma County.
The image, taken by Planet Labs, is largely obscured by the heavy smoke that has risen above the land.
All mandatory evacuation orders and warnings remain in effect in Sonoma County, Sheriff Mark Essick said in a press conference earlier this evening. About 2,000 people are affected by the current evacuation order in Geyserville and the hills east of Geyserville.
12:06 a.m. ET, October 25, 2019
A LA County Fire helicopter was damaged by a bird
A Los Angeles County Fire Department helicopter was struck by a bird earlier today while fighting the Tick Fire, LA County Fire Chief Daryl Osby confirmed in a press conference this evening.
There was significant damage to the helicopter's windshield, but they were able to land safely back at the heliport, Osby said.
The windshield will be repaired and that particular helicopter, a Sirkosky Firehawk, will fly tomorrow to assist with the incident, Osby added.
Over 500 firefighters are working aggressively to battle the blaze right now, and will continue to work overnight as stronger winds are expected, he said. Six helicopters, four air tankers, and about 100 fire engines have been deployed.
A red flag warning is in effect until Friday 10 p.m. local time, officials said.