Patriots owner accused of soliciting sex
4:56 p.m. ET, February 22, 2019
Our live coverage has ended. Scroll through the posts below to learn more about the allegations against Robert Kraft, or read more about the case here.
3:30 p.m. ET, February 22, 2019
Here's what happens next in Robert Kraft's solicitation case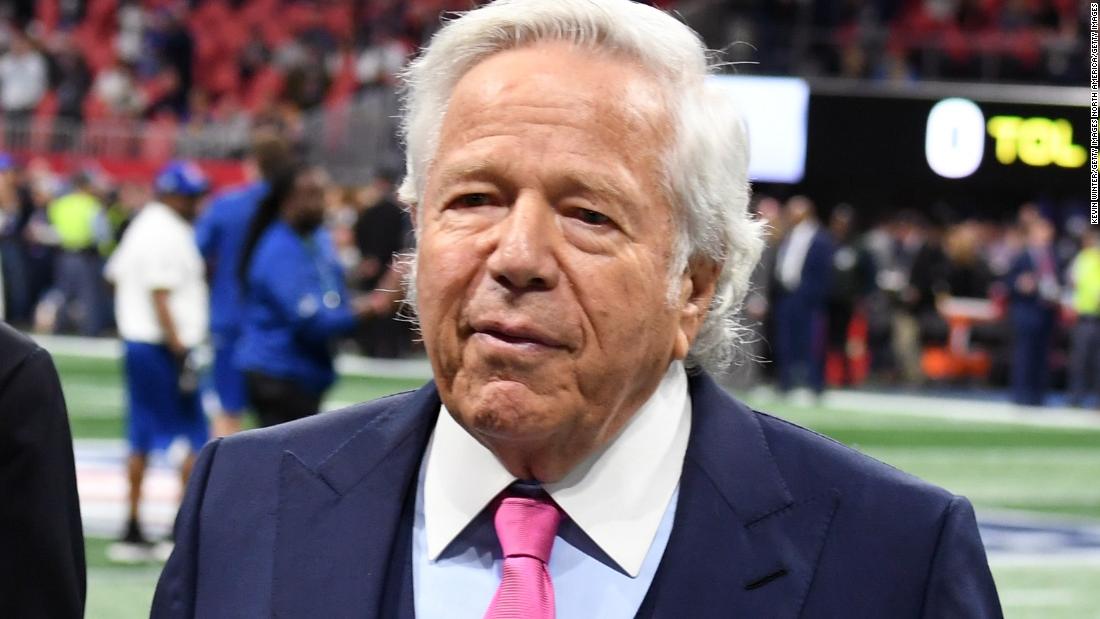 CNN spoke with Mike Edmondson, spokesman with the State Attorney's Office in Palm Beach County, who explained the next part of the process in the Jupiter solicitation case involving Patriots owner Robert Kraft.
The bottom line: Nothing has been filed yet by SAO's office and it's unlikely anything will be filed until Monday. It is also likely that the State Attorney in Palm Beach will hold a press briefing on Monday once administrative orders have been filed. 
The SAO's will not process any of the arrest warrants on Friday. He says the attorneys working on the case are still in Jupiter, and the process will not occur today, according to Edmondson.
Edmondson says that on Monday attorneys will file an "information" for the 28 people involved in the case. 
These charges are second-degree misdemeanor charges, and generally carry no more than a 60-day sentence in county jail.
On Monday, those people charged who live in Palm Beach County will be sent an administrative order in the mail to appear in court and given a court date for their arraignment.
Those people charged who do not live in PB County, or out of state, will have a capias warrant filed against them. 
The process to file the "information" for the 28 involved in this case is rather quick, and could be filed early on Monday, Edmondson says.
There will likely be a press conference on Monday morning.
3:27 p.m. ET, February 22, 2019
Trump on Kraft: "It's very sad. I was very surprised."
President Trump, a longtime friend of Robert Kraft, reacted Friday to accusations the Patriots owner solicited sex.
"Well it's very sad, I was very surprised to see it," Trump said. 
"He's (Kraft) proclaimed his innocence totally, but I'm very surprised to see it."
Kraft is being charged with two counts of soliciting someone to commit prostitution, stemming from a raid in a day spa in Florida, police said Friday.
Kraft, 77, was linked to a sting that has been going on for months, and his charges relate specifically to "two different visits" to the Orchids of Asia Day Spa in the city of Jupiter, police Chief Daniel Kerr said at a news conference.
2:26 p.m. ET, February 22, 2019
NFL issues statement saying it is aware of the Kraft prostitution charges
The NFL just released a statement about Robert Kraft, who is being charged with two counts of soliciting another to commit prostitution.
"The NFL is aware of the ongoing law enforcement matter and will continue to monitor developments."
1:16 p.m. ET, February 22, 2019
The Patriots won 6 Super Bowls under Robert Kraft's ownership
Robert Kraft, who faces two counts of soliciting another to commit prostitution, took ownership of the Patriots in January 1994. Since then, the NFL team has played in 10 Super Bowls, winning six of them, including this past season.
Kraft also is CEO of The Kraft Group, a holding company of numerous family businesses including International Forest Products, as well as Major League Soccer's New England Revolution.
With his wife, Myra, he also oversaw the Robert and Myra Kraft Family Foundation and the New England Patriots Charitable Foundation. (Myra Kraft died in 2011.)
1:08 p.m. ET, February 22, 2019
There is video of Kraft receiving "paid acts" and being driven to the spa, police say
There is video evidence of New England Patriots owner Robert Kraft in a room in the Orchid Spa receiving "paid acts," according to Jupiter Police Chief Daniel Kerr.
There is also video evidence of Kraft being driven to the spa, Kerr said. 
Kerr said services can cost between $59 for 30 minutes and $79 for an hour. 
12:41 p.m. ET, February 22, 2019
Video evidence exists in prostitution sting involving Robert Kraft
The Jupiter Police Department confirmed that there is video evidence of the alleged act, "for all the individuals being charged." 
Chief Daniel Kerr said says 25 additional individuals will be charged, and the case has been sent to the State Attorney's Office.
Police will not be releasing video or documentation at this time.