Polar vortex brings coldest air in a generation
8:00 a.m. ET, February 1, 2019
9:53 a.m. ET, June 14, 2019
At least 16 dead from extreme weather
At least 16 deaths have been linked to this week's extreme weather.
The deaths were reported across Iowa, Illinois, Michigan, Minnesota, Wisconsin and Indiana since the weekend.
In Iowa, at least four weather-related deaths were reported Thursday, Iowa State Patrol Sgt. Nathan Ludwig told CNN.
6:28 p.m. ET, January 31, 2019
Nearly 50 frostbite victims have been treated at this Chicago hospital
Almost 50 frostbite victims were treated at John H. Stroger Jr. Hospital in Chicago over the last two days.
"It's a horrific situation," said Dr. Stathis Poulakidas, the head of Burn and Wound Care Services at Cook County Health.
Poulakidas said they've seen "horrific injuries to feet and hands" due to Chicago's brutally cold temperatures. Some of the injuries were so severe that some patients may lose limbs.
Doctors tried to use "alternative services" to save limbs on 12 patients in the last 24 hours.
Frostbite in these extreme conditions can set in three to 10 minutes depending on age, exposure and other factors like wet gloves and socks, or even alcohol consumption, Poulakidas said. The victims included a mix of the homeless and people working outdoors. 
Doctors also saw patients who suffered burns and smoke inhalation from space heaters or moved grills indoors for warmth, Poulakidas said.
Noreen Keeney, spokesperson for Cook County Health, said that even as temperatures begin to rise on Friday, they are expecting an uptick in frostbite cases of people who put off medical treatment.  
5:55 p.m. ET, January 31, 2019
Zebra dies in subzero temperatures at private Indiana farm
A zebra on a private farm near Delphi, Indiana, died as a result of the bitter cold and extreme weather blasting the Midwest, sheriff's officials said. 
The zebra got stuck in a metal fence, and died as it tried to free itself in the arctic air, Carroll County Sheriff Tobe Leazenby said.
After consulting with a veterinarian, the sheriff said he and the department learned the cold air likely crystalized in the zebra's lungs, which led to its death. Leazenby said the temperature at the time of the incident was between 10 and 15 below zero. 
The private farm houses other animals, including another zebra, the sheriff said. No other animals were harmed by the cold temperatures.
5:55 p.m. ET, January 31, 2019
Hang on, folks: The brutal cold is almost over for most of us
The National Weather service says the life-threatening cold that has gripped the Upper Midwest and Great Lakes, in addition to the Ohio Valley, Mid-Atlantic and Northeast is near an end. 
By Friday, temperatures in the Upper Midwest will finally rebound to well above zero --with high temperatures making it to the teens and low 20s.
By Saturday, high temperatures will be in the 30s and 40s. 
2:03 p.m. ET, January 31, 2019
Yesterday marked the second coldest noon in Chicago history
Chicago had a brutally cold Wednesday.
It was 18 degrees below zero at noon — the second coldest noon ever recorded in the city. The record is still 1982, when it was 21 degrees below zero.
The day's lowest temperature was 23 degrees below zero. That marked the coldest temperature since the all-time record of 27 degrees below zero in 1985.
Here's a look at some of the other records from Chicago, per the National Weather Service: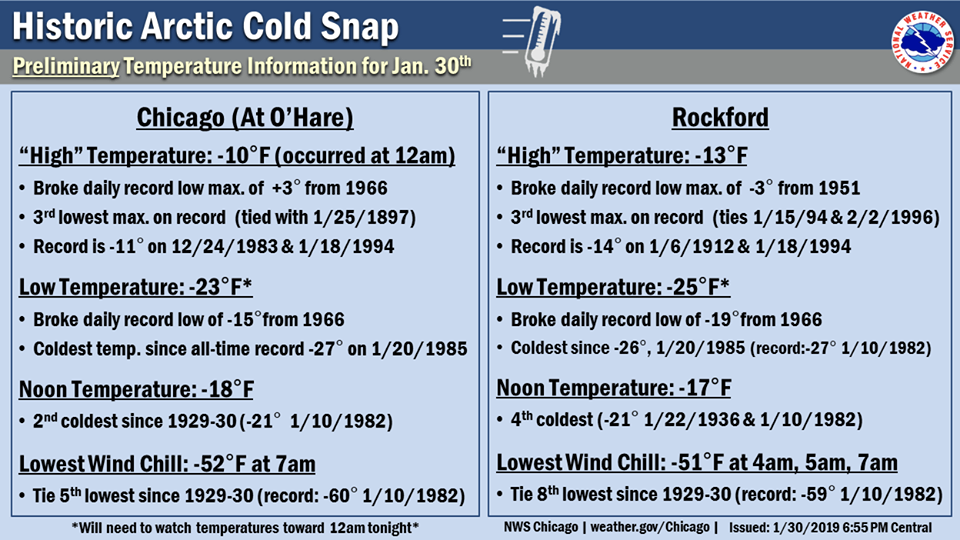 12:44 p.m. ET, January 31, 2019
More than 6,000 flights have been canceled since the freeze started
The cold and snow have taken a toll on the airlines. 
Nearly 6,400 flights have been canceled in and out of the US, since the snow and cold began on Tuesday, according to flightaware.com.
Chicago airports have been particularly hard hit, with more than 4,100 cancellations reported in and out of O'Hare and Midway airports over the last three days.