Polar vortex brings coldest air in a generation
9:36 a.m. ET, January 30, 2019
If you're in Minnesota, beware of near-instant frostbite
In Minnesota, blustery weather could mean wind chills approaching -70. In Ponsford, the wind chill was -66, CNN meteorologist Michael Guy said.
It's so cold, the National Weather Service warned that frostbite could set in in just minutes.
CNN meteorologist Dave Hennen described it as the "coldest air in a generation." Temperatures will plunge to 20-40 degrees below zero between Tuesday and Thursday in the Upper Midwest, Hennen said.
In northern Minnesota, wind chills were forecast to drop to 65-70 degrees below zero, which would rival the coldest wind chill ever recorded in the state (71 below) in 1982.
9:23 a.m. ET, January 30, 2019
What it looked like to drive on a Minnesota interstate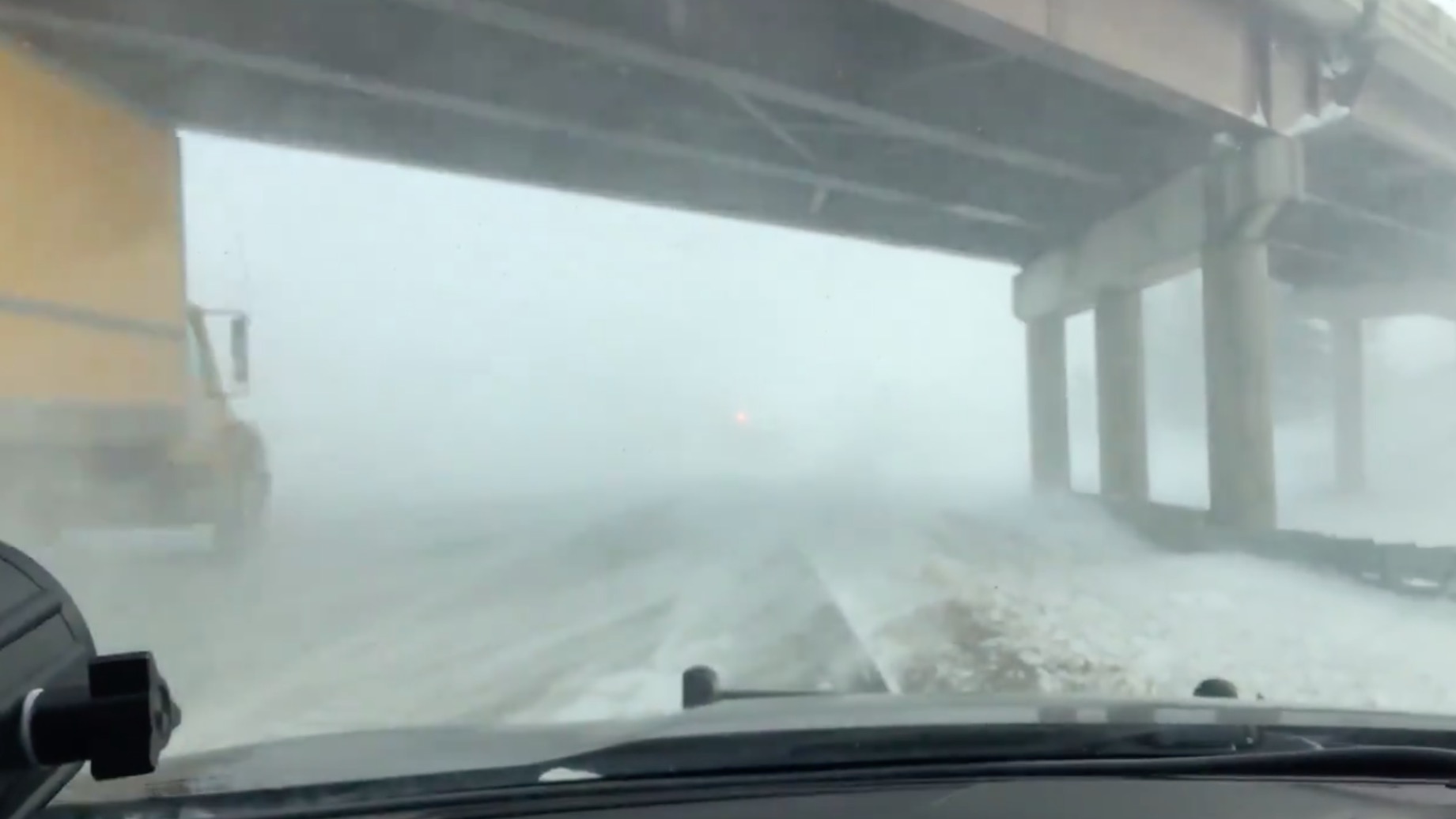 Sgt. Jesse Grabow, a public information officer in Minnesota, recorded dash-cam video of road conditions on I-94 yesterday.
This footage was shot about 10 miles east of Moorhead, Minnesota:
8:50 a.m. ET, January 30, 2019
It's so cold, the US Postal Service won't deliver mail to parts of the Midwest
Snow, rain, heat, gloom and night may not stop United States Postal Service workers from getting out the mail — but this Arctic freeze will.
USPS is suspending service in parts of the Midwest today because of the cold.
Parts of the following states are affected:
Michigan
Indiana
Wisconsin
Illinois
Ohio
Pennsylvania
North Dakota
South Dakota
Nebraska
Iowa
8:20 a.m. ET, January 30, 2019
More than 1,900 flights have already been canceled
As the dipping polar vortex brings insanely cold weather to the Midwest and Northeast, at least 1,944 flights within, into or out of the US have already been canceled this morning, according to FlightAware.
Another 375 flights have been delayed.
Here is FlightAware's look at where the delays are the worst this morning: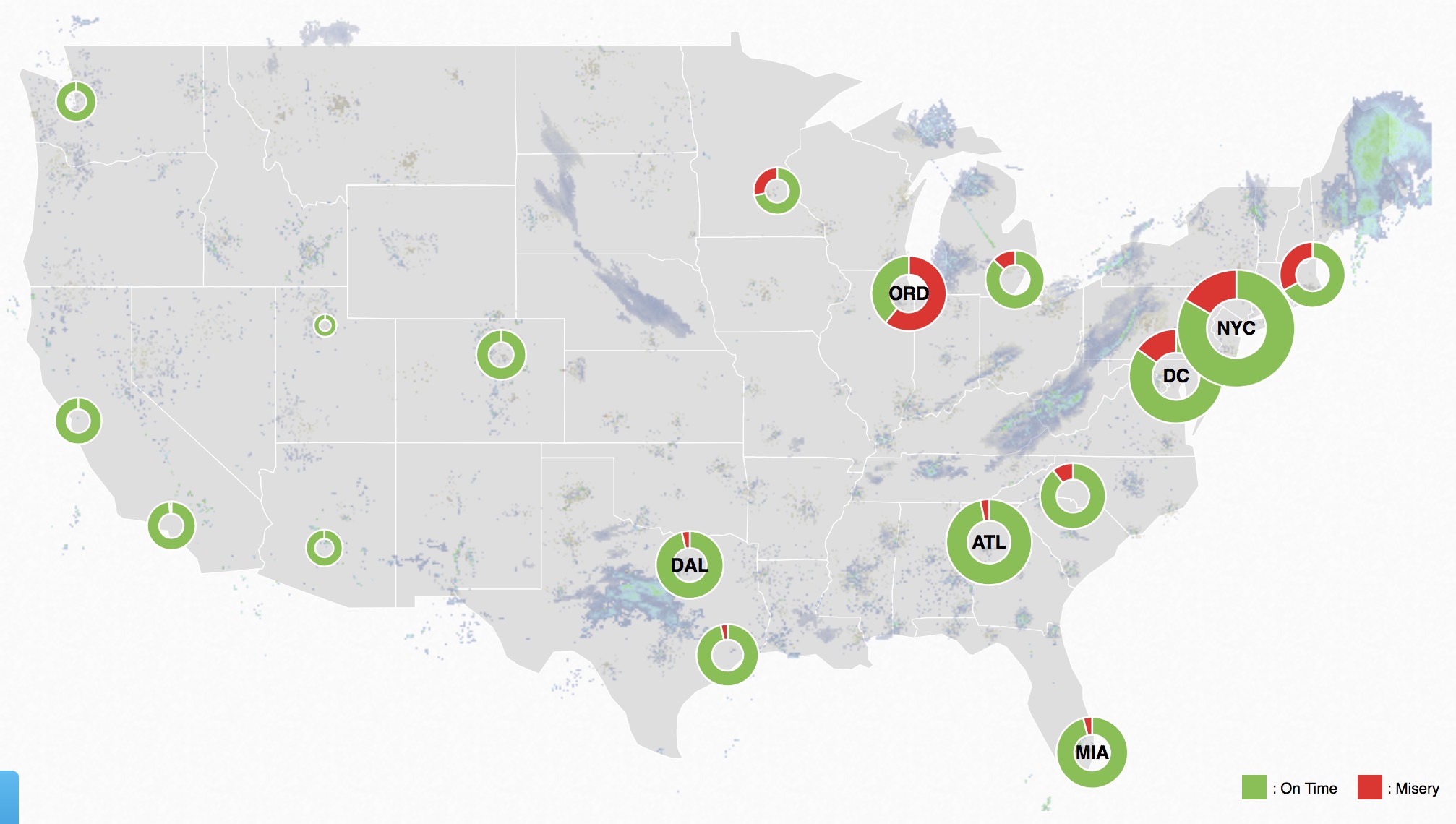 7:59 a.m. ET, January 30, 2019
It's cold in the Midwest this morning — and some parts are going to get colder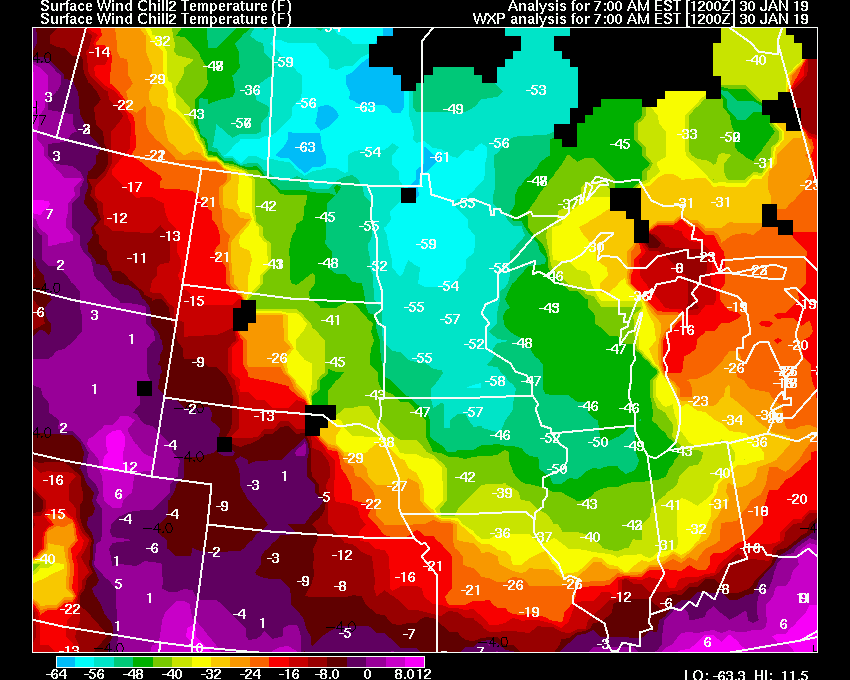 It's brutally cold this morning in many Midwest cities.
Minneapolis is currently -28 with a wind chill of -54
Chicago is -22 with a -49 wind chill.
Wind chills in Northern Minnesota are 60-65 below zero.
It's going to stay cold: Temperatures in both Minneapolis and Chicago will stay at around 15 below zero today.
And it's going to get colder: Chicago will see its coldest readings tonight, and will likely be very close to their coldest reading ever of 27 below zero. It will be even colder in parts of Northern Illinois, where the all time state record could be broken.
Several dozen records are likely to occur today and tonight over a wide area from International Falls, Minnesota, to Washington and New York City, where temperatures will drop to the single digits.
5:42 p.m. ET, January 29, 2019
5:12 p.m. ET, January 29, 2019
Blizzard warnings are in effect until 7 a.m. ET for parts of Michigan
The National Weather Service says blizzard warnings are in effect for parts of Michigan's Upper Peninsula until 7 a.m. ET Thursday.
Blizzard conditions are expected to develop late today  into this evening and continue into Wednesday. Additional snow accumulations will range from 5 inches near Trenary to as much as 14 inches along the M-28 corridor from Deerton through Munising to Shingleton and Seney. Winds gusting as high as 40 mph along the M-28 corridor from this evening through Wednesday will cause blizzard conditions in snow and blowing snow.
If you're in the area, note that while snow storms are often referred to as blizzards, that's not entirely accurate. Watch this video to understand which weather conditions must occur before a snow storm can technically be called a blizzard.