Mass shooting at Pittsburgh synagogue
9:24 a.m. ET, October 28, 2018
Suspect in synagogue shooting acted alone
Investigators believe the suspected Pittsburgh synagogue shooter, Robert Bowers, acted alone in Saturday's attack that killed 11 people, according to Robert Jones with the FBI.
Jones says there is no evidence to suggest Bowers had an accomplice.
Investigators recovered three Glock handguns and an AR-15 assault rifle at the Tree of Life synagogue, US Attorney Scott Brady said.
Bowers is accused of killing 11 people and injuring two in his shooting spree at the synagogue. In addition, four police officers responding to the scene were injured during the exchange of gunfire.
Jones praised as heroic the actions of police and SWAT officers who responded.
"Had he made it out of that facility, there is a strong possibility that additional violence would have occurred," he said.
Bowers is scheduled to make his first court appearance on Monday at 1:30 p.m.
9:08 a.m. ET, October 28, 2018
This revamped Pittsburgh Steelers logo sends message "Stronger than Hate"
A uniquely Pittsburgh symbol of solidarity and strength is making its way around the internet in the aftermath of Saturday's deadly attack at a Pittsburgh synagogue.
The image is a revamped Pittsburgh Steelers logo, with the Star of David substituting for the team's yellow star-like design. It's paired with the phrase "Stronger than Hate."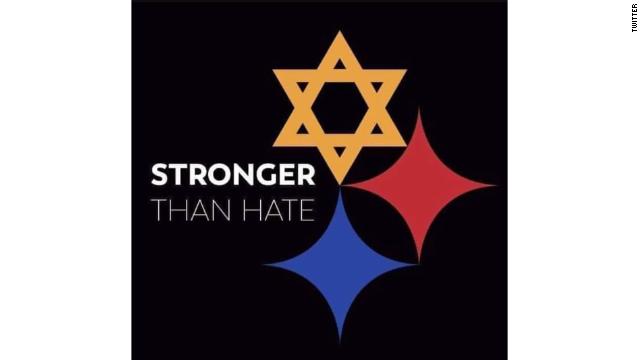 The Steelers host the Cleveland Browns at 1 p.m. ET today, and Steelers President Art Rooney II said that there will be a moment of silence and prayer prior to the game.
"Our hearts are heavy, but we must stand against anti-Semitism and hate crimes of any nature and come together to preserve our values and our community," Rooney said.
9:08 a.m. ET, October 28, 2018
Suspect told officers he wanted Jews to die
The Pittsburgh synagogue suspect told a SWAT officer that he wanted all Jews to die and that Jews were committing genocide to his people, according a police criminal complaint filed Saturday evening.
Robert Bowers faces 11 counts of criminal homicide, six counts of attempted homicide and six counts of aggravated assault.
He killed 11 people -- 3 women and 8 men -- before he was wounded in a shootout with SWAT officers and taken into custody, the complaint states.
8:20 a.m. ET, October 28, 2018
Rabbi lamented gun violence in blog post
Just 3 months ago, the Pittsburgh synagogue's rabbi lamented gun violence and failure to tackle it.
Tree of Life Rabbi Hazzan Jeffrey Myers wrote: "Despite continuous calls for sensible gun control and mental health care, our elected leaders in Washington knew that it would fade away in time," His blog post was entitled "We Deserve Better."
8:44 a.m. ET, October 28, 2018
Slain victims to be ID'd on Sunday
The names of the deceased victims in the synagogue shooting will be released at 9 a.m. ET Sunday, Pittsburgh Mayor Bill Peduto told CNN's Wolf Bitzer.
The mayor said there was "really strong insistence by the FBI that we identify everybody with 100% accuracy before giving out any information, for the families' sake."
Perduto also said security was being tightened at Islamic centers and any other group that "would feel insecure or would need additional security."
Eleven people were killed and six people were injured when a gunman entered the Tree of Life Synagogue in Pittsburgh, officials said.
The suspect was taken into custody.
7:32 p.m. ET, October 27, 2018
Vigil for shooting victims held near Tree of Life Synagogue
Crowds gathered at the intersection of Murray Avenue and Forbes Avenue in Pittsburgh for a vigil that was held at Sixth Presbyterian Church, located in the same neighborhood as Tree of Life synagogue.
6:34 p.m. ET, October 27, 2018
Trump: I'll go to Pittsburgh
President Trump told reporters that he will be going to Pittsburgh after today's shooting. But the President did not say when that trip will occur.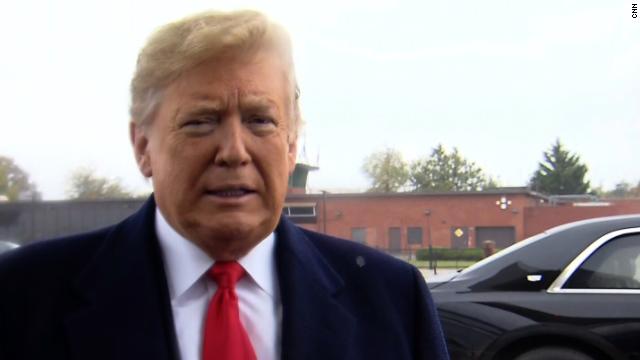 Trump described the gunman's thought process as "sick" and once again called for the death penalty.
Trump, while talking to reporters as he landed in Murphysboro, Illinois, also reflected on the pain he feels as President: "You feel differently when you're President. And you're in charge and you see something like this. The level of pain is incredible."
6:27 p.m. ET, October 27, 2018
What we know about Robert Bowers, the suspect in the synagogue shooting
Bowers, 46, often made anti-Semetic postings on social media.
On Gab.com, he claimed Jews were helping transport members of the migrant caravans. 
He also criticized President Trump for surrounding himself with Jewish people and said he didn't vote for Trump.
But law enforcement officers said they knew nothing of Bowers.
6:14 p.m. ET, October 27, 2018
Obama:  Make guns harder to get
Former President Barack Obama tweeted: "We grieve for the Americans murdered in Pittsburgh. All of us have to fight the rise of anti-Semitism and hateful rhetoric against those who look, love, or pray differently. And we have to stop making it so easy for those who want to harm the innocent to get their hands on a gun."