Mass shooting at Pittsburgh synagogue
1:42 p.m. ET, October 28, 2018
97-year-old victim "had a lot of years left"
Rose Mallinger may have been 97 years old, but she was still "spry" and "vibrant," said Tree of Life member Robin Friedman.
"She had a lot of years left," Friedman told CNN.
Mallinger was the oldest victim in the shooting at Tree of Life synagogue in Pittsburgh on Saturday. She had been a secretary at the synagogue's school office decades ago, and she regularly attended Tree of Life services with her daughter.
"She was just the sweetest. A lovely lady," Friedman said. "She had to know everybody there, (whether) old, young. Always a hello, always a hug, always a smile."
Friedman also said that Cecil and David Rosenthal were a constant presence at the Tree of Life synagogue.
"They lived and died there. They came to everything. Sports nights, annual meetings. They were always there in suit and tie," she said. "They won multiple awards and citations for their devotion, for their generosity of their time, for their volunteerism, anything you asked them to do."
1:23 p.m. ET, October 28, 2018
One victim was a beloved family doctor. Another was an ever-smiling greeter.
Jerry Rabinowitz, one of the victims of the shooting, was a family doctor in the community. He had treated Susan Blackman and her three kids, Blackman told CNN.
"I can't imagine the world without him," she said.
"He was like a member of the family, a member of the extended family," she said. "Dr. Jerry was just somebody who, when you see him, your eyes light up."
Suzan Hauptman said that she got to know Rabinowitz when he treated her father.
"He wasn't just my dad's doctor, he was there for me, he was there for my mom, my brother. He was our doctor too," she said. "He just did it all."
Cecil and David Rosenthal, brothers who died in the shooting, both always greeted people when they came in to worship, Hauptman said.
"They were like the ambassadors because they were always there," she said. "And they will always be there in our hearts."
Laura Berman, a cantor at nearby Temple Sinai, said that she grew up in Pittsburgh but then moved away. When she moved back to Pittsburgh, Cecil was a reminder that she was home.
"He was always just a sweet, sweet gentle soul who was friendly to everybody, helpful to everybody," she said.
Cecil, with an ever-smiling face, was the kindest soul you would ever meet, Berman said.
"He was one of those embodiments of the community. Just open, warm, smiling, wanting to help, and just in his beautiful simplicity, that's who he was," she said.
12:47 p.m. ET, October 28, 2018
People at Jerusalem's Western Wall react to synagogue shooting
Passers-by at the Western Wall in Jerusalem reacted Sunday to the Pittsburgh synagogue shooting with sadness and support for the victims.
Aviv Herzlich, tour guide: "I was shocked to hear the news. I always had this illusion that Jews in America can feel safe. Actually we were jealous in Israel to see the successful and safe communities in the States and now it seems that all over the world Jews are not so safe, apparently also in America.
Israel Rosenberg: "We are all one nation and what makes us different is that we are really one spirit together. We are one soul so when someone gets hurt in America, everyone in Israel feels it into their soul because we are one connected soul."
Yafit Dana, from Tel Aviv: "It was very unfortunate to hear the news, it was very sad to hear that you have anti-Semitism still in the US these days."
10:35 a.m. ET, October 28, 2018
Pittsburgh Mayor calls to remove guns from people with hatred
Pittsburgh Mayor Bill Peduto was asked if, in the wake of the Pittsburgh synagogue shooting, it was time to talk about removing guns from American society.
"We're dealing with irrational behavior. There is no way that you can rationalize a person walking into a synagogue during services and taking the lives of 11 people," he said.
"We shouldn't be trying to find ways to minimize the dangers that occur from irrational behavior. We should be working to eliminate irrational behavior and the empowerment of people who would seek to cause this type of carnage from continuing.
"I think the approach that we need to be looking at is how we take the guns, which is the common denominator of every mass shooting in America, out of the hands of those that are looking to express hatred through murder."
Watch his comments below:
10:14 a.m. ET, October 28, 2018
Why the suspect is charged with hate crimes and not domestic terrorism
The Pittsburgh synagogue shooting is being prosecuted as a hate crime, but not as domestic terrorism.
US Attorney Scott Brady explained why: "The distinction between a hate crime and domestic terrorism is a hate crime is where an individual is animated by a hatred or certain animus toward a person of a certain ethnicity or religious faith.
"It becomes domestic terrorism where there's an ideology that that person is then also trying to propagate through violence. We continue to see where that line is. But for now, at this place in our investigation, we're treating it as a hate crime and charging it as such."
10:03 a.m. ET, October 28, 2018
The victims of the shooting include a 97-year-old woman and couple in their 80s
Karl Williams, chief medical examiner for Allegheny County, provided the ages, names and locations of the 11 people killed in Saturday's shooting at a Pittsburgh synagogue.
The victims were between 54 and 97 years old and included a pair of brothers and a married couple.
Joyce Fienberg, 75, Oakland neighborhood, Pittsburgh
Richard Gottfried, 65, Ross Township
Rose Mallinger, 97, Squirrel Hill neighborhood, Pittsburgh
Jerry Rabinowitz, 66, Edgewood Borough
Cecil Rosenthal, 59, and David Rosenthal, 54, brothers, Squirrel Hill
Bernice and Sylvan Simon, 84 and 86, married, Wilkinsburg
Daniel Stein, 71, Squirrel Hill, Pittsburgh
Melvin Wax, 88, Squirrel Hill, City of Pittsburgh
Irving Younger, 69, Mount Washington neighborhood, Pittsburgh
9:24 a.m. ET, October 28, 2018
Suspect in synagogue shooting acted alone
Investigators believe the suspected Pittsburgh synagogue shooter, Robert Bowers, acted alone in Saturday's attack that killed 11 people, according to Robert Jones with the FBI.
Jones says there is no evidence to suggest Bowers had an accomplice.
Investigators recovered three Glock handguns and an AR-15 assault rifle at the Tree of Life synagogue, US Attorney Scott Brady said.
Bowers is accused of killing 11 people and injuring two in his shooting spree at the synagogue. In addition, four police officers responding to the scene were injured during the exchange of gunfire.
Jones praised as heroic the actions of police and SWAT officers who responded.
"Had he made it out of that facility, there is a strong possibility that additional violence would have occurred," he said.
Bowers is scheduled to make his first court appearance on Monday at 1:30 p.m.
9:08 a.m. ET, October 28, 2018
This revamped Pittsburgh Steelers logo sends message "Stronger than Hate"
A uniquely Pittsburgh symbol of solidarity and strength is making its way around the internet in the aftermath of Saturday's deadly attack at a Pittsburgh synagogue.
The image is a revamped Pittsburgh Steelers logo, with the Star of David substituting for the team's yellow star-like design. It's paired with the phrase "Stronger than Hate."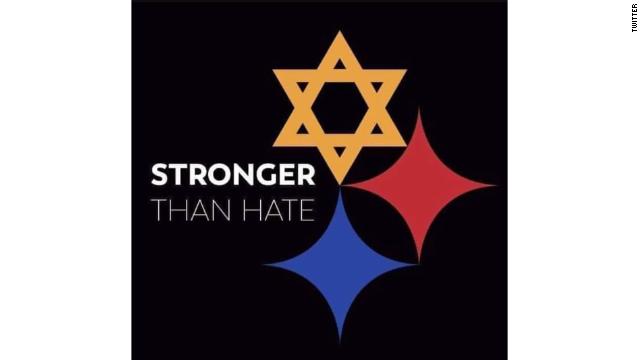 The Steelers host the Cleveland Browns at 1 p.m. ET today, and Steelers President Art Rooney II said that there will be a moment of silence and prayer prior to the game.
"Our hearts are heavy, but we must stand against anti-Semitism and hate crimes of any nature and come together to preserve our values and our community," Rooney said.
9:08 a.m. ET, October 28, 2018
Suspect told officers he wanted Jews to die
The Pittsburgh synagogue suspect told a SWAT officer that he wanted all Jews to die and that Jews were committing genocide to his people, according a police criminal complaint filed Saturday evening.
Robert Bowers faces 11 counts of criminal homicide, six counts of attempted homicide and six counts of aggravated assault.
He killed 11 people -- 3 women and 8 men -- before he was wounded in a shootout with SWAT officers and taken into custody, the complaint states.