Mass shooting at Pittsburgh synagogue
2:25 p.m. ET, October 27, 2018
Pittsburgh security official says it's a "horrific crime scene"
There are six injuries and four of them are officers at the Tree of Life synagogue, according to Pittsburgh Public Safety Director Wendell Hissrich.
"It's a horrific crime scene," Hissrich said, at times choking up. "It's one of the worst I've ever seen."
The synagogue shooting is being considered as a hate crime and so will be under federal investigation, he said.
There appears to be no active threat to the community at this time, he said.
1:31 p.m. ET, October 27, 2018
Netanyahu, Jewish leaders react to the shooting
Jewish leaders in the Pittsburgh, American and international community mourned the shooting at Tree of Life in Pittsburgh.
Israeli Prime Minister Benjamin Netanyahu said he was "heartbroken and appalled" by the shooting at the Tree of Life synagogue in Pittsburgh.
"The entire people of Israel grieve with the families of the dead," Netanyahu said in a video statement released. "We stand together with the Jewish community of Pittsburgh. We stand together with the American people in the face of this horrendous anti-Semitic brutality and we all pray for the speedy recovery of the wounded."
"Now I'm just sad," said Jeff Finkelstein, CEO of the Jewish Federation of Greater Pittsburgh.
"I don't know what to tell you. My heart goes out to all these families. This should not be happening. Period. It should not be happening in a synagogue. It should not be happening in our neighborhood here in Squirrel Hill."
Anti-Defamation League CEO Jonathan Greenblatt also mourned the shooting in a tweet.
"We are devastated. Jews targeted on Shabbat morning at synagogue, a holy place of worship, is unconscionable. Our hearts break for the victims, their families, and the entire Jewish community."
1:17 p.m. ET, October 27, 2018
Robert Bowers identified as suspect in Pittsburgh synagogue shooting
Law enforcement officials told CNN that Robert Bowers is the suspect in the Pittsburgh synagogue shooting. One official says Bowers is 46 years old.
1:15 p.m. ET, October 27, 2018
Past synagogue president said there was no police presence today
Michael Eisenberg, the immediate past president of Tree of Life Congregation Synagogue, told CNN affiliate WPXI that on the High Holidays, there is a police presence. But not on this Saturday.
"On a day like today," he said, "the door is open. It's a religious service you could walk in and out."
There are three simultaneous Shabbat services in the main part of the building, he said. Nearly 100 people attend the three services, which began shortly before 10 a.m.
He said he was heading to the synagogue when he learned of the shootings. He lives about a block away.
"There were police cars everywhere," he said. "There were guns drawn, rifles. It was surreal."
As he approached the synagogue, he heard shouts from police officers: "Get out of here!"
"You knew it was not a drill," he said.
Eisenberg said the synagogue had not received threats in the past.
"I will tell you, I've always had a very watchful eye because of what's going on in the current climate," he said. "You see these bombs being mailed across the country. And our security was really just that, nobody has ever tried. It was just the fact that nobody ever tried to do anything. Like most religious institutions, we have an open door."
1:03 p.m. ET, October 27, 2018
Trump says shooting would be different if synagogue had an armed guard
Speaking to reporters, President Donald Trump said that the shooting had "little to do" with gun laws and that the shooter could have been stopped if the synagogue had armed protection.
"This has little to do with (gun laws) if you take a look," Trump said when asked about gun rights. "If they'd had protection inside, the result would have been a lot better."
"Maybe it could have been a very much different situation," he added.
He suggested that holy places might want to consider armed protection.
"They had a maniac walk in and they didn't have any protection and that is just so sad to see," he said. "The results could have been much better."
He also said that people like this should receive the death penalty and called for its heightened use.
"I think they should very much bring the death penalty into vogue," he said.
12:51 p.m. ET, October 27, 2018
Gunman made anti-Jewish comments during shooting
The shooter made anti-Jewish comments during the incident, a law enforcement official told CNN.
The shooting took place on the same day as Saturday Shabbat services. Saturday morning services typically begin at 9:45 a.m., according to the immediate past President of the synagogue, Michael Eisenberg.
At the time of the shooting, three different congregations were holding services at the Tree of Life facility, according to Eisenberg.
Tree of Life*Or L'Simcha is a traditional, progressive and egalitarian congregation based in Pittsburgh's Squirrel Hill neighborhood, according to the synagogue's website.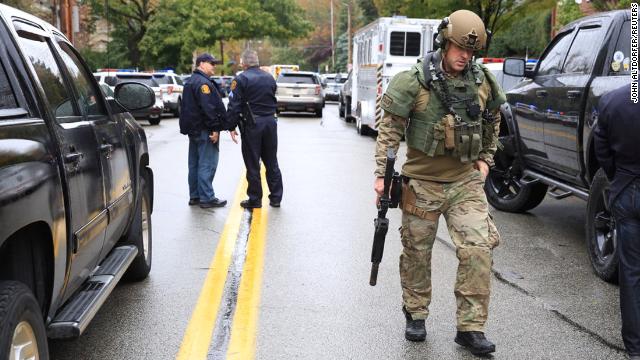 12:24 p.m. ET, October 27, 2018
Pittsburgh Mayor tells residents near synagogue to stay in their homes, area is not secure
Pittsburgh Mayor Bill Peduto issued a tweet on his verified Twitter account telling all residents near the Tree of Life Synagogue to stay in their homes.
"Area is NOT secure. All residents required to stay inside their homes until further notice," Peduto said via Twitter.
Peduto also confirmed earlier information that the shooter is in custody and that three law enforcement officers have been shot.
12:29 p.m. ET, October 27, 2018
President tweets on shooting: "God Bless All!"
President Donald Trump tweeted that he was watching the events of the mass shooting at a Pittsburgh synagogue on Saturday morning.
12:21 p.m. ET, October 27, 2018
At least 12 people shot in synagogue
At least four people have been killed in the shooting inside Pittsburgh's Tree of Life Synagogue Saturday morning, Curt Conrad, the chief of staff to Pittsburgh City Councilman Corey O'Connor, told CNN.
The latest report is that 12 have been shot at the Pittsburgh synagogue, according to a law enforcement official.
The shooter has surrendered to Pittsburgh Police and is currently being transported to Mercy Hospital, Conrad said.