Mass shooting at Pittsburgh synagogue
3:40 p.m. ET, October 27, 2018
Trump says attack was act of anti-Semitism
The shooting at a Pittsburgh synagogue was an act of anti-Semitism, President Donald Trump said to start a speech at the Future Farmers of America event in Indianapolis.
"This was an anti-Semitic act. You wouldn't think this would be possible in this day and age. But we just don't seem to learn from the past," he said.
He continued: "Anti-Semitism and the widespread persecution of Jews represents one of the ugliest and darkest features of human history. The vile hate-filled poison of anti-Semitism must be condemned and confronted everywhere and anywhere it appears. There must be no tolerance for anti-Semitism in America or for any form of religious or racial hatred or prejudice."
Trump called for an end to divisions in the country, but argued that moving past divisions doesn't mean he and others can't "fight hard" and "say what's on our mind."
"Today with one unified voice we condemn the historic evil of anti-Semitism and every other form of evil, and unfortunately, evil comes in many forms," Trump said.
"We must all rise above the hate, move past our divisions and embrace our common destiny as Americans, and it doesn't mean we can't fight hard and be strong and say what's on our mind, but we also have to remember those elements, we have to remember the elements of love and dignity and respect and so many others," Trump said.
3:22 p.m. ET, October 27, 2018
Ten confirmed fatalities in Pittsburgh synagogue shooting
Ten people were killed in the shooting inside Pittsburgh's Tree of Life Synagogue on Saturday morning, Pittsburgh City Councilman Corey O'Connor's Chief of Staff Curt Conrad told CNN. 
Five victims are being treated at two Pittsburgh hospitals, said Paul Wood, a spokesman for University of Pittsburgh Medical Center. Four victims are being treated at UMPC Presbyterian and one victim is being treated at UMPC Mercy.
One person was treated at Presbyterian and was released.
3:11 p.m. ET, October 27, 2018
Suspect has an active license to carry a firearm
Robert Bowers, the suspect in the Pittsburgh synagogue shooting, has an active license to carry a firearm, according to a law enforcement official familiar with the investigation.
Bowers has made at least six known firearm purchases since 1996, the source said.
2:42 p.m. ET, October 27, 2018
This is a photo of the suspect Robert Bowers
Below is a photo of suspect Robert Bowers, according to a law enforcement official familiar with the investigation.
Bowers, 46, made anti-Semitic comments during the synagogue shooting, a law enforcement official told CNN. He was taken into custody, police said.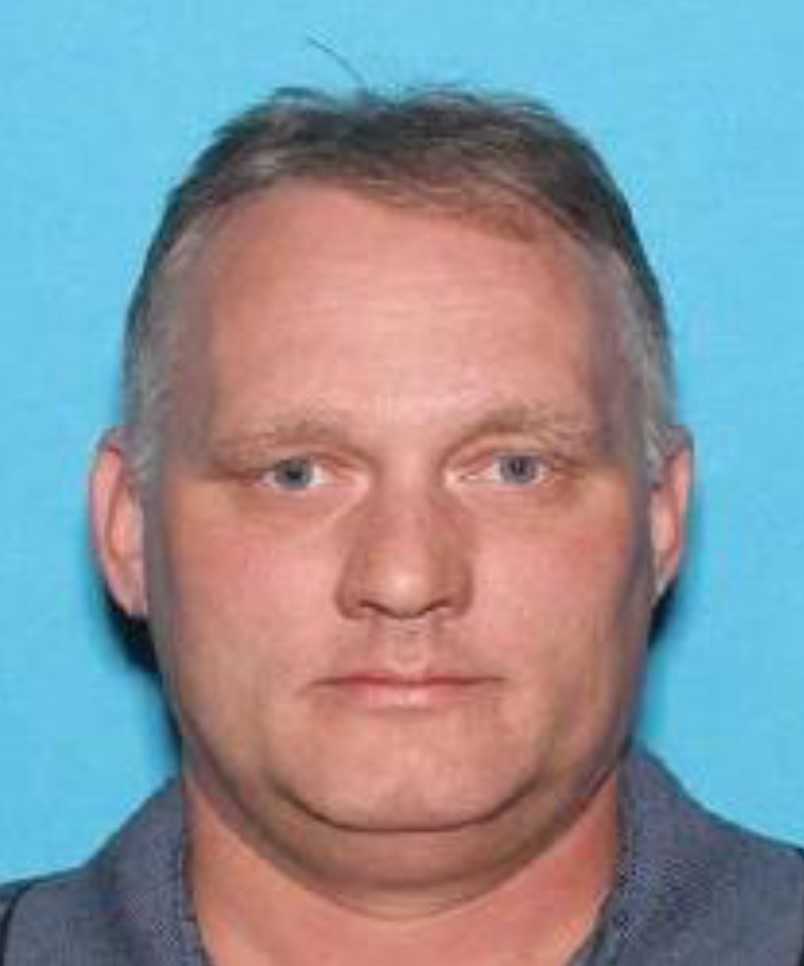 2:39 p.m. ET, October 27, 2018
Trump considering cancelling Illinois rally
President Trump told pool reporters off camera that he and his staff are exploring their options about tonight's rally and are considering cancelling the event at Southern Illinois Airport, outside Carbondale.
The Future Farmers of America event in Indianapolis is still on.
Trump said the shooting at a synagogue in Pittsburgh "looks definitely like it's an anti-Semitic crime."
"We're learning a lot about it. It looks definitely like it's an anti-Semitic crime. And that is something you wouldn't believe could still be going on," Trump said. "It would seem to be an anti-Semitic crime."
Trump has spoken to Pennsylvania Governor Tom Wolf and Pittsburgh Mayor Bill Peduto and has pledged his support and federal help. He also said he has talked with Ivanka Trump and Jared Kushner.
2:36 p.m. ET, October 27, 2018
On social media, suspect had posted "I'm going in" and frequently targeted Jews
A federal law enforcement official tells CNN that Robert Bowers' social media postings are a focus of their investigation into the mass shooting at the Tree of Life Synagogue in Pittsburgh.
Shortly before the shooting, shooting suspect Robert Bowers posted on his Gab account that he "can't sit by and watch my people get slaughtered. Screw your optics, I'm going in."
In that same posting, Bowers wrote "HIAS likes to bring in invaders that kill our people." HIAS is a Jewish refugee advocacy group that held a "National Refugee Shabbat" last weekend. 
Bowers' Gab account has frequent anti-Semitic postings. He has reposted a number of posts on his social media accounts that tell Jews to get out, or leave.
17 days before the attack, Bowers posted a web page from HIAS that listed a number of Shabbats that were being held on behalf of refugees. On that list was a Shabbat address that is less than a mile away from the Tree of Life Synagogue.  
The CEO of HIAS told CNN that Bowers is not known to the group.
Gab is a social media platform that advocates for free speech and puts nearly no restrictions on content.
In a statement posted online, Gab said they "unequivocally disavows and condemns all acts of terrorism and violence...Gab's mission is very simple: to defend free expression and individual liberty online for all people."
After they were alerted to the suspect's profile on their platform, they say they backed up the data, suspended the account, and contacted the FBI.
A law enforcement source confirmed to CNN that investigators believe the social media postings belong to Bowers and that the language on his account matches the suspected motivation behind the shootings.
2:29 p.m. ET, October 27, 2018
Squirrel Hill neighborhood is the local home for Jewish life
Squirrel Hill, the neighborhood in Pittsburgh that houses the Tree of Life synagogue, has historically been the center of Jewish life in the greater Pittsburgh area.
It remains home to 26% of all Pittsburgh-area Jewish households, according to Brandeis University's 2017 Greater Pittsburgh Jewish Community Study. About 15,000 people live in the community.
The survey found that Squirrel Hill residents attend Jewish programs more frequently than residents of other neighborhoods.
"Squirrel Hill remains both the geographic and institutional center of the Greater Pittsburgh Jewish community, and the Jewish community is growing there and in adjacent neighborhoods," the survey said.
"The density of the Jewish population and its institutions in Squirrel Hill make it an attractive neighborhood for Jewish households looking to be especially active in Jewish life."
Chuck Diamond, former rabbi at Tree of Life Synagogue, grew up and still lives in Squirrel Hill.
"It's a wonderful Jewish community," he said. "I think we all get together across the board, whether it's Orthodox or Hassidic or Conservative or Reform and we have wonderful Jewish communal organizations … so it's very vibrant and very active."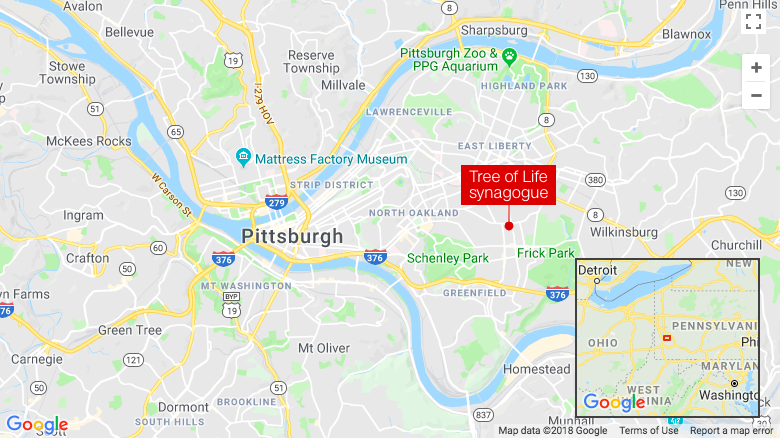 2:13 p.m. ET, October 27, 2018
VP Mike Pence says shooting is an assault on freedom of religion
Vice President Mike Pence said that the shooting was "evil" and called it an attack on the first amendment's freedom of religion.
"What happened in Pittsburgh today was not just criminal. It was evil. An attack on innocent Americans and an assault on our freedom of religion," he said.
"There is no place in America for violence or anti-Semitism and this evil must end."
1:53 p.m. ET, October 27, 2018
Pennsylvania candidates have canceled campaign events
Pennsylvania Democratic Sen. Bob Casey and Gov. Tom Wolf canceled a series of campaign events with other state Democratic candidates Saturday in light of the shooting at a Pittsburgh synagogue on Saturday morning.
The four rallies in Western Pennsylvania, which were to focus on "what's at stake in this election and the importance of getting out to vote on November 6th," were called off with no notice on rescheduling, according to statements from the Casey campaign.
Wolf, a one-term Democrat, leads Republican candidate Scott Wagner, a steadfast supporter of President Donald Trump, by about 17 points in recent polls.
Wagner said his campaign would suspend its activities Saturday in a tweet condemning the attack and praising law enforcement.