Mass shooting at Pittsburgh synagogue
2:39 p.m. ET, October 27, 2018
Trump considering cancelling Illinois rally
President Trump told pool reporters off camera that he and his staff are exploring their options about tonight's rally and are considering cancelling the event at Southern Illinois Airport, outside Carbondale.
The Future Farmers of America event in Indianapolis is still on.
Trump said the shooting at a synagogue in Pittsburgh "looks definitely like it's an anti-Semitic crime."
"We're learning a lot about it. It looks definitely like it's an anti-Semitic crime. And that is something you wouldn't believe could still be going on," Trump said. "It would seem to be an anti-Semitic crime."
Trump has spoken to Pennsylvania Governor Tom Wolf and Pittsburgh Mayor Bill Peduto and has pledged his support and federal help. He also said he has talked with Ivanka Trump and Jared Kushner.
2:36 p.m. ET, October 27, 2018
On social media, suspect had posted "I'm going in" and frequently targeted Jews
A federal law enforcement official tells CNN that Robert Bowers' social media postings are a focus of their investigation into the mass shooting at the Tree of Life Synagogue in Pittsburgh.
Shortly before the shooting, shooting suspect Robert Bowers posted on his Gab account that he "can't sit by and watch my people get slaughtered. Screw your optics, I'm going in."
In that same posting, Bowers wrote "HIAS likes to bring in invaders that kill our people." HIAS is a Jewish refugee advocacy group that held a "National Refugee Shabbat" last weekend. 
Bowers' Gab account has frequent anti-Semitic postings. He has reposted a number of posts on his social media accounts that tell Jews to get out, or leave.
17 days before the attack, Bowers posted a web page from HIAS that listed a number of Shabbats that were being held on behalf of refugees. On that list was a Shabbat address that is less than a mile away from the Tree of Life Synagogue.  
The CEO of HIAS told CNN that Bowers is not known to the group.
Gab is a social media platform that advocates for free speech and puts nearly no restrictions on content.
In a statement posted online, Gab said they "unequivocally disavows and condemns all acts of terrorism and violence...Gab's mission is very simple: to defend free expression and individual liberty online for all people."
After they were alerted to the suspect's profile on their platform, they say they backed up the data, suspended the account, and contacted the FBI.
A law enforcement source confirmed to CNN that investigators believe the social media postings belong to Bowers and that the language on his account matches the suspected motivation behind the shootings.
2:29 p.m. ET, October 27, 2018
Squirrel Hill neighborhood is the local home for Jewish life
Squirrel Hill, the neighborhood in Pittsburgh that houses the Tree of Life synagogue, has historically been the center of Jewish life in the greater Pittsburgh area.
It remains home to 26% of all Pittsburgh-area Jewish households, according to Brandeis University's 2017 Greater Pittsburgh Jewish Community Study. About 15,000 people live in the community.
The survey found that Squirrel Hill residents attend Jewish programs more frequently than residents of other neighborhoods.
"Squirrel Hill remains both the geographic and institutional center of the Greater Pittsburgh Jewish community, and the Jewish community is growing there and in adjacent neighborhoods," the survey said.
"The density of the Jewish population and its institutions in Squirrel Hill make it an attractive neighborhood for Jewish households looking to be especially active in Jewish life."
Chuck Diamond, former rabbi at Tree of Life Synagogue, grew up and still lives in Squirrel Hill.
"It's a wonderful Jewish community," he said. "I think we all get together across the board, whether it's Orthodox or Hassidic or Conservative or Reform and we have wonderful Jewish communal organizations … so it's very vibrant and very active."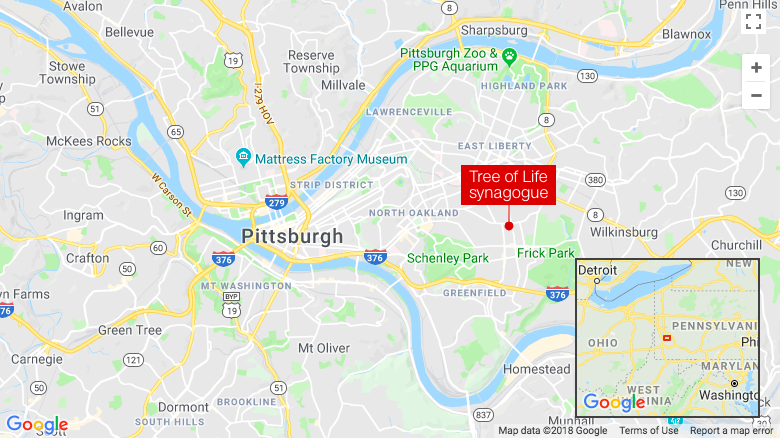 2:13 p.m. ET, October 27, 2018
VP Mike Pence says shooting is an assault on freedom of religion
Vice President Mike Pence said that the shooting was "evil" and called it an attack on the first amendment's freedom of religion.
"What happened in Pittsburgh today was not just criminal. It was evil. An attack on innocent Americans and an assault on our freedom of religion," he said.
"There is no place in America for violence or anti-Semitism and this evil must end."
1:53 p.m. ET, October 27, 2018
Pennsylvania candidates have canceled campaign events
Pennsylvania Democratic Sen. Bob Casey and Gov. Tom Wolf canceled a series of campaign events with other state Democratic candidates Saturday in light of the shooting at a Pittsburgh synagogue on Saturday morning.
The four rallies in Western Pennsylvania, which were to focus on "what's at stake in this election and the importance of getting out to vote on November 6th," were called off with no notice on rescheduling, according to statements from the Casey campaign.
Wolf, a one-term Democrat, leads Republican candidate Scott Wagner, a steadfast supporter of President Donald Trump, by about 17 points in recent polls.
Wagner said his campaign would suspend its activities Saturday in a tweet condemning the attack and praising law enforcement.
1:47 p.m. ET, October 27, 2018
Ivanka Trump calls to unite against "hatred and evil"
Ivanka Trump, the president's daughter who converted to Judaism, tweeted her reaction to the shooting.
1:45 p.m. ET, October 27, 2018
Rabbi said survival partly depended on when guests arrived
Chuck Diamond, a former rabbi at Tree of Life Synagogue, said survival may have come down to those who arrived on time for services and those who didn't.
"Jews come late for services, so for a lot of people that's probably a good thing today," he said.
Services typically begin at about 9:45 a.m. Diamond got a call about the shooting from a congregation member at 10 a.m.
"I'm concerned about the people who came on time," Diamond said. "Most of them were older. I just talked to one of their sons who doesn't know where his mother is. It's a concern."
Diamond said he spoke to a man who was on his way to services with his son but got caught in heavy traffic.
"When he got here, he got out of the car and the police said, 'Where are you going?' He said, 'I'm just going to services,' and he said, 'No you're not.'"
2:25 p.m. ET, October 27, 2018
Pittsburgh security official says it's a "horrific crime scene"
There are six injuries and four of them are officers at the Tree of Life synagogue, according to Pittsburgh Public Safety Director Wendell Hissrich.
"It's a horrific crime scene," Hissrich said, at times choking up. "It's one of the worst I've ever seen."
The synagogue shooting is being considered as a hate crime and so will be under federal investigation, he said.
There appears to be no active threat to the community at this time, he said.
1:31 p.m. ET, October 27, 2018
Netanyahu, Jewish leaders react to the shooting
Jewish leaders in the Pittsburgh, American and international community mourned the shooting at Tree of Life in Pittsburgh.
Israeli Prime Minister Benjamin Netanyahu said he was "heartbroken and appalled" by the shooting at the Tree of Life synagogue in Pittsburgh.
"The entire people of Israel grieve with the families of the dead," Netanyahu said in a video statement released. "We stand together with the Jewish community of Pittsburgh. We stand together with the American people in the face of this horrendous anti-Semitic brutality and we all pray for the speedy recovery of the wounded."
"Now I'm just sad," said Jeff Finkelstein, CEO of the Jewish Federation of Greater Pittsburgh.
"I don't know what to tell you. My heart goes out to all these families. This should not be happening. Period. It should not be happening in a synagogue. It should not be happening in our neighborhood here in Squirrel Hill."
Anti-Defamation League CEO Jonathan Greenblatt also mourned the shooting in a tweet.
"We are devastated. Jews targeted on Shabbat morning at synagogue, a holy place of worship, is unconscionable. Our hearts break for the victims, their families, and the entire Jewish community."