Suspect arrested in Philadelphia shooting standoff
4:51 a.m. ET, August 15, 2019
Our live coverage of the Philadelphia shooting standoff has ended, but you can read more about it here.
2:21 a.m. ET, August 15, 2019
See the standoff and surrender in photos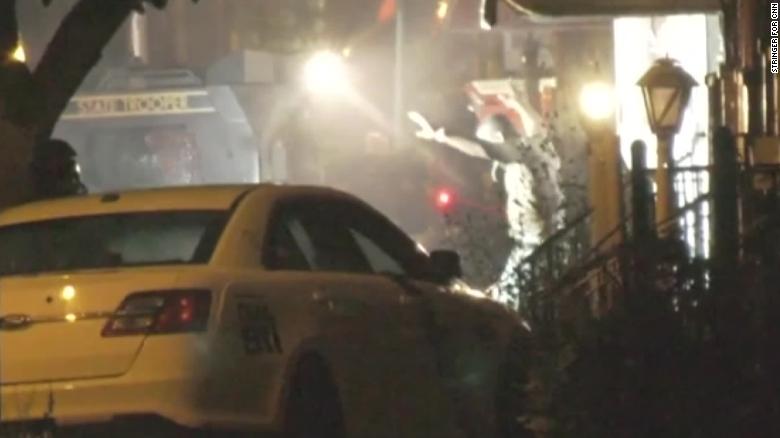 The suspect has been taken into police custody after an hourslong standoff with the police in Philadelphia.
Before he surrendered and came out, police surrounded the row house and cordoned off the nearby streets.
Onlookers gathered as police tried to get the suspect to communicate. Six officers were injured, but they have been released from the hospital and are in "good spirits," said the Philadelphia mayor.
SWAT and police teams were deployed. The SWAT teams helped evacuate two police officers and four women who had been trapped inside the home.
12:14 a.m. ET, August 15, 2019
Police say the suspect is in custody
Philadelphia Police Sgt. Eric Gripp just tweeted that the suspect is in custody and SWAT teams are clearing the house.
10:59 p.m. ET, August 14, 2019
Suspect spoke to police by phone
Police say they've spoken with the armed man who's been barricaded inside a Philadelphia row house.
After hours of ignoring efforts by police to communicate, the man's attorney and Commissioner Richard Ross got on a call with him to try to assure him police were not going to harm him.
"We don't know if he's injured. In my conversation with him, it doesn't appear that he is," Ross told reporters. "But I'm not sure."
10:44 p.m. ET, August 14, 2019
Philadelphia mayor says more gun control is needed to protect police officers
Philadelphia Mayor Jim Kenney called for more gun control, saying the city's police officers need help keeping weapons out of the hands of criminals.
"It's just something that, we need to do something about it," Kenney said at a second press conference Wednesday evening. "And if the state and federal government don't want to stand up to the NRA and some other folks, then let us, let us police ourselves. But they preempt us on all kinds of gun control legislation."
"Our officers deserve to be protected and don't deserve to be shot at by a guy for hours with an unlimited supply of weapons and an unlimited supply of bullets," Kenney said.
"It's disgusting and we got to do something about it and we need to do something about it quickly," he said.
10:18 p.m. ET, August 14, 2019
All six officers who were shot are out of the hospital
All of the Philadelphia police officers who were shot during Wednesday's confrontation have now been released from area hospitals, Sgt. Eric Gripp said on Twitter.
"One Officer is being admitted for injuries sustained in a vehicle crash related to the incident," he wrote. "Situation remains active and ongoing."
10:15 p.m. ET, August 14, 2019
Suspect still alive and barricaded inside
The suspect is still alive and inside the building, Philadelphia Police Commissioner Richard Ross said.
Ross said the suspect does not appear to be injured, but he can't say for sure.
The suspect had been firing shots all evening, but "he hasn't done so in a while."
"We're optimistic that that means he's starting to understand that, you know, there's some benefit to him coming out and surrendering," Ross said.