Remembering Nipsey Hussle
5:50 p.m. ET, April 11, 2019
Looking back at Nipsey Hussle's life and career
A memorial service was held today for rapper Nipsey Hussle in Los Angeles, California.
Singers Stevie Wonder, Jhené Aiko, Anthony Hamilton and Marsha Ambrosius performed musical tributes for the late rapper. His girlfriend, actress Lauren London, also took the stage and shared a text she wrote to him.
The Eritrean-American rhymesmith was beloved not only for his Grammy-nominated music — he dropped a dozen or more mixtapes before releasing his studio debut, "Victory Lap," to acclaim last year -- but also for his activism and entrepreneurship.
We're wrapping up our live coverage, but if you're looking for more on Nipsey's life and career, you can...
5:30 p.m. ET, April 11, 2019
There will be 25.5-mile funeral procession after the memorial service
A 25.5-mile funeral procession for rapper Nipsey Hussle will take place after his memorial service at the Staples Center, according to the Los Angeles Department of Transportation.
The funeral procession will travel through Inglewood, South Los Angeles and Watts, the department said in a statement.
It appears that the funeral procession will also pass by Nipsey's business, The Marathon Clothing store — the scene of the March 31 shooting, according a map posted on the Staples Center's website.
You can watch Nipsey's funeral procession here.
5:21 p.m. ET, April 11, 2019
Nipsey Hussle "changed this city forever," pastor says
Pastor Shep Crawford reminded those assembled that God understood their pain.
"He too had a son who he lost at 33 and a half years," Crawford said, referencing Jesus.
The minister and gospel musician spoke about how he didn't have to eulogize rapper Nipsey Hussle because "he lived a life where he eulogized himself."
"There's no doubt in my mind that he was anointed by God," Crawford said of the rapper.
The minister went on to say that God crammed a great deal into Hussle's life knowing that he didn't have much time.
"Nipsey lived in his 33 years what most of us won't do if we had a 1,000 years," Crawford said.
Crawford encouraged others to do their part to continue Nipsey's legacy.
"He's just now turning this marathon race into a relay race," Crawford said. "Meaning that if he has let go of the baton, you have to pick it up and run till you can't run no more.
"This man has changed this city forever," he said. "And now we in it together."
4:53 p.m. ET, April 11, 2019
Stevie Wonder calls for stronger gun control
Stevie Wonder hopes the death of Nipsey Hussle causes people to say enough with gun violence.
The legendary singer spoke of meeting Hussle and his girlfriend Lauren London. Wonder said he mourned the loss of "such a great man."
"It is a heartbreak to again lose a member of our family," he said. "It is a heartbreak because it is so unnecessary."
Wonder, who also performed last year at Aretha Franklin's funeral, said he was praying that this country's leaders could be moved to pass better gun control laws.
Nipsey was shot and killed near his store in Los Angeles.
"It's unacceptable," Wonder said. "It's almost as if the world is becoming blind."
The singer performed a bit of his hit "Rocket Love," which he said he was told was one of Nipsey's favorites.
He also sang the Eric Clapton hit "Tears in Heaven," ending it with "We love you Nipsey. God bless you."
4:44 p.m. ET, April 11, 2019
Rapper YG: "He was like a real big brother to me"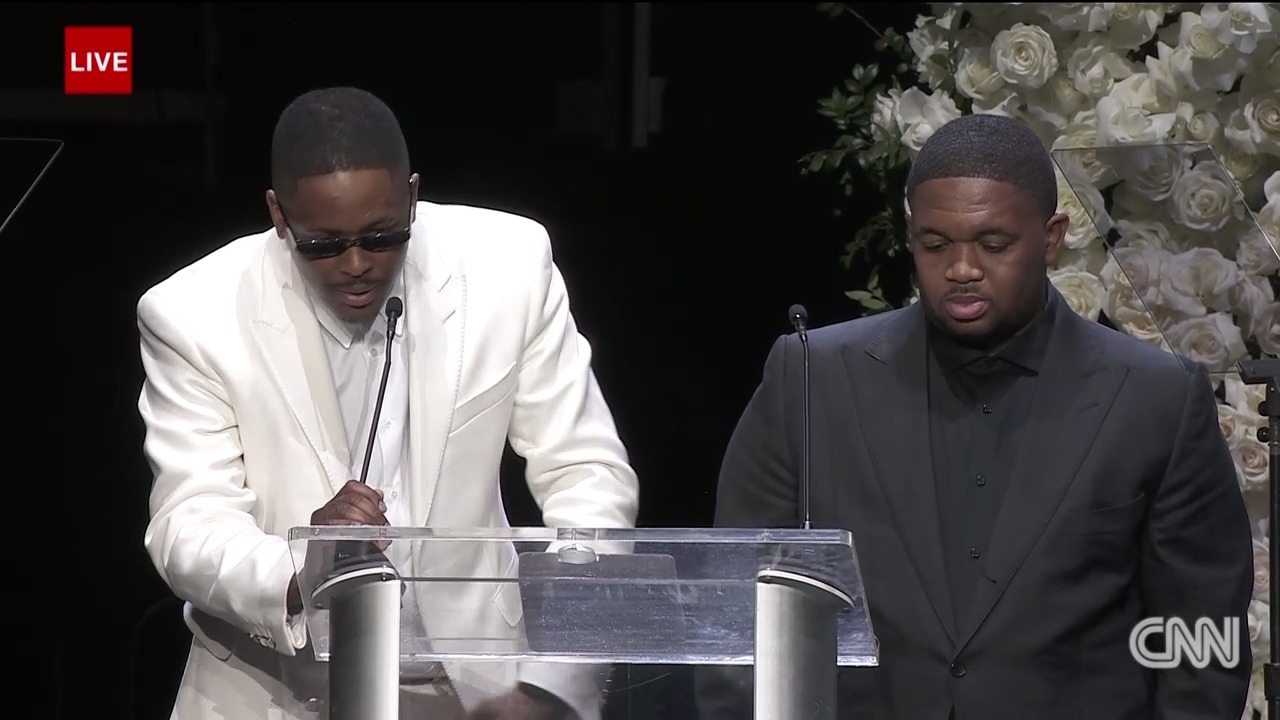 Rapper YG took a moment to remember his close friend Nipsey Hussle.
YG said while he and Nipsey were from rival gangs, they were close. They talked about their goals, family and friends. Nipsey also gave him books to read, he said.
"That's my brother from the other color," YG said. "He was like a real big brother to me."
He went on to say that he would will miss Nipsey.
4:32 p.m. ET, April 11, 2019
Snoop Dogg pays tribute to "My friend, my brother"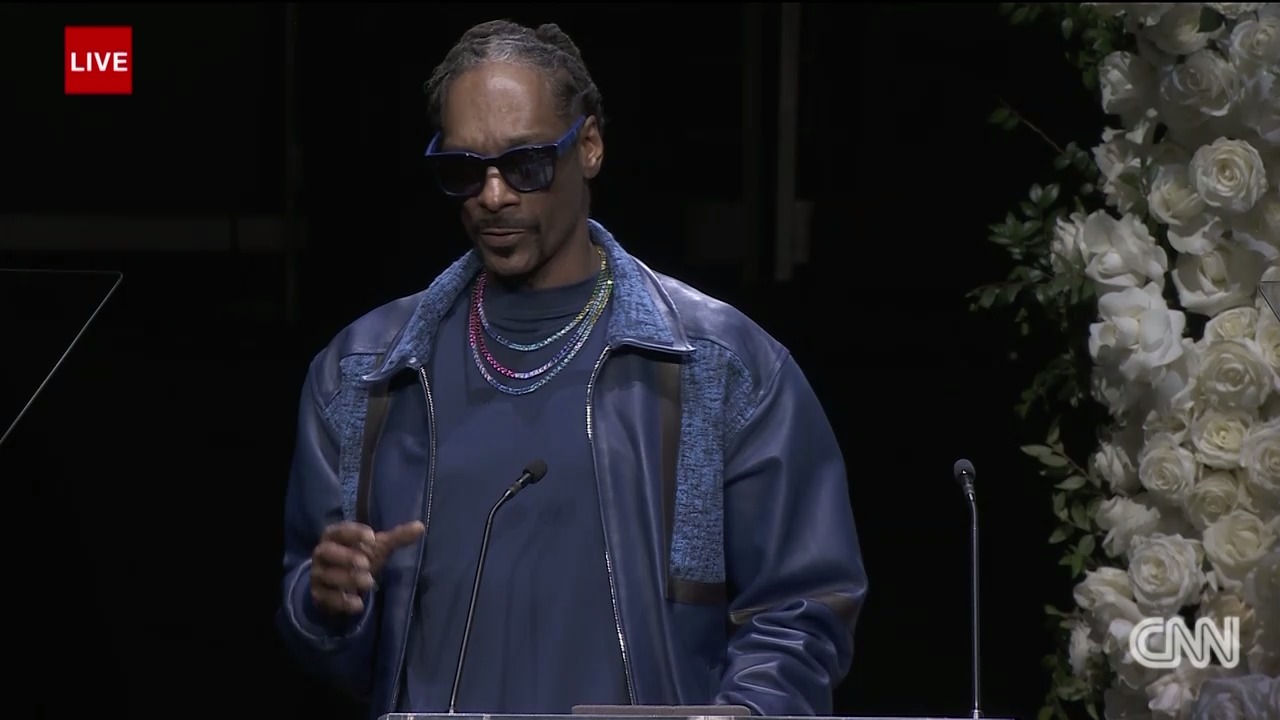 Superstar rapper Snoop Dogg brought some levity to Nipsey Hussle's memorial.
Snoop had those gathered laughing sharing stories about how he didn't listen to Nipsey's tape at first and how the rapper suggested he open an amusement park called "Doggyland."
He also offered Nipsey's girlfriend Lauren London love in his remarks.
He said seeing Nipsey with London reminded him of him and his wife's relationship and called her a "queen" to Hussle's "king."
"See what we lose focus on is every real black man needs a real black woman in his life," Snoop said.
The rapper said he would be available for the couple's children if he's needed in the future.
Snoop also shouted out Hussle's mother and father.
He praised his father, Dawit Asghedom, for raising him well.
Snoop said he often would see Asghedom at Hussle's clothing store being incredibly proud of his son.
"I just want to say you may have lost a son, but you picked up another son in me," Snoop said.
Snoop talked of how Nipsey crossed boundaries, being a member of the Crips gang and working with other artists who were members of the rival Bloods like rapper "The Game."
Snoop saluted Nipsey's casket before he left the stage.
"For God so loved the world that he gave us a good Crip, the late great neighborhood Nip," Snoop said. "Rest in peace cuz.
4:11 p.m. ET, April 11, 2019
Nipsey Hussle's dad said he "was a fighter"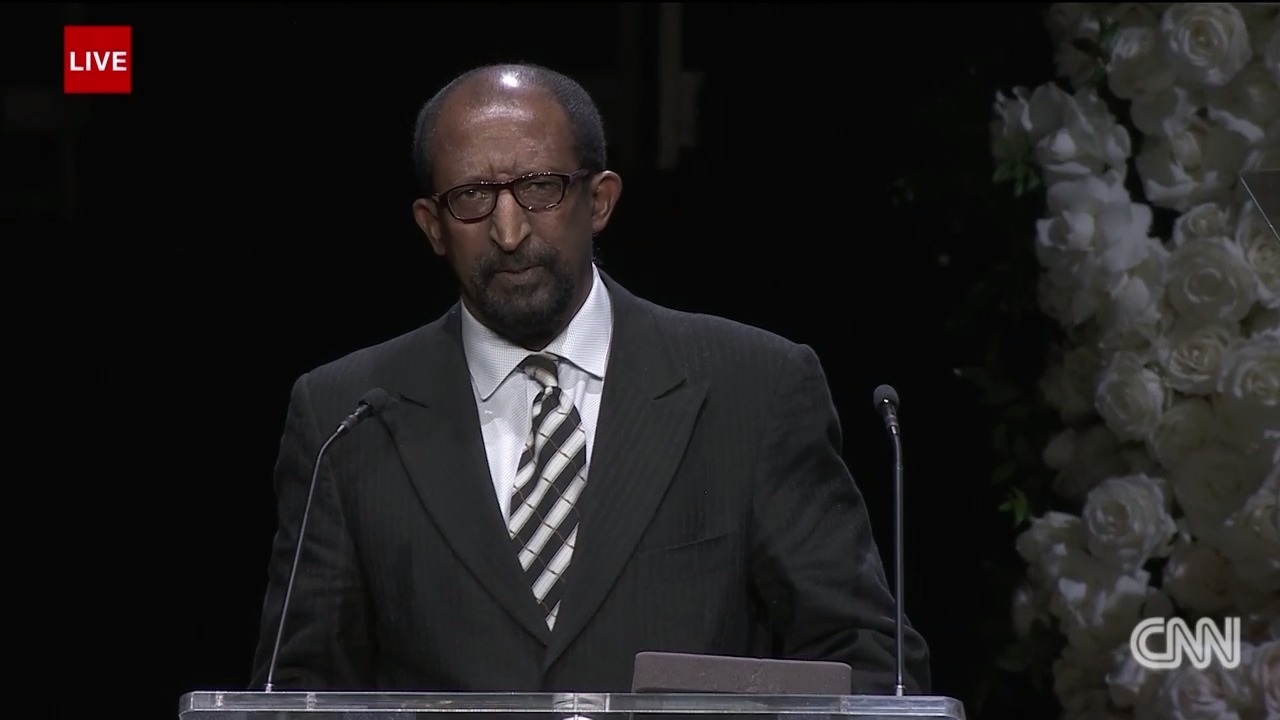 Dawit Asghedom, the father of rapper Nipsey Hussle, remembered his son as the baby who was born with the umbilical cord around his neck, but still fought to survive.
"I knew that he was very strong," his father said. "He was a fighter at that time."
Asghedom spoke of the devastation of losing his family to divorce and how much love there was within that family.
The rapper, he said, helped so many people around the world and was more beloved than his family had ever imagined.
Asghedom said he believed that perhaps his son had accomplished his mission on earth.
"At 33 years old he had accomplished more than anyone else could have accomplished," he said.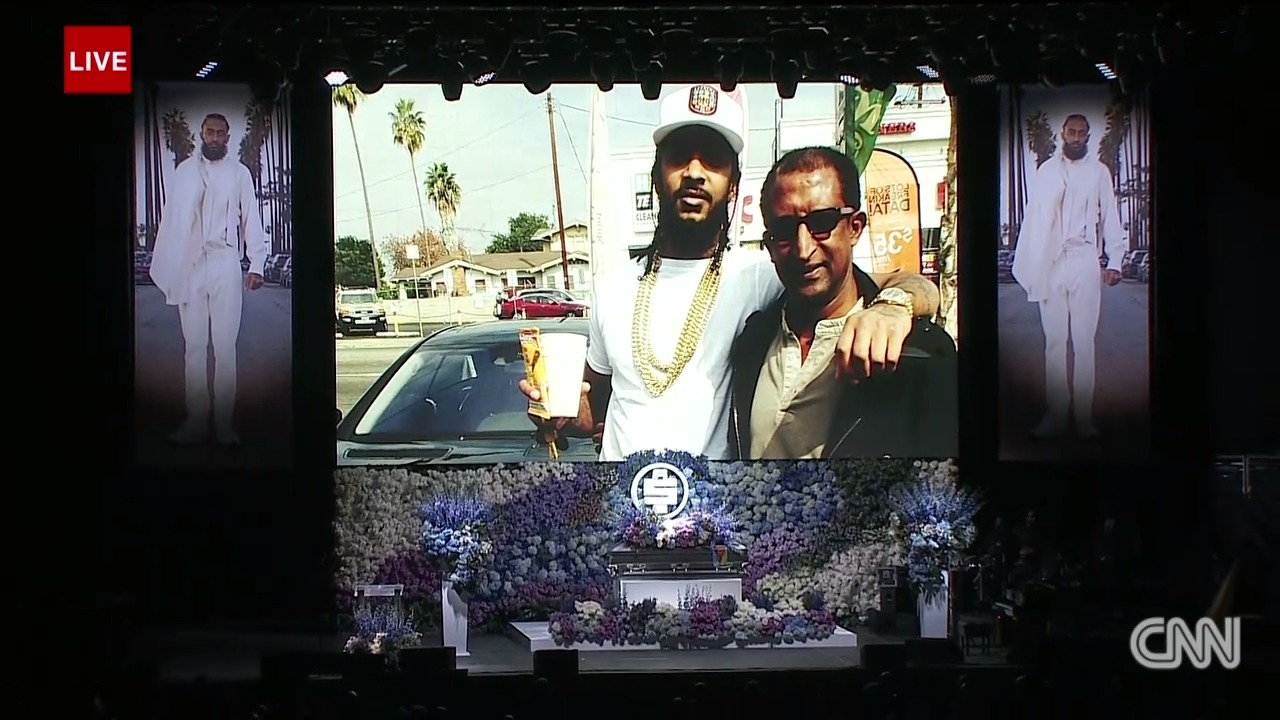 8:14 p.m. ET, April 11, 2019
Lauren London was the love of Nipsey Hussle's life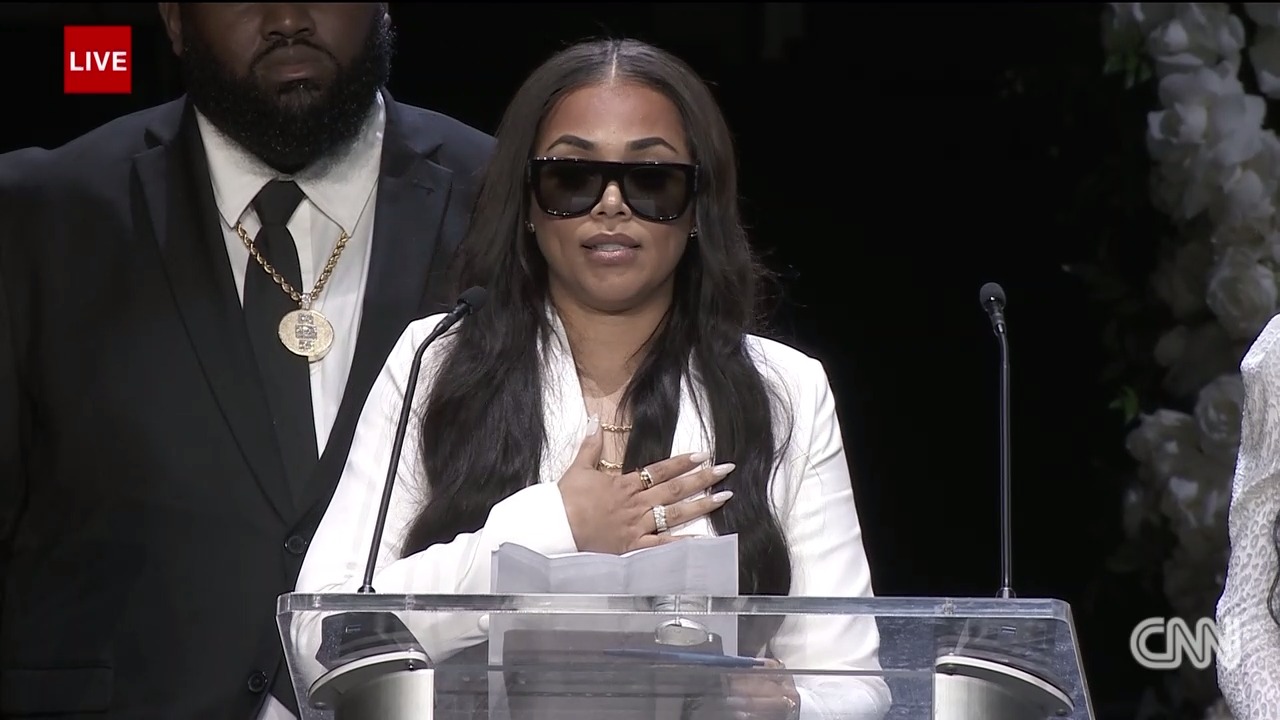 The moment so many had waited for happened when actress Lauren London took to the microphone to share her love of Nipsey Hussle.
The couple was together for more than five years and had one of the most enduring fairytale romances in hip hop.
"Never was I prepared for anything like this so bare with me y'all," London told those gathered.
They shared a young son, Kross Asghedom, and it was also for him she said she mourned.
"My pain is for my 2-year-old who probably won't remember how much his dad loved him," London said tearfully.
The actress shared a text she wrote to the rapper, whom she called "Hussle," while he was sleeping on January 21 in which she wrote several loving sentiments, including, "I feel safe around you, protected," and "You've been my turn up and my church."
London included Los Angeles residents in her thoughts of Hussle who she called "majestic" because of how much he meant to the city.
She concluded her remarks with a message to the rapper.
"I love you beyond this earth," she said. "And until we meet again, the marathon continues!"
3:44 p.m. ET, April 11, 2019
Nipsey Hussle "just wanted to inspire," his brother says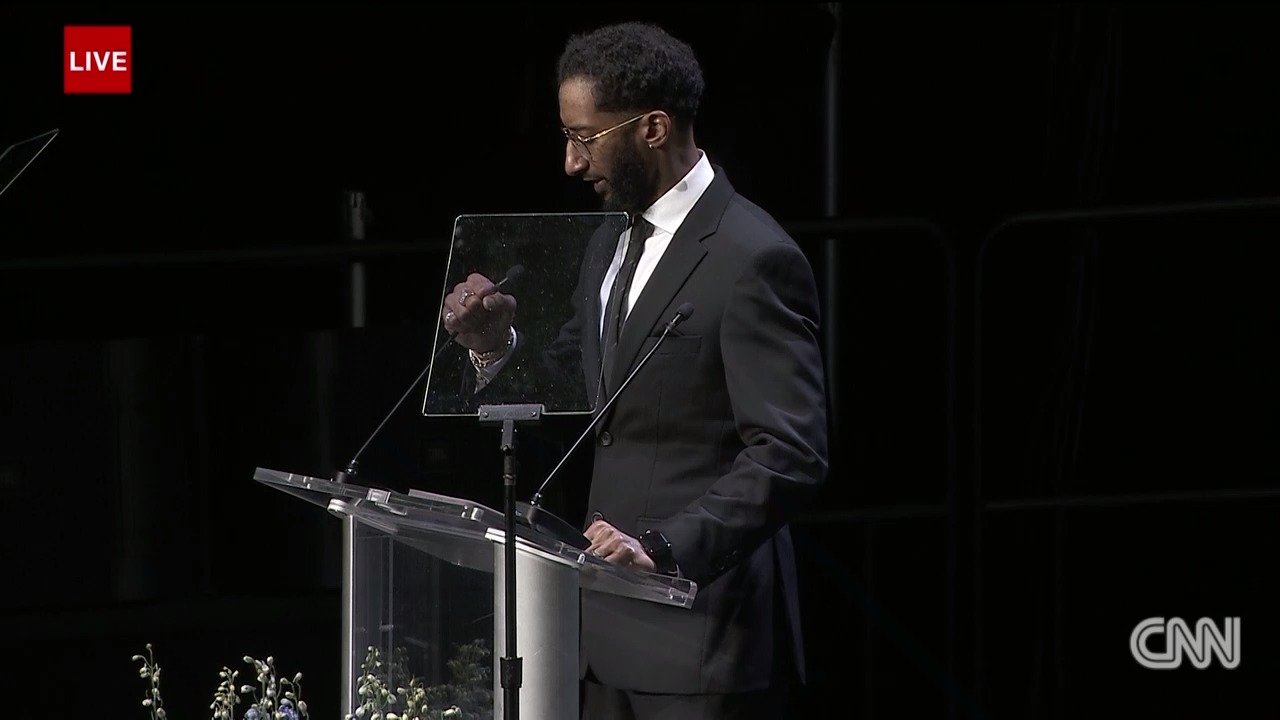 In an emotional tribute, Nipsey Hussle's brother Samuel Asghedom said his brother just wanted to inspire his community.
"Everything he said in the music was who he was," Asghedom said.
"He loved everybody," Nipsey's brother added. "He loved who he grew up with and where he grew up and just wanted to inspire and always bring something back."
Asghedom recalled how he and his brother worked small jobs like watering lawns and washing cars to make some quick change.
"We worked hard all day and it seemed Nip would just put in 10 mins and come back with two, three hundred," he said.