Remembering Nipsey Hussle
12:50 p.m. ET, April 11, 2019
Nipsey Hussle rapped about what he wanted for his funeral in a 2016 song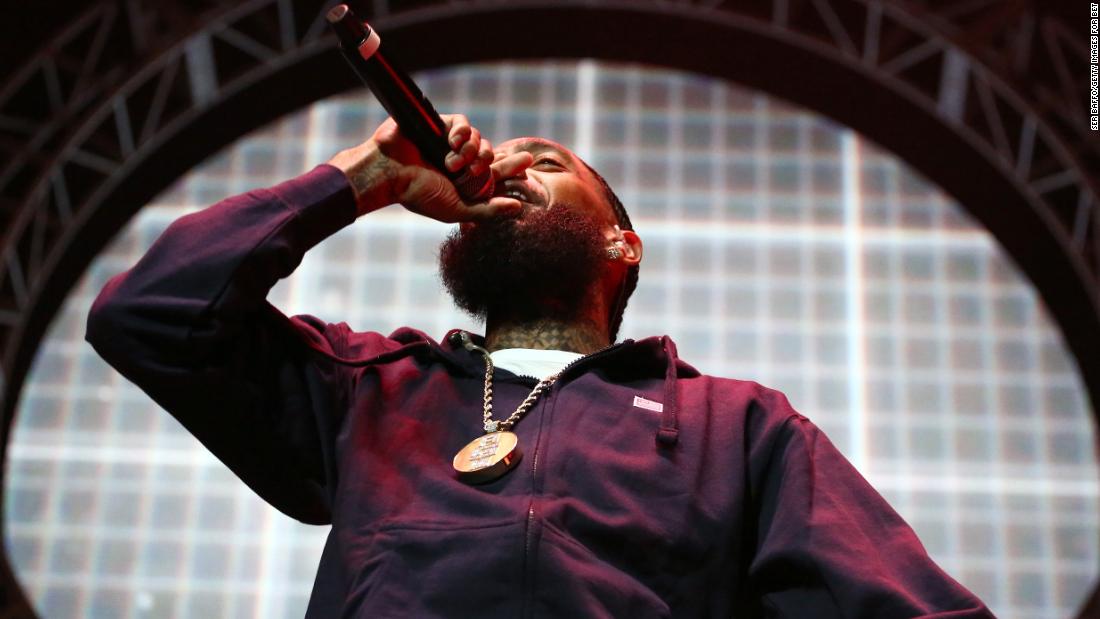 Before he was killed, Nipsey Hussle had already foreseen his funeral.
The rapper, who was born Ermias Asghedom, offered some lyrics in his 2016 song "Ocean Views" which described how he wanted to be remembered after his death.
"My precedures, stay crackin 'til my life's low / Then when I die, blue rag around my rifle / Hundred-thousand in my coffin, that's just life though / Play a Stevie Wonder song, smoke some flight, bro / Crack a pint of Actavis then pour in some Sprite, bro / Until that day I'm walking toward what's in my sights, though."
The "blue rag" would be symbolic of Hussle's affiliation with the Rollin 60's, a Los Angeles gang that is a part of the Crips -- something he didn't shy away from talking about.
His rise from the gang life to that of Grammy-nominated rap artist helped fuel his devotion to giving back to his community via entrepreneurship and activism.
1:44 p.m. ET, April 11, 2019
Nipsey Hussle's family remembers him as a "humble" man with an "unlimited intellectual capacity"
Nipsey Hussle wasn't just a rap star.
He was also a son, a brother, a nephew and a father who is being deeply mourned by his family.
His mother, Angelique Smith, talked to the Los Angeles Times about the legacy she hopes her leaves.
"I would like for him to be remembered as a humble, spirited, respectful man who had, since his childhood, had an extraordinary and unlimited intellectual capacity," she said.
The rapper's father, Dawit Asghedom, told the publication, "It was like he was sent by God to give some love to bring us together because that's what his lyrics were saying, always. "
"He wasn't scared of anything. [God] sent him to send a message. It looks like, 'Your time is up because you have completed what I sent you to do.' We all have a plan, but God has his own plan.," Asghedom said. "So he had completed what he needed to be doing and he did it early so [God] probably want to take him early too."
12:35 p.m. ET, April 11, 2019
Crowds are lining up outside LA's Staples Center to remember Nipsey Hussle
With seating limited to 21,000 inside the Staples Center, free tickets for the memorial were limited.
On Thursday morning crowds gathered outside of the Los Angeles venue to both be admitted and to pay tribute to the slain rapper.
"All hail, King Nip," said Latrell Parker, a barber and photographer from Fredericksburg, Virginia, who traveled across the country to honor the rapper.
Wearing a shirt bearing the rapper's image with the caption "The Marathon Continues" -- a nod to Nipsey's 2011 mixtape -- he told CNN that as an entrepreneur himself, he always admired how Nipsey taught others to pursue their goals.
"Take it as big as you want to make it, as far as you want to go," Parker said. "That's what Nipsey said. Being an entreprenur, you get to create your box and create how big you want your box to be, and I'm all for that. I'm all for getting out there creating your own opportunities, creating opportunities for your people. That's what Nipsey was about. It's just beautiful."
Rhenya Parker told CNN that the rapper's music had helped him in life.
"He really didn't care what color your were. He was just trying to help everybody be a better person," the Los Angeles resident told CNN.
"He's really took me though hard times that I was going through family-wise and just where I come from, and I think everyone can really relate to him in different aspects. Where he was from -- South Central, Crenshaw and Slauson -- I think people can really relate to him in many ways when it comes down to his music. He really touched a lot of people from all different cultures."
12:20 p.m. ET, April 11, 2019
Street gangs came together after Nipsey's murder
Street gangs brokered a truce in rapper Nipsey Hussle's honor.
Eugene Henley, a former leader of the Crips (and reportedly Nipsey's onetime manager), announced on Instagram that they had organized a march among "Bloods, Crips with a like mind, that want to support and pay homage to one of our lost soldiers, one of our good brothers and teachers and leaders."
Nipsey was a member of the Rollin 60s Neighborhood Crips, and worked to end gun violence.
11:58 a.m. ET, April 11, 2019
SOON: Memorial service for Nipsey Hussle will be held today in L.A.
A "Celebration of Life" memorial service for the late rapper Nipsey Hussle will be held today in Los Angeles.
The Grammy-nominated rapper's official Instagram account announced this week that the service will be held for him at the Staples Center, which seats 21,000.
About Nipsey: Hussle, 33, was gunned down March 31 in Los Angeles near a clothing store he owned.
Nipsey, whose burgeoning rap career was marked by a Grammy nomination and his ties to the Rollin 60s Neighborhood Crips gang, was also known for his work to end gang violence. He had been scheduled to meet with LA Police Commissioner Steve Soboroff and LAPD Chief Michael Moore on April 1 to discuss ways to stop gang violence, Soboroff said on Twitter.
Nipsey and Eric Holder, who police accuse of killing the rapper, are believed to belong to a gang as well, though Los Angeles Police Chief Michel Moore has declined to specify gang affiliations. The shooting came after a dispute between Holder and the rapper and does not appear gang-related, the chief said.