Thousands march in the streets of New York for WorldPride
7:52 p.m. ET, June 30, 2019
Our live coverage of the 2019 WorldPride march has ended, but you can read more of our reporting on the LGBTQ community here and at the links below.
7:25 p.m. ET, June 30, 2019
This friend group traveled all the way from Spain
Tamara Requeña, Juan Bautista and their friends came all the way from Spain for WorldPride.
They said Madrid, where they live, has an amazing Pride celebration. But they came to New York to celebrate with the rest of the world, Requeña said.
"We're chasing the best Pride celebration," she said.
"We are the new generation of gay people in the world," Bautista added. "We have to celebrate."
Their only critique was that Spain has more free Pride events, such as concerts and shows, unlike most of the Pride-related entertainment in New York. They also mentioned that the parade did not continue in a steady procession, with gaps between groups and floats approaching 10 to 15 minutes as the parade approached the six-hour mark.
7:02 p.m. ET, June 30, 2019
They identify as having both a male and female spirit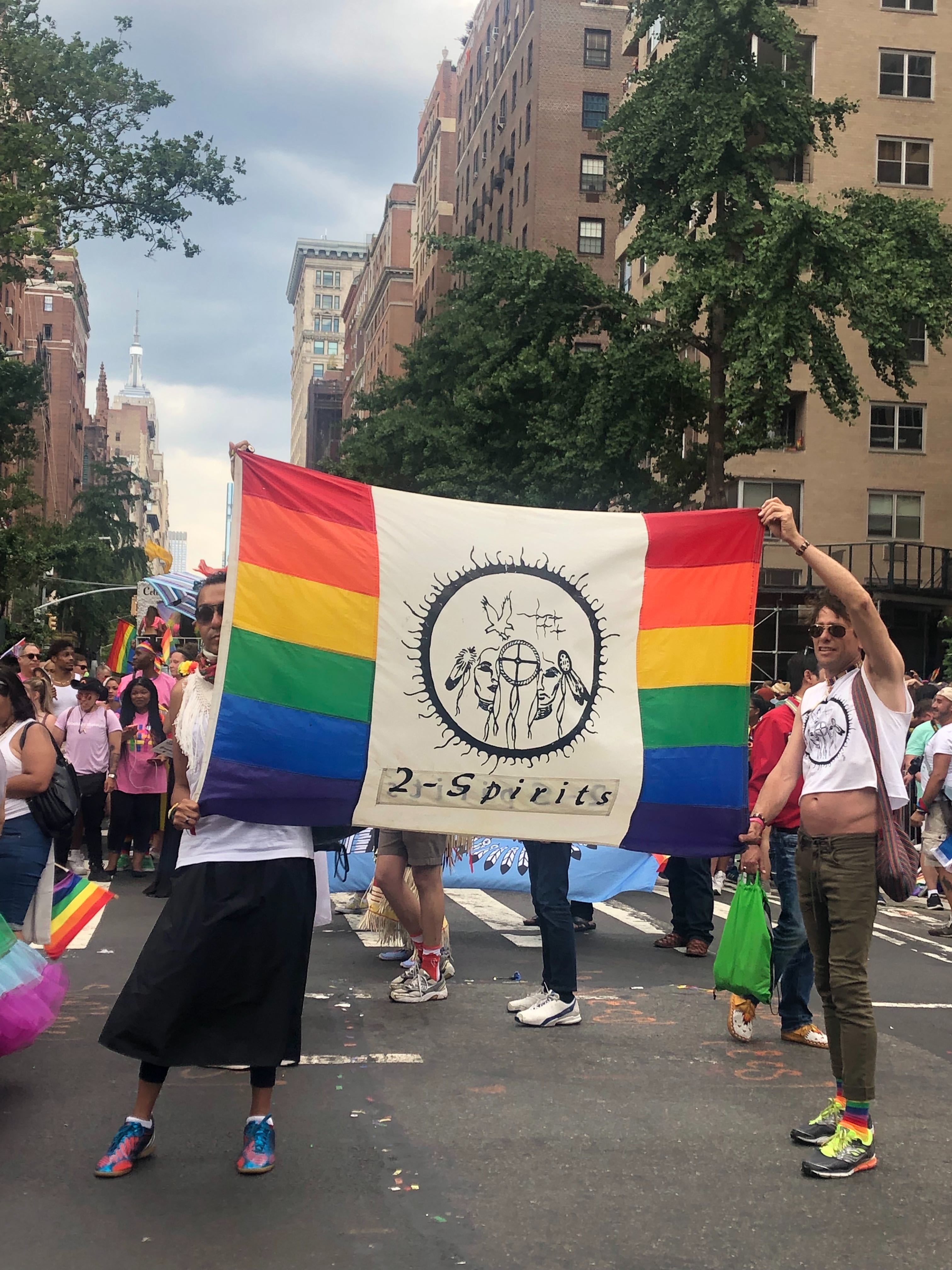 Members of the "Two Spirit" community are also represented at the parade.
The term "Two Spirit" is used by indigenous communities to refer to people who identify as having both a masculine and feminine spirit, and long predates the acronym LGBTQ. While a person can identify as LGBTQ and Two Spirit, the term does not make a statement about a person's gender or sexual orientation.
According to the news website Indian Country Today, Two Spirit people held significant roles in tribes, serving to keep the balance. Today, Two Spirit people keep those traditions alive at gatherings and communal events by saying prayers to heal those present.
7:33 p.m. ET, June 30, 2019
Macy's brought the energy with their massive float
There's no denying that the enormous floats from big brands and companies tend to raise the energy -- with a big boost from their bass-heavy sound systems.
Sponsors of WorldPride include Macy's, MasterCard and Trojan Condoms, to name a few. Deutsche Bank's contingent included banners and pictures of LGBTQ activists around the world in a vibrant tribute.
WarnerMedia, the parent company of CNN, also had a float in the parade.
5:39 p.m. ET, June 30, 2019
Pride isn't all rainbow flags
In a sea of rainbow flags, some marchers wrapped themselves in other designs.
Below, some parade participants are sporting banners in pink, purple and blue, the colors of the bisexual flag. One man wears a t-shirt proclaiming "bisexual pride!" The blue, pink and white colors of the transgender flag can also be spotted.
Read more about what the identity terms in the acronym LGBTQ mean here.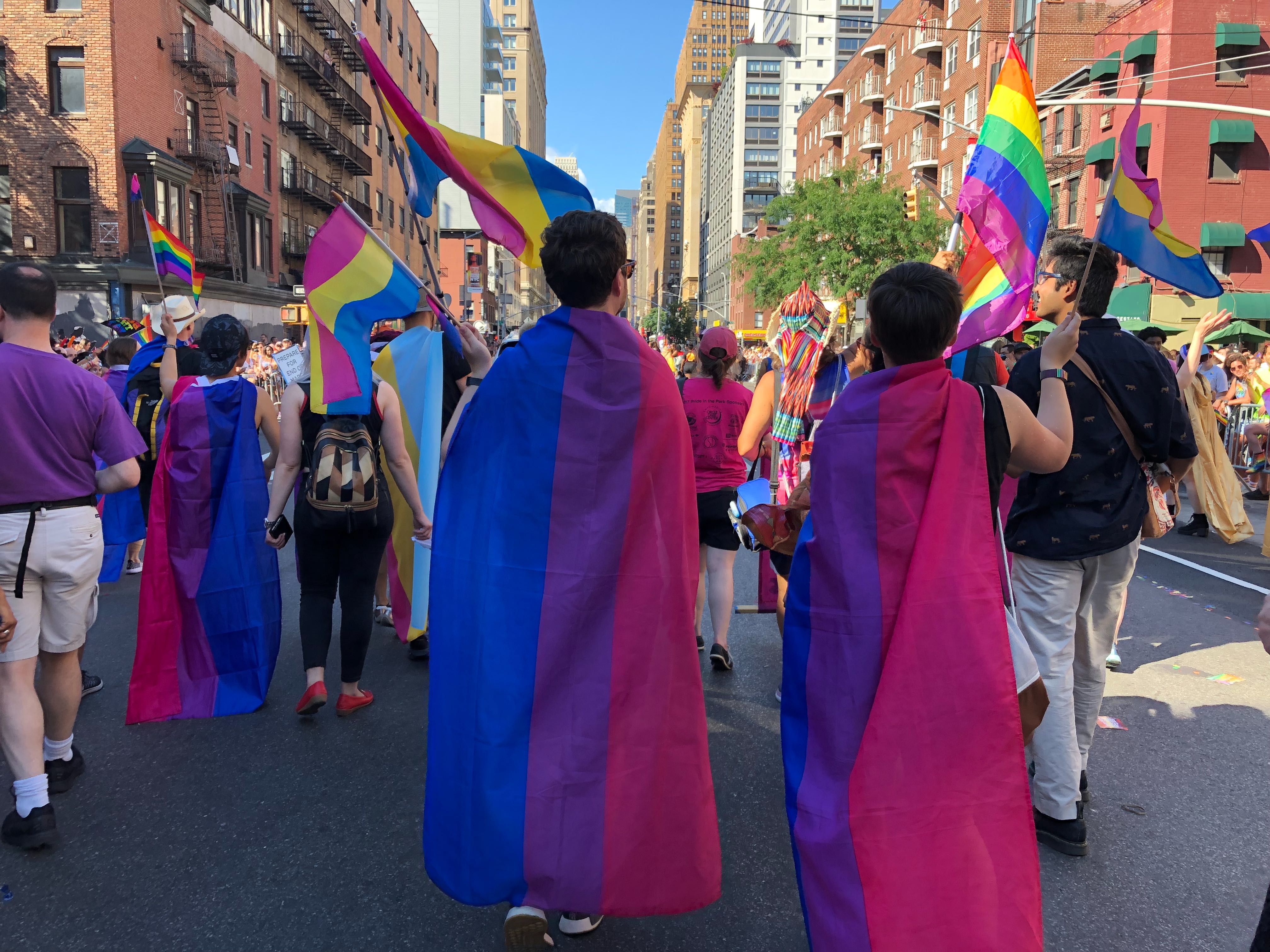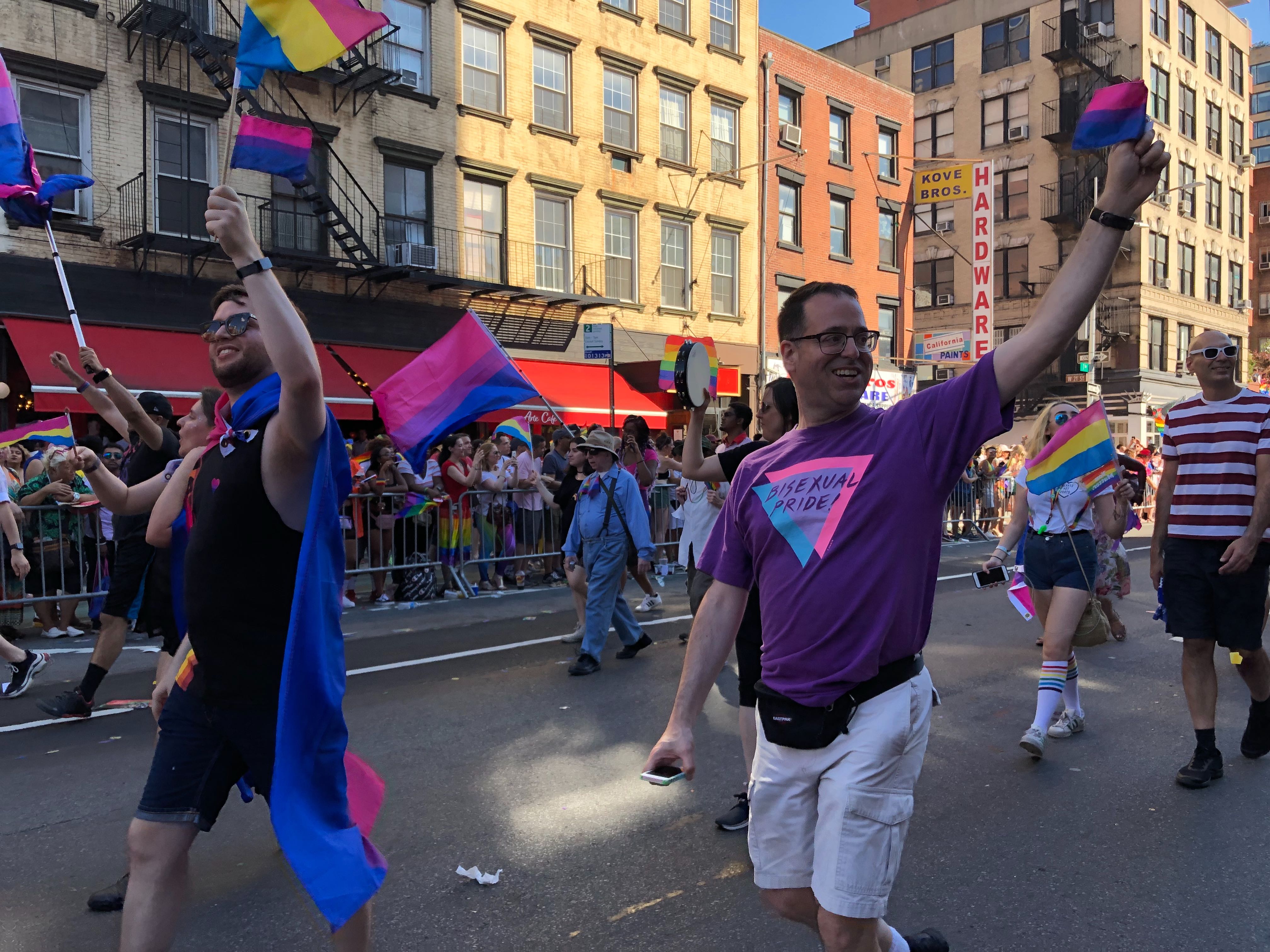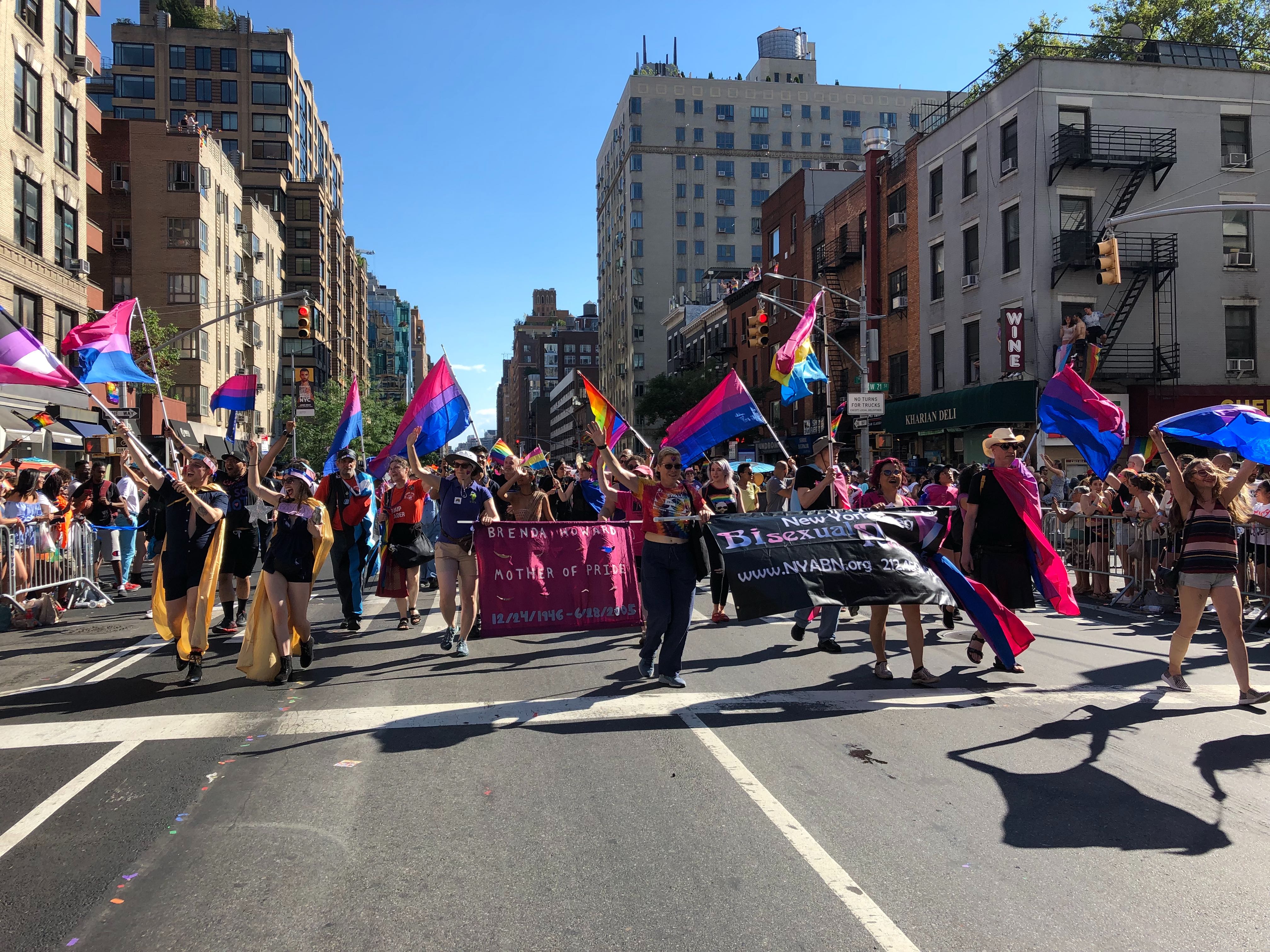 5:17 p.m. ET, June 30, 2019
Law enforcement officials walk hand in hand
The crowd erupts in cheers as uniformed members of law enforcement stride down the parade route, some holding hands.
The group includes representatives from Canada, including the Royal Canadian Mounted Police and the Toronto Police Association.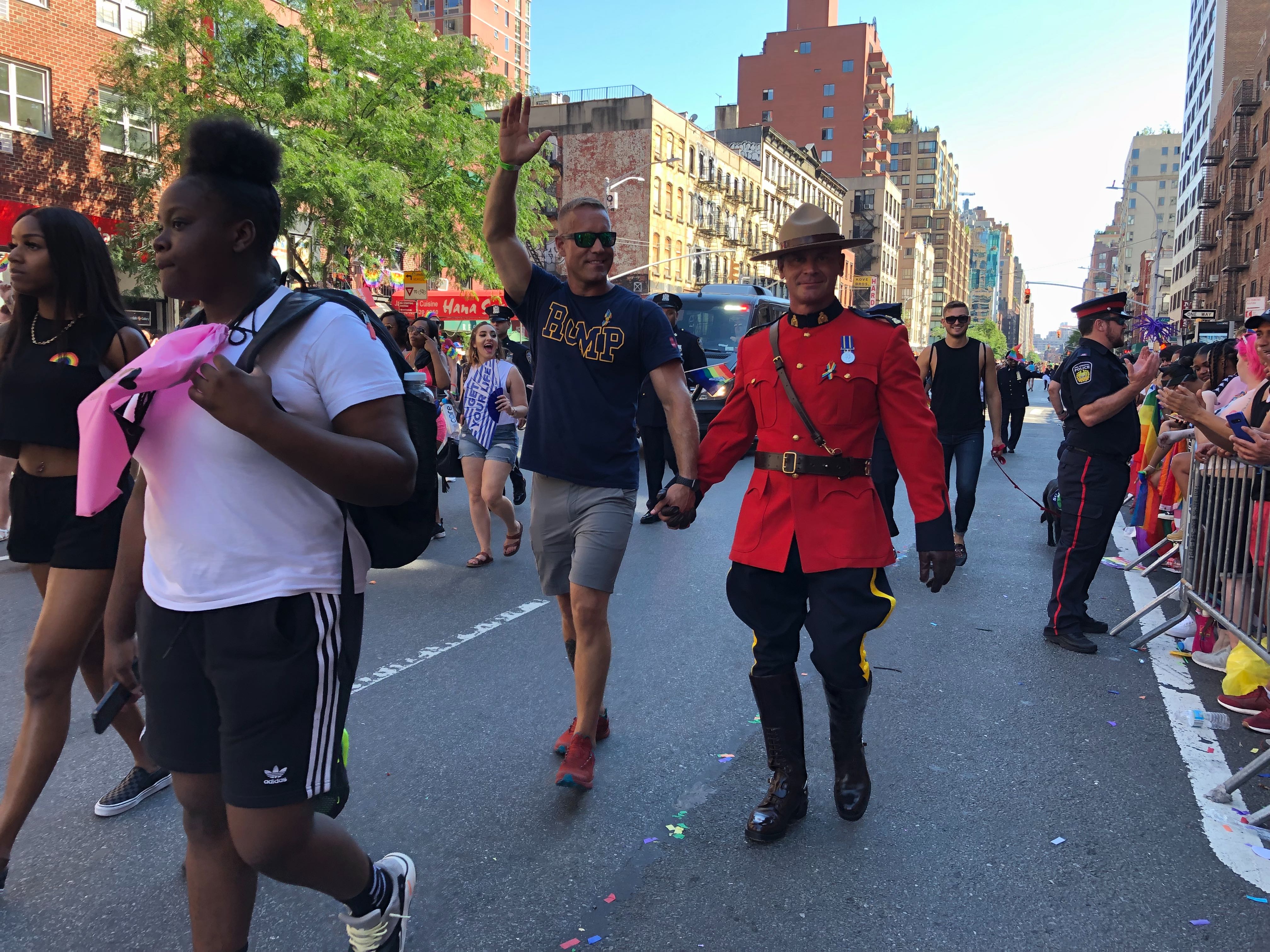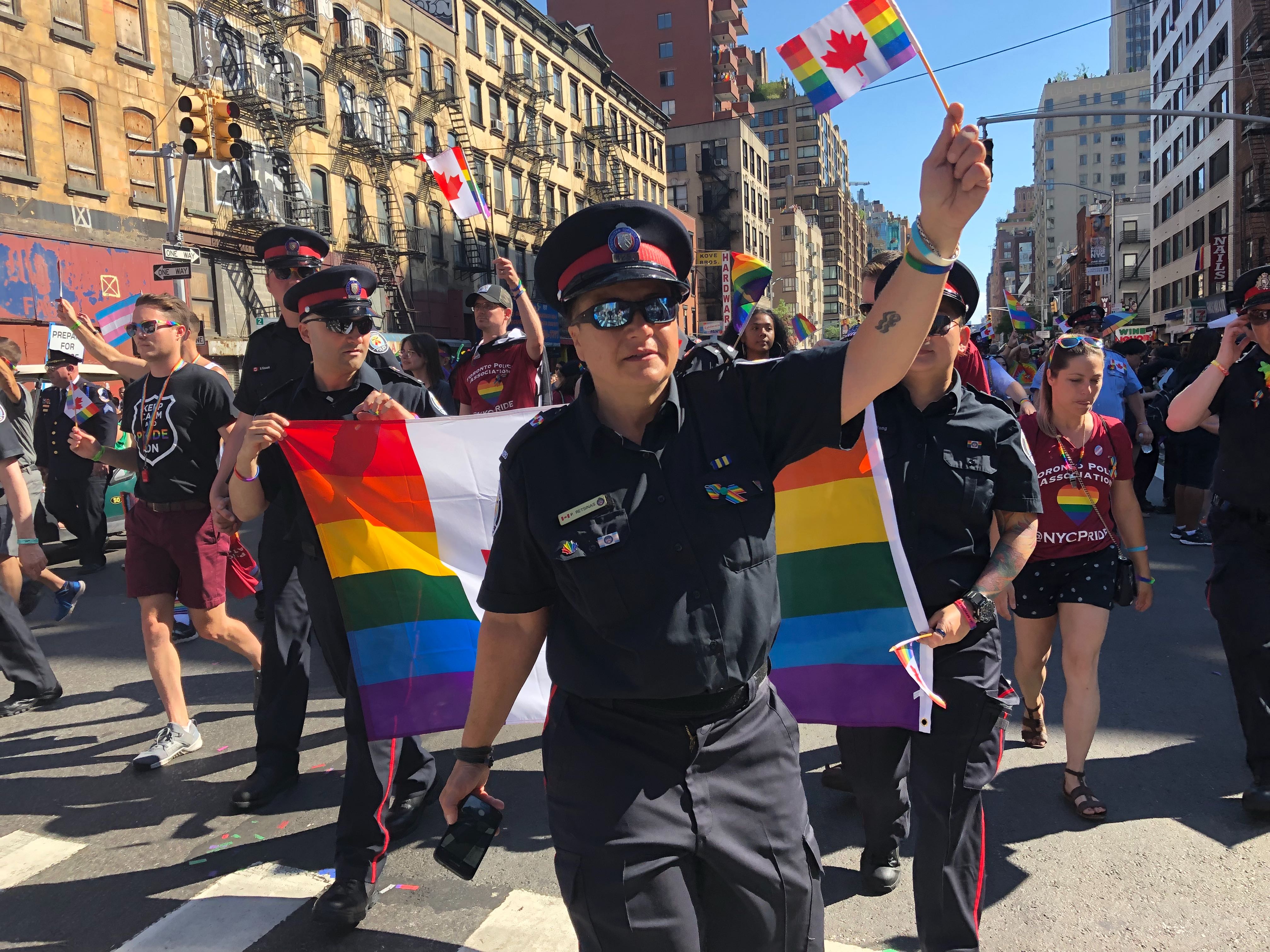 5:06 p.m. ET, June 30, 2019
Activists remember a transgender woman who was jailed because she couldn't pay bail
Supporters of the Anti-Violence Project in New York are marching in honor of Layleen Polanco.
The 27-year-old transgender woman arrested in April and sent to jail at New York's Rikers Island after she was unable to post $500 cash bail, her family said. Nearly two months later, Polanco was found unresponsive in her cell and later pronounced dead, in what her family and the Anti-Violence Project say is a case of neglect.
A new state law that takes effect in January 2020 eliminates cash bail for most misdemeanor and non-violent felony offenses. Under that law, Polanco would likely not have had to go to jail.
4:27 p.m. ET, June 30, 2019
'No more rainbow capitalism,' reads one sign
Earlier Sunday, "Pose" star and parade grand marshal Indya Moore urged skepticism of corporate sponsors of World Pride.
Others also echoed their concerns throughout the parade route.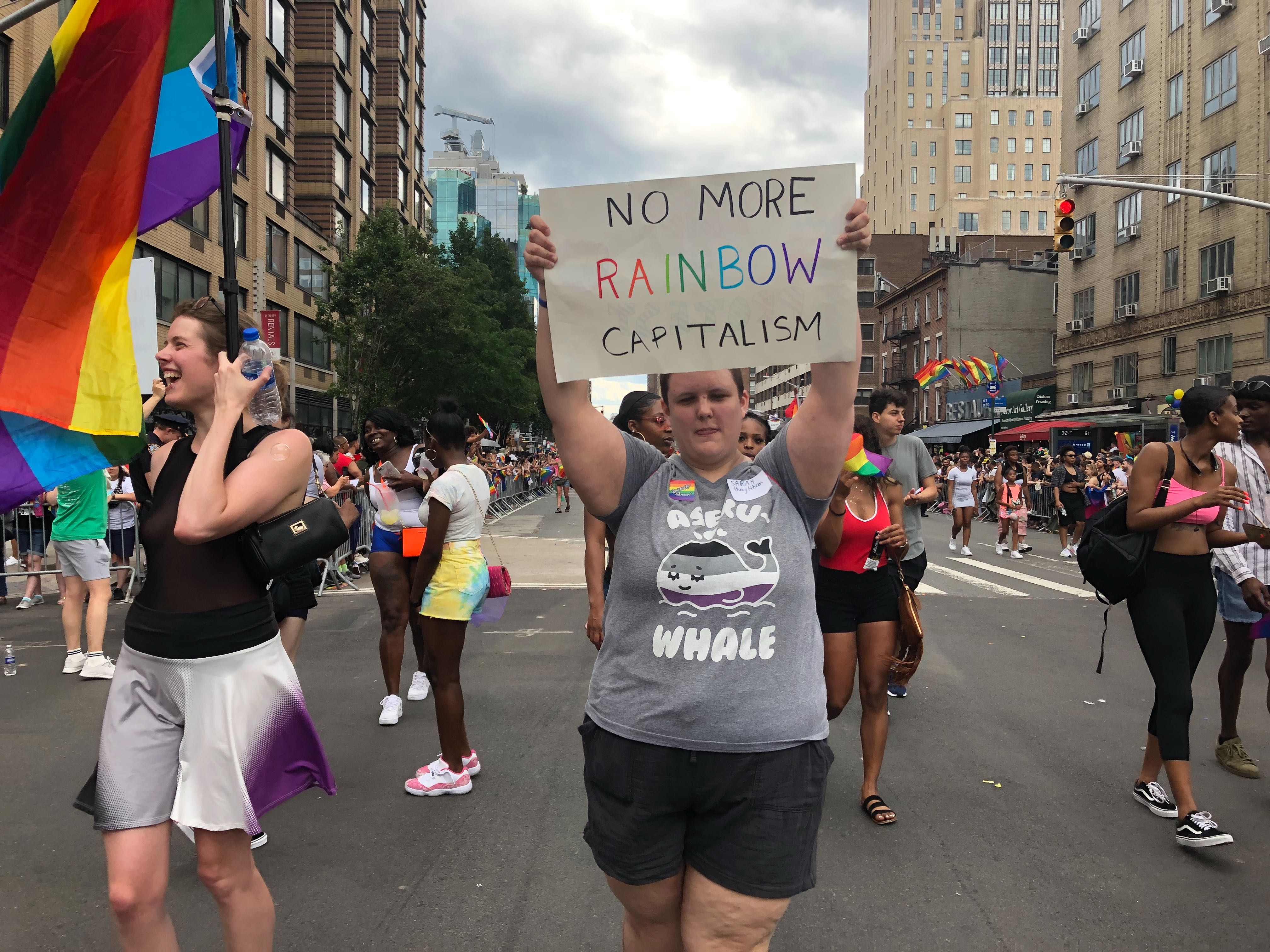 An alternative Queer Liberation March and Rally took place on Sunday for those disillusioned by the corporate presence at the WorldPride celebration.
The Reclaim Pride Coalition called the rally a "people's political march," and said it featured no corporate floats or police presence.
5:48 p.m. ET, June 30, 2019
NYC's Department of Education marches in support of students
Members of the New York City Department of Education wave flags at the parade, touting the city's support for LGBTQ students.
In states across the country, debates are playing out over how to make schools more welcoming for LGBTQ students. Efforts to ban transgender students from using bathrooms based on their gender identities may draw attention, but an increasing number of states and school districts are adopting welcoming policies.
Still, LGBTQ youth report high rates of discrimination. Eighty-seven percent of LGBTQ students experienced harassment or assault based on personal characteristics including sexual orientation, gender and race, according to data from GLSEN.