Thousands march in the streets of New York for WorldPride
5:17 p.m. ET, June 30, 2019
Law enforcement officials walk hand in hand
The crowd erupts in cheers as uniformed members of law enforcement stride down the parade route, some holding hands.
The group includes representatives from Canada, including the Royal Canadian Mounted Police and the Toronto Police Association.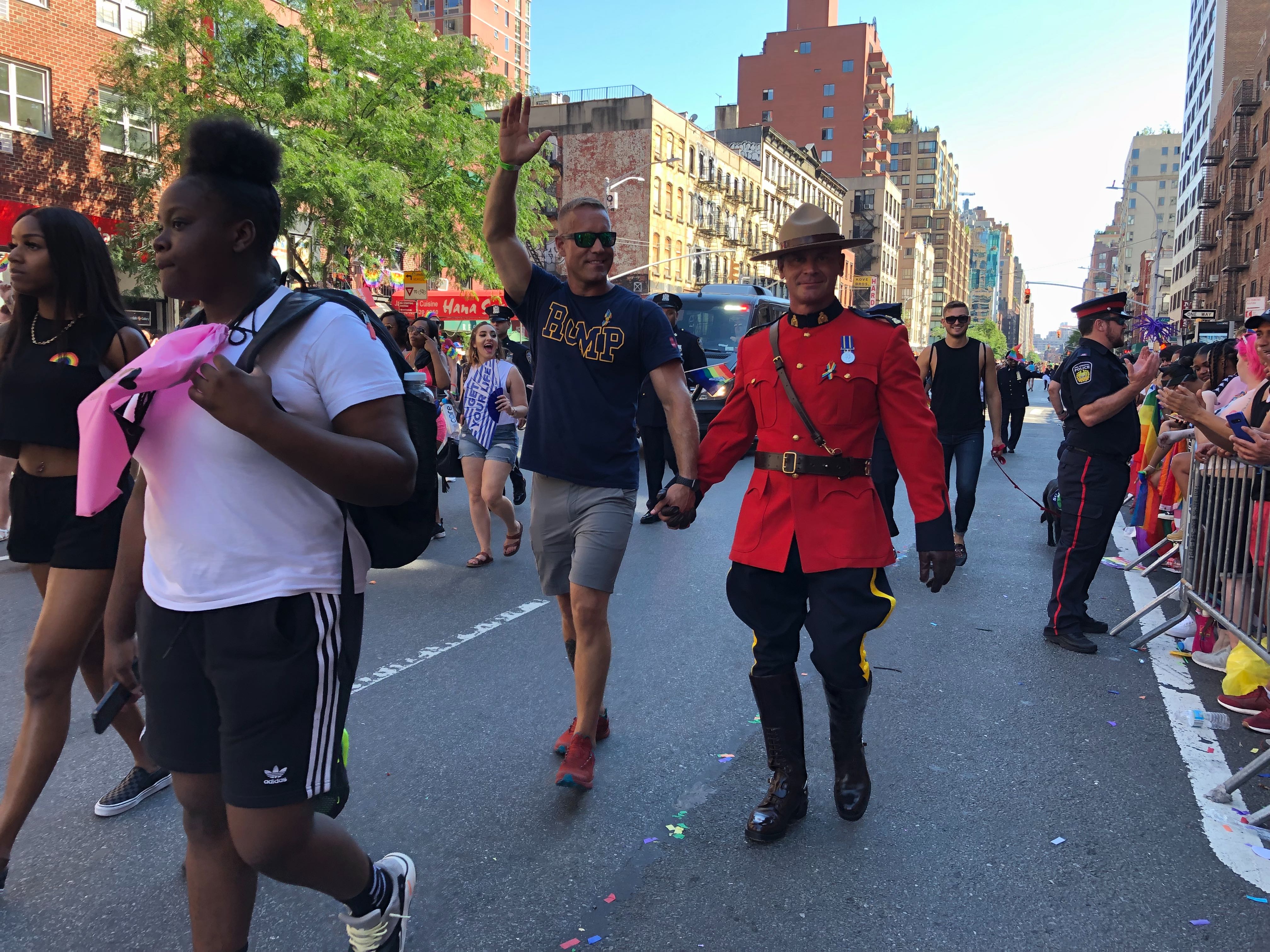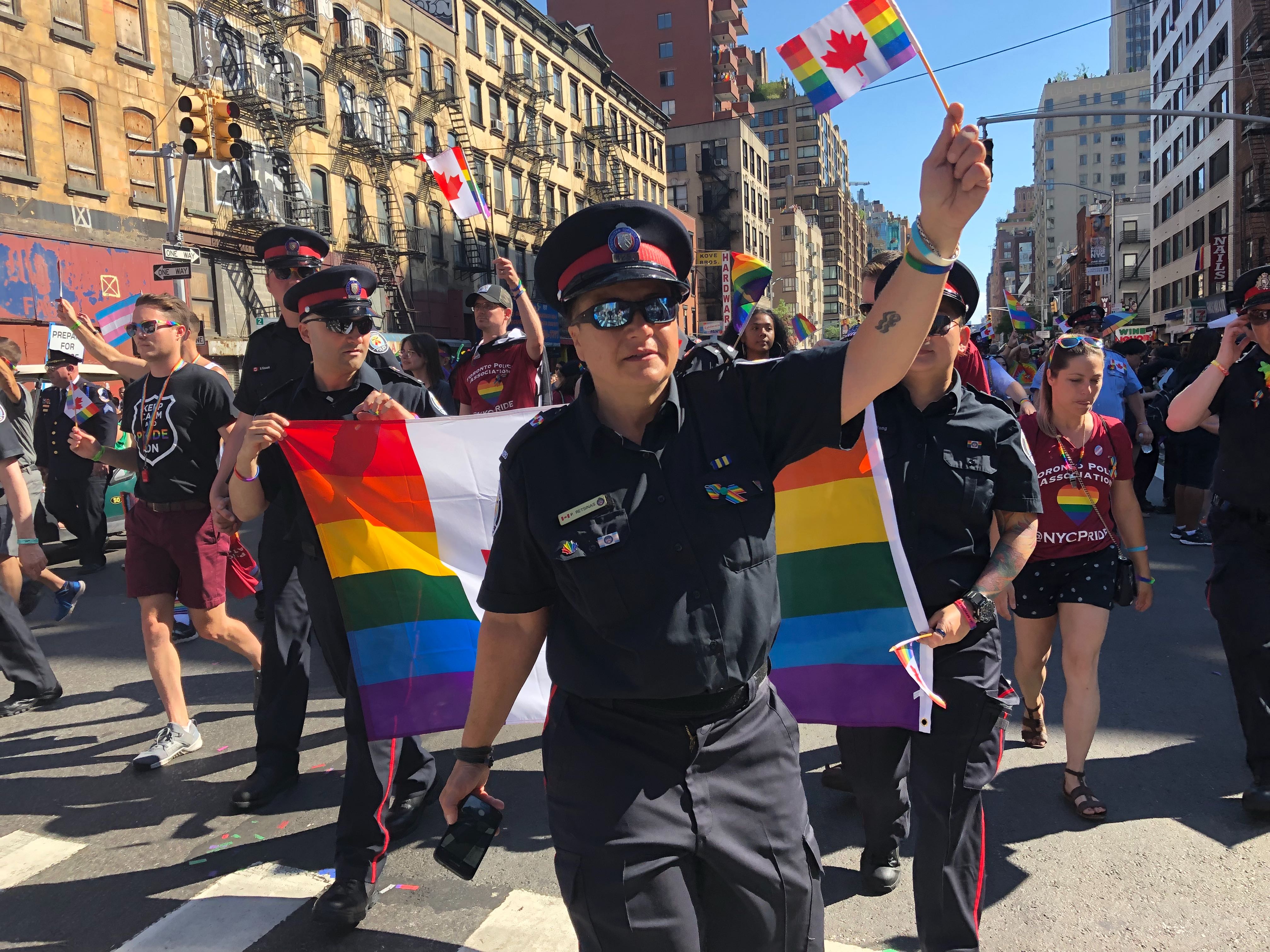 5:06 p.m. ET, June 30, 2019
Activists remember a transgender woman who was jailed because she couldn't pay bail
Supporters of the Anti-Violence Project in New York are marching in honor of Layleen Polanco.
The 27-year-old transgender woman arrested in April and sent to jail at New York's Rikers Island after she was unable to post $500 cash bail, her family said. Nearly two months later, Polanco was found unresponsive in her cell and later pronounced dead, in what her family and the Anti-Violence Project say is a case of neglect.
A new state law that takes effect in January 2020 eliminates cash bail for most misdemeanor and non-violent felony offenses. Under that law, Polanco would likely not have had to go to jail.
4:27 p.m. ET, June 30, 2019
'No more rainbow capitalism,' reads one sign
Earlier Sunday, "Pose" star and parade grand marshal Indya Moore urged skepticism of corporate sponsors of World Pride.
Others also echoed their concerns throughout the parade route.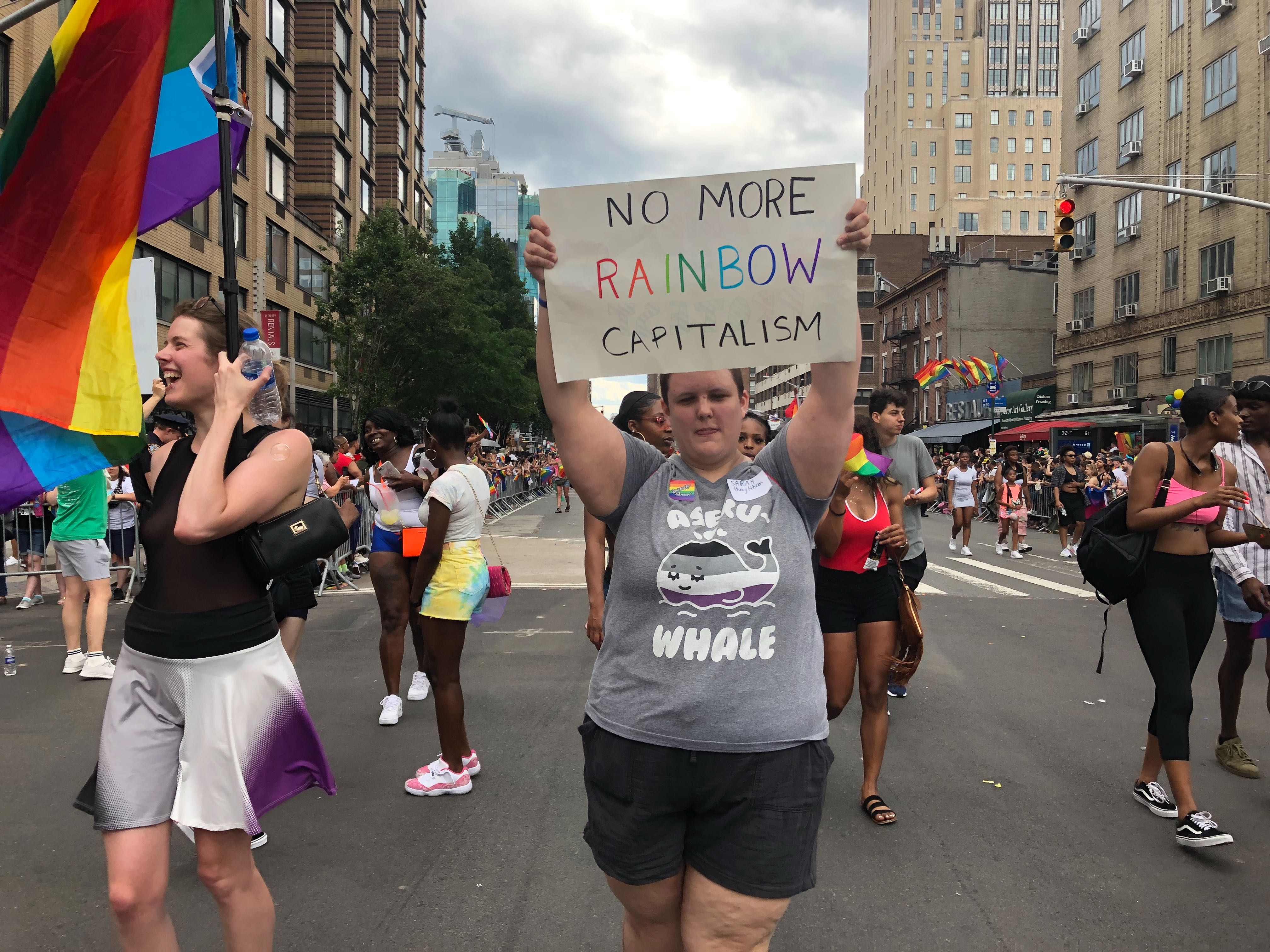 An alternative Queer Liberation March and Rally took place on Sunday for those disillusioned by the corporate presence at the WorldPride celebration.
The Reclaim Pride Coalition called the rally a "people's political march," and said it featured no corporate floats or police presence.
5:48 p.m. ET, June 30, 2019
NYC's Department of Education marches in support of students
Members of the New York City Department of Education wave flags at the parade, touting the city's support for LGBTQ students.
In states across the country, debates are playing out over how to make schools more welcoming for LGBTQ students. Efforts to ban transgender students from using bathrooms based on their gender identities may draw attention, but an increasing number of states and school districts are adopting welcoming policies.
Still, LGBTQ youth report high rates of discrimination. Eighty-seven percent of LGBTQ students experienced harassment or assault based on personal characteristics including sexual orientation, gender and race, according to data from GLSEN.
4:19 p.m. ET, June 30, 2019
He wants people today to remember the activists that came before them
Today's LGBTQ activists follow a long line of people who dedicated their lives to changing the way the world sees members of their community. And the fight for equality is far from over.
New Yorker Stephen Carella, 21, came up with this shirt to honor LGBTQ activists who made Pride possible. The front of the shirt is a nod to Marsha P. Johnson, Harvey Milk, Sylvia Rivera and Stormé DeLarverie, while the back notes that homosexuality is still illegal in many countries around the world.
"A lot of people come to Pride for the photo ops," he said. "I want to remember the people who fought for us. We stand on their shoulders."
3:40 p.m. ET, June 30, 2019
The cast of the 'Pose' is front and center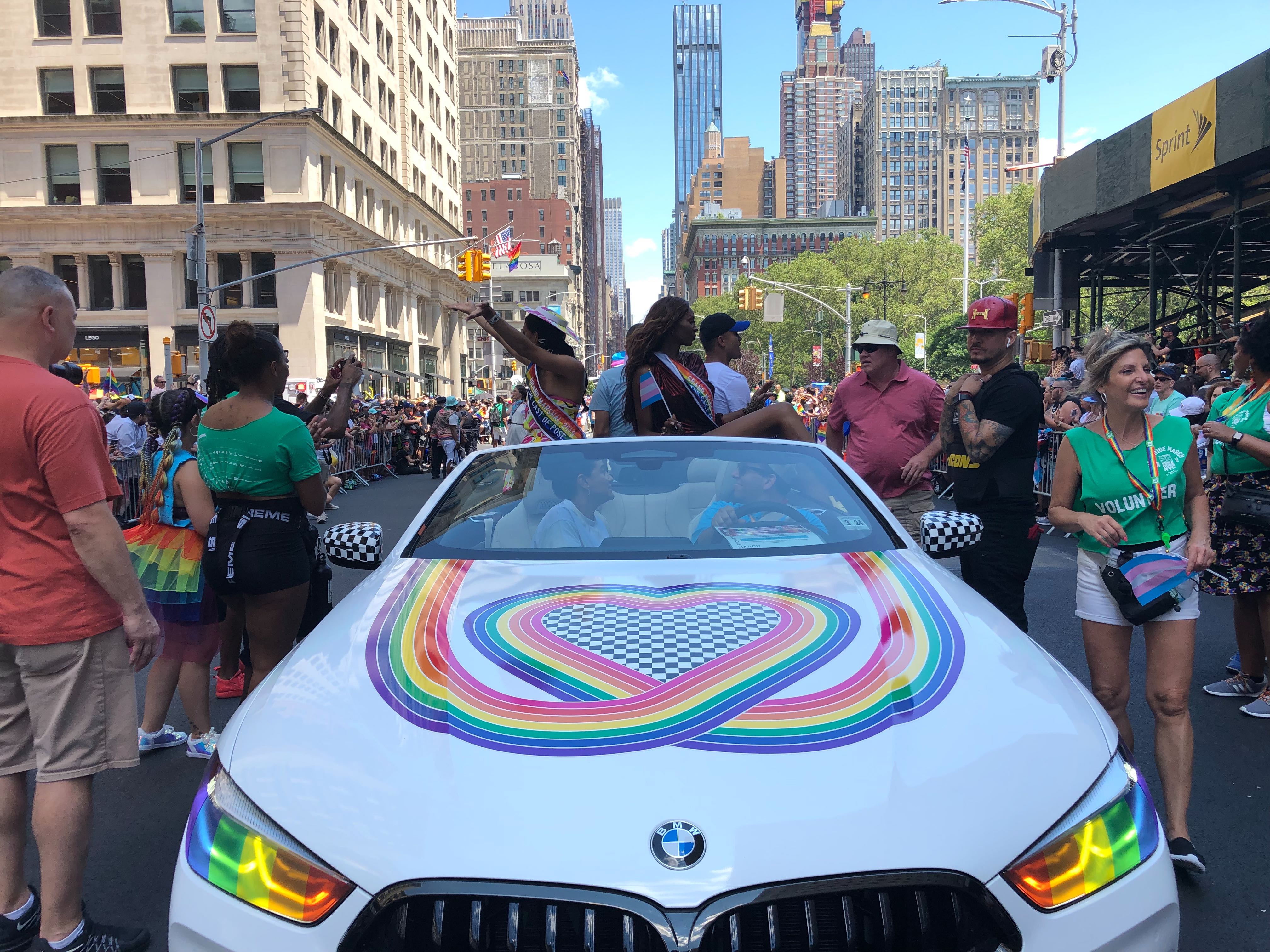 The FX drama "Pose" has been a big presence at today's parade, with members of the cast serving as grand marshals and a group from the show marching in the parade.
The TV series, which depicts the ballroom world of 1980s and 1990s New York, is renowned for its LGBTQ cast, including Mj Rodriguez, Indya Moore, Dominique Jackson and Billy Porter, among others. The show features an unprecedented number of transgender actors as series regulars.
'Pose' has gained a loyal following for the way it tackles serious themes like HIV/AIDS, poverty and harassment faced by the LGBTQ community while at the same time capturing their resilience.
"It has arguably never been more important for us to see transgender characters on TV finding happiness wherever they can against a backdrop of heartbreak," journalist and author Samantha Allen wrote in an op-ed for CNN.
9:21 p.m. ET, June 30, 2019
She's been bringing this sign to New York Pride for 35 years
Frances Goldin is 95 years old, and for the last 35 years, she's been bringing the same sign to New York Pride.
"I Adore my Lesbian Daughters KEEP THEM SAFE," the sign reads.
Goldin is a longtime housing activist after whom an affordable housing development for seniors in New York is named. Today, she's here with her daughter, Reeni Goldin, and Reeni's wife, Marge Burns.
"It's been 50 years (since Stonewall) and in this climate of hate we need to have a force of solidarity," Reeni Goldin says.
"And happiness," her wife adds. "Happiness that we can be here."
3:28 p.m. ET, June 30, 2019
Groups from around the world are at the parade
There are more than 150 groups from outside the US participating in today's parade, organizers said. In the photo above, some members of the German delegation are dressed as flight attendants with "Merkel Air" push carts.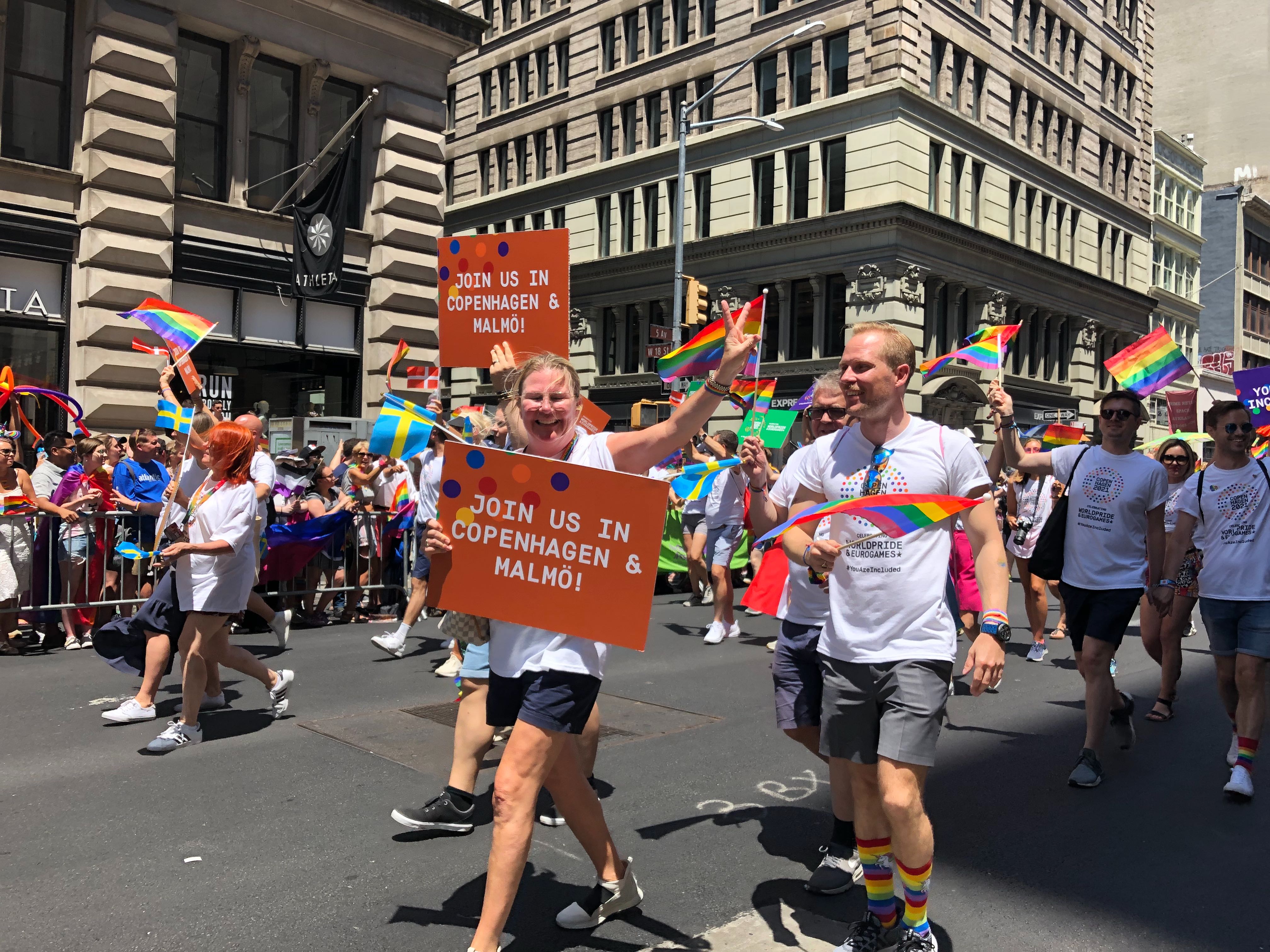 These marchers from Copenhagen are already gearing up for the next WorldPride in 2021, which will be hosted in the Danish capital.
And here's the Italian delegation, chanting as they pass by the Stonewall Inn.
1:37 p.m. ET, June 30, 2019
Proud moms and kids are offering free hugs
There are a lot of mothers wearing "Proud mom" shirts and waving signs offering free hugs.
Angela Ghiozzi of Cold Spring, New York, pictured above, said she's been coming every year with her son since he came out seven years ago.
"I just wanna show support to him and everyone who needs it, especially the kids," she said.
In the photo below, sisters Addison and Jessie Boschnack-Roth of Queens are here to show support for their mothers and also offer free hugs.