New Orleans floods ahead of possible hurricane
3:27 p.m. ET, July 10, 2019
Louisiana declares a state of emergency ahead of possible hurricane
The state of Louisiana has declared a state of emergency.
Gov. John Bel Edwards issued the proclamation this afternoon as the Gulf Coast braces for another storm.
"This is going to be a Louisiana event with coastal flooding and heavy rainfall potentially impacting every part of the state. No one should take this storm lightly. As we know all too well in Louisiana, low intensity does not necessarily mean low impact," Edwards said.
He also tweeted the system will "likely produce storm surge, hurricane-force winds & up to 15 inches of rain across the state."
Edwards said in a press release that Louisiana residents should start to prepare for the storm and that his office would be in contact with FEMA.
"Now is the time to check your emergency supplies and get a gameplan for your family and pets. I urge the public to continue monitoring local media for weather developments and follow the directions of local officials," he said.
The order shall remain in effect from July 10, 2019, to August 8, 2019, unless terminated sooner. 
2:49 p.m. ET, July 10, 2019
This is what it looks like over over Louisiana right now
A satellite captured a stunning image of the strengthening tropical disturbance over the Gulf Coast.
This image, taken by the National Oceanic and Atmospheric Association, shows the system strengthening near the coast of Louisiana. The National Hurricane Center said the system could develop into a tropical depression by Thursday.
NOAA also tweeted out a video of the satellite images, adding that the storm already prompted flash flood emergencies for areas like New Orleans Wednesday morning.
1:53 p.m. ET, July 10, 2019
Hotel lobbies in New Orleans are flooding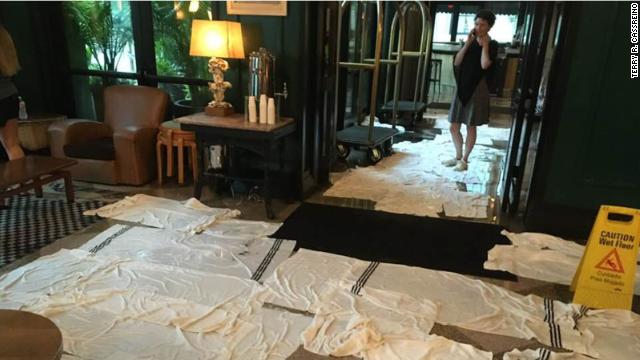 New Orleans hotel lobbies are flooding from a tropical disturbance that hasn't even formed yet.
Tami Pray Corrington told CNN that flooding turned a staircase at the Aloft hotel into waterfall feature.
See it:
1:32 p.m. ET, July 10, 2019
Texas governor urges residents to "begin preparing your supplies" as storm looms over coast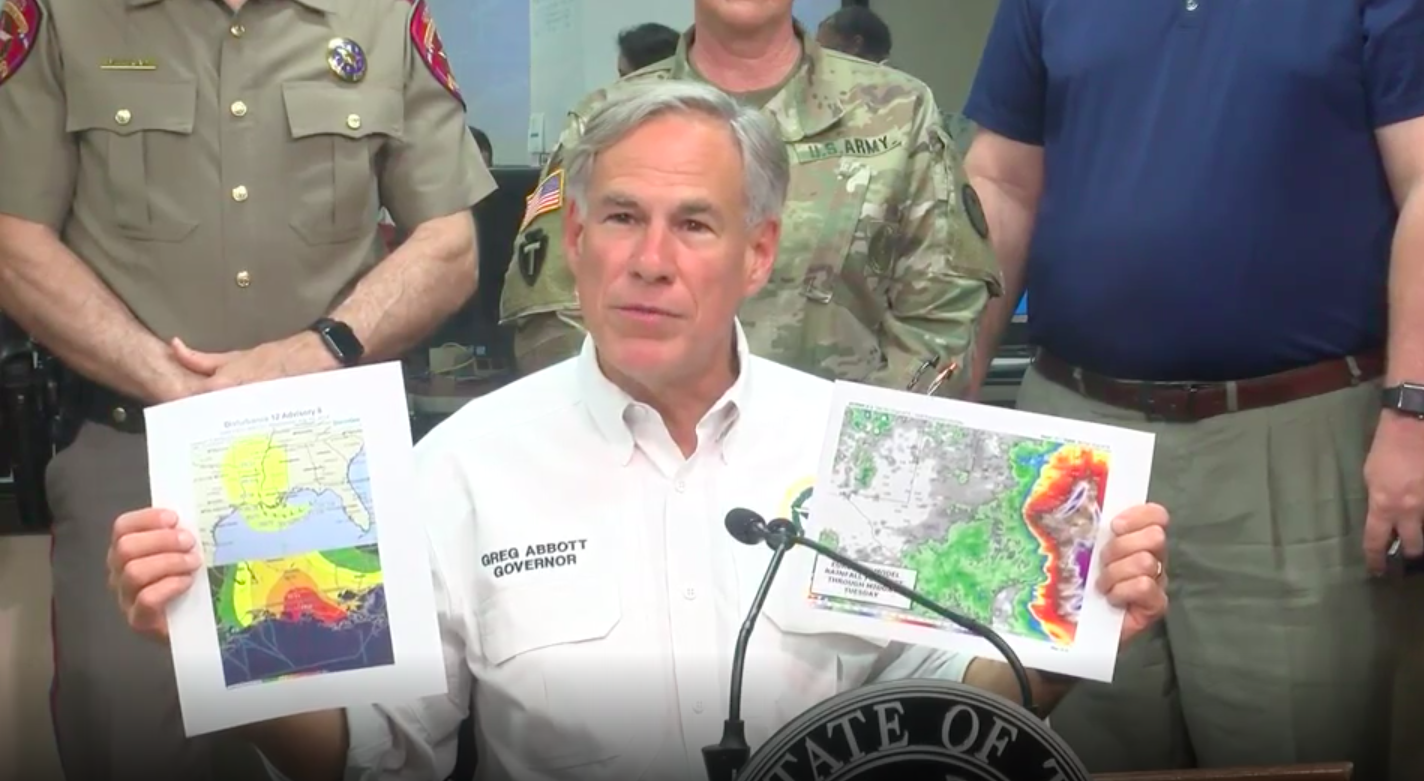 Texas Gov. Greg Abbott is urging residents to be prepared for a possible hurricane.
"It is impossible right now to know exactly how severe this storm will become and exactly where it will go," he said at a news conference today.
Abbott held up several maps prepared by the National Weather Service that showed different trajectories.
"With probabilities, with best guesses right now, regions north of the Houston area going up into East Texas, could receive as much as, if not more than, 10 inches of rain," he said.
He went on to say the state is preparing in advance for the storm and likely flooding that will come with it. This includes getting emergency response teams ready with high profile vehicles and boats, as well as calling Texas agencies who have equipment like saw squads, rescue aircrafts and ground search and rescue teams.
"If you prepare for the very worst, you will be in a situation where you will be able to come out far better in the end," Abbott said. "Begin preparing your property. Begin preparing your supplies. Begin preparing your lines of communication to your family members. Begin preparing to know exactly where it is you will be going to in an event you have to evacuate."
1:22 p.m. ET, July 10, 2019
City Hall and libraries in New Orleans are closed today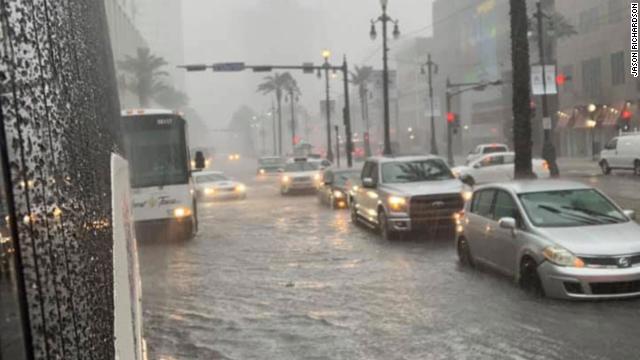 City Hall, libraries and recreational facilities in New Orleans are closed today as residents brace for a developing storm in the Gulf of Mexico.  
Authorities in New Orleans responded to 250 emergency calls related to flooding, as heavy rains and thunderstorms moved through the area, according to a statement from the city. 
"Public safety agencies including New Orleans Police Department, New Orleans Fire Department and New Orleans Emergency Medical Services responded to more than 250 emergency calls related to flooding. The Regional Transit Authority temporarily suspended service in flooded areas. Isolated outages of power were reported throughout the city, with just over 10,000 remaining as of 11 a.m." the city said in a statement.
The city is asking residents to clear debris from catch basins and around their property, as more heavy rain is expected over the coming days. 
1:06 p.m. ET, July 10, 2019
Some oil rigs in the Gulf of Mexico have been evacuated
Shell has evacuated all non-essential staff from eastern Gulf drilling rigs, with more action on the horizon depending on how the storm develops, spokeswoman Cindy Babski said.
Chevron has also evacuated some non-essential employees from the Jack St. Malo facility, with shut-in procedures initiated at five other facilities, spokeswoman Veronica Flores-Paniagua said.
"The affected facilities are our Big Foot, Blind Faith, Genesis, Petronius and Tahiti facilities. While some non-essential personnel will be evacuated from our Jack St. Malo facility, production at that asset remains at normal levels. At our onshore facilities, we are following our storm preparedness procedures and paying close attention to the forecast and track of the storm," Flores-Paniagua said.
5:23 p.m. ET, July 10, 2019
The developing storm in the Gulf of Mexico could turn into a hurricane
Residents from Houston to Mobile, Alabama, are bracing for a possible hurricane. There is a storm system developing in the Gulf of Mexico that could escalate to hurricane classification by the weekend.
As the low-pressure system moves closer to land it will meet warm, open waters that will fuel the storm's intensity, CNN meteorologist Haley Brink said.
A tropical storm is an area of thunderstorms that produces a circular wind flow with winds from 39 to 73 miles per hour. With a lower wind speed, it would be a tropical depression. Higher, and it would be a hurricane.
Regardless of the classification this system develops into, both Louisiana and Mississippi are forecast to see very heavy rain — more than a foot in some places, Brink said.
12:45 p.m. ET, July 10, 2019
Storm could hit Gulf Coast with up to 10 inches of rain
A storm system in the Gulf of Mexico is causing the flooding in New Orleans.
Here's a look at how much rain the area got so far, and what to expect this weekend as the system continues to travel:
This morning: The National Weather Service has issued a flash flood emergency for the city of New Orleans. Storms moving over the same area have produced rainfall amounts of 5 to 6 inches, with an additional 2 to 3 inches later today. Streets, underpasses, houses and hotels are severely flooded.
In the next few days: Heavy rain and more flooding is likely to continue into the weekend in the Gulf Coast region. The rain is from a storm system in the Gulf of Mexico, according to CNN Meteorologist Allison Chinchar. She said the storm in the Gulf will be moving slow and is expected to curve back toward land and hit between Houston, Texas, and Mobile, Alabama in the next several days. Chinchar said up to 10 inches of rain are not out of the question for areas near the coast.
Watch the full forecast:
12:48 p.m. ET, July 10, 2019
New Orleans neighborhoods are underwater as residents brace for another storm
Parts of New Orleans are under water after flash floods this morning.
Angela Catalano, who lives in the Mid-City neighborhood, told CNN that for now "the rain has stopped and it looks like the pumping system is draining our intersection."
She tweeted a photo of her road and said she is worried about more flooding. She said there is another storm in the forecast and the Mississippi River is near flood stage.
Catalano said she is trying to clean up her house.
"We took in about 2 feet of water in our basement/ground floor level," she said.
Catalano continued: "We still have electricity, but our gas needed to be shut off. Not sure about damage to our home, but many flooded cars on our street."